2019 Ram 1500 vs. 2019 Silverado 1500: a Head-to-Head Full-Size Matchup
---
PUBLISHED MONDAY, DECEMBER 7, 2020
Which full-size pickup truck is right for you?
With thousands of vehicles in our inventory, we're here to help make car research easier for you. We've partnered with car-review experts from Edmunds to weigh in on what matters most when you're looking to buy a truck or car.
***
Few vehicles can compete with a full-size pickup truck when it comes to ultimate versatility. From a bare-bones workhorse equipped for a job site to a near-luxury family hauler, a modern light-duty pickup can do it all.
Two great examples are the Chevy Silverado 1500 and the Ram 1500. Both were fully redesigned for the 2019 model year, gaining updated interiors, newly available powertrains, and higher maximum towing capacities.
But which one to get? Edmunds editor Travis Langness breaks down the differences between the Chevy and the Ram to help you discover the best truck for you.
Note: Ram offered two 1500 trucks for 2019: the Ram 1500 and the Ram 1500 Classic. The Classic was a carryover model that used the previous year's styling, equipment, and powertrains. As a result, you might see some 2019 Ram 1500 Classics while you're shopping. This particular article only pertains to the latest-generation Ram 1500.
What are Your Options?
Let's take a look at the 2019 trim levels and cab configurations first. Here's a basic breakdown:
The 2019 Chevrolet Silverado 1500 comes in Work Truck (WT), Custom, Custom Trail Boss, LT, RST, LT Trail Boss, LTZ, and High Country. Depending on what trim level you're looking for, there are three available cab configurations: regular cab (single cab), double cab (extended cab), and the full four-door crew cab.
The 2019 Ram 1500 is available in Tradesman, HFE, Big Horn (also called the Lone Star), Rebel, Laramie, Longhorn, and Limited trim levels. Unlike the Chevy, the Ram does not offer a single-cab configuration — you'll only get the quad-cab or crew cab setup.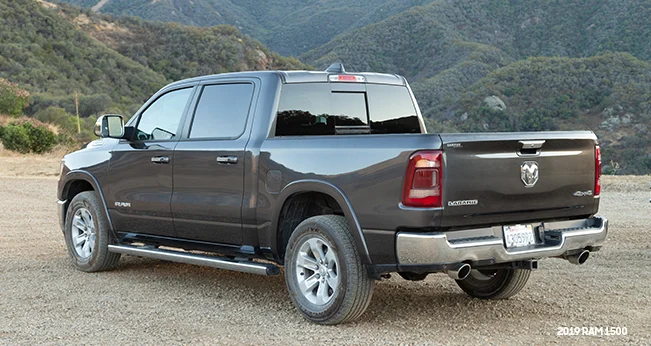 Different bed lengths are available too. You'll commonly encounter these trucks with either a short bed (5.8 feet for the Chevy, 5.6 feet for the Ram) or the slightly longer standard bed (6.6 feet for the Chevy, 6.3 feet for the Ram)
At the base trim levels, both trucks are fairly bare-bones. Still, they do have standard features such as Bluetooth® audio connectivity and air conditioning. Most of the desirable upgrade features for both trucks are available on midlevel trims. Notably, the Silverado comes standard with Apple CarPlay® and Android Auto™ smartphone integration. On the Ram, you'll have to find a truck that has the bigger 8.4-inch or 12-inch touchscreen to get those features. The Ram, however, offers more optional high-end features such as an air suspension, which can raise or lower the truck's ride height.
Advanced driver assistance features, such as forward collision mitigation and lane departure warning, are optional on both trucks.
Powertrains and Fuel Economy
The 2019 Chevrolet Silverado 1500 comes with several powertrain options. On lower trim levels, the standard engine is a 4.3-liter V6 with 285 horsepower and 305 lb-ft of torque. It's paired with a six-speed automatic transmission.
From there, available engines include a turbocharged 2.7-liter four-cylinder engine (310 hp, 348 lb-ft), and a 5.3-liter V8 (355 hp, 383 lb-ft), both of which are paired to an eight-speed automatic transmission. Early 2019 Silverados with the 5.3-liter V8 were paired with the older six-speed transmission, so you may find those while shopping as well. With higher-end Silverados, there's a 6.2-liter V8 (420 hp, 460 lb-ft) that's comes with a 10-speed automatic transmission.
In 2019, Chevy also introduced a 3.0-liter six-cylinder turbodiesel (277 hp, 460 lb-ft) paired with a 10-speed automatic, but trucks with that engine didn't start showing up until late in the model year so they may be more difficult to find.
Fuel economy estimates from the EPA vary, depending on which powertrain and axle ratio you choose, and whether you get a truck with four-wheel drive or rear-wheel drive. To give you an idea of what to expect, a 2019 Silverado with the 5.3-liter V8 and RWD gets an EPA-estimated 19 mpg in combined city/highway driving. The best you can get is a 2019 Silverado with RWD and the four-cylinder engine; it gets an EPA-estimated 21 mpg combined.
The 2019 Ram 1500 offers fewer powertrain options than the Silverado, but there is still plenty to like. Like the Silverado, the Ram offers a base V6. The 3.6-liter V6 under the hood of the 2019 Ram produces 305 hp and 269 lb-ft of torque. It's paired with an eight-speed automatic transmission and a 48-volt mild hybrid system. The mild hybrid system doesn't work like a traditional hybrid by powering the wheels. Instead, it replaces the Ram's alternator and engages functions such as the engine stop-start system for a slight gain in fuel efficiency.
The optional engine for the 2019 Ram — yep, optional is singular, as in just one — is a 5.7-liter V8 (395 hp, 410 lb-ft) that's also paired with Ram's mild hybrid system and an eight-speed automatic transmission. Ram has offered a diesel engine for the 1500 in the past, but it didn't include it for the 2019 truck.
A Ram 1500 with the 5.7-liter V8 and rear-wheel drive gets an EPA estimate of 19 mpg combined; V6 models get estimates as high as 23 mpg combined.
Interior
All modern trucks have to strike a balance between utility and comfort. The Silverado's controls are simple and easy to learn. The fonts on the dashboard are easy to read, and you never have to search long for the controls you're looking for. Unfortunately, when the Silverado was redesigned for 2019, it didn't get much of an aesthetic update. Instead, it used some controls and design elements from the previous-generation truck. As such, the Silverado's dashboard looks a bit dated.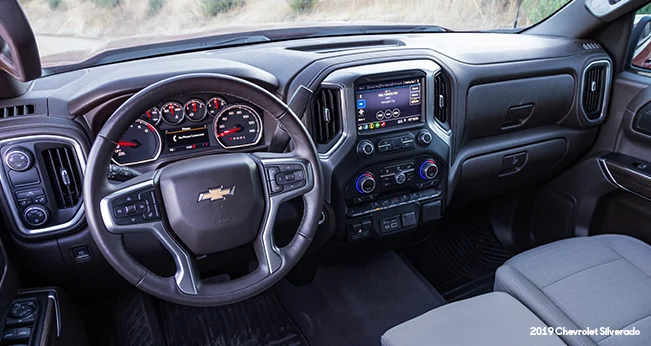 No full-size pickup truck feels quite as classy as the Ram 1500 does, especially in its top trim levels. The infotainment interface is controlled with Ram's Uconnect® system, which is one of our favorites on the market. The lower and mid-level trims use either a 5-inch or an 8.4-inch screen, but we'd recommend the massive 12-inch screen on upper trim levels. Aside from its visual appeal, it allows you to view and control multiple systems simultaneously — for instance, the climate control and Apple CarPlay. If you opt for a model with bench seats, you get the massive center console, too. Combine that with the under-seat storage in the back and the big glovebox, and you'll never have a shortage of places to store your things in the Ram's cab.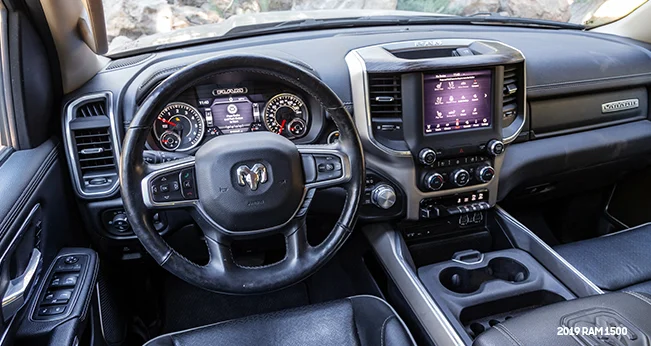 Utility
As far as bed utility, the Silverado has a lot going for it. The robust system of 12 tie-downs means there are lots of options for tying down all sorts of different loads. Ratchet straps and large ropes can be used with ease.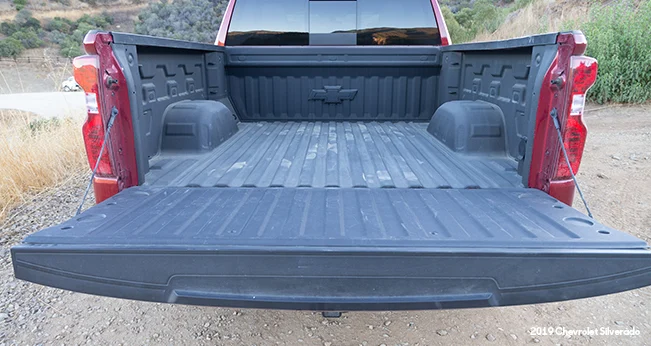 Towing or payload specifications can vary from truck to truck. Maximum allowances can also depend on how many passengers you carry and how much gear you load. So, in general, consider the following specs to be guidelines.
The maximum rated payload for the 2019 Silverado is 2,280 pounds — an impressive number. But that's the max payload on the two-wheel-drive regular-cab model. A crew-cab 2019 Silverado has a 2,180-pound maximum payload rating.
The 2019 Ram tops these slightly, with a max payload of 2,000 pounds with the crew cab and 2,320 pounds with the quad cab. Ram also offers optional lockable storage bins called RamBox®. They're built into the bed sides and take up some space, but they're handy if you regularly need to secure a lot of small items.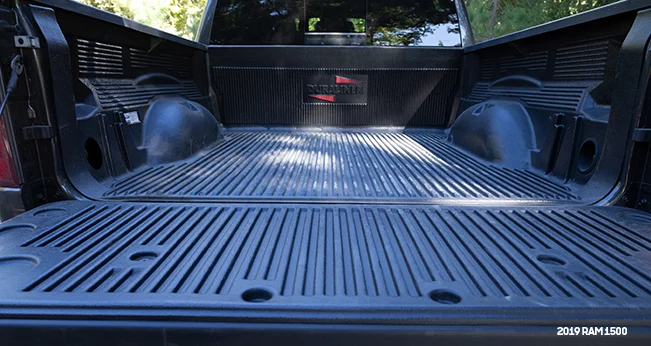 When it comes to towing, the Silverado and the Ram are almost evenly matched. With the most powerful engine, the 6.2-liter V8, and the optional Max Trailering package, the 2019 Silverado 1500 is rated to tow as much as 12,200 pounds. With the 5.3-liter V8, that number slightly drops to 11,600 pounds.
With the 5.7-liter V8 and the 3.92 axle ratio, the 2019 Ram 1500 gets a maximum tow rating of 12,750 pounds.
It's neck and neck when it comes to numbers, but it's worth noting that towing a big trailer isn't just about the numbers. With its coil-spring suspension, the Ram is more comfortable and feels more compliant while towing a large trailer.
What They're Like to Drive
Much like the interiors of these trucks, the 2019 Ram and the Silverado have two slightly different characters for on-road driving. The Silverado has a comfortable cabin with well-padded seats and a suspension that soaks up the bumps, but the ride quality is firm rather than plush like the Ram's. Steering and handling feel competent in the Silverado but not as direct or planted as they do in the Ram.
The Ram's coil-spring rear suspension makes it a class leader in handling, steering, and most of all, ride comfort. It glides over the road like no other truck in its class. The Ram is quiet too, soaking up most of the noise on the highway. The Silverado does an adequate job of absorbing most noise, but the Ram is a bit more isolated on the inside.
With the long list of available powertrains, it's hard to characterize the Silverado by reviewing just one engine, so we'll focus on the two V8s here. The 5.3-liter V8 is a bit muted, but it has sufficient power for passing on the highway and plenty of low-end torque for pulling large loads. The upgraded 6.2-liter V8 is a bit more raucous and provides impressive acceleration from a standstill. Both the eight-speed transmission paired with the 5.3-liter V8 and the 10-speed paired with the 6.2-liter V8 shift quickly without hunting for gears.
The Ram's 5.7-liter V8 is just a bit smoother at all those tasks. From a standstill, power is immediate, without any jumpiness. It accelerates quickly, shifting through the gears using a smooth-shifting eight-speed automatic. It's a bit better-sounding than the Chevy's 5.3-liter V8 too.
Conclusion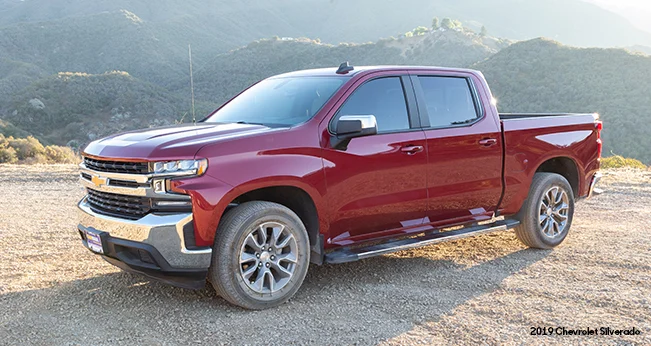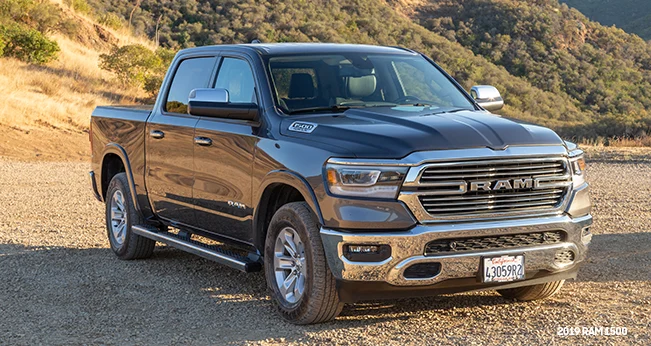 There's a lot to like about the 2019 Chevrolet Silverado 1500 and the 2019 Ram 1500. Both are competent, composed, and comfortable trucks. The Ram wins this head-to-head battle in several key categories including towing and hauling capability, on-road comfort, and interior refinement. The Silverado holds its own by offering a wide range of engines, impressive utility, and an array of trim levels and cab configurations to choose from. In the end, picking between these two trucks could come down to your priorities and what you're looking for in a full-size rig. But when they're side by side, evenly matched and comparably equipped, we'd go with the Ram 1500.
Travis Langness is an automotive reviews editor for Edmunds.com. As a life-long car-and-truck enthusiast, Travis has a deep passion for cars. Through instrumented testing, off-roading, epic road trips and local commuting, the Edmunds team tests and writes about new and used vehicles to help car shoppers make informed decisions.