Ask the Expert: Everything You Want to Know About the 2020 Kia Telluride
---
PUBLISHED MONDAY, JANUARY 25, 2021
With thousands of vehicles in our inventory, we're here to help make car research easier for you. We've partnered with car-review experts from Edmunds to weigh in on what matters most when you're looking to buy a car.
***
The Kia Telluride is a relatively new three-row midsize SUV. It debuted as an all-new vehicle for the 2020 model year. This newness means you won't find a big proverbial back catalog of prior model years to choose from like you would with something like a Honda Pilot or Toyota Highlander. But it's worth your time to try to find one because this SUV is shaping up to be a greatest hit.
Specifically, it has earned a Top Rated SUV award from Edmunds.com for 2020 and 2021. A Top Rated award means Edmunds' experts consider it to be the best non-luxury SUV on the market. Edmunds' Elana Scherr has extensive on-road experience with the Telluride and rival midsize SUVs and minivans. She shares her thoughts on how to choose the right Telluride for your needs.
What do I need to know about the Kia Telluride?
Doing research on the Telluride is relatively easy because there's just one generation so far. The 2021 Telluride offers a few small changes compared to the 2020 model, such as an optional cosmetic Nightfall package and remote start button on the key fob. But major trim levels and options remain the same from 2020 to 2021.
There are four trim levels: LX, S, EX, and SX. Each one comes with three rows of seating. A second-row bench seat is standard on the LX, which means the Telluride can hold up to eight people. The Telluride is also available with second-row captain's chairs; with them, seating capacity drops down to seven.
All Tellurides come with a 3.8-liter V6 engine and an eight-speed automatic transmission. Front-wheel drive is standard, and all-wheel drive is optional.
What stands out about the Kia Telluride's design?
The Kia Telluride has the chunky good looks of a big SUV and none of that streamlined minivan stuff. It's a tall, boxy design that manages to look both utilitarian and elegant. There's a theme of rectangular design in everything from the grille and stacked headlights to the chrome details along the doors. The Telluride isn't intended as an off-roader in the way that a Jeep Wrangler or Toyota 4Runner is, but it has the looks of a car that you could drive anywhere.
Inside, the Telluride is much more refined than its bold exterior would suggest, although it still offers a few adventurous touches, such as grab handles on the center console. Mostly, though, the interior is like a mobile living room: It has soft, wide seats, plenty of head- and legroom, and easy-to-use controls.
Elana's take:The Telluride is like a tough guy with an art school education. It looks big and beefy in a way that makes it seem ready to go anywhere, but it's also quite elegant. It isn't overaccessorized because the designers knew that the shapes and minimal trim could stand on their own. The interior has that same confident minimalism. The front seats are comfortable and have a neat upholstery pattern, and there are just enough available woodgrain and metal details to make the cabin interesting without it getting busy.
How is the Telluride's storage?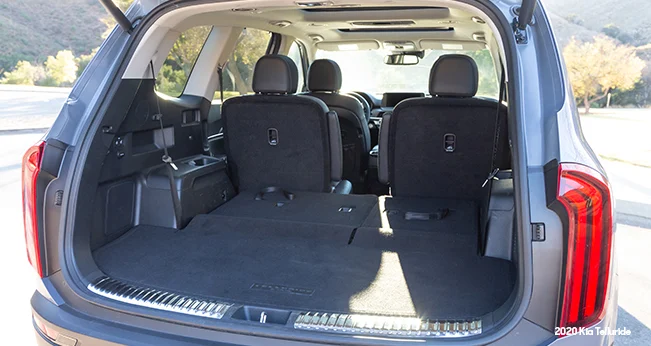 The Telluride has plenty of cargo space. Fold down both the second and third rows and you'll have up to 87 cubic feet to work with. That's similar to what you get from similar SUVs such as the Ford Explorer and Toyota Highlander. With all the seats in place, there's still 21 cubic feet. If you need to leave something in the vehicle but don't want it in view, you can put it in the Telluride's underfloor storage compartment.
Small-item storage isn't as good. There are enough cupholders for everyone and a decently sized center console. But the Telluride's bins and cubbies don't offer as many ways to organize or separate small items as some rival SUVs do.
Elana's take:The best thing about the Telluride is how huge it is inside. It's not just that it is roomy―it's also easy to get people in and out. There are buttons on the backs of the second row that make for easy folding, even from inside the third row. That's perfect for older kids who don't want to have to wait to be released from the back!
What's the Telluride's interior like?
Let's get comfortable. The seats in the Telluride are supportive and nicely contoured, with soft pillowy headrests. If there's a complaint to be made about the front seats, it might be that they are almost too soft and wide for smaller drivers, making the distance from the seat center to the armrests a bit of a stretch. Overall the Telluride has a lot of seat and steering wheel adjustment range to allow drivers of different sizes to be comfortable and have proper outward visibility.
The climate control system is easy to use, and it's nice to see heated and ventilated seats available for both first-row and outboard second-row passengers. Other controls are also easy to figure out but, like the armrests, can sometimes be a stretch from the driver's seat if you're vertically challenged.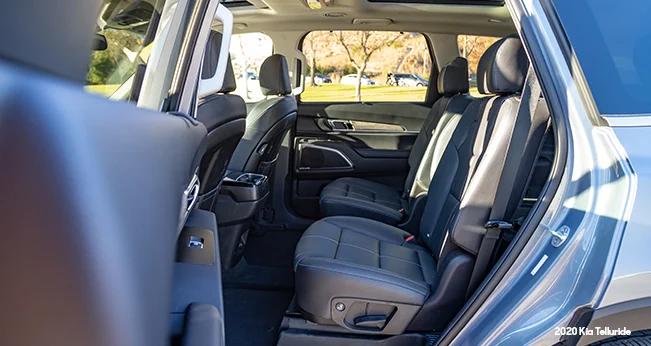 Materials on the center console, door panel, steering wheel, and shifter handle are soft to the touch, and the metallic and available woodgrain trim accents give the dashboard and center stack a balanced look of strength and comfort.
Elana's take:
You spend so much time in your car, and even more when it's a family hauler. The Telluride is a comfortable place whether you're driving, in the passenger seat, or just waiting for a kid's class to finish up. It really is more like a living room than a car interior. If only it had a built-in and automatically stocked refrigerator ...
How's the Telluride's tech?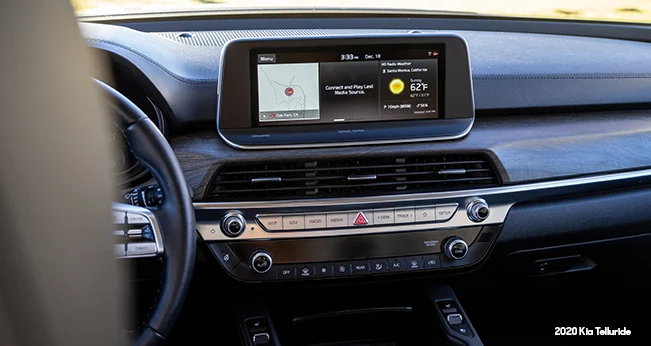 Kia is big on standard safety features, so all Tellurides come with numerous collision avoidance and mitigation systems as well as adaptive cruise control. Apple CarPlay® and Android Auto™ also come standard, and USB ports are spread across all three rows, including two cleverly placed on the sides of the front seats, making it easy for second-row passengers to plug in and charge. The optional 10.25-inch infotainment screen (EX and up) has crisp-looking graphics, and it comes with navigation.
In the top-of-the-line SX trim, you get an upgraded 10-speaker sound system. It's excellent for listening to your favorite music or drowning out noise from the rest of the world. The SX also comes with a blind-spot camera system. When you flip on a turn signal, it displays a camera view of your blind spot in the gauge cluster. It sounds neat in theory but it's one of the few places where Kia stumbles. The display is low-res, poorly placed for visibility, and redundant since there is already a blind-spot monitoring system.
Elana's take:These days, tech can be an overwhelming list of things you don't need and won't ever use, but the Telluride offers several truly helpful features in both its standard and optional technologies.
What's the Telluride like to drive?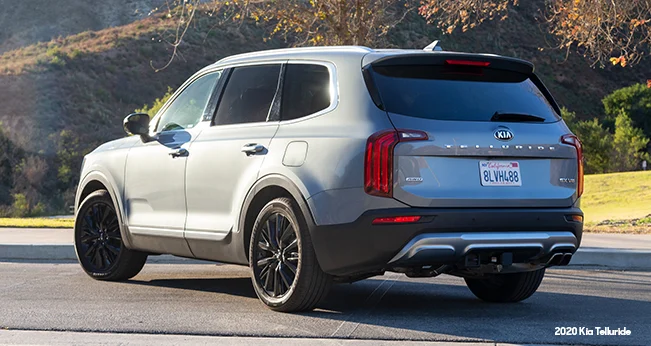 It's quiet, smooth, and balanced. Road noise and wind noise are minimal, making for a luxury-car-quiet interior even at highway speeds. Go full throttle and you can hear the engine, but it is never overwhelming or intrusive. That engine, a V6 making 291 horses and 262 lb-feet of torque and matched to an eight-speed automatic transmission, is the only powerplant available in the Telluride, so it's a good thing it's an enjoyable one.
A V6 with about 300 horsepower is pretty typical for this class of SUV. The Telluride can sometimes feel a little slow to respond when you first push on the gas. But in general the V6 has enough power to haul you and your passengers, and even a trailer behind. The Telluride's max tow rating is 5,000 pounds when properly equipped with its available Towing package.
Fuel economy is reasonable. The EPA estimates the 2020 Telluride with front-wheel drive gets 20 mpg city, 26 mpg highway, and 23 mpg combined, and the all-wheel-drive 2020 gets 19 mpg city, 24 mpg highway, and 21 mpg combined.
Acceleration is only half the equation. The Telluride handles the slowdown part just fine, with strong and consistent-feeling brakes. Handling is more like a wagon or a smaller SUV―it's stable and light.
Elana's take:People don't usually choose SUVs with driving enjoyment in mind, but the Telluride really feels good behind the wheel. You may find yourself taking the long way home just for the fun of it.
What else should I consider?
There's a lot of competition in the Telluride's category. Kia's sister brand Hyundai offers the similar but slightly more expensive Palisade―it is just a tad fancier in material choices, has a big digital dash, and offers benefits including more small-item storage and power-folding third row. The Honda Pilot is another great choice and is well suited for family duty. If you're planning on doing a fair amount of towing, check out the Ford Explorer and the Dodge Durango.
Elana's take:There are a few competitors that do one thing better than Telluride—tow more, for example, or offer more kid-specific features. But in the three-row midsize SUV class, the Telluride stands out by doing everything well.
If I decide on a Telluride, which one should I buy?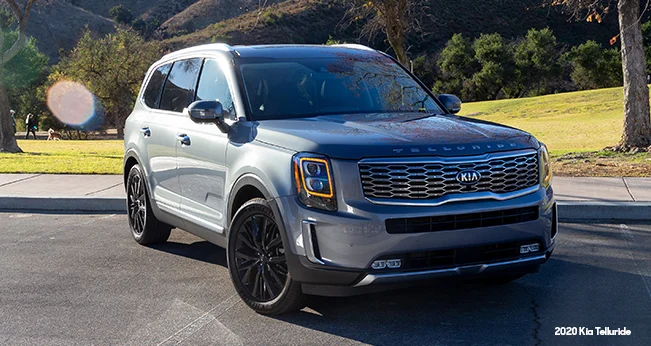 Even in the base LX trim you'll get a host of desirable features such as alloy wheels, automatic headlights, rear parking sensors, selectable drive modes, and standard advanced driver-assistance systems. As you go up the lineup, you will see bigger wheels, an optional sunroof, heated seats, and second-row captain's chairs—although you can still get the bench seat as an option in the midrange trim levels. The top-of-the-line SX offers dual sunroofs, a premium audio system, and driver-seat memory settings.
If you're looking to cash in on the most stuff for your money, look at the midrange EX. You'll get leather upholstery, a power-adjustable front passenger seat, and heated and ventilated front seats. A 10.25-inch touchscreen, a wireless device charging pad, and an auto-dimming rearview mirror are part of the deal too.
For both the EX and SX trims, you can add the optional Towing package. It comes with a tow hitch and a self-leveling rear suspension.
Elana's take:Shopping for a Telluride is like permission to treat yourself. Even the base model is packed with goodies that a new car from five years ago wouldn't offer in any but the most high-end models. I love the SX with its leather seats and double sunroofs. Just getting inside makes me want to head for a national park and enjoy the view.
Elana Scherr has written automotive news and buying advice for more than a decade. As an automotive editor-at-large for Edmunds, Scherr examines trends in both the new and used markets with a focus on family vehicles.