Reasons to Buy an Acura TL
---
PUBLISHED WEDNESDAY, JANUARY 4, 2017
Just recently discontinued, the Acura TL is a used luxury sedan that won't break your budget.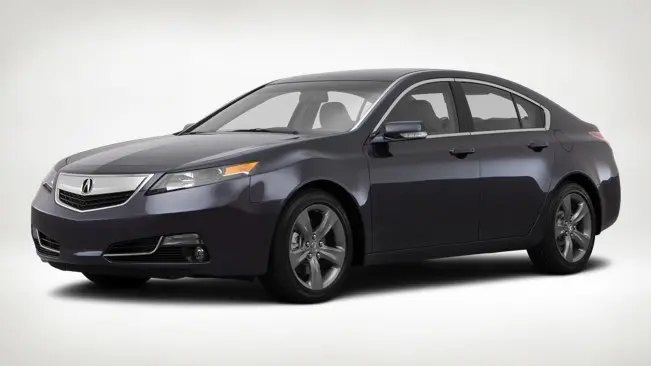 If you're conducting used car research to find a deal on pre-owned luxury vehicles, it only makes sense to learn about the Acura TL—a car with touring luxury actually built into its name. The Acura TL is a mid-sized luxury car that succeeded the Acura Vigor and was produced between 1996 and 2014. While the first-generation Acura TL (1996 to 1998) was manufactured in Japan, production soon shifted to the Honda plant in Marysville, Ohio.
Ten reasons to choose a used Acura TL
Acura is a Honda luxury brand. If you're not familiar with name extensions and branding, you may not be aware that Acura is a luxury division of Honda that produces higher-end vehicles. Honda has long had a reputation for strong value; creating a high-end version like Acura's TL is like adding an extra layer of icing to an already-tasty cake.

Most were produced in America. If you're looking for a used Acura TL for sale, odds are it was built in central Ohio. Except for the '96 to '99 first-generation models, the remaining 15 years' worth of TLs, including the 2012 Acura TL and the 2013 Acura TL, were built in the USA.

It was Acura's best-selling car until 2007. Luxury car buyers flocked to the Acura TL, and it became the division's best-selling car. When production moved from Japan to the US in 1999, annual sales jumped from about 31,800 units to 56,500 units. Sales peaked in 2005 when 78,200 models were sold. When the economy began to slow in 2007 and 2008, so did sales of the Acura TL. Those sales never recovered, and 2012 Acura TL sales dropped to around 33,500. Sales of the 2013 Acura TL slipped further to 24,300. In its final year of production in 2014, Acura sold just 10,600 TLs. During its long run, however, sales were impressive, and at one time, it was the second-best selling luxury car in the US, trailing behind only the BMW 3 Series.

It's consistent. Throughout its four generations of production, buyers have always been able to count on multiple aspects of the Acura TL. They have known they were getting a mid-size luxury sedan with four doors, a comfortable interior, plenty of practical amenities, and a smooth ride. They could have confidence in the Honda-powered engines, which when properly cared for can provide a lifespan that exceeds 200,000 miles. While some second-generation Acura TL models (1999-2003) experienced transmission issues, Honda addressed this issue by extending their warranties. 

The Acura TL has always kept up with current design trends and technology. The very first TLs included dual airbags, anti-lock brakes, automatic climate control, and power windows and locks as standard equipment. The third-generation cars were the first sold in the US market to come standard with a six-disc DVD audio system. Bluetooth® and XM® radio were soon added. These advancements were followed by a tire pressure monitoring system, daytime running lights, and more. The final, fourth generation of the car, beginning in 2009, added more advancements like USB port connectivity, a joystick navigation system, an eight-inch VGA display screen, and onboard 15 GB storage capacity. This fourth generation also featured more aggressive styling which Acura refers to as "Keen Edge Dynamic."

Smaller engines give you solid efficiency. Select a year and engine size depending on your priorities—the TL gives you options. If gas mileage is important to you, select a year when the smaller 2.0L, 2.5L, or 3.2L engines were available.

Bigger engines boost your power on demand. The 3.7L engine found in models like the 2011 Acura TL SH-AWD is good for more than 300 horsepower, plus an average of 25 mpg on the highway. Very sporty!

The 2013 Acura TL Special Edition. We love it when automakers create special editions, and Acura did it right when it released the 2013 Acura TL Special Edition. If you're in search of a used Acura TL for sale, at least take a peek at this model if you can find one that's available. It starts with distinctive, oversized, 10-spoke, 18-inch alloy wheels. The deck lid spoiler is color-matched in one of four premium colors: Bellanova White Pearl, Crystal Black Pearl, Silver Moon Metallic, and Graphite Luster Metallic. Black leather upholstery with contrast stitching adds a little more drama to this car's interior. A powerful 276-watt audio system with eight speakers provides the soundtrack. A six-speed automatic transmission that uses a paddle shifter system makes the ride a bit more fun. Add some interest to your used car research and check out a TL Special Edition.

The TL is a great value. Acura ceased production of the TL in 2014, meaning there are still relatively newer options of these used vehicles available. Since it is discontinued, it's likely that you can find some exceptional values. It's still a well-constructed vehicle, and if you're seeking some affordable luxury in your life, the Acura TL may be a strong option for you.

They'll be seen on the roads for years to come. Just because the TL is out of production, you'll still see them on the roads for years to come. Acura built them for almost 20 years—a sure sign they hit on the right mix of driveability, power, and efficiency. That's something to keep in mind when choosing a used car.
If you're looking for value in your used car research without sacrificing amenities, include "used Acura TL for sale" in your efforts. You may also want to review comparable vehicles like the Audi A4 Premium, BMW 328i, and the Lexus ES 350.