The CarMax Holiday Gift Guide
---
PUBLISHED TUESDAY, NOVEMBER 5, 2019
Fun (and practical) ideas for every driver on your list!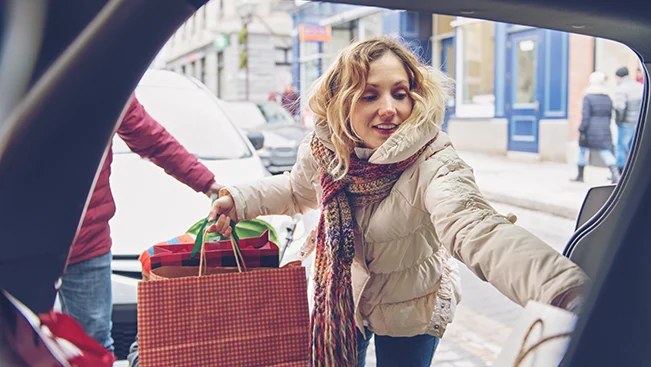 Do you have a hard-to-shop-for CarMax owner in your life? Do you spend hours agonizing over what to get them during the holidays? Never fear. We've got you covered. No matter what they're into, we've got a suggestion that's sure to please! Please note that CarMax has not reviewed these products and recommends you follow all product instructions. Certain products and modifications are not legal everywhere and can negatively impact warranties and MaxCare plans.
1. For the stressed driver with the long commute
Help calm the worst drive with accessories for every sense!
An essential oils plugin for your 12v outlet: Scents like lavender and verbena can help bring a soothing aroma to the most stressful drive.

Plug-in deionizers and humidifiers to make the drive more comfortable

For the extra cold days, heated blankets are heavenly

Create a playlist of spa-esque tunes

Add a massaging car seat cover, and suddenly that commute is more like a vacation.
But, if this all too fancy, you can always fall back on the great old standbys, the crown and tree air fresheners. Sure, the car might smell a little weird. But isn't it worth it for the nostalgia?
2. The roadtripper (+ family) who insists on driving, no matter how far
Kits for road-trip comfort can make the difference between a long, miserable drive and a fun, event-filled trip.
Create a list of fun sites to stop at on their favorite routes

Build a "road trip survival" kit with games, drinks, and snacks.

Or, make a technology kit with extra earbuds, a portable charger, and extra device cords.
Any roadtrip is more fun with food stops, so gift cards to favorite roadside restaurants and coffee shops provide delicious distractions along the way.
3. The super-organized person who can't stand anything out of place
There are endless varieties of automotive accessories to help keep cars neat. Some of our favorites:
Glove box organizers

Catch-alls for sauce packets, change, or the random bits of things that kids always seem to create

Cargo organizers with accessory trays

Back seat organizers for the kids to store their books, devices, and snacks
Anyone who thrives on having their surroundings "just so" would be thrilled to keep their car tidy and neat!
4. The pet lover who can't bear to travel without their pets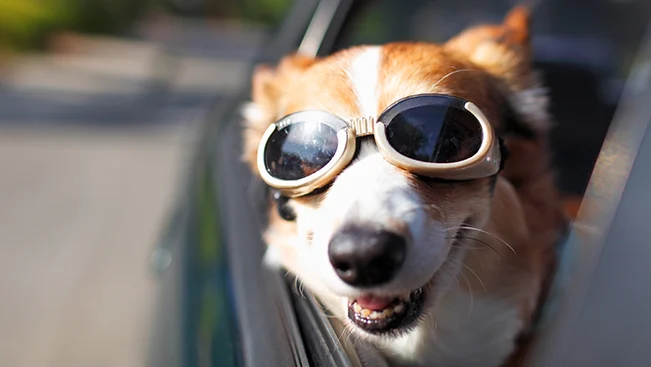 People love to travel with their pets (and pets love to travel too — just look at what cats want in cars!). Help that pet lover in your life keep their furry friends happy, AND their car clean, with these ideas!
Seat protectors (less hair, drool, etc.)

Canine carseats and travel pods

"Doggles" (goggles for dogs) for your canine copilot
In addition, travel food bowls, cleaning wipes, and gift certificates to pet-friendly vacation spots also make great gifts.
5. The gadget enthusiast who just can't get enough
Know someone who loves gadgets and accessories? Try one of these!
Remote control interior (or exterior) led lights

A portable air compressor for inflating tires

Plug-in car-diagnostic tools for the DIYer,

For the electric car driver, consider a home-charging system, or an app that locates charging stations across the country!
Of course, if none of those are quite right, there are always the accessories learning a little more towards the humorous. Think faux raccoon tails to attach to the antenna, sports team brake light covers, and even car covers made to look like old Ford Pintos.
6. The tailgating and camping fan who's always outside
Give their next tailgate or camping trip that extra "wow" factor with one of these popular gifts for the outdoors lover in your life.
old-out tailgate tables and grills to entertain

Weather-resistant floor mats for muddy hiking boots

Tent extensions for SUVs to make sleeping outside more comfortable

Plugin car coolers to keep your beverages and snacks cold
Know someone itching for the "van life?" Go all out and give them a camper van conversion kit! And for those who really want to blend in with nature, there's always a gift card for a camouflage paint job.
7. For the car enthusiast who may love their car just a little too much
Gifts to personalize their ride are a great choice for the car lover in your life. Here are a few ideas that we think would make their holiday!
Steering wheel and seat covers

Gift certificate for a new stereo

Custom floormats
Looking for more "upscale" options? Consider custom driving shoes, HID headlight upgrades, or kits designed for their specific car — think a Jeep soft-top, for example, or a truck lift kit.
8. For families constantly on the go for their children's activities
You know the gap between the seats that always seems to collect all kinds of debris in the car? Get the parents you know a seat-gap-filler, and we promise you'll be getting thanks for months after. Some other ideas:
Hand-held car vac

Cleaning kit for all the random spills and stains children tend to leave in cars

Box of car-friendly kid activities
If none of these are quite right, brightly-colored duct tape to demark back seat borders can help head off "He's touching me!!" before that even starts. And a few sets of earplugs would add some welcome quiet when kids are at their loudest.
9. For the new driver with their first car
Getting a driver's license is a rite of passage, and most new drivers would be thrilled to have gifts related to their new-found freedom. We think these practical suggestions would be great choices any time!
Roadside emergency kits

Digital tire gauge

Jumper cables

A dash camera or speed limiter can help both teen and parent stay alert
Looking for something a little more fun? Try personalized bumper stickers, license plates, and even keychains! A new pair of shades would also be ideal, and maybe even a hula girl for their dash.
10. Everyone else
People don't always fit into one bucket, so we thought we'd include a few gift ideas that don't really fit into any other category! Gift cards and gift certificates to favorite auto stores work for just about anyone, for example. But maybe your boss wants a set of Longhorn steer horns for his luxury sedan. Or your aunt thinks eyelashes on cars are just the cutest thing ever! Customer bumper stickers, cheeky windshield shades, rear-window wiper waving hands, passenger-seat dummies — these are just a few ideas for the person who has everything (or is impossible to shop for).
Whatever gifts you choose (or don't!), CarMax wishes you and yours a wonderful holiday season!
1
Product suggestions are provided for readers convenience only. CarMax has not reviewed the products and shall have no responsibility for users' use of the products.