Best Luxury Car: BMW 328
---
PUBLISHED WEDNESDAY, JUNE 20, 2018
Sleek styling and ample features.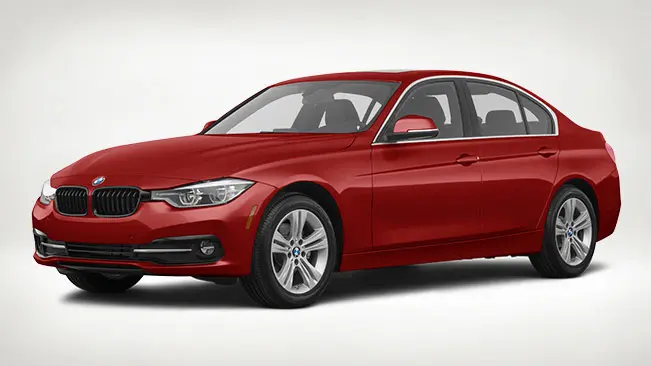 The BMW brand has long been known for its luxurious sedans, with the BMW 3-Series being among its most popular line of luxury vehicles. Specifically, these models focus on being smaller in size but big in power, comfort, and features. If you've been shopping for a compact luxury sedan, the BMW 328 is worth a test drive. The smaller size of this vehicle makes for easy handling and an incredibly fun ride, while abundant standard features and plenty of customization options make the BMW 328 one of the best luxury cars on our lots.
This BMW 328 review will focus specifically on the 2016 and 2017 model years, and will cover a handful of our favorite features and top reasons to buy.
10 Reasons to Buy the BMW 328
Excellent handling. Because of its small size and the option for all-season tires, the BMW 328 offers tight handling and confident steering.

Surprisingly roomy cabin. All trim levels of the 2016-2017 BMW 328 boast ample head, arm, and leg space for drivers and passengers alike.

Sleek and stylish interior. Drivers and passengers will enjoy the sleek and contemporary interior of this sedan, including the premium vinyl upholstery in its base trim.

Plenty of engine options. The diesel engine on the BMW 328d is turbocharged, making it a lot of fun to drive. Those seeking even more power behind the wheel have no shortage of engine upgrade options with different trims.

Available manual transmission. Those who enjoy shifting gears will appreciate the fact that the 2016-2017 BMW 328 is available in a six-speed manual transmission for greater control behind the wheel.

Great infotainment system. BMW's famous iDrive® infotainment system comes standard in the 2017 BMW 328 and features a huge touchscreen (nearly nine inches), impressive graphics, and intuitive controls.

Fuel-efficiency features. Drivers love that all trim levels of the BMW 328 boast impressive fuel economy without sacrificing power behind the wheel. The 2016 BMW 328d, with a four-cylinder diesel engine, gets an estimated 42 mpg on the highway.1 The 2017 BMW 328d, with a four-cylinder diesel engine, boasts a slightly higher estimated average of 43 mpg on the highway.1

Classic yet sleek styling. The 328 boasts BMW's classic yet sleek styling, striking a great balance between sporty/aggressive and elegant across all available trim levels.

Your choice of body style. All trims except for the Gran Turismo are available in your choice of sedan or wagon, so you can select the look that best reflects your style.

Ample customization options. With numerous trim options available and several package add-ons from which to choose, buyers will have no trouble finding the BMW 328 that suits their specific needs. From Driver Assistance packages to Dynamic Handling packages and everything in between, there's truly a BMW 328 for everyone.
What trim options are available?
The 2016 and 2017 BMW 328 are available in five trim options: the d, dxi, i, xi, and xi Gran Turismo.
BMW 328d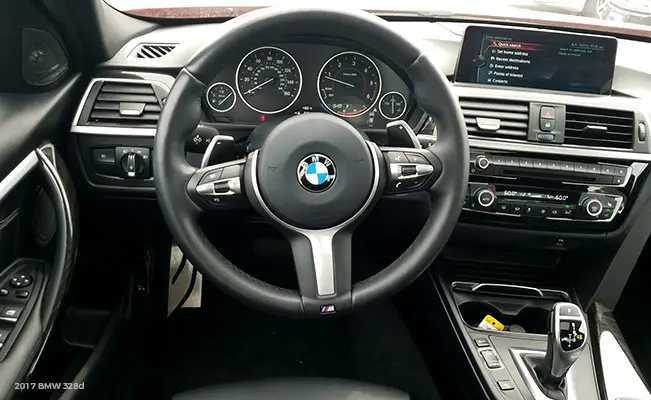 The base 328d (available as either a sedan or wagon) comes standard with a 2.0-liter, four-cylinder, turbodiesel engine and standard features that include 17-inch wheels, premium vinyl cabin upholstery, and a luxurious nine-speaker sound system.
BMW 328dxi
The BMW 328dxi includes all the same standard features as the 328d, but comes with "xDrive," which is BMW's all-wheel drive option.
BMW 328i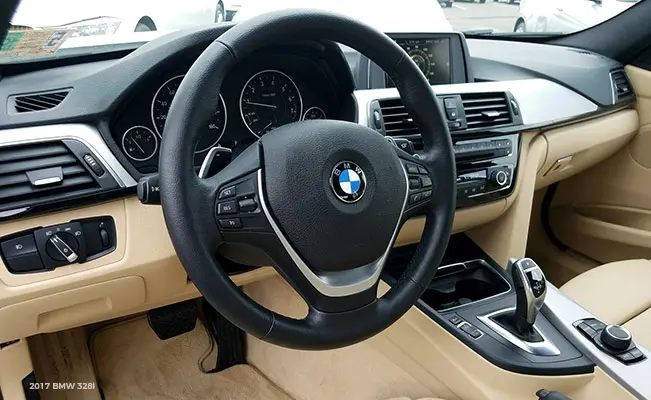 The BMW 328i sees a more powerful engine; though it is still a four-cylinder, it produces greater horsepower and also comes standard with larger (18-inch) wheels for a smoother ride.
BMW 328xi
The BMW 328xi includes the same features as the 328i, but also comes with BMW's all-wheel "xDrive" as a standard feature.
BMW 328xi Gran Turismo
The BMW 328xi Gran Turismo blurs the lines between a wagon and a sedan with its unique body styling. It comes with a turbocharged engine, standard chrome exterior trim, power liftgate, and gorgeous panoramic sunroof.
What are some of the best BMW 328 features?
The 2016 and 2017 BMW 328 offers a few features that sets it apart from other luxury cars in its class.
Standard Rear Parking Sensors
All trim levels in both the 2016 and 2017 BMW 328 include standard rear parking sensors, which many drivers will appreciate for added visibility. For added confidence while parking and backing out, front sensors and a rearview camera can also be added onto any trim as an upgrade.
Driving Dynamics Control
Driving Dynamics Control makes it easy to customize your driving experience by allowing you to select between numerous driving styles, which include Eco Pro, Sport, Sport Plus, and Comfort.
iDrive Infotainment
BMW's iDrive infotainment system is appealing for tech-lovers. And with incredible graphics, a standard navigation system, and a huge 8.8-inch touchscreen on the 2017 model year, you'll love this intuitive feature.
BMW 328 NHTSA Safety Ratings
Both the 2016 and 2017 BMW 328 received overall five-star safety ratings by the National Highway Traffic Safety Administration (NHTSA). Certain vehicles may have unrepaired safety recalls. Click here to look up a specific vehicle.
Some standard safety features found in both the 2016 and 2017 BMW 328 include:
antilock brakes

forward collision warning

lane departure warning
Used BMW 328 2016 and 2017 Pricing at CarMax
If you're interested in treating yourself to a compact luxury sedan, buying a used BMW 328 can be a great option. Based on CarMax data from April 2018, the average price for all trims of the 2014-2016 328 was less than $23,000.2 The 2017 BMW 328 had an average price of less than $33,500.2 There are some substantial differences between the 2016 and 2017 model years, including the fact that the 2017 BMW 328 saw a new and more powerful base engine. More recent, optional features also include wireless device charging and improved smartphone integration.
Fuel Economy: What Can You Expect?
Both the 2016 and 2017 BMW 328 offer competitive fuel efficiency. Specifically, the 2016 BMW 328d with four-cylinder turbodiesel engine gets an estimated 42 mpg on the highway.1 Meanwhile, the 2017 BMW 328d with four-cylinder, turbodiesel engine boasts a slightly higher estimated average of 43 mpg on the highway.1
Which Makes and Models Compare to the BMW 328?
The Bottom Line
When a smaller vehicle with big time luxury is what you're looking for, the BMW 328 is a great place to start your search. Both the 2016 and 2017 model years of this compact luxury sedan offer ample features, a beautiful design, and plenty of trim options and packages to suit your specific needs.
Looking for more information? You can:
1
Fuel economy figures are based on EPA estimates for when vehicle sold as new. Fuel economy may vary for reasons like driving conditions and vehicle history. Unless specified, figures are for vehicles equipped with an automatic transmission. See fueleconomy.gov.
2
Based on prices on carmax.com in April 2018. Actual prices may vary based on your selected model year, features, and trim packages. Prices do not include taxes, tags, titles, and any applicable fees.
Unless otherwise noted, information relating to these featured vehicles comes from third-party sources, including manufacturer information. Product and company names may be trademarks™ or registered® trademarks of third-party entities. Use of them does not imply any affiliation with or endorsement by these entities.