Reasons to Buy a Cadillac CTS
---
PUBLISHED FRIDAY, NOVEMBER 11, 2016
The CTS, in any of its variants, is decidedly not your grandfather's Cadillac.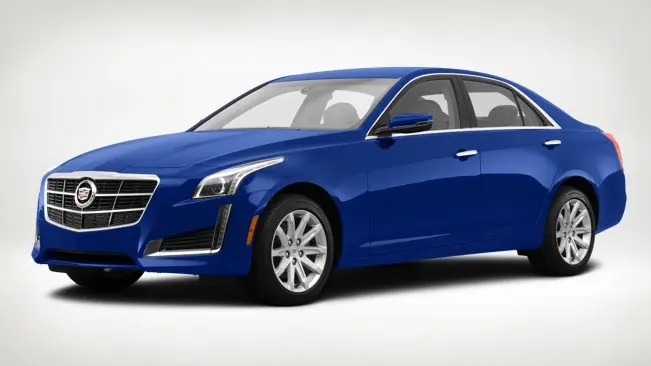 When Cadillac first rolled out its CTS in 2003, the car's combination of high performance and luxury features had everyone taking notice. It is now, as it was then, a mid-size sedan out to eat BMW's and Audi's lunches. The CTS targets both the enthusiast and luxury market at the same time.
The CTS has been updated over the years to further improve its unique styling, strong performance, and luxury features. And these changes have given the car a strong following. Car and Driver, Motor Trend, and U.S. News & World Report rank this model as one of the best in its class, year after year. 
Here are 10 things CarMax customers like about the Cadillac CTS.
It looks sharp on the road. The exterior styling of the CTS is bold—the car turns heads wherever it goes. The dramatic lines, crisp angles, and low-slung ride height work together to give this vehicle a sleek, sophisticated appearance. The iconic HID headlight, grille, and LED taillight designs instantly identify this vehicle as a Cadillac. For seven years after its release, the CTS was only available as a four-door sedan. The two-door coupe and five-door sport wagon models were added in 2010 and 2011, respectively, to round out the lineup.

Sophisticated color combinations. With 10 exterior colors and seven interior colors available, you'll find a wide range of different combinations while looking for a suitable used Cadillac CTS for sale. The exterior tones extend from rich Black Raven to glossy Red Obsession Tintcoat. Metallic and multi-coat paints help set the CTS apart from the pack. On the inside, the CTS offers a combination of three interior colors that augment the exterior tones.   

Choose from three engine options, including a turbo version. Cadillac kept an eye fixed firmly on performance when they designed the powertrain for their CTS. Across all model years, you can find this model equipped with a turbocharged inline-4, a naturally aspirated V6, twin-turbo V6, or a supercharged V8. The CTS underwent multiple passes on Germany's Nürburgring racetrack to allow engineers to fine-tune its performance under demanding conditions.

That famous Cadillac ride. The CTS utilizes magnetic ride control technology to adjust suspension tuning up to 1,000 times each second. What's this mean? It means the system responds to weather conditions and road deviations in a blink, while on the move, to greatly improve handling and give a very smooth ride.

Smooth stopping power. High-performance brake calipers and rotors offer excellent stopping power on both wet and dry roadways. The CTS is equipped with disc brakes all around and Brembo® rotors up front to help drivers stop on a dime in high-performance or emergency conditions.

50/50 weight distribution for a balanced driving experience. The 3,500 pound curb weight of the most recent CTS is evenly spread across the entire chassis to create a very well-balanced platform. This helps maximize performance and your driving experience.

Comfortable cabin environment. The cabin in the coupe, sedan, and sport wagon models is spacious, and gives up to five passengers room to comfortably stretch their legs. There's a three-zone climate control system, which lets you set the temperature where you want it without stepping on your neighbors' comfort.  And customers say the 12-inch-plus LCD display offers a clear view of navigation and entertainment features.

Extra focus on interior materials. High-quality materials are used inside to create the CTS's luxury look and feel. The carbon fiber, natural wood, and aluminum trim components are great complements to the leather interior. Other small details, like magnesium paddle shifters, help to complete the package.

The "V" in CTS-V stands for Vroom! In the two- or four-door CTS-V variant, you'll have a supercharged V8 that's good for more than 550 horsepower. It's the hot setup when you need a sedan that mixes luxury with top performance.

Manual transmission.Cadillac's going after the enthusiast segment with its CTS; it makes sense, then, that they'd include an option to let drivers row through the gears themselves. The CTS comes with a six-speed stick shift option to boost your exhilaration factor on twisty roads.
Choosing between the luxury sedan options.
In the end, you'll need to weigh your own preferences to identify the vehicle that best fits your needs. If the CTS doesn't meet your needs, you can choose other performance-luxury options, which include: