Think Your Dream Car's Out of Reach? You've Got Options
---
PUBLISHED TUESDAY, FEBRUARY 13, 2018
Find a car you love that won't break your budget.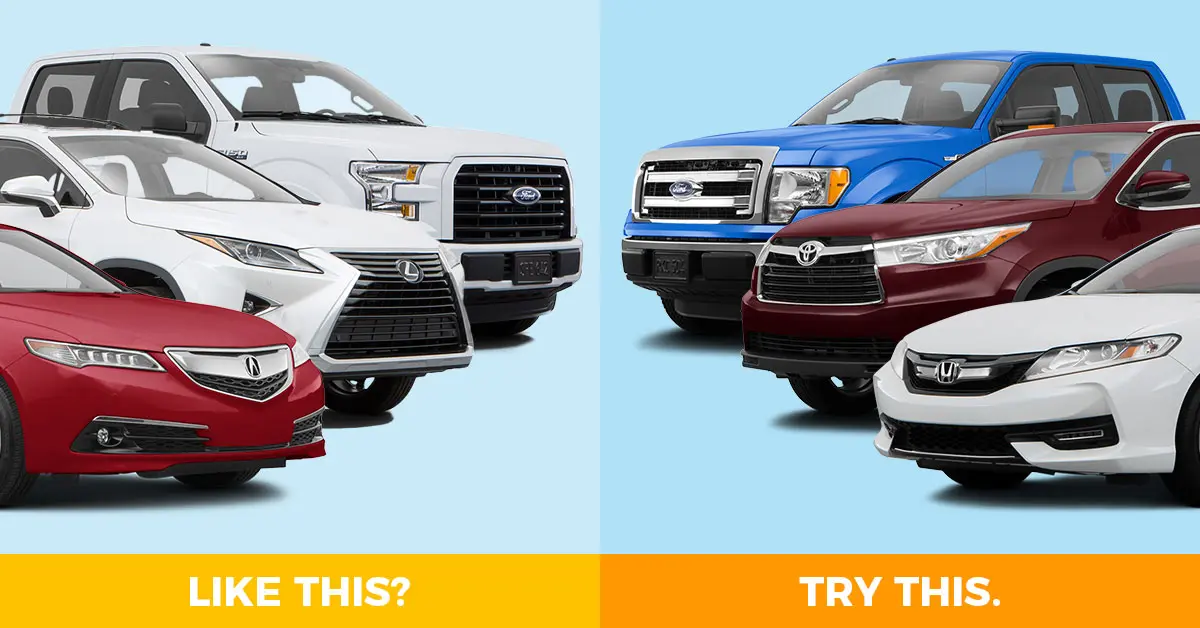 There are cars and trucks we drool over. Gaze at longingly and daydream about. And then there's the matter of actually shopping for a car or truck, and needing to stick to a budget.
Myth: Shopping on a budget means you have to settle for less.
Fact: Shopping for a used vehicle is a budget-friendly way to get lots of the features you want in your next ride.
Pickup Trucks
Want a: Ford F-150?Check out a: Ford F-150
Yes, you read that right. Depending on the configuration, a 2017 F-150 could cost more than $45,000 on average at CarMax (based on prices in January, 2018).1 But if you're willing to go back a few years, you can get a great truck like a 2014 F-150 XLT at CarMax for an average price of less than $30,000 (based on January, 2018 prices)1.
At CarMax, you can find a 5L, V8 Ford F-150 — the best-selling vehicle in America and the most-searched vehicle on carmax.com in 2017— from 2014 for an average price of $21,000 (as of January, 2018)1.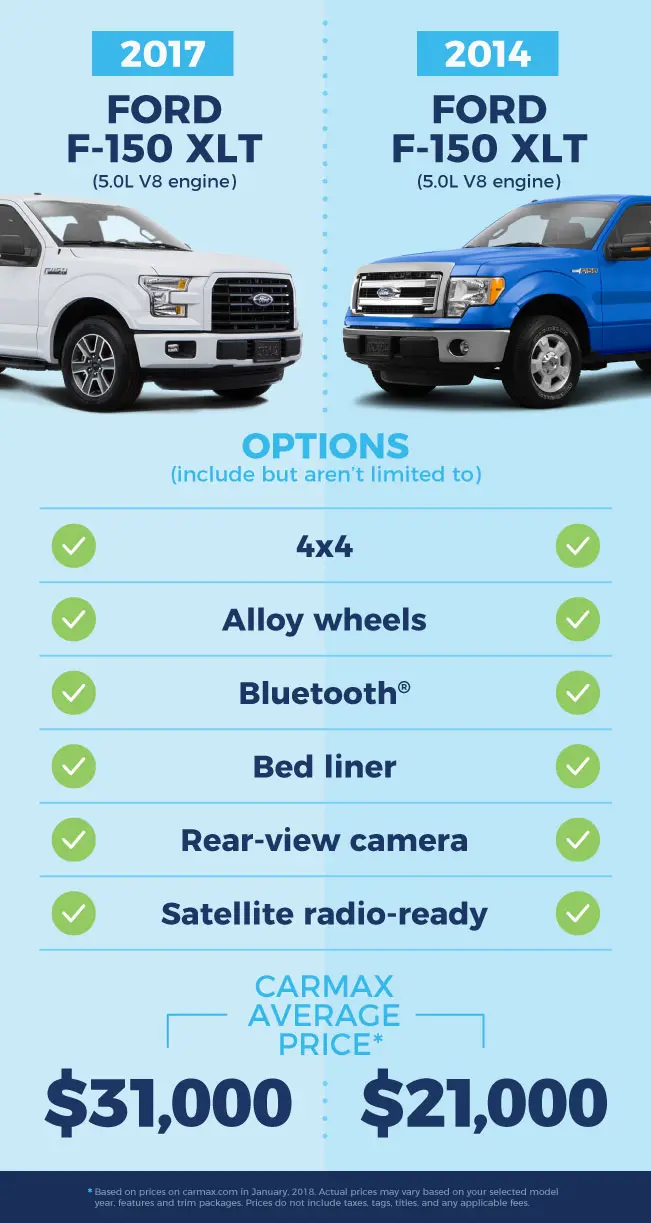 More vehicles like the Ford F-150:
SUVs
Want a: Lexus RX350?Check out a: Lexus RX350 or Toyota Highlander
If you want features like a powerful, six-cylinder engine and heated and cooled front seats — and you need to stick to a budget — check out an RX350 from a few years back or an SUV like the Toyota Highlander.
Why the Highlander? Because select model years and trims may have the features listed above and can cost less than many RX350s, plus it's available with a third-row seat. Lexus didn't give a RX350 a third row until the new, 2018 model year.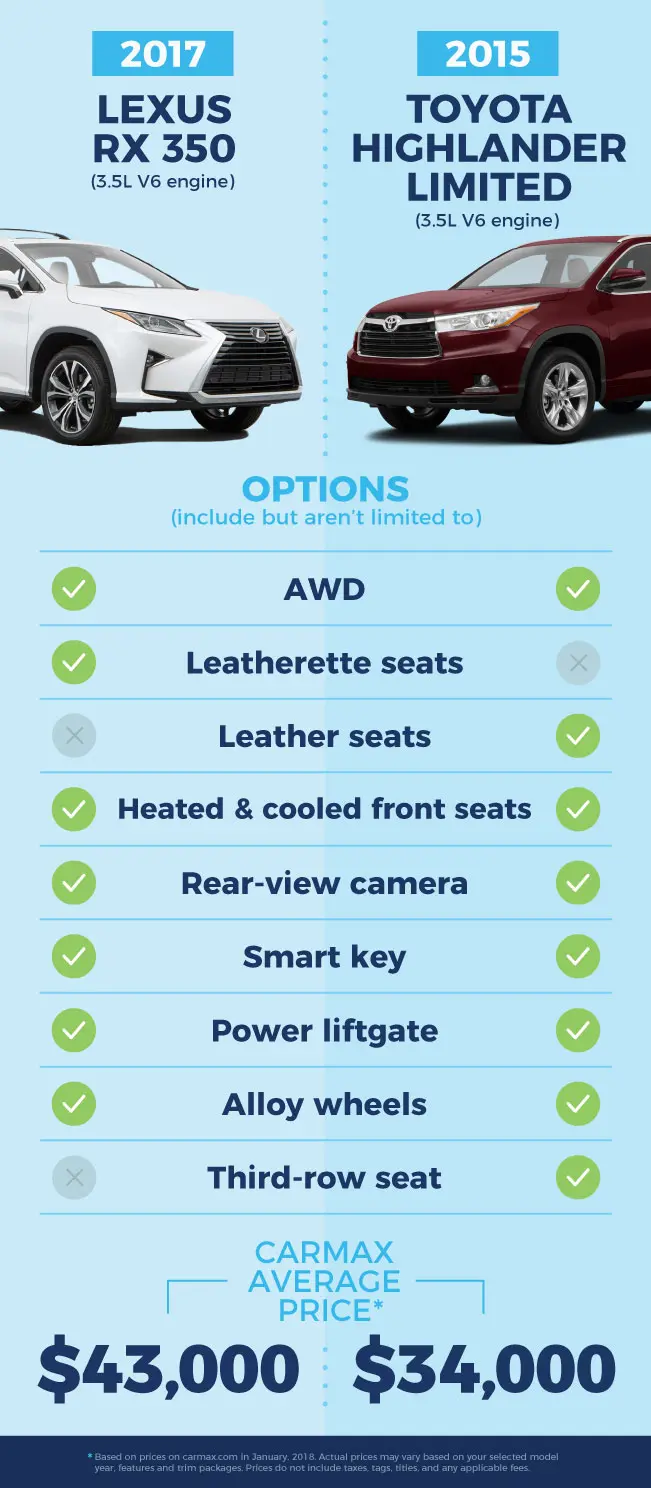 More vehicles like the Lexus RX350:
More vehicles like the Toyota Highlander:
Sedans
Want a: Acura TLX? Check out a: Acura TLX or Honda Accord
Thinking about an Acura? Both the TLX sedan and Honda's Accord are available with plenty of the same driver-comfort features and powertrain features. But did you know you can often find a recent used Honda Accord for less than a recent used Acura TLX, but with many of the same options?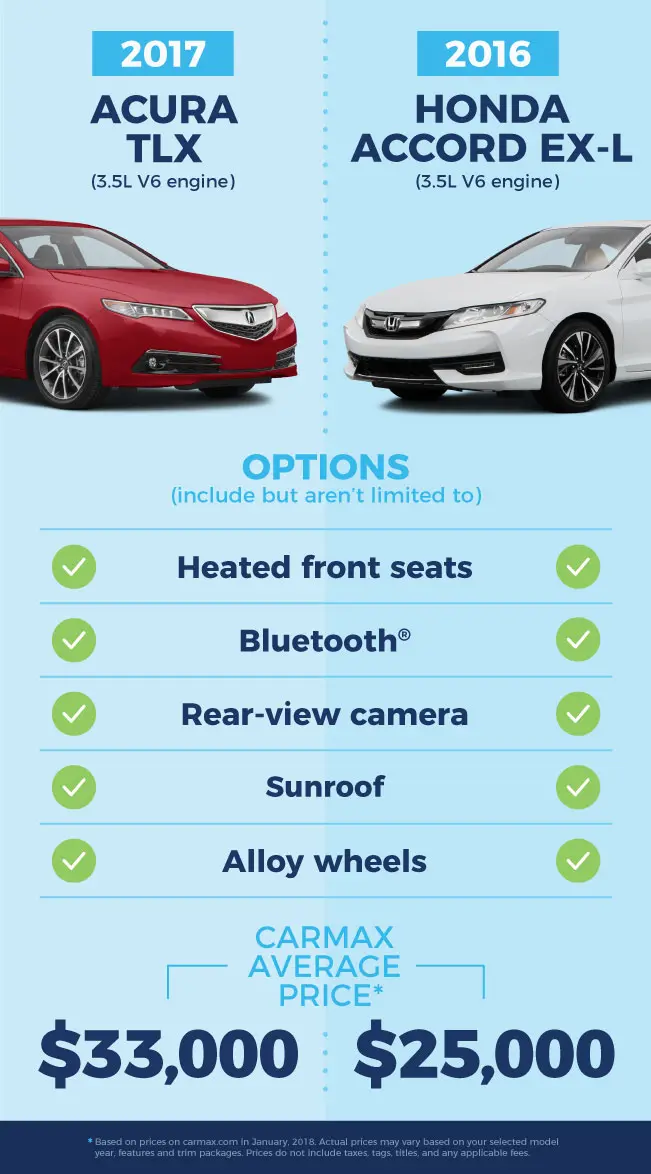 More vehicles like the Acura TLX:
More vehicles like the Honda Accord:
Looking to learn more? Check out seven more cool car and truck features.
Get pre-approved for a vehicle purchase at CarMax.
1
Based on prices on carmax.com in January, 2018. Actual prices may vary based on your selected model year, features and trim packages. Prices do not include taxes, tags, titles, and any applicable fees.
Unless otherwise noted, information relating to these featured vehicles comes from third-party sources, including manufacturer information. Product and company names may be trademarks™ or registered® trademarks of third-party entities. Use of them does not imply any affiliation with or endorsement by these entities.