Cars in Your Stars
---
PUBLISHED WEDNESDAY, JANUARY 29, 2020
Let the planets be your guide to the perfect ride.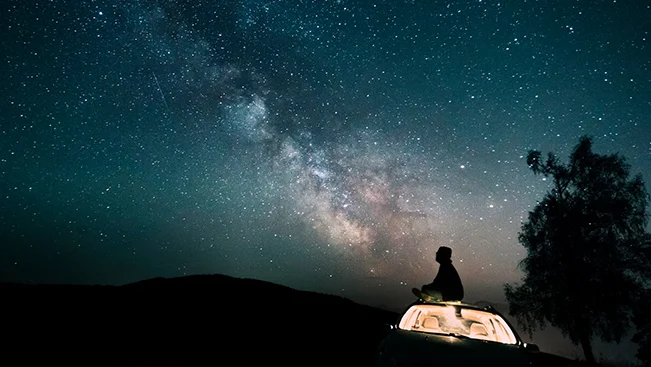 What's guiding you when it's time to buy a fresh set of wheels? At CarMax, we've helped millions of customers find the cars of their dreams. We've looked at  brand loyalty, age, and most-wanted features to explore motivations for buying a used car. Now we're consulting the universe, because car shoppers are looking to match their personalities with their rides. Which cars are in your stars?
Read on to learn more about which cars (and car colors) may be ideal for your zodiac sign, based on available customer birthdates and CarMax sales data from November 1, 2018, through October 31, 2019.
Aquarius: January 20 – February 18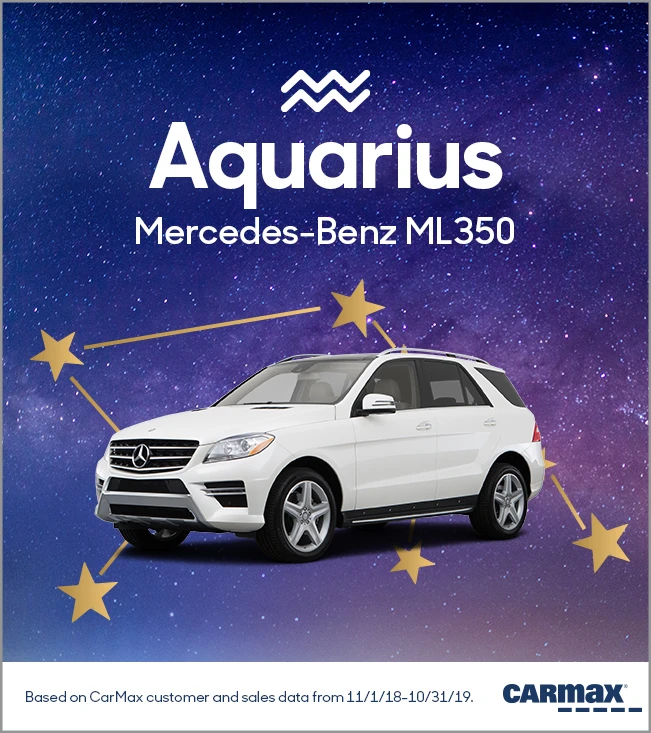 Aquarius is ruled by the planet that governs innovation and technology—Uranus. Your deep passion for creativity and intellectual pursuits explains your love for luxury and utility, making the Mercedes-Benz ML350 a perfect match. Another favorite is the practical Ford C-Max. And while tan may seem like an odd car color choice for a water sign, who can quibble with someone as open-minded as an Aquarius?
Aries: March 21 - April 19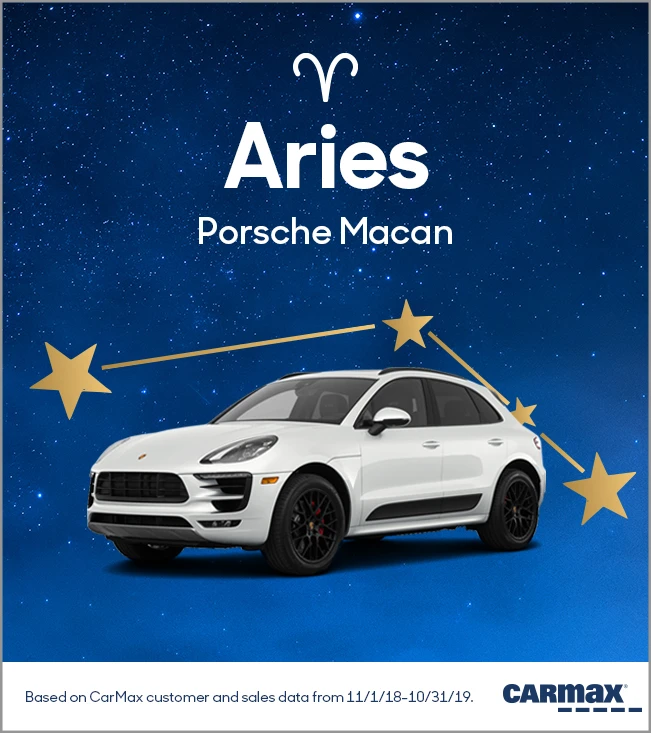 You're ultra-competitive, confident and you put everything into winning. No wonder you're drawn to the Porsche Macan, which goes from standstill to 60mph in a matter of seconds. Another favorite is the adventure-ready Subaru Crosstrek—a perfect match for your determined and relentless spirit. As an Aries, when it comes to romance, you believe in first impressions. So when you see a car in blue it's love at first sight.
Cancer: June 21 – July 22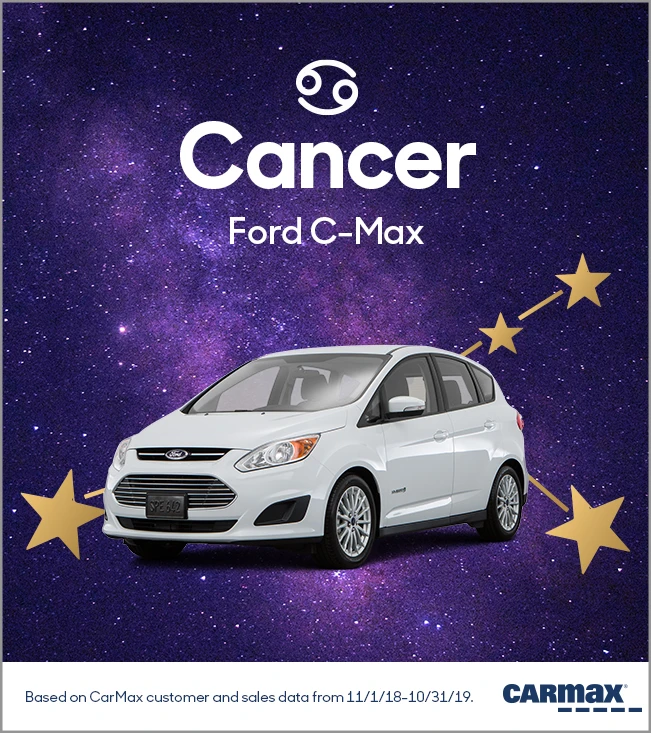 Much like the crab travels between sea and shore, you exist in the emotional and material realms. Your emotional side wants to save the world, which explains your attraction to the gas-sipping Ford C-Max. Another favorite, the Land Rover LR4, navigates your material world with aplomb, whether you're going out on the town or beyond the main roads. And since you were born in the summer months, it's no surprise that you enjoy bright yellow for your ride.
Capricorn: December 22 – January 19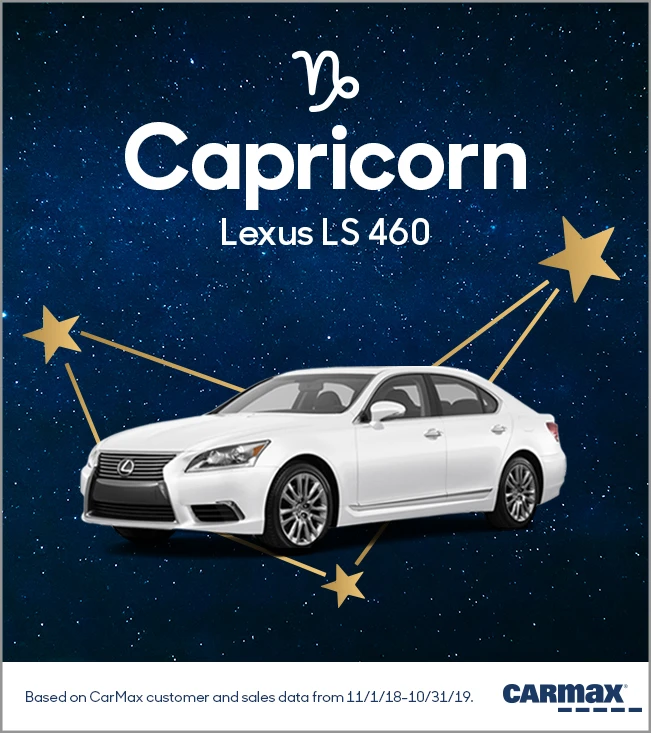 Some may call you stubborn, but you simply know what you want. When it comes to your car, you want a Lexus. The LS 460 delivers the premium luxury and refined ride you expect as a reward for your hard work. Get one in yellow and you're obviously Insta-worthy. Isn't that just like you, Capricorn? Another favorite pick is the Honda Accord Crosstour. This versatile, four-door hatchback suits your independent nature. Plenty of room to pack up and go.
Gemini: May 21 - June 20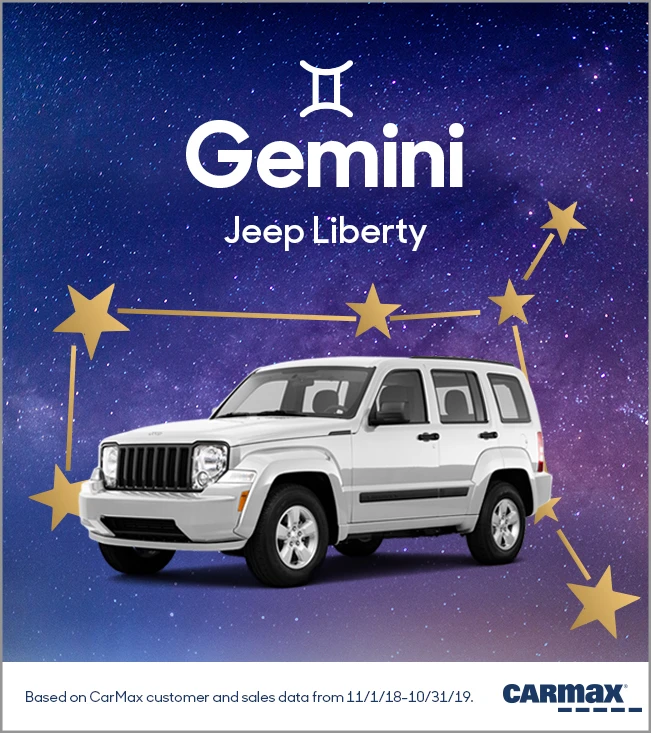 As a Gemini, you're a natural chameleon, comfortable blending into different groups. Maybe that's why your car tastes are diverse. The Jeep Liberty has off-road capabilities that help you roll with the crunchy crowd. The luxurious Jaguar F-Pace, on the other hand, helps you fit in with the civilized set. Go with a classy pearl color for your car, a perfect match for your charming personality.
Leo: July 23 –August 22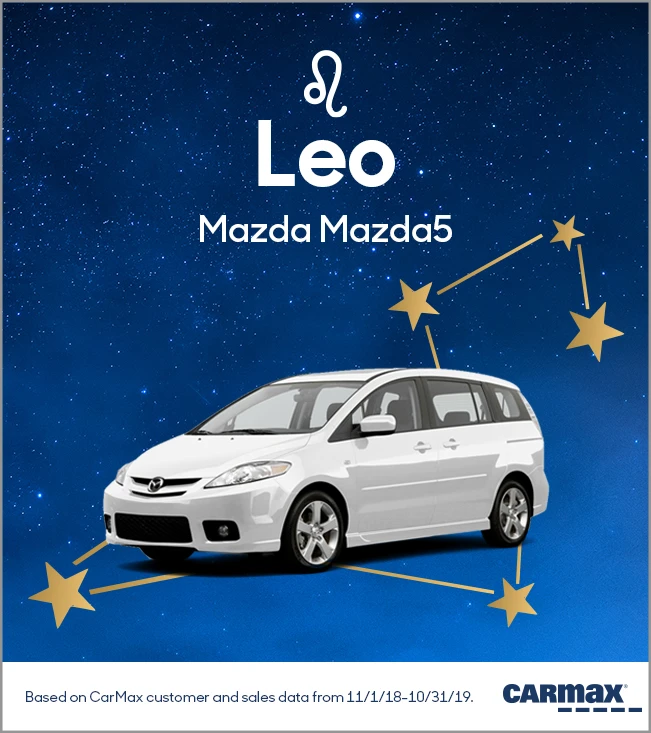 You're a natural leader, Leo. You have no problem making friends, five of whom could join you in one of your favorites—the Mazda Mazda5. This car puts the "mini" in minivan but allows easy access to the third row for your BFFs. Lions are known for their loud roar, but when it comes to luxury cars, you may prefer the smooth ride and silent cabin of the Mercedes-Benz S550. And in true Leo form, you like a car in a loud orange.
Libra: September 23 – October 22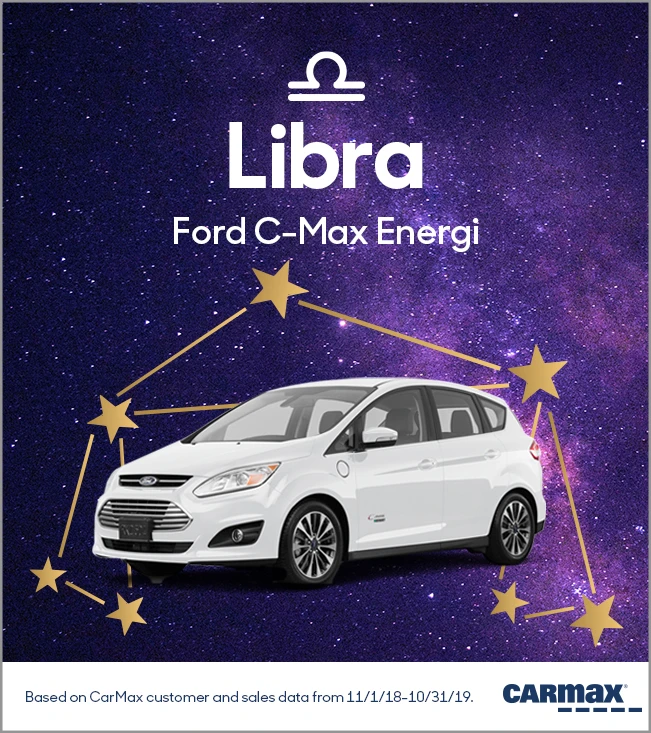 Represented by the scales, Libras are fixated on balance and harmony. Perhaps that's why you're drawn to the Ford C-Max Energi, a plug-in hybrid powered by a balance of gas and electricity. You struggle a bit with indecision, which makes the Lexus GX 460 a fine choice, too. Torn between city streets and off-roading? This SUV goes either route with ease. And with your goal to keep everything even keel, it's no wonder you enjoy your cars in the earth color, brown.
Pisces: February 19 – March 20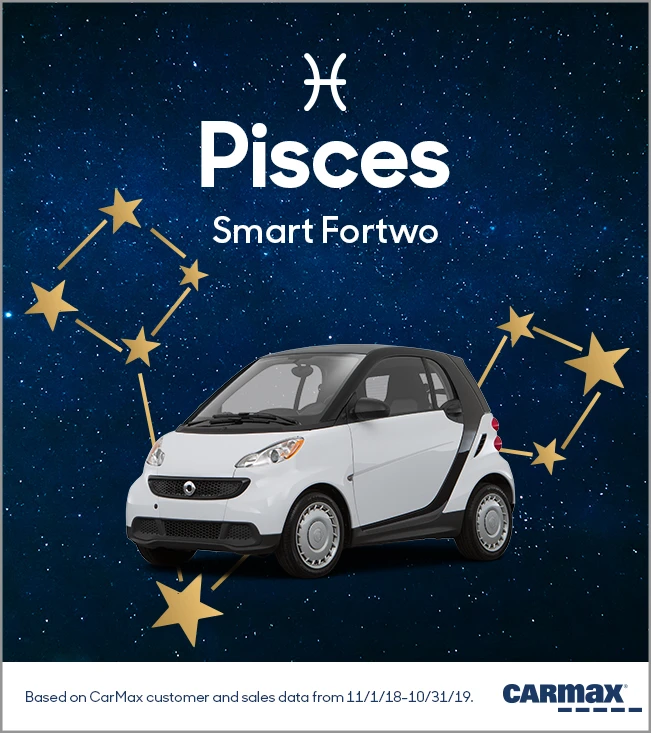 You are two fish swimming in opposite directions—one toward fantasy and the other to reality.  If it's fantasy escapism you seek, look no further than the Smart Fortwo. It turns on a dime and feels quite peppy when you need a quick getaway. Want to head back to earth? The GMC Yukon XL 1500 provides real legroom for nine passengers, with cargo space galore. You often choose yellow as one of your favorite car colors.
Sagittarius: November 22 – December 21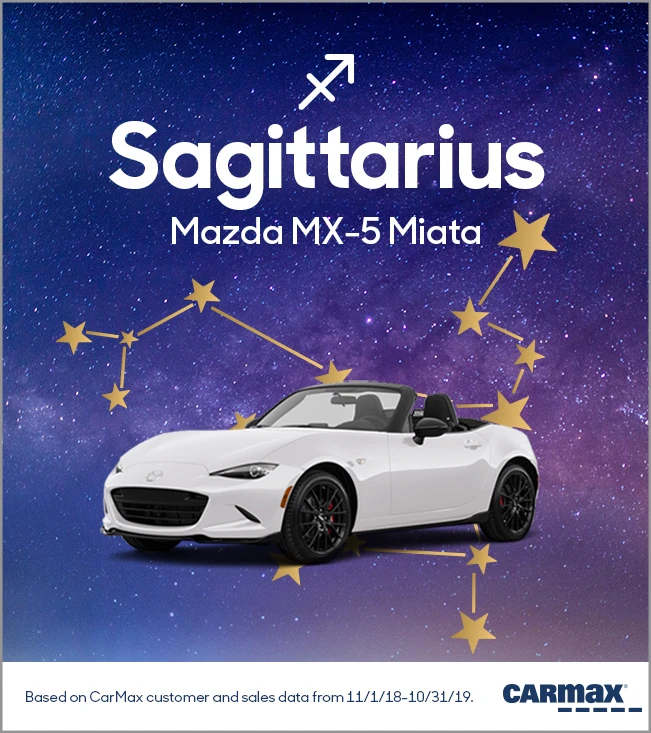 Fueled by wanderlust, a lover of exploration and solo travel, you're a perfect fit for the zippy Mazda MX-5 Miata. Don't want to go solo? The passenger seat provides ample space for your copilot, who couldn't resist your effortless magnetism. You're also a steadfast friend, which might explain your love for the Ford F-250. What could be more steadfast than a friend who lets others borrow their truck?
Scorpio: October 23 – November 21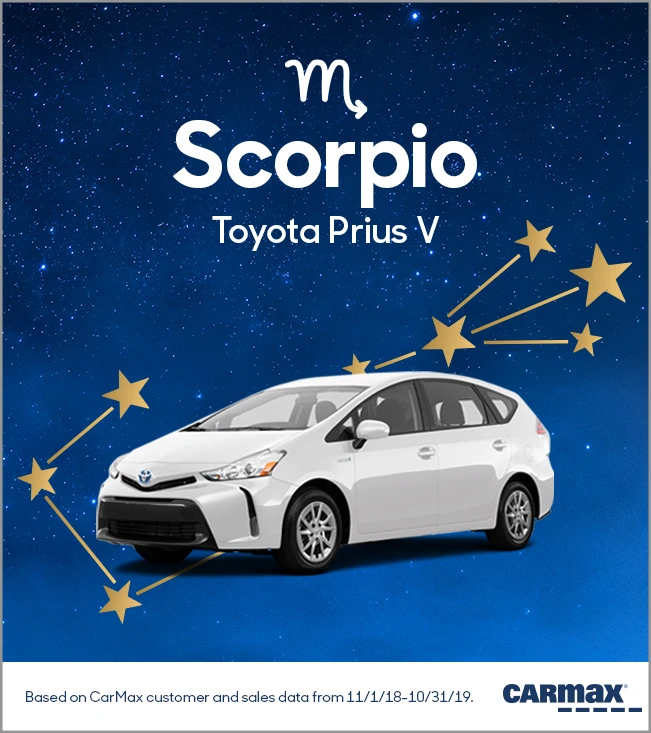 Scorpios make a statement wherever they go. And when you go in your Toyota Prius V, you're saying, "I love this planet. And cargo space."  If you're looking for something much bigger, you prefer the Chevrolet Silverado 2500, which makes a whole different statement. Something along the lines of, "Back off. Coming through." Your spirit color is black, a fine choice for either vehicle's interior, but you enjoy a gold exterior. This matches your intense and expressive nature.
Taurus: April 20 – May 20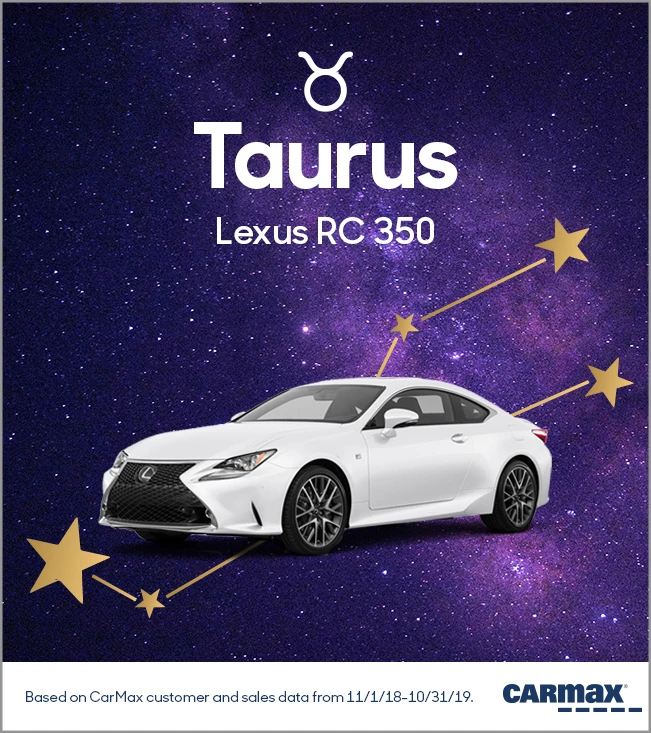 You're enchanted by comfort and luxury, so the cars you enjoy fit you like velvet gloves. The Lexus RC 350 features a well-appointed interior and a smooth ride. As a Taurus, you're also one of the hardest-working signs of the Zodiac. The versatile Subaru XV Crosstrek helps you get the jobs done. As for color choice, bulls are enraged by red, but orange is in their palette.
Virgo: August 23 – September 22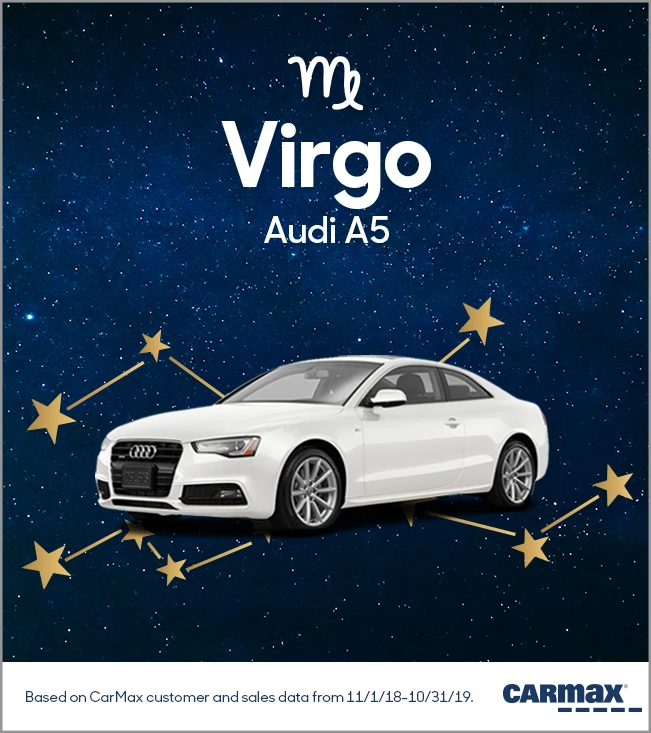 You're logical, practical, and you expect perfection. You like purple cars and we're guessing you keep the elegantly simple interior of your Audi A5 perfect. Above all else, you want to help others. A friend trapped in the forest?  Your Land Rover LR4 to the rescue!
Looking to learn more about car trends at CarMax? Check out these related articles.