Chevrolet Blazer FAQs
---
PUBLISHED TUESDAY, JANUARY 11, 2022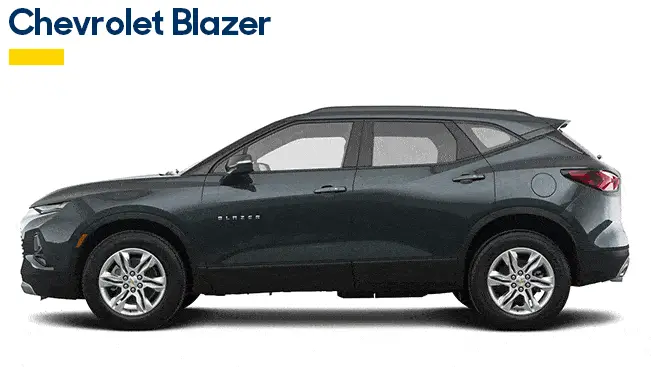 Find out more about this bold crossover.
A five-passenger crossover SUV combines the utility you need with spacious and comfortable seating for your whole crew. And if you're shopping for a crossover that sets itself apart with a daring design, you won't want to overlook the Chevrolet Blazer. Offering six trim configurations and three powertrains to choose from, this crossover SUV packs a lot of punch in a relatively small package. Plus, it's available in both front- and all-wheel-drive options to suit your driving needs.
Has the Chevy Blazer piqued your interest? We've compiled some in-depth answers to the most commonly asked questions about this crossover SUV, so take a look for yourself to learn more.
Chevrolet Blazer FAQs
Q: What are the different models of the Chevrolet Blazer?
A: There are six different trim options available on the 2021 Chevrolet Blazer. These include the base L trim, the 1LT, 2LT, 3LT, RS, and Premier. Three different engines are available (depending on trim), with the standard being a four-cylinder engine at 193 hp.
Q: Which is bigger: Blazer or Trailblazer?
A: In terms of overall size, the 2021 Chevrolet Blazer is larger than the 2021 Trailblazer. Specifically, the 2021 Blazer measures 191.4 inches in length and offers 30.5 cubic feet of dedicated cargo space. Meanwhile, the 2021 Trailblazer is 173.5 inches long with 25.3 cubic feet of cargo space.
Q: Did Chevy discontinue the Blazer?
A: The Chevrolet Blazer was originally produced as a full-size SUV from 1969 through 1995, though a compact "S-10 Blazer" model was also manufactured from 1983 through 2005. After a hiatus that lasted through the 2018 model year, the crossover Blazer as we know it today debuted for 2019.
Q: Which Chevrolet Blazer should I buy?
A: The Chevrolet Blazer that's right for you will ultimately depend on what you're looking for in a crossover SUV. With six trims to choose from on the 2021 Blazer, however, there's likely to be a model that suits your needs and budget.
The base L trim is decently appointed with features including an eight-inch touchscreen display, a six-speaker sound system, and smartphone integration. This trim is outfitted with a standard four-cylinder engine at 193 horsepower.
Looking for more power? Step up to the 2LT trim, which is equipped with a turbocharged four-cylinder engine at 230 hp. This model also comes with a power-adjustable driver's seat and a suite of driver-assistance features (such as forward-collision warning, automatic emergency braking, and lane-keep assist).
If you want to ride in luxury and max out your power, the range-topping Premier trim is worth a look. This model comes with an upgraded V6 engine at 308 hp, as well as indulgent features that include heated/ventilated front seats, an eight-speaker sound system, heated steering wheel, built-in navigation, and a convenient cargo management system.
Q: Is the Chevrolet Blazer a reliable car?
A: As of December 2021, there is no RepairPal® reliability data available for the Chevrolet Blazer. However, according to RepairPal data, Chevrolet as a car brand ranks a 4/5 ("Above Average") for overall reliability.1
RepairPal Reliability Ratings are based on the actual cost, frequency, and severity of unscheduled repairs and maintenance on make/model data for select 2006-2020 vehicles. The reliability of a specific vehicle may vary depending on its maintenance and driving history, model year, trim, and features. 
Q: How much should I pay for a Chevrolet Blazer?
A: Many factors can affect how much a Chevrolet Blazer will cost, including year, trim configuration, add-on features/packages, powertrain, and more. However, according to CarMax sales data, the average price of a 2021 Chevy Blazer is $40,998.2
If you're looking to spend less on a used Blazer, check out earlier model years. A used 2019 Blazer sells at CarMax for an average of $36,412, whereas the 2020 model sells for an average of $36,671.2
Q: What is the GMC version of the Blazer?
A: The GMC Jimmy is known to be the "upscale" version of the Chevrolet Blazer. The Jimmy was produced from 1970 through 1991 before it was discontinued. However, GMC has announced that the Jimmy will return for the 2022 model year.
Q: What cars are similar to a Chevrolet Blazer?
A: There are many five-passenger crossover SUVs that are similar to the Chevrolet Blazer. Some examples of the Blazer's competitors include the Ford Edge, the Honda Passport, the Jeep Grand Cherokee, the Kia Sorento, and the Nissan Murano.
Q: Is a Chevy Blazer a V6?
A: The 2021 Blazer does not come standard with a V6 engine. However, the RS and Premier trims are equipped with a V6 engine that cranks out 308 hp. All other trims come with either a standard four-cylinder or turbocharged four-cylinder engine.
Q: What engine comes in the 2021 Blazer?
A: The standard engine on a 2021 Chevrolet Blazer is a 2.5L four-cylinder engine at 193 hp. However, a turbocharged 2.0L four-cylinder (227 hp) is included on the 2LT and 3LT trims. Finally, the RS and Premier trims receive a 3.6L V6 engine at 308 hp.
Q: How many gallons of gas does a Chevy Blazer hold?
A: The fuel capacity of the 2021 Chevrolet Blazer will vary based on trim configuration, powertrain, and other features. Models with the standard four-cylinder engine and turbocharged four-cylinder engine can hold up to 21.7 gallons of gas, whereas V6 models can hold 19.4 gallons.
Q: Does the Blazer RS have wireless charging?
A: The 2021 Blazer RS does not come standard with wireless device charging. However, when sold as new, the 2021 Blazer RS was available with a Driver Confidence II Package that includes wireless device charging as one of its features.
Q: Does the Chevy Blazer have wireless CarPlay?
A: Yes, every 2021 Chevrolet Blazer is equipped with standard smartphone integration, allowing for seamless connection to both Apple and Android phones. Specifically, all of the Chevy Blazer trims come equipped with Apple CarPlay® and Android Auto™ compatibility.
Q: What kind of gas does the Chevy Blazer take?
A: All three engines available on the 2021 Chevrolet Blazer (the standard four-cylinder, the turbocharged four-cylinder, and the V6) take regular gasoline. Specifically, "regular" refers to gas with an octane level of 87 as labeled on a gas pump.
Q: What platform is the new Blazer built on?
A: Beginning with the 2019 model year, the Chevrolet Blazer is built on the GM C1 platform, which is a short-wheelbase and unibody design. This platform is also shared with the second-generation GMC Acadia and the first-generation Cadillac XT5.
Q: Is the Chevy Blazer larger than the Equinox?
A: Yes, the 2021 Blazer is larger than the 2021 Equinox, measuring at 191.4 inches long and 76.7 inches wide. By comparison, the 2021 Equinox is 183.1 inches long and 72.6 inches wide. The 2021 Blazer also offers 0.6 additional cubic feet of cargo space (30.5 vs. 29.9 on the 2021 Equinox).
Shop For a Used Chevrolet Blazer
Could a used Chevrolet Blazer be the right pick for your next vehicle? Whether you lean towards a base model with its spacious cabin and abundant standard features or want to spring for the range-topping Premier trim, you've got plenty of options to choose from. Take the next step by exploring our current inventory at CarMax and find used models near you.
1
RepairPal Reliability Ratings are provided by RepairPal and CarMax is not responsible for their accuracy. These ratings are based on RepairPal Reliability data as of 12/19/2021. Learn more at repairpal.com/reliability.
2
Average estimates are based on prices on carmax.com in December 2021. Actual prices may vary based on your selected model year, features and trim packages. Prices do not include taxes, tags, titles, and any applicable fees.
Unless otherwise noted, information related to these featured vehicles comes from third-party sources, including manufacturer information. Product and company names may be trademarks™ or registered® trademarks of third-party entities. Use of them does not imply any affiliation with or endorsement by these entities.