Chevrolet Spark: Reviews, Photos, and More
---
PUBLISHED THURSDAY, DECEMBER 6, 2018
A compact hatchback with big personality.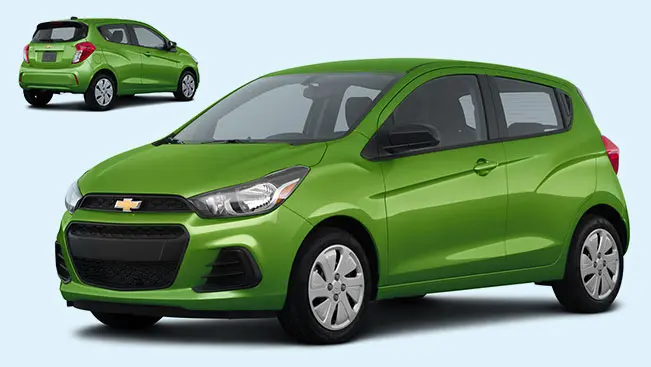 As gas prices reached record highs in the early 2010s, auto manufacturers saw an increased demand for smaller and more fuel-efficient vehicles. The introduction of the Spark in 2013 was Chevrolet's direct response to this demand. Today, it remains one of the smallest vehicles on the market—but don't let its small size fool you. The "Chevy Spark" has a lot to offer. Learn more about this compact four-door hatchback in our Chevrolet Spark review:
Reasons to Buy
1. Easy Maneuverability
Squeezing into tight parking spaces and making your way around crowded cityscapes is no challenge for the compact Chevrolet Spark. Its small footprint makes for easy handing and maneuverability.
2. Clever Storage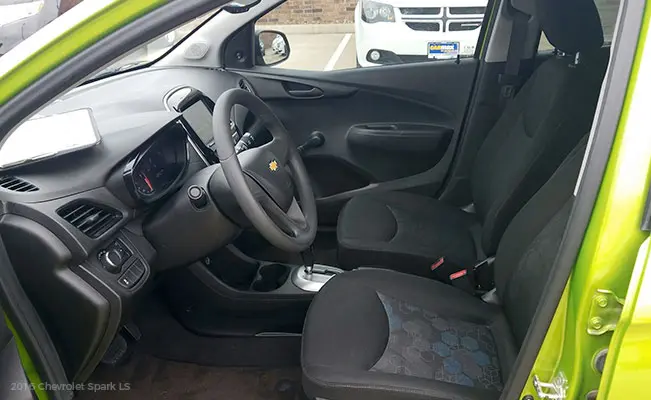 While it may be small in size, the Chevrolet Spark offers all kinds of clever storage options to make the most of interior space. This includes door pockets, and a generously-sized glovebox for small items.
3. Surprisingly Spacious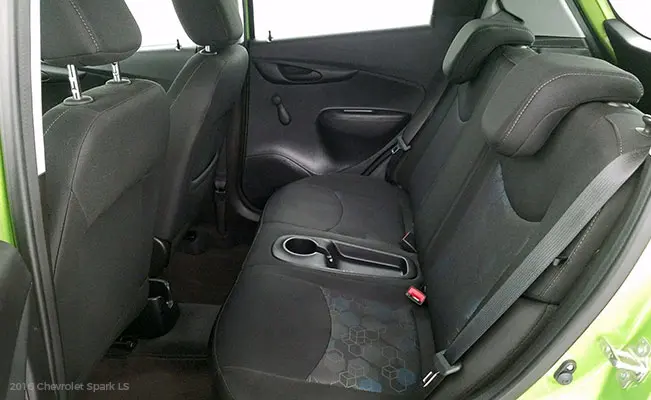 Compared to other vehicles of its size, the Chevrolet Spark offers a decent amount of interior space for people of all sizes. While head and leg room may be somewhat limited due to space constraints, average-sized adults will be able to sit comfortably in the rear seats. And, children will find the back row the most comfortable!
4. Great Infotainment System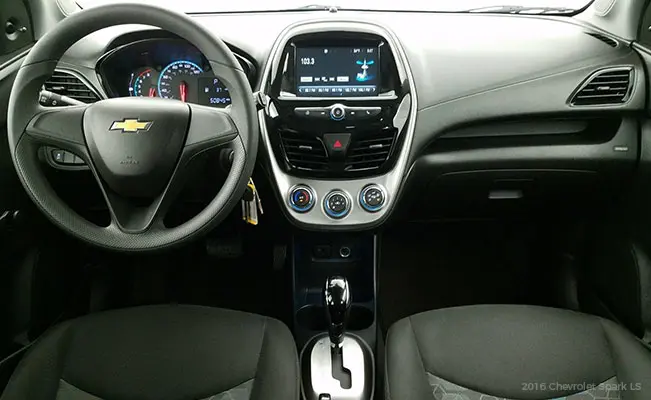 It seems that the infotainment system on the Chevrolet Spark gets better and better with each model year from 2014-2017. By 2016, the Spark came standard with Apple CarPlay™ and Android Auto™, as well as a 7-inch touchscreen display. And starting with the 2015 model year, the Spark came standard with available innovative 4G LTE Wi-Fi capabilities.1
5. Competitive Fuel Economy
Fuel economy in the Chevrolet Spark has remained consistent throughout its years of production. Drivers looking to make few stops at the pump will enjoy this compact hatchback. For example, the 2017 Chevrolet Spark, gets an estimated 33 mpg combined (30 city and 38 highway) in its base LS trim with 1.4-liter engine and automatic transmission.2
What You Need to Know
Chevrolet Spark CarMax Prices3
2014-2016: Average prices less than $11,000

2017: Average prices less than $12,500
Chevrolet Spark Trims
For the 2017 model year, the Chevrolet Spark is available in four trim levels.
Chevrolet Spark Interior
Despite being one of the smallest cars on the market, the 2017 Chevrolet Spark still manages to offer a decent amount of cargo storage space. This includes 11 cubic feet with rear seats intact, and up to 27.2 cubic feet with the second row of seats folded down. In terms of Chevrolet Spark cargo space, this is enough for hauling some sports equipment, luggage for a weekend getaway, or a haul from a grocery shopping trip.
Chevrolet Spark Colors
The 2017 Chevrolet Spark is available in eight different colors:
Kalamata

Mosaic Black

Nightfall Gray

Red Hot

Silver Ice

Splash

Summit White

Toasted Marshmallow
Chevrolet Spark Engine & Transmission
The 2017 Chevrolet Spark comes standard with a 1.4-liter, four-cylinder engine at 98 horsepower. It is also available in both manual and automatic transmission. Its automatic transmission is a CVT, which is designed to provide improved fuel economy and a quieter ride—especially at highway speeds.
Customer Reviews - Overall Rating: 4.2 (73 Reviews)4
Pros: Fuel Economy, Cabin Noise

Cons: Power, Braking
Reviews:
"Great for someone who's always on the go! Very good with gas and very spacious for a small car."
- 2015 Chevrolet Spark Owner (Miami, FL)
" Perfect for one or two people. Will hold more but not with luggage. Zips around town easily, and the entertainment system is great."
- 2015 Chevrolet Spark Owner (Phoenix, AZ)
"This is a small, fast, and nimble car that is perfect for zipping around the city. It's inexpensive and fun! Despite its small size, it can seat four reasonably well. Such a value!"
- 2015 Chevrolet Spark Owner (Memphis, TN)
Chevrolet Spark CarMax Rankings
2nd - Best Electric Cars (2018)

4th - Best American Cars under $15,000 (2017)
Click here for the full list of Chevrolet Spark rankings.
What's New For 2018?
The Chevrolet Spark is unchanged for the 2018 model year. It still boasts the same standard features and four available trim options.
The Bottom Line
Due to its compact size, the Chevrolet Spark is often sought after by singles, city-dwellers, and first-time drivers/car owners. City dwellers will appreciate its size and easy maneuverability. The Chevrolet Spark is proof that big things can come in small packages, and we're not surprised that this little hatchback received an overall score from our customers of 4.2/5!
1
Requires smartphone and data service. Normal cellular service rates will apply.
2
Based on CarMax average prices between March 1, 2018 and August 31, 2018. Actual prices may vary based on your selected model year, features, and trim packages. Prices do not include tax, title, tags, and any applicable fees.
3
Fuel economy figures are based on EPA estimates for when vehicle sold as new. Fuel economy may vary for reasons like driving conditions and vehicle history. Unless specified, figures are for vehicles equipped with an automatic transmission. See fueleconomy.gov.
4
Reviews have been edited for brevity, clarity, and grammar.
Unless otherwise noted, information relating to these featured vehicles comes from third-party sources, including manufacturer information. Product and company names may be trademarks™ or registered® trademarks of third-party entities. Use of them does not imply any affiliation with or endorsement by these entities.