Discontinued Car Trends
---
PUBLISHED FRIDAY, DECEMBER 6, 2019
Discover phased-out favorites on used car lots.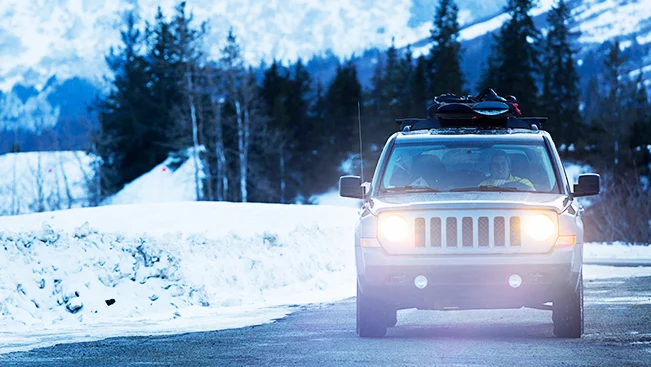 Any given year, someone's favorite car might stop rolling off the assembly line. Fortunately, many of these beloved, now-discontinued cars are still available. Our nationwide inventory of used cars includes a variety of models that were phased out by manufacturers. We've tracked sales for the last 14 years, revealing some interesting trends.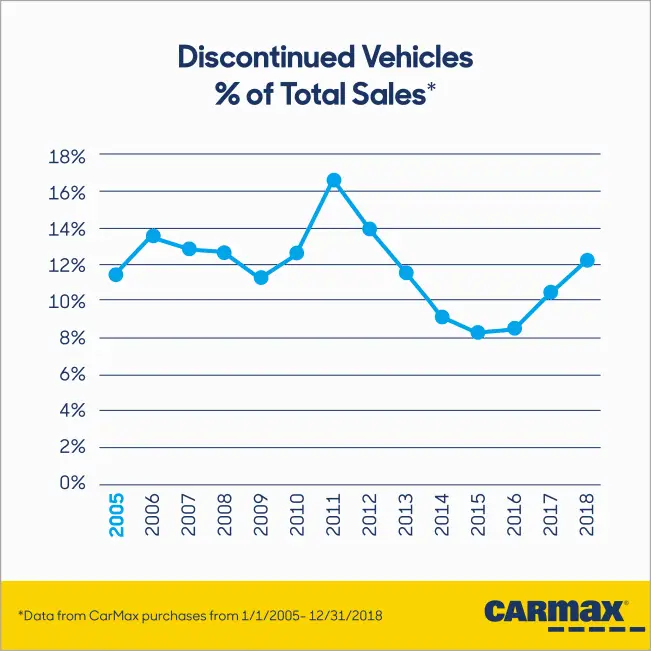 As you can see in our chart, discontinued vehicle sales at CarMax have been fairly steady since 2005, hovering around 12% of total sales. Discontinued sales peaked at more than 16% in 2011. This is the same year manufacturers said goodbye to once-cherished cars such as the Honda Element, Lincoln Town Car, and Chrysler PT Cruiser. There was a dip in sales in 2015—shortly after all Suzuki models were discontinued in 2014.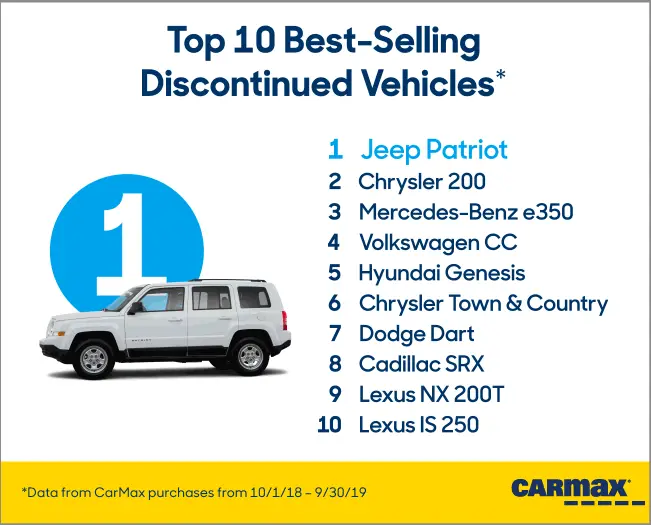 To see which discontinued cars have been most popular lately, we looked at a full year of CarMax sales, from October 1, 2018 through September 30, 2019. The Jeep Patriot was our top-seller. The compact crossover SUV had a strong 11-year run, and thousands have been rolling off CarMax lots since production ended in 2017.
The Chrysler 200 came in second among our best-sellers. The 200 was offered as a four-door sedan or two-door convertible from 2011 to 2014, then as a sedan from 2015 until it was discontinued in 2017.
Coming in third on our best-sellers list was the Mercedes-Benz e350, which was discontinued in 2016. The e350 has a loyal fan base—a revival of the model is planned for 2020. The Volkswagen CC, a four-door sedan with a coupe-like profile, entered our list in the number-four spot. Number five on our list was the Hyundai Genesis, which debuted in 2008 and lasted until 2017, when Hyundai spun off Genesis into its own luxury division.
At number six on our list, the Chrysler Town & Country was retired in 2016 after a strong, 27-year run. The Dodge Dart, our seventh most-popular discontinued car, was available in several trim levels during its four-year run, which ended in 2016. Number eight on our list was the Cadillac SRX, a luxury crossover SUV. The Lexus NX 200T and Lexus IS 250 rounded out our top 10 list, coming in ninth and 10th, respectively. This is no surprise as Lexus owners were the most loyal fans in our 2018 brand loyalty study.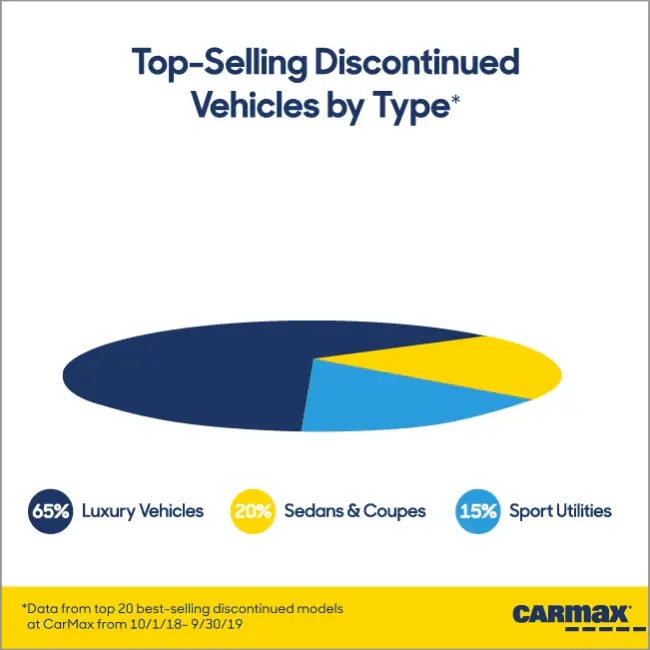 Now that we've established the top sellers, let's look at the most popular types of discontinued vehicles. We checked the data on our top 20 best-selling discontinued models, and the results were conclusive: People love discontinued luxury cars. In fact, with 65% of discontinued sales, the luxury car category outpaced the sedans and coupes (20%) and sport utilities (15%) categories, combined.
Surprisingly, no discontinued trucks made our top 20 list. However, the top-selling discontinued truck at CarMax was the Chevrolet Avalanche 1500, which was phased out in 2013, disappointing many devout fans.
Diving a little deeper into our data, we located the five states where discontinued cars are most popular among CarMax buyers, based on sales data from October 1, 2018 through September 30, 2019. Looks like many fans of phased-out cars live out west, with Nevada, Idaho, California, and Arizona filling four of five spots on our list. The outlier was New York, coming in at number four.
We also took a look at the top three, best-selling cars in each of our top five states from October 1, 2018 through September 30, 2019. As expected, our best-selling discontinued model, the Jeep Patriot, appeared among the top three in four out of five states and was the most popular seller in Idaho, New York, and Arizona. Luxury cars also featured prominently in this data, including the Mercedes-Benz e350, Hyundai Genesis, and Lexus NX 200T.
***
Now let's take a trip down memory lane, spotlighting our top-selling cars from the year after they were discontinued. Jeep models bookended our study. The Liberty (discontinued in 2012) finished as our top seller in 2013, according to sales data from January 1, 2013 through December 31, 2013. The Patriot (discontinued in 2017) topped our 2018 best-seller list, according to sales data from January 1, 2018 through December 31, 2018.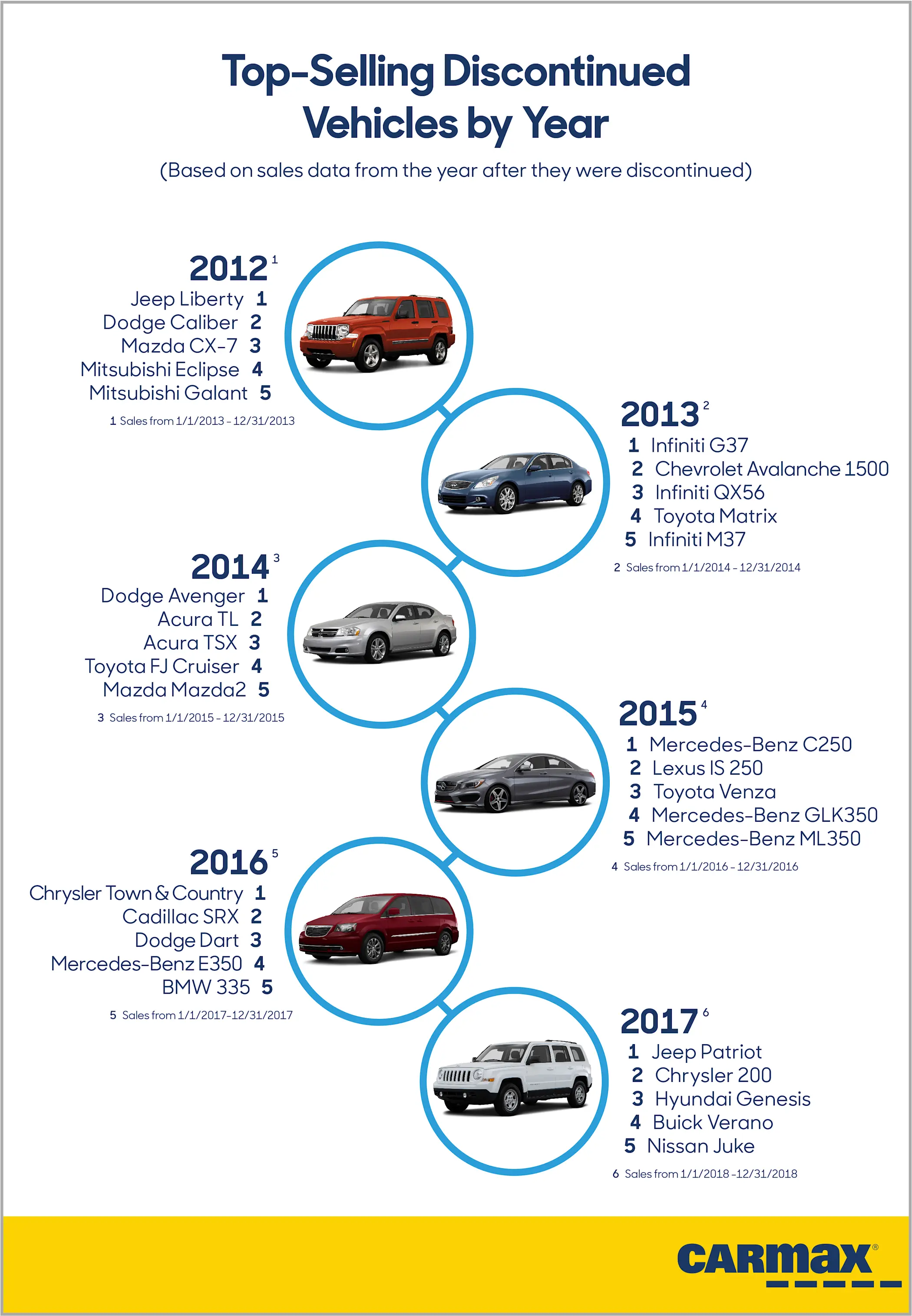 **
Sales of discontinued vehicles have hovered around 12% of total CarMax sales, according to 14 years of our data. The Jeep Patriot was our top selling discontinued model in 2018, but overall, luxury cars have dominated our sales. If you're on the hunt for a discontinued car, you can start shopping now.
Looking to learn more? Check out these related articles: