10 Reasons to Buy a Dodge Avenger
---
PUBLISHED WEDNESDAY, DECEMBER 7, 2016
The Avenger comes in enough trim levels to please about every driver.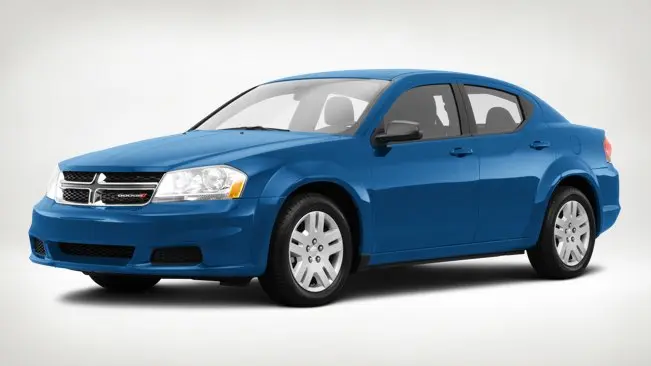 The Dodge Avenger made a big splash when it jumped into the large pool of mid-sized American sedans more than 20 years ago. Its classic styling, high-tech features, and affordable price made the Avenger an outstanding contender in the front-wheel-drive market. Right until its last model year (2014), sophisticated facelifts and revisions made sure the Avenger has held onto its position as a popular choice from Dodge for daily drivers and performance enthusiasts alike.
If you're in the market for an affordable, attractive, mid-sized sedan, you might find all you seek in the Avenger.
Here are 10 reasons to choose a used Dodge Avenger:
Abundant trim levels. The Avenger hit the scene with just three available trim options initially; this list of packages soon jumped to nine different configurations. The base, SE-model Avenger came equipped with a four-cylinder engine and a nicely-appointed cabin. Each subsequent trim level added more options to the stock build to create a personalized range of vehicles designed to suit every driver.

Motorsports connection. Since its 1995 release, the Avenger's flashy, aggressive body style has been used for race cars at a variety of motorsports events. When you watch a NASCAR race or National Hot Rod Association (NHRA) events, you'll spot Avengers giving the competition a real run for their money. NASCAR even showed its love for the Avenger by using it as its Car of Tomorrow for the 2007 race year.

Sleek exterior styling. Some considered the Avenger's rounded-edge body style to be uninspired in its earlier years; after smartly seeking public feedback, Dodge revamped this model several times over to give it a more sporty, race-inspired look. By 2007, the Avenger had sharp angles, scoops, and aggressive body lines that elevated the exterior styling to another level. However, the iconic crosshair grille design has remained, across all iterations, to ensure that this vehicle is always identified as a Dodge right from the first glance.

Powerful engine options. The Avenger's base-model, 173-horsepower, four-cylinder engine can outperform other four-cylinders in competing sedans, but there's real magic in the optional V6 engine. When paired with the six-speed automatic transmission, the Pentastar V6's 283 horsepower expertly launches the car from a stop and keeps cranking out continued power at speed. The high-performance Pentastar line of engines comes with the Avenger SXT Plus, R/T, and Heat trim levels.

Smooth, balanced ride. The Avenger's stabilizer bars, MacPherson struts, and multi-link suspension system cut bumps and jiggles to a minimum.

Step into the Chill Zone! Unlike most sedans, the Avenger comes with its own beverage cooler. That's right—flip the lid on the instrument panel and load up the cooler. Tune the onboard AC to keep up to four 12-ounce cans nice and cool for on-the-go refreshment.

Inviting interior design. The 2014 Dodge Avenger's cabin space pushes the limits of well-thought-out ergonomics in order to maximize passenger comfort. The controls on the dash, seats, and door panels are all easy to reach and use to make changes on the fly. It feels as good inside as it looks.

High-tech electronics. While you're looking for used sedans for sale, you'll find Avengers equipped with the Sun and Sound option package, which provides a wide array of high-tech goodies. This trim level upgrades the touchscreen display to 6.5 inches and adds Sirius XM® radio to the mix. The GPS navigation system gets you there on time, and a voice command system lets drivers keep both hands on the wheel at all times.

Theft deterrent. As such an eye-catching vehicle, Dodge wanted to emphasize theft deterrence; here, drivers must punch in a code to deactivate their Avengers' Sentry Theft Deterrent System®, which disables the car's starter. A keyless entry system helps to keep drivers and passengers safe by allowing immediate access to the vehicle upon approach.

An AWD Avenger? Sure. They're hard to find, but they're out there. Every once in a while you might come across a rare, all-wheel drive Avenger. This model was built for just two years, from 2007 to 2009, and was an option for the R/T model. It came with a 3.5L engine which put out more than 250 horsepower.
If these 10 reasons aren't enough for your used car research needs, keep hunting. Research and test-drive the Avenger, and lots of other similar used sedans for sale, to see which vehicle best meets your needs. Other vehicles in this class of sedans include the Kia Optima, the Chevrolet Malibu, and the Honda Civic. Good luck!