GMC Terrain: Reviews, Photos, and More
---
PUBLISHED FRIDAY, DECEMBER 7, 2018
A capable and spacious crossover SUV.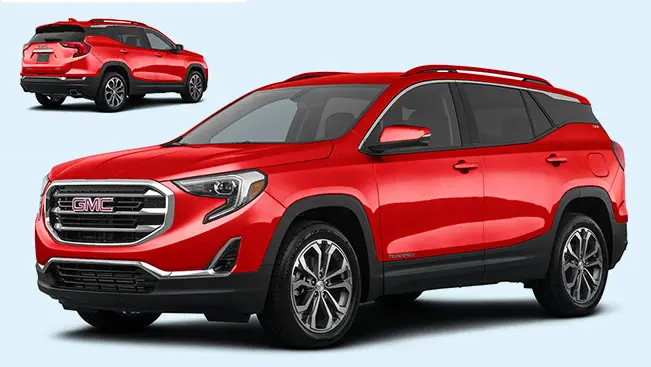 Crossover SUVs are a practical option for many buyers, offering the features and power of an SUV with the maneuverability and handling of a smaller sedan. If you're considering a crossover SUV for your next vehicle purchase, you'll want to add the GMC Terrain to your list. Check out our GMC Terrain review to learn more:
5 Reasons to Buy
1. Generous Standard Features
Across the 2014-2017 GMC Terrain, there are plenty of great standard features for both drivers and passengers to enjoy. Even the 2014 Terrain, for example, was ahead of its time in offering a rearview camera even in its base trim. Some other standard features include 18-inch alloy wheels, Bluetooth® connectivity, rear privacy glass, and a six-speaker sound system.
2. Five Trim Offerings (Plus Package Options)
The 2014-2017 Terrains offer five different trim options, in addition to some great add-on packages for a more customized ride. The Convenience Package, for example, adds both remote engine start and heated front seats. The Driver Alert Package, on the other hand, offers features like blind-spot monitoring and rear parking sensors.
3. Two Great Engine Choices
There's nothing wrong with the Terrain's base 2.4-liter, four-cylinder engine that is included on all 2014 – 2017 trims, but the available upgraded engine on the SLE-2, SLT, and Denali trims is a nice option to have. This engine is a 3.6-liter V6 at 301 horsepower for more pep behind the wheel.
4. Standard Wi-Fi Capabilities
Starting with the 2015 model year, all GMC Terrains are also equipped with OnStar®, which includes Wi-Fi capabilities so you can turn your SUV into a roaming hotspot.
5. Ample Passenger and Cargo Space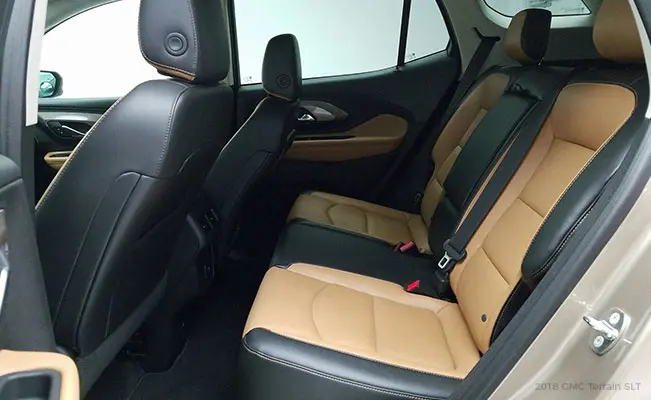 The GMC Terrain offers plenty of comfortable seating for up to 5 passengers, along with a folding rear row of seats to maximize cargo storage space.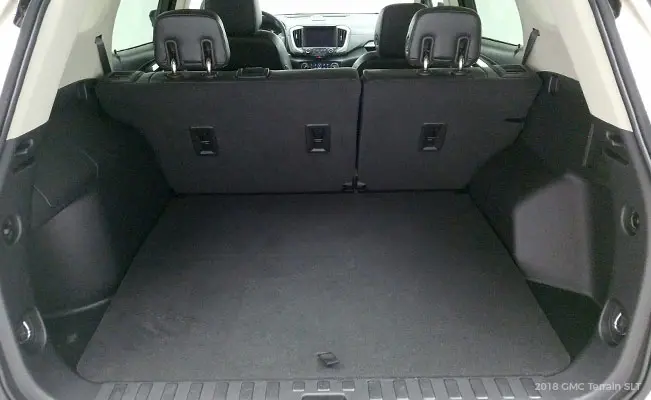 What You Need to Know
GMC Terrain Average CarMax Prices1
2014-2016: Average price less than $20,000.

2017: Average price less than $23,500.
GMC Terrain Trims
The 2017 GMC Terrain is available in five trim options:
GMC Terrain Interior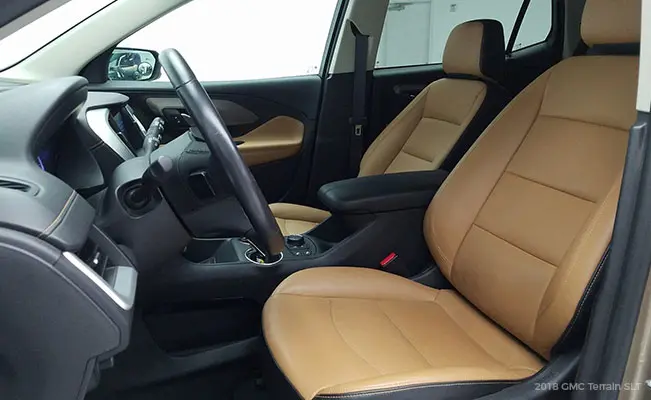 In terms of GMC Terrain cargo space, this crossover is spacious, offering 31.6 cubic feet with rear seats intact in its 2017 model year. Folding down the back row of seats expands maximum cargo storage space to 63.7 cubic feet, which is respectable as well. The 2017 GMC Terrain can comfortably seat five passengers with a decent amount of head and leg room for even passengers of taller stature.
GMC Terrain Colors
The 2017 GMC Terrain is available in nine exterior color options:
Crimson Red Tintcoat

Dark Sapphire Blue Metallic

Ebony Twilight Metallic

Graphite Gray Metallic

Onyx Black

Quicksilver Metallic

Slate Blue Metallic

Summit White

White Frost Tricoat
GMC Terrain Engine & Transmission
The standard engine on the 2017 GMC Terrain is a 2.4-liter, four-cylinder at 182 horsepower. However, those who opt for the SLE-2, SLT, or Denali trims have the option of upgrading to a more powerful 3.6-liter V6 at 301 horsepower. Both engines come with six-speed automatic transmission and are available in your choice of front- or all-wheel drive, except for the base SL trim (which is only available in front-wheel drive).
Customer Reviews - Overall Rating: 4.5 (218 Reviews)
Pros: Fuel Economy, Cabin Noise, Interior Space

Cons: Power, Cost to Maintain, Visibility
"This car is very comfortable to drive on long trips, and very easy to get in and out of, not too high off the ground yet you don't have to crawl down into it like most sedan type cars. I'm 6 feet tall and find most cars difficult to get in and out of. With the GMC Terrain, you can easily get in and out."
- 2015 GMC Terrain Owner (China Grove, NC)
"I was so excited when I spotted our terrain. It has a beautiful ride and amazing interior. It's perfect for a family car or even pets to ride in the back. The GPS is super easy to use and has a clear visual. The sound system is awesome as well. It's perfect for long road trips and has very comfortable seats. We love everything about our GMC Terrain!"
- 2013 GMC Terrain Owner (Astoria, OR)
GMC Terrain Rankings
8th - Best Small and Compact SUVs (2018)
Click here to read the full list of GMC Terrain rankings.
What's New For 2018?
For 2018, the GMC Terrain has been completely redesigned. Not only is it three inches shorter than the previous generation, but it is also 400 pounds lighter without sacrificing any head or leg room in the process. The 2018 Terrain also sees upgraded engine and transmission options.
The Bottom Line
With its generous standard features, ample storage space, and plenty of package options, the GMC Terrain remains an excellent choice for those in the market for a crossover SUV. Our customers rated the GMC Terrain with an overall score of 4.5/5!
1
Based on CarMax average prices between March 1, 2018, and August 31, 2018. Actual prices may vary based on your selected model year, features and trim packages. Prices do not include tax, title, tags, and any applicable fees.
2
Reviews have been edited for brevity, clarity, and grammar.