GMC Terrain vs. Chevrolet Equinox Review
---
PUBLISHED MONDAY, JULY 31, 2017
These two midsized SUVs offer a lot of flexibility, without the high price tag.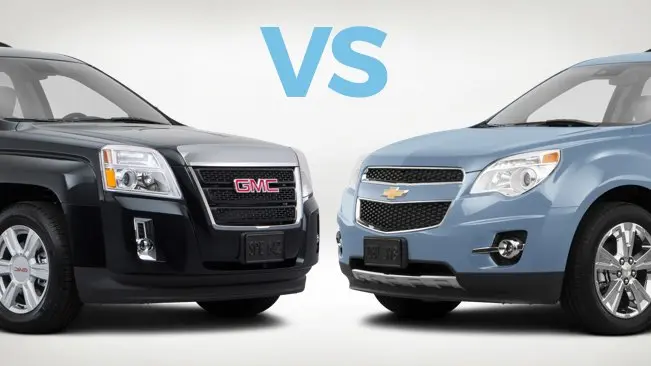 When it comes the Chevy Equinox and the GMC Terrain, you can't go wrong with either choice. Both SUVs are affordable, and the biggest differences are in styling and in some of the standard options. The Terrain has a beefier, more aggressive look and edge to it, and the Equinox looks a bit more … sophisticated. In a race, they might tie.
"These two SUVs are small enough to be easy to drive, and big enough to hold pretty much everything you need to carry along with you."
We did ask one of our top sales consultants in Richmond, VA about the differences between the two vehicles; after he pointed out their many similarities, he thought of another style difference: the Terrain's dashboard lighting shines red at night. The Equinox dash lights are blue!
He did point out that both vehicles have premium models — the Denali for the Terrain, and the LTZ for the Equinox — and these trims also share premium features like heated seats, leather interiors, backup camera, and more.
If you want an SUV that does everything you need, at a price you can afford, you have two solid options here. Both the GMC Terrain and the Chevy Equinox have a lot to offer. Whether you want a vehicle just for you, or you're looking for something for the entire family to appreciate, the Equinox and Terrain offer comfortable accommodations and plenty of style and trim options to choose from.
Terrain Overview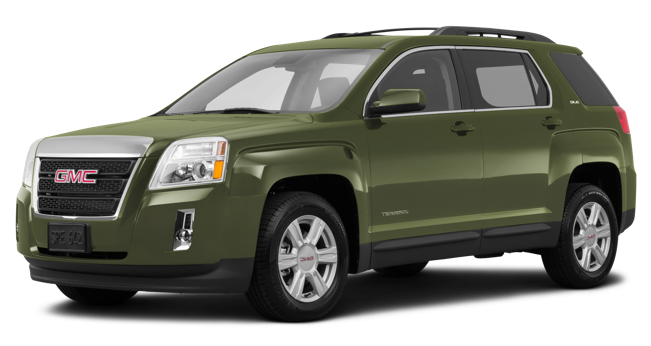 When you need a solid, well-equipped vehicle, the GMC Terrain can be an excellent choice. There's plenty of room in this SUV, and it's easy to maneuver through town, into and out of parking spots, and wherever else you choose to roam on your adventures. There's more to the Terrain than you'd expect, and it offers a rugged appearance many buyers appreciate. The similarities between the 2016 GMC Terrain and its Chevrolet counterpart are numerous, but with stylistic differences and a few other options, you can select an SUV that fits your needs. 
Accommodations
When it comes to accommodating a driver and up to four passengers, the GMC Terrain doesn't disappoint. There's plenty of cargo room for bags and other items, and it also offers good legroom, even in the back seat where some other SUVs fall short. Additionally, there's some very good headroom (nearly 40 inches) in this SUV — more than would be expected for a vehicle with these dimensions. That makes it easy for taller people to feel comfortable in the Terrain, where plenty of room to move around makes for a comfortable ride and an enjoyable trip, no matter where your adventures take you.
Equipment and capabilities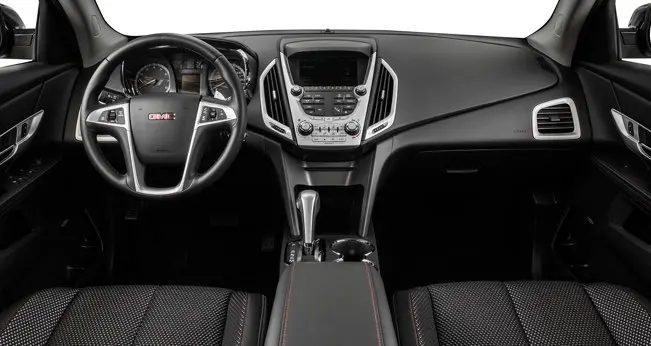 Nicely equipped, the Terrain offers Bluetooth® connectivity, a premium sound system, and plenty of touchscreen and navigation options. Different trim levels affect what options come on the Terrain you choose, but even the base model has luxury to appreciate. There's a towing package available; if you plan to tow something behind your SUV, you'll want to stick to buying options and trim packages that can give you enough horsepower to make towing easier and more convenient.
Style and trim
There are several trim levels to choose from here, and the package you choose will affect the comfiness of your ride. There's plenty of chrome with the higher-end trim levels, and you'll find more leather there, as well. But the base trim level still offers drivers a comfortable space and a great look. The more rugged style of the Terrain, compared to the slightly more rounded, graceful look of the Equinox is a consideration buyers will have to look at on their own, but that more aggressive style is often what attracts buyers to the Terrain in the first place, keeping it one of the more popular SUV options.
Powertrains
Whether it's the 3.6L engine for more power (301 hp) or a smaller, four-cylinder engine for improved gas mileage (26-28 mpg), the GMC Terrain offers choices that can please lots of buyers. As an SUV for your daily commute or for longer trips, the Terrain's powertrain choices let you toddle around town on errands or tow a boat or trailer on longer trips. The V6 engine may only give you a combined 20 mpg, but it also gives you the ability to tow up to 3,500 pounds. Buyers who seek gas mileage and versatility won't be disappointed by everything the Terrain has to offer, and by the choice of engines to consider. 
Equinox Overview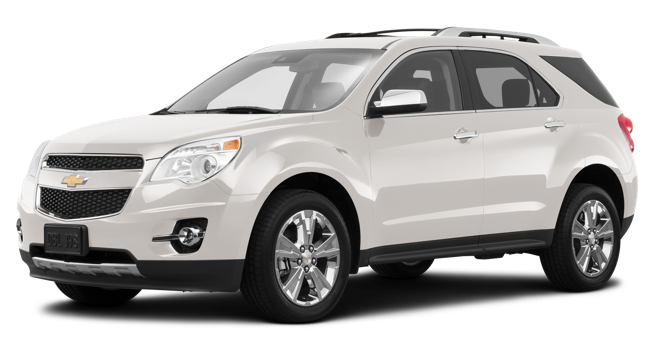 When you want an SUV that's light and nimble, but which also has plenty of room for passengers and cargo, the Chevy Equinox can be the right choice. It offers comfort and style with a sleek look and a slightly more demure body style than the GMC Terrain's. It's where sophistication takes over from ruggedness, and the style changes a bit to reflect that. The choice between the Equinox and the Terrain may come down to that little bit of body styling difference for some people, depending on personal preference and the kind of look a buyer really wants.
Accommodations
Plenty of legroom and headroom is  available in the Equinox, making it an excellent choice for people who need space in their SUV but don't want something bigger, like a Chevy Suburban. Whether you've got a family of five or you need to move cargo from place to place, you can do it in the Chevrolet Equinox. Buyers like the extra roominess of the Equinox's interior, and the way the seats give good support, even on longer trips. For buyers who are looking for an SUV that will keep them comfortable as they travel, they should keep the Equinox on their short list of choices.
Equipment and capabilities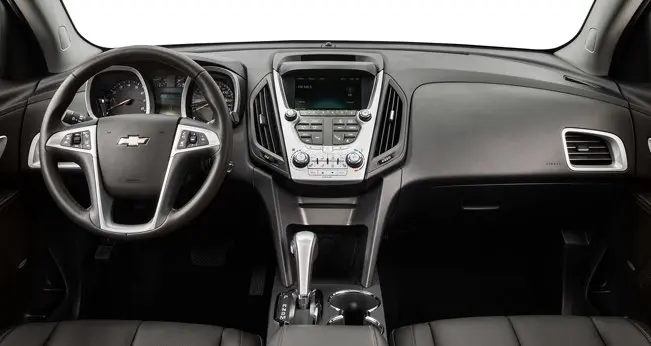 Accommodations are impressive in the Equinox, where you can expect touchscreen options, navigation, Bluetooth® connectivity, and a high-quality sound system. Even the base model trim level gives you an impressively upscale look and a wide array of features.
Style and trim
With several trim models to choose from, you can get the level of style and sophistication you're looking for in your next SUV purchase. The Equinox's base-model trim gives you plenty of choices, and when you step up from one trim level to the next, the options for added features are even better. You and your passengers have plenty of legroom and headroom, along with a lot of great cargo space for hauling things on your next adventure. Whether you camp in the woods for a week or you're headed up the street to the swimming pool with your kids and their friends, there's space for all the people and things you want to bring along you.
Powertrains
The Equinox gives you a number of engine options. You've got the small, 1.5L turbo in the latest versions, which gives you 26-28 mpg, depending on whether you roll with front-wheel drive or the AWD setup. Drivers looking for a little more oomph will want the 2.4L four-cylinder with 182 hp. Later models can be found with a segment-topping, 300 hp, 3.6L V6. This option lets you be down with the quickness (but you'll pay at the pump)!
Terrain or Equinox?
Essentially, the GMC Terrain and Chevrolet Equinox straddle the line between smaller and midsized crossovers, so you're getting the best of both worlds by choosing either one. For many people, a midsized crossover is just right, and plenty of buyers are very happy with a smaller crossover model. With these two great vehicles falling right in the middle, they appeal to large groups of buyers who want plenty of space in an SUV that's easy to drive.
With the Equinox or the Terrain, you'll find an ease of parking and a great use of interior space, along with smart styling choices. They're small enough to be easy to drive, and big enough to hold pretty much everything you need to carry along with you.
"The Terrain and Equinox straddle the line between smaller and midsized crossovers."
When making your selection, consider how you'll use the SUV you buy, the price you want to pay, and which features mean the most to you. That can help you focus on everything you really want and need, which means you'll end up with the SUV that is going to be right for you. With the Chevy Equinox or GMC Terrain, you and your family can love your SUV, use it for all kinds of adventures, and get the most out of your purchase.
Product and company names may be trademarks™ or registered® trademarks of third-party entities. Use of them does not imply any affiliation with or endorsement by these entities.