How to Correctly Tow with a Pickup Truck
---
PUBLISHED TUESDAY, AUGUST 10, 2021
Embark on your next towing adventure.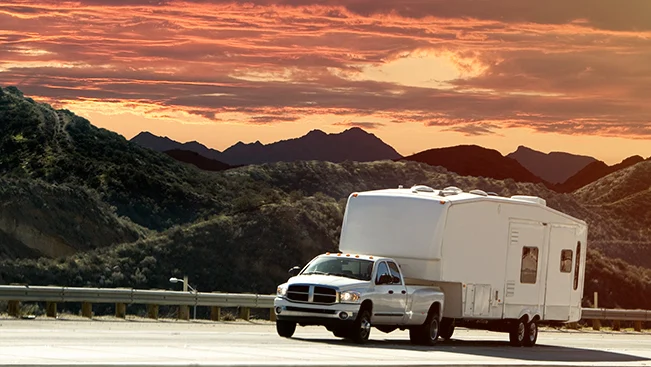 Recreational towing is a great way to vacation with your family or friends and knowing how to tow a trailer is a valuable skill that's not hard to master. In addition, knowing the limits of your truck or tow vehicle can help you pick the right trailer and avoid the potential mechanical issues that overloading can cause.
So, before you head out, read up on these essential tips and get answers to your most pressing towing questions. Then, take a look at three popular pickup trucks that are built for the task.  Please keep in mind, however, that sometimes towing can impact your warranty or extended service plan, so always double check those documents before hitching up your RV or trailer.
Get to Know Your Capacity
Knowing how much RV your truck or tow vehicle can handle is the first step. There are three terms to look for on your truck and trailer:
Gross combined weight rating (GCWR)

Gross vehicle weight rating (GVWR)

Maximum payload
All vehicles have a GVWR, which combines the maximum payload and the dry (unloaded) vehicle's weight. You can usually find your truck's GVWR on the sticker inside the driver's door well. The maximum payload of the vehicle will also be listed on that sticker. Your truck's GCWR tells you the maximum weight rating for truck and trailer combined. You'll find the GCWR in your owner's manual or online by searching for a tow guide.
Now that you know all the numbers, you can use them to make more informed decisions. Be sure to keep in mind the weight of passengers or cargo, which cannot exceed the payload capacity for the vehicle. Manufacturers typically calculate the maximum towing capacity in a truck with only a driver and a full tank of gas. More gear, people, luggage, and even trailer-hitch weight increase your truck weight and decrease your maximum tow capacity. Remember, your vehicle and trailer weight can't exceed the GCWR.
How Much Can You Tow?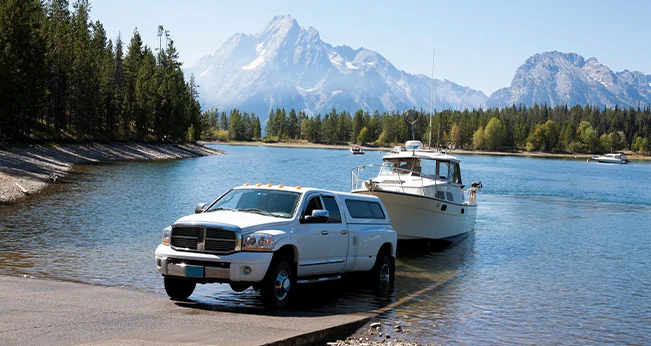 With the information about GCWR, GVWR, and payload in mind, you can determine a recommended trailer weight. When looking at trailers or RVs, be sure to check the capacities sticker for its GVWR, also known as a "wet weight", meaning its weight with fuel, fluids, cargo, passengers, and optional equipment. Note that some manufacturers advertise the base or "dry" weight of the trailer, not the wet weight. A good rule to follow when finding the recommended trailer GVWR for your truck is to subtract the GVWR from the GCWR.
For example, if a vehicle has a GVWR of 7,300 lbs and a GCWR of 17,500 lbs, the ideal trailer weight is 10,200 lbs (17,500 - 7,300 = 10,200). So, when shopping for an RV or trailer, you would know to keep the weight under 10,200 lbs.
Hitting the Road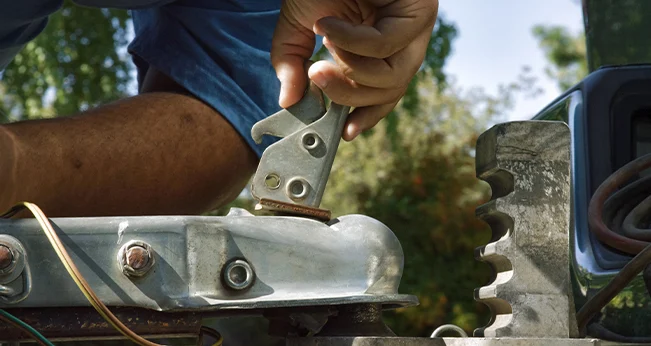 Knowing how to tow an RV starts with learning how to correctly connect and load your trailer. Any trailer or RV over 3,500 lbs may have integrated brakes. If your truck doesn't have an integrated brake controller, get one installed from your local reputable service center. In addition, manufacturers generally recommend that anyone towing a trailer over 5,000 lbs use a weight-distribution hitch. These specialized hitches can help evenly distribute the weight of a trailer across the frame of a truck, reducing sway and strain on the rear suspension.
Before every trip, be sure to check signal and brake lights, emergency chain condition, hitch condition, and verify the tongue lock is in place.
Loading Your Trailer
An essential part of learning how to tow a trailer is knowing how to load it correctly. For example, when adding cargo to a trailer or packing your RV for camping, it's best to load the front heavier than the back. An improperly loaded trailer or RV can increase sway or make it more difficult to control.
In general, put 60 percent of your cargo between the hitch and the trailer wheels, and the remaining 40 percent in the rear. Spread the weight out as much as possible. Avoid piling it up over the trailer axles or directly at the front of the trailer. An evenly loaded 60/40 front-bias trailer can go a long way to an enjoyable towing experience.
Popular Trucks for Towing
Armed with the basics of how to tow an RV, it's time to consider some trucks that are great for towing. These modern pickup trucks are built with many towing features or technologies, making it easier than ever to connect and pull an RV or trailer. Check out this rundown of three popular trucks and how they can meet your hauling demands.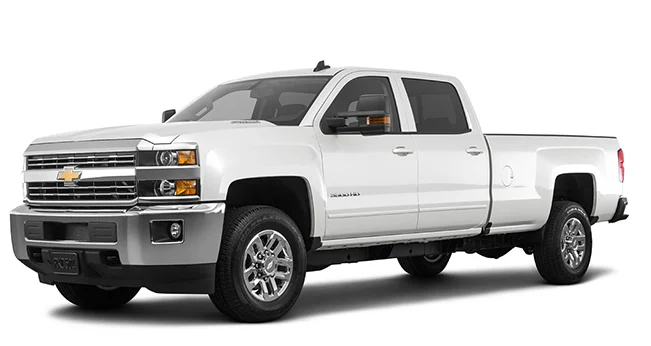 The 2017-2019 Chevrolet Silverado 3500 is a full-size pickup truck that offers various engine options and cab sizes for a variety of towing needs. In addition, the truck can be equipped with single- or dual-rear wheels, making it ideal for heavy work trailers or large fifth-wheel RVs.
A single-rear-wheel 2017-2019 Chevrolet Silverado 3500 Crew Cab 4WD with the 6.0L V8 engine has an estimated GVWR of 10,800 lbs and an estimated GCWR of 21,100 lbs, when properly equipped.1 With the 6.6L diesel engine and dual rear wheels, the 2017-2019 Chevrolet Silverado 3500 Crew Cab has an estimated 13,025 lbs GVWR and an estimated 31,300 lbs GCWR, when properly equipped.1
With all that power, the 2017-2019 Chevrolet Silverado 3500 also includes these useful towing technologies:
Digital steering assist – Power steering automatically adjusts the sensitivity of steering input based on speed and road type. This tech is designed to provide stable low-speed handling and confident high-speed steering. (Standard on LT trim and above)

Trailer sway control – Even when you follow all the steps, a trailer may be prone to swaying. The Silverado 3500 is designed to automatically detect when a trailer starts to wobble, and to use the truck and trailer brakes to reduce sway. (Standard on all trims)

Integrated trailer brake controller – This technology allows you to use the brakes equipped on your trailer. Set the gain in the driver information center. (Standard on all trims)

Rearview camera with hitch view – Make backing into a trailer more straightforward with the hitch view mode in the rearview camera. The trailer camera package is designed to provide improved visibility in the blind spots and rear of your trailer. (Optional accessory package)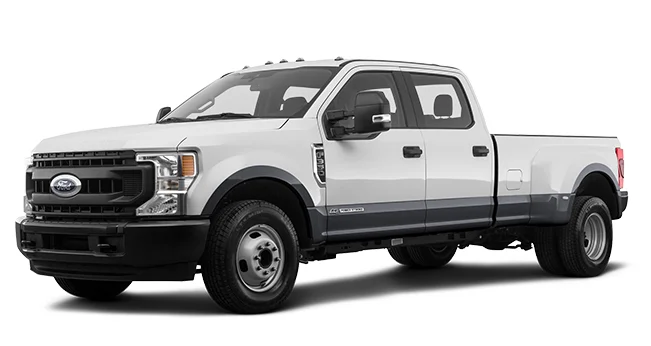 Brimming with some of the latest in towing technology, the 2017-2019 Ford F-350 can make hooking up and hitting the road a breeze. The base model is powered by a 385 hp 6.2L V8 gas engine with 430 lb-ft of torque. The optional 6.7L diesel engine pumps out 450 hp and a whopping 935 lb-ft of torque. Three cab options offer seating for up to six, so you have the space to take the whole crew along.
The diesel 2017-2019 Ford F-350 4WD Crew Cab with dual-rear wheels has an estimated GVWR of 14,000 lbs and an estimated GCWR of 40,000 lbs with the 4.10 rear axle, when properly equipped.1
Hooking up a trailer or RV to the 2017-2019 Ford F-350 is made easier thanks to some of these towing features:
Ultimate trailer tow camera system – This camera system provides four different view angles to aid in hooking up or reversing with a trailer. (Standard on Limited; optional on all other trims)

Trailer sway control – Using the brakes in the truck and trailer, this feature works to detect and reduce any trailer sway automatically. (Standard on all trims)

Blind-spot information with trailer coverage – The blind-spot monitoring system on the F-350 automatically extends the detection area alongside a connected trailer. (Standard on Platinum and Limited; optional on XL and above)

Trailer brake controller – Connect and control the brakes integrated with your trailer using a built-in brake controller. (Standard on XLT and above)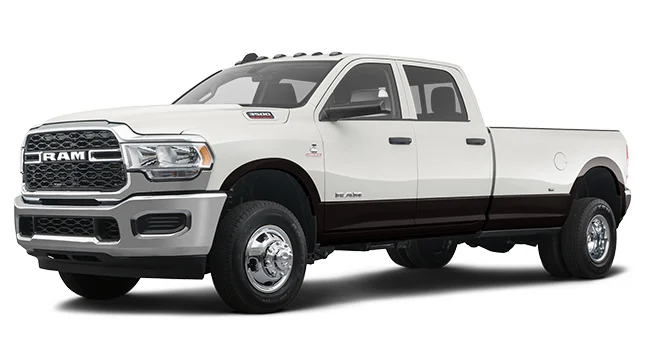 With attractive styling inside and out, the 2017-2019 Ram 3500 boasts a comfortable ride and towing system. The popular pickup truck is available in Regular, Crew, and large Mega Cab sizes. In addition, an available 6.7L Cummins® diesel engine offers a whopping 1,000 lb-ft of torque for impressive hauling power.
With an estimated GCWR of 43,000 lbs and an estimated GVWR of 14,000 lbs, the 2017-2019 Ram 3500 equipped with the 6.7L diesel and Mega Cab has the potential to pull just about any RV or trailer, when properly equipped.1
An available 12-inch center touchscreen highlights the technology in the 2019 Ram 3500. In addition, to help with towing, the 2019 Ram 3500 also includes:
A 360-degree camera view with trailer reverse guidance – Hook up to your trailer with ease using the built-in hitch alignment guidelines, all on the impressive 12-inch screen. (On models with the Trailer Technology Package)

Adaptive cruise control with stop-and-go – This technology is designed to automatically maintain your speed or make adjustments based on the traffic speed around you. In addition, the tech gets improvements to accommodate towing or hauling. (Standard on Laramie and above)

Trailer brake controller – This tech allows the truck to manage when and how your trailer's brakes are used. (Standard on all trims)
Towing an RV or trailer can be a fun activity for the whole family. When you know your truck's capabilities and the limits of your payload—and you make the most of the technology available in today's trucks—hauling is more accessible than ever.
Want to know more about vehicles that can tow? Check out these additional articles:
1
Various factors may impact towing capacity, including weight of passengers, cargo, and options/accessories.
Unless otherwise noted, information related to these featured vehicles comes from third-party sources, including manufacturer information. Product and company names may be trademarks or registered trademarks of third-party entities. Use of them does not imply any affiliation with or endorsement by these entities.