Which to Buy: Jeep Grand Cherokee vs. Acura MDX
---
PUBLISHED FRIDAY, NOVEMBER 18, 2016
While they have some differences, these two SUVs capably handle daily driving, weekend trips, and family hauling.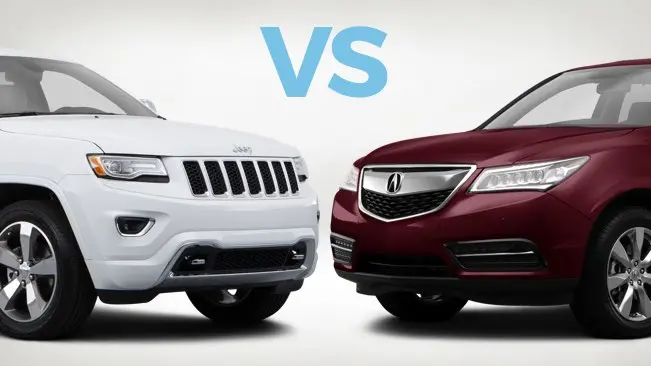 There are an endless amount of cars, crossovers, and trucks in the used vehicle market—and for families seeking a combination of utility and style, few vehicles address these needs better than the used Acura MDX and used Jeep Grand Cherokee. They're among our top 10 SUVs of 2016, and both are equipped with all the fixings that make for a comfortable drive on the road. They can both be easily loaded up with plenty of cargo, and they're both available with all-wheel or four-wheel drive.
Both Acura and Jeep are trying to serve the same customers here: people who want to take their children to football, soccer, or fencing practice, along with all their gear, plus use their vehicle for daily commutes and weekend trips. The MDX's wood accents and leather upholstery, coupled with exterior chrome features, distinguish it as an entry-level luxury vehicle. The Grand Cherokee tries to keep up with some faux wood and leather on the interior, but it's an altogether more rugged vehicle that's built to handle modest off-road driving.
Ultimately, the two vehicles share similarities but fulfill two different roles. The MDX is a luxury crossover with refined road manners, packed to the grille with features that make for a comfortable, sophisticated ride. The Grand Cherokee has specs that could make a back-country explorer giggle with excitement. Let's take a look at some of the differences between them.
Dimensions, engine, and transmission
The Acura MDX is a five-door SUV that holds three rows of seats, making for a seven-passenger carrying capacity. The middle and rear rows also fold down for added cargo room. With the 2014 Acura MDX, Acura bumped the width and length of the vehicle to 77.2 inches and 193.6 inches, respectively. But they didn't sacrifice anything under the hood; the MDX comes with a powerful V6, direct fuel-injection engine capable of 290 horsepower. A six-speed automatic transmission with a manual shifting mode is standard, and the weight-to-power ratio makes for a stylish workhorse that isn't burdened when fully loaded with cargo. This SUV's gas mileage has improved over previous models and some competitors, rating 18/21 miles per gallon.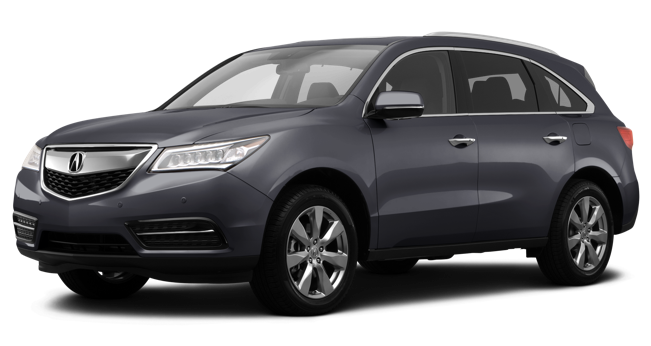 Jeep's Grand Cherokee manages to pack more power into a smaller package, sacrificing some gas mileage and one row of seats. A bit smaller than the MDX, the Grand Cherokee is 76.5 inches wide and 114.8 inches long. The SUV only seats five passengers, but it has some features that put its 3.6-liter V6 engine to good work, and the model equipped with a V8 engine can churn out 360 horsepower. An eight-speed automatic transmission with a manual shifting mode also allows for more off road control.
An important distinction, however, is the broad range of suspension and chassis options available on the Grand Cherokee when compared to the MDX, especially with the 2014 Grand Cherokee. The MDX has 5.6 inches of ground clearance when fully loaded, while the Grand Cherokee sits 8.6 inches off the ground—a more viable option for off-roading. Five-mode air suspension and multiple drivetrain options also help the Grand Cherokee on and off the pavement.
These two vehicles have more hauling, cargo carrying, and off-road capabilities than smaller vehicle types like sedans or hatchbacks, yet they're smaller and more city-friendly than larger SUVs, vans, and pickup trucks. While the Grand Cherokee is a strong off-road performer, the MDX's efficiency and passenger-carrying capacity might make it a more viable option for families and city folk. These traits are particularly true for the 2016 Jeep Grand Cherokee and the 2016 Acura MDX
Entertainment, interior, and exterior features
In the cabin, both the MDX and the Grand Cherokee feature some of the cool tech that's expected of vehicles from such recognizable brands. Screens display vehicle conditions, while dynamic sound systems and sleek, modern upholstery distinguish both SUVs.
The MDX is packed with some of the latest tech that solidifies its place in the entry-level luxury vehicle class. The standard model comes with push-to-start ignition, a rearview camera, heated driver and passenger seats, and a moonroof. Some of the tech packages include blind-spot indicators, DVD players for the back two rows of seats, parking sensors, remote ignition, and a 12-speaker audio upgrade. An improved exhaust system, coupled with thicker window glass, muffles outside noises for MDX passengers and makes for a quieter, more comfortable drive than in previous years.
The Grand Cherokee also boasts an 8.4-inch touch-screen monitor which controls the vehicle's widely-praised Uconnect® media system. A refined instrument panel—accentuated by wood paneling and optional leather-stitched dashboard—gives a clear display of what's going on behind-the-scenes in the vehicle. Features like USB media reading and an up-to-date stereo system let drivers play DJ while on their commute. That touch screen provides a full display of vehicle diagnostics, and works in tandem with a rear-facing camera on some models.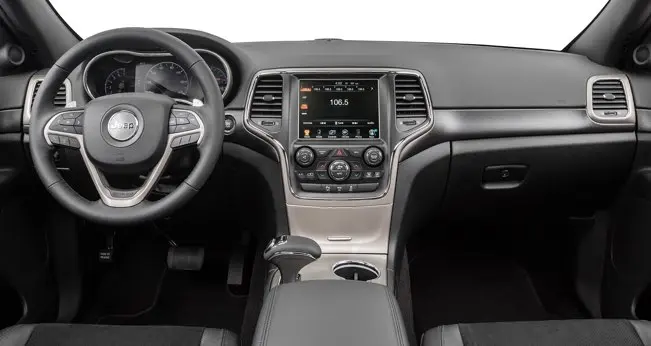 Want to do any towing? While the MDX has a beefy-enough engine, there's no hitch on the standard model and you'll find yourself ordering parts online and paying to have them installed if you plan to tow a trailer. The Grand Cherokee, however, comes standard with a discreet spot for attaching a trailer hitch.
Conclusion
Both of these used SUVs are viable options as family vehicles. Their engine output is powerful, and their spacious cabins will attract car buyers who need and want something a cut above smaller sedans or hatchbacks.
The differences are more apparent when you compare the two vehicles' family and city utility. Ultimately, the Grand Cherokee has a handful of features that make it more capable over rugged terrain, and it's better-equipped for towing trailers. It's what's expected of a Jeep. The MDX, on the other hand, looks and drives more like a mid-sized SUV with city manners. It's easily parkable, sleek, and just a pinch more fuel efficient. The exterior and interior are more sophisticated, but lack the Grand Cherokee's outdoorsiness.