9 Reasons the Mustang GT350 is Still a Classic
---
PUBLISHED MONDAY, JANUARY 29, 2018
Gobs of power and a furious exhaust note.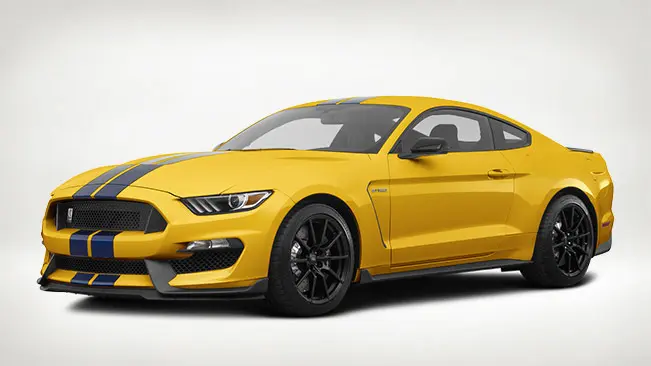 Have you heard the Ford Mustang Shelby GT350?
You may have heard of it, but have you actually listened to it? The 2015-2017 GT350s have an exhaust note unlike almost any production car sold today. They sound angry — furious, actually, in full song — with enough throaty backpressure pops to send muscle car fans into raptures.
The GT350's head-turning tailpipe sound is unique, and it's just one reason why this car is a CarMax future classic. As a Mustang that's sure to be collectible down the road, it's worthy of being the first profile in our Future Classic series, where we spotlight some of the cars we think are worth buying now and holding onto for lots of driving enjoyment.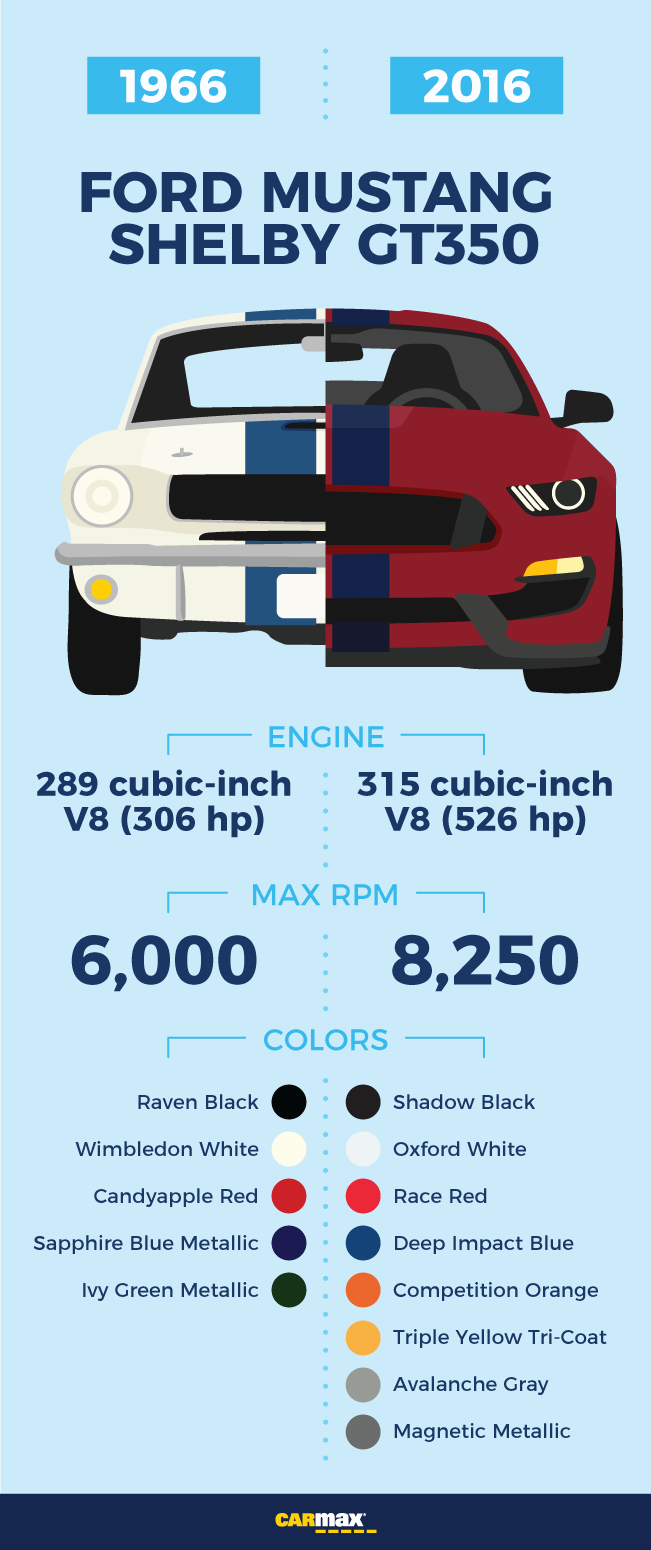 For help sharing the best parts about this car, we talked with a CarMax associate at our Fort Bend, TX, store who's a die-hard Mustang fan. This service manager has owned a total of 12 Mustangs over the years, and he says the 2015-2017 Shelby GT350s are some of the best Mustangs Ford has built yet.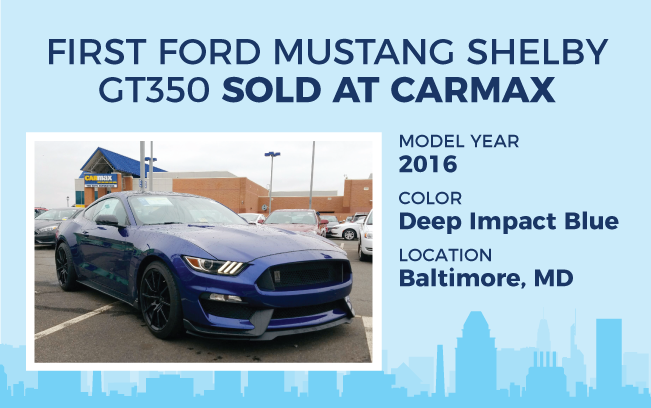 The 2015-2017 Ford Mustang Shelby GT350 is an anniversary model from Ford, released 50 years after its first Mustang GT350 in 1965. That car was championed by racing great Carroll Shelby, and having his name attached to this new model still means plenty to Mustang fans.
Nine cool things about the 2015-2017 Shelby GT350
That monster of an engine. At 5.2 liters and 526 hp, the GT350's eight-cylinder pounding heart is the most powerful naturally-aspirated engine Ford ever stuffed under the hood of a Mustang. Its marvelous exhaust sound comes in part from the motor's flat-plane crankshaft, which lets this engine rev higher than almost any other V8 on the road. What's a flat-plane crank? It refers to the engine's internal layout — the up-and-down and in-and-out parts. Just know this crank setup affects the cylinders' firing order. The design allows for lighter-weight internals, which lets the engine spin fast and free.

All that Mustang heritage, distilled in one car. The original GT350 was groundbreaking (and ground-pounding) 50 years ago, and thanks to its mix of trackability and a truly special V8 engine, so are the 2015-2017 Shelby GT350s. If you're a Mustang fan, the GT350 is your holy grail. It's an anniversary car that pays tribute to Carroll Shelby and his fire-breathing Shelby Mustang from 1965.

Road-hugging suspension. Some car variants, like the 2017 Shelby GT350, come with a magnetic-assisted suspension that helps this front-engined, rear-wheel drive, muscle monster hold the road like few other street Mustangs can. Gone are the days of the live-axle Mustangs; a ride in the newer, independent rear suspension cars with the automatically-adjusting magnetic shocks on some GT350s can turn the old-school purists in performance circles into true, new believers.

A six-speed manual. A car like the Shelby GT350 needs an old-school stickshift to help you make the most of your driving experience. CarMax has sold 60 2015-2017 GT350s as of early 2018 — all of them with a smooth-shifting Tremec® six-speed manual transmission.

Lighter weight. Aluminum hood and other body components mean that despite its heavy-duty performance engine, the 2016 GT350 tips the scales at well under two tons. And less weight often means better handling in the twists and turns, not to mention quicker acceleration.

RECARO® seats. Hip-hugging, bucket-style seats hold you in place through those twisties; RECARO seats have a racing heritage and are an available option on some GT350s. Other seating options include heated and cooled front seats.

Knockout colors. The 2016 GT350s' color schemes include Triple Yellow, Race Red, and Competition Orange. These names sound like they can add a bunch of horsepower to the car's dynamo readout all by themselves. The 2017 cars' palette includes the same colors as the 2016 models, plus a shade called Grabber Blue.

The GT350R version. This "R" variant (not available at CarMax) is built for the track. The R-trim GT350 has oversized, carbon-fiber wheels and all the extra weight stripped out. That's right — no carpets, radio, or rear seat.

Our GT350s meet our standards. In order for any car to go out on our lots for sale, it needs to meet our CarMax Quality Certified criteria. This standard extends to Mustang Shelby GT350s too. Certain vehicles may have unrepaired safety recalls. Click here to look up a specific vehicle.
Our veteran associate says these cars were meant to get out on the road, and not stowed.
"This car is incredible and the sound it makes is incredible," our associate says. "The MagneRide™ suspension's sensors read the road conditions thousands of times a minute, and the car's great handling comes from the shocks' tightening or loosening as needed.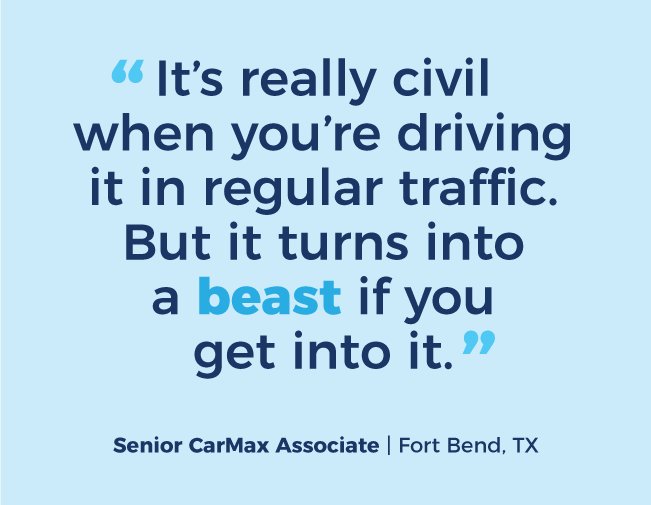 "To really enjoy this car, you've got to get out and drive it. It's a limited production Ford, and it's one of the best Mustangs Ford ever made. It's really civil when you're driving it in regular traffic, but it turns into a beast if you get into it."
Looking for more about performance vehicles? Check out our lists of the 10 best sports cars for 2017 and the best modern muscle cars.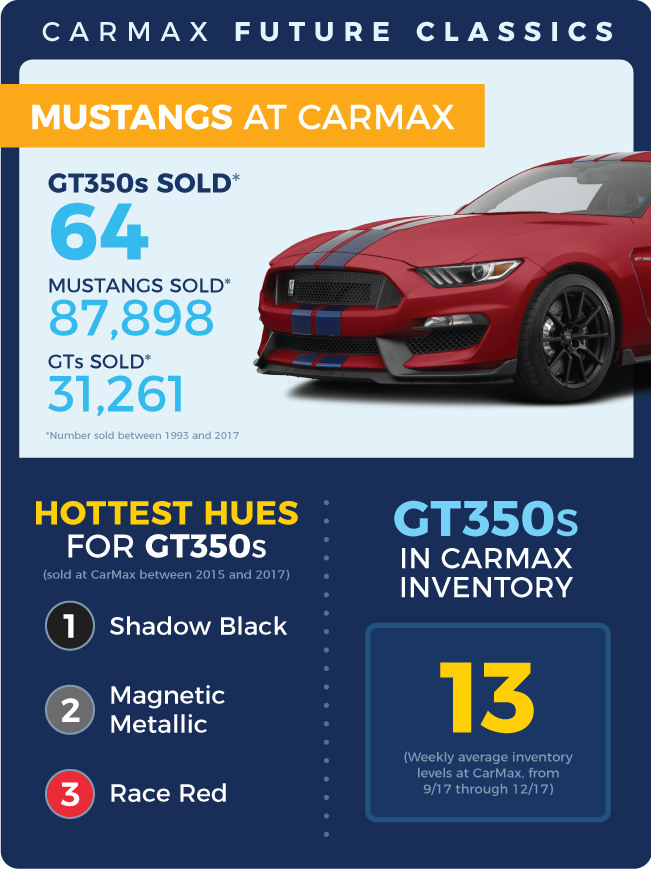 Ready to shop? Hunt for Shelby GT350s at CarMax (we often have a few), or search our more extensive inventory of used Mustang GTs. We've even been known to have a GT500 Mustang — a future classic in its own right — on our lots.
1
Unless otherwise noted, information relating to these featured vehicles comes from third-party sources, including manufacturer information. Product and company names may be trademarks™ or registered® trademarks of third-party entities. Use of them does not imply any affiliation with or endorsement by these entities.