Nissan Rogue FAQs
---
PUBLISHED MONDAY, NOVEMBER 22, 2021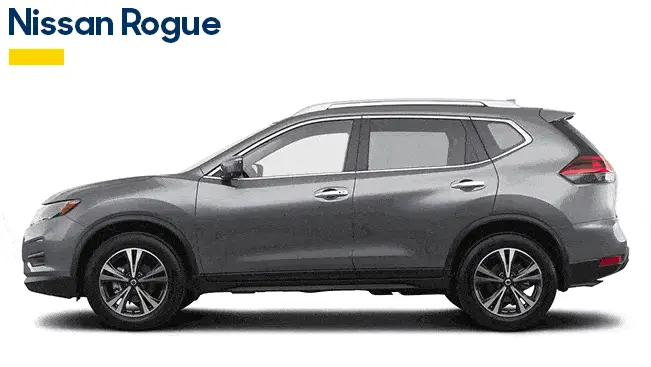 Learn more about this compact crossover.
Looking for a smaller SUV with a big personality? The 2021 Nissan Rogue may be worth a look. This compact SUV offers a surprising amount of comfortable cabin space for you and your loved ones to stretch out. Meanwhile, standard equipment like smartphone integration and a suite of driver assistance features take your driving experience to the next level.
If you're considering a used Nissan Rogue as your next vehicle, read our FAQs for answers to the most commonly asked questions about this model.
Nissan Rogue FAQs
Q: What's new in the 2021 Nissan Rogue?
A: The Nissan Rogue was completely redesigned for 2021, featuring sleek new exterior styling and standard features like navigation-linked adaptive cruise control. Likewise, 2021 marks the debut of the Rogue's new range-topping Platinum trim, which comes standard with features like a driver heads-up display, heated front and rear seats, and premium leather upholstery.
Q: How much should I pay for a Nissan Rogue?
A: Many factors can affect the price of a Nissan Rogue, including model year, mileage, and overall condition of the vehicle. According to CarMax pricing data, the average price for a used 2020 Nissan Rogue is $21,678.1
Q: What are the different models of the Nissan Rogue?
A: The 2021 Nissan Rogue is available in four trim models: the base S, the SL, the SL, and the range-topping Platinum.
Q: Why is the Nissan Rogue so popular?
A: The Rogue, which is Nissan's best-selling vehicle, is popular due to its spacious cabin, utility, and standard features. Drivers enjoy that the Rogue can comfortably accommodate up to five passengers with 31.6 cubic feet of cargo space to spare. Likewise, available all-wheel drive and standard equipment such as smartphone integration and driver assistance features make this crossover SUV a top choice.
Q: What cars are similar to the Nissan Rogue?
A: There are several crossover SUVs that are similar to the Nissan Rogue. These include the Toyota RAV4, the Honda CR-V, the Subaru Forester, and the Ford Escape.
Q: Does the Nissan Rogue have third-row seating?
A: No; while a third row was available as an add-on for previous generations of the Nissan Rogue, this option was discontinued following the 2018 model year. The 2021 Nissan Rogue is offered exclusively with two rows of seating to accommodate up to five passengers. Those looking for a Nissan SUV with third-row seating may want to explore the Nissan Murano or Pathfinder.
Q: Is the Nissan Rogue worth buying?
A: Ultimately, this will decide on exactly what you're looking for in a crossover SUV and what kind of price you can find on a used Nissan Rogue. In general, the Nissan Rogue offers an excellent value—especially when you consider its ample standard features, available all-wheel drive, and wide range of available trim configurations.
Q: Is a Nissan Rogue a reliable car?
A: Based on RepairPal reliability ratings, the Nissan Rogue is quite reliable. The Rogue receives a rating of 4 out of 5 stars, or an "excellent" rating from RepairPal.2
Q: Which Nissan Rogue should I buy?
A: This will really depend on which features you're looking for in a compact SUV. If you're looking for a model that has just the basics, then the base S trim offers essentials that include 17-inch wheels, an eight-inch touchscreen display, smartphone integration, and Nissan's suite of driver assistance features.
If you're looking for something decked-out with luxurious features, then the Platinum trim adds a driver heads-up display, quilted leather upholstery, a driver heads-up display, and a wireless charging pad for your devices.
If you prefer something in the middle, then either the SV or SL trim could be a sensible choice. Regardless of trim, every 2021 Rogue is outfitted with the same 2.5L four-cylinder engine.
Q: Is the Nissan Rogue being discontinued?
A: No; as of November 2021, there are no known plans for Nissan to discontinue the Rogue. In fact, the Rogue just launched its third generation of production with an all-new design for the 2021 model year.
Q: Are Nissan Rogues expensive to maintain?
A: According to RepairPal data, the average annual cost of repairs on a 2021 Nissan Rogue is $446, which is around the same as the total average of $440 for compact SUVs.2
Q: What is the difference between a Nissan Rogue SV and SL?
A: While both the 2021 Rogue SV and SL are equipped with the same 2.4L four-cylinder engine and continuously variable transmission (CVT), these models do offer some different features.
The SV, for example, includes 18-inch wheels, dual-zone climate control, a power-adjustable driver's seat, and a six-speaker sound system. Meanwhile, the SL trim offers slightly larger 19-inch wheels, tri-zone climate control, leather upholstery, and a power-adjustable driver and passenger seat. Meanwhile, the SL also includes driver-seat memory settings. Both trims also come standard with available remote start3 and an available Wi-Fi hotspot.4
Q: Which is bigger: the Murano or the Rogue?
A: Classified as a midsize SUV, the Nissan Murano is larger than the Rogue (which is a compact SUV). While both offer seating for up to five passengers, the Murano offers additional cabin and cargo space. Specifically, the 2021 Murano offers 32.1 cubic feet of cargo storage with all seats intact, whereas the 2021 Rogue maxes out at 31.6 cubic feet.
Q: Which is bigger: Nissan Rogue or Ford Edge?
A: The Ford Edge, which is classified as a midsize SUV, is bigger than the compact Nissan Rogue. Both SUVs seat five passengers across two rows, though the Edge features a larger profile and additional cargo space. With all seats intact, the 2021 Edge offers 39.2 cubic feet of cargo space compared to 31.6 cubic feet in the 2021 Rogue.
Q: Is a Nissan Rogue 4x4?
A: No; every 2021 Nissan Rogue comes standard with front-wheel drive. However, all-wheel drive was available as an option across every trim configuration when this vehicle was sold new.
Find a Used Nissan Rogue at CarMax
With seating for five people, four trims to choose from, and plenty of standard features to enjoy, the Nissan Rogue is a compelling option if you're in the market for a compact SUV. Ready to find a used Nissan Rogue near you? Check out our current inventory and learn more about this popular SUV on CarMax.com.
1
Average estimates are based on prices on carmax.com from December 1, 2019, through May 1, 2021. Actual prices may vary based on your selected model year, features and trim packages. Prices do not include tax, title, tags, and any applicable fees.
2
RepairPal Reliability Ratings are based on the actual cost, frequency, and severity of unscheduled repairs and maintenance on make/model data for select 2006-2020 vehicles. RepairPal Reliability Ratings are provided by RepairPal and CarMax is not responsible for their accuracy. These ratings are based on RepairPal Reliability data as of 09/09/2021. Learn more at repairpal.com/reliability.
3
Remote start functionality may require the purchase of a subscription plan and/or a compatible device like a smart phone. See the owner's manual or manufacturer website for more information.
4
Wi-Fi hotspots require a data plan to activate and may also require a compatible device. See the owner's manual or manufacturer website for more information.
Unless otherwise noted, information related to these featured vehicles comes from third-party sources, including manufacturer information. Product and company names may be trademarks™ or registered® trademarks of third-party entities. Use of them does not imply any affiliation with or endorsement by these entities.