The Stick Shift Index: Do People Still Drive Stick Shift Cars in America?
---
PUBLISHED WEDNESDAY, OCTOBER 7, 2020
Four on the floor may soon be no more.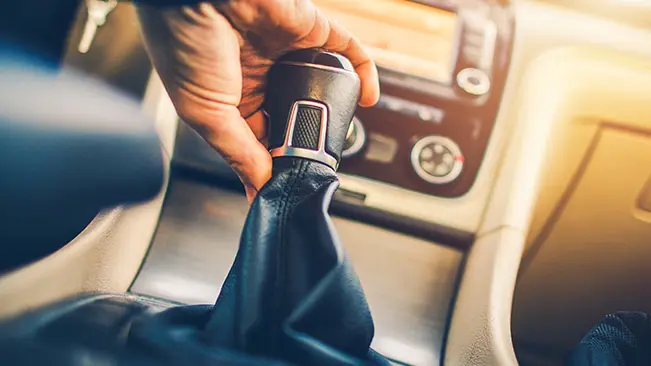 Learning to handle a stick shift was once a rite of passage. Carefully releasing the clutch, gripping the stick and changing gears according to the rev of the engine, and avoiding stalls on big hills were all part of driving a car with a manual transmission. This rite of passage has become a rarity, according to our sales data.
We took our first look at this trend in 2018, when only 3.7% of our vehicles sold had stick shifts. Today's percentage has down-shifted to 2.4%.
The long-term shift away from stick shift cars is even more dramatic. Today's stick shift sales have dropped by 89.5% since 1995, when 26.8% of our vehicles sold were manual. The chart below shows the percentage of manual transmission cars sold annually at our stores since 1995.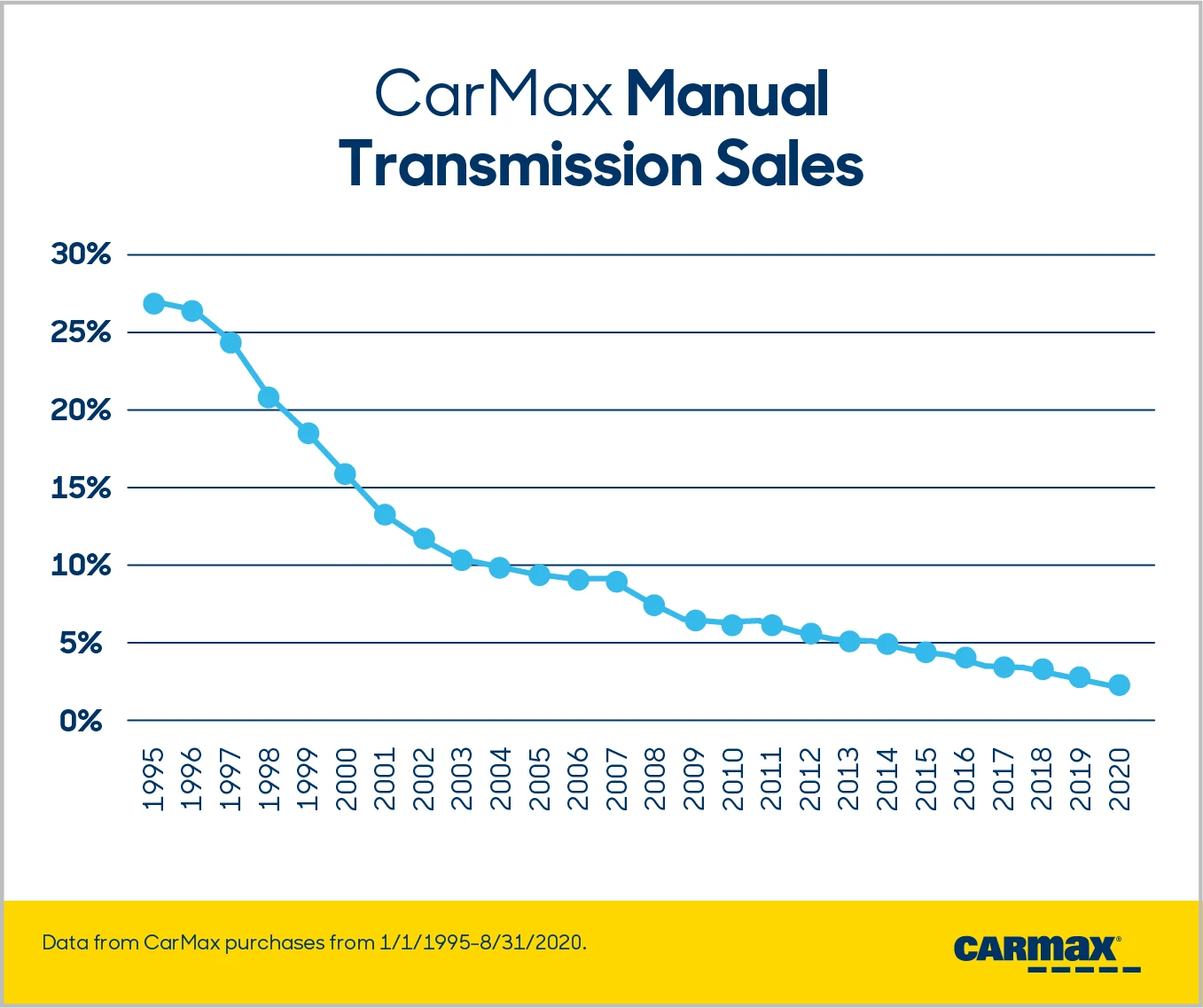 As you can see, preferences have shifted strongly to automatic transmission vehicles. In the late 1990s, automatics were dominant, but more than a quarter of vehicles sold had manual transmissions. Today only 2.4% of our sales are stick shift cars. Each year fewer buyers choose stick shift over automatic.
***
To put this in context, a manual transmission is a unique feature for someone to choose when purchasing a car from us. In fact, as you see in the chart below, a manual transmission is the least popular feature by far.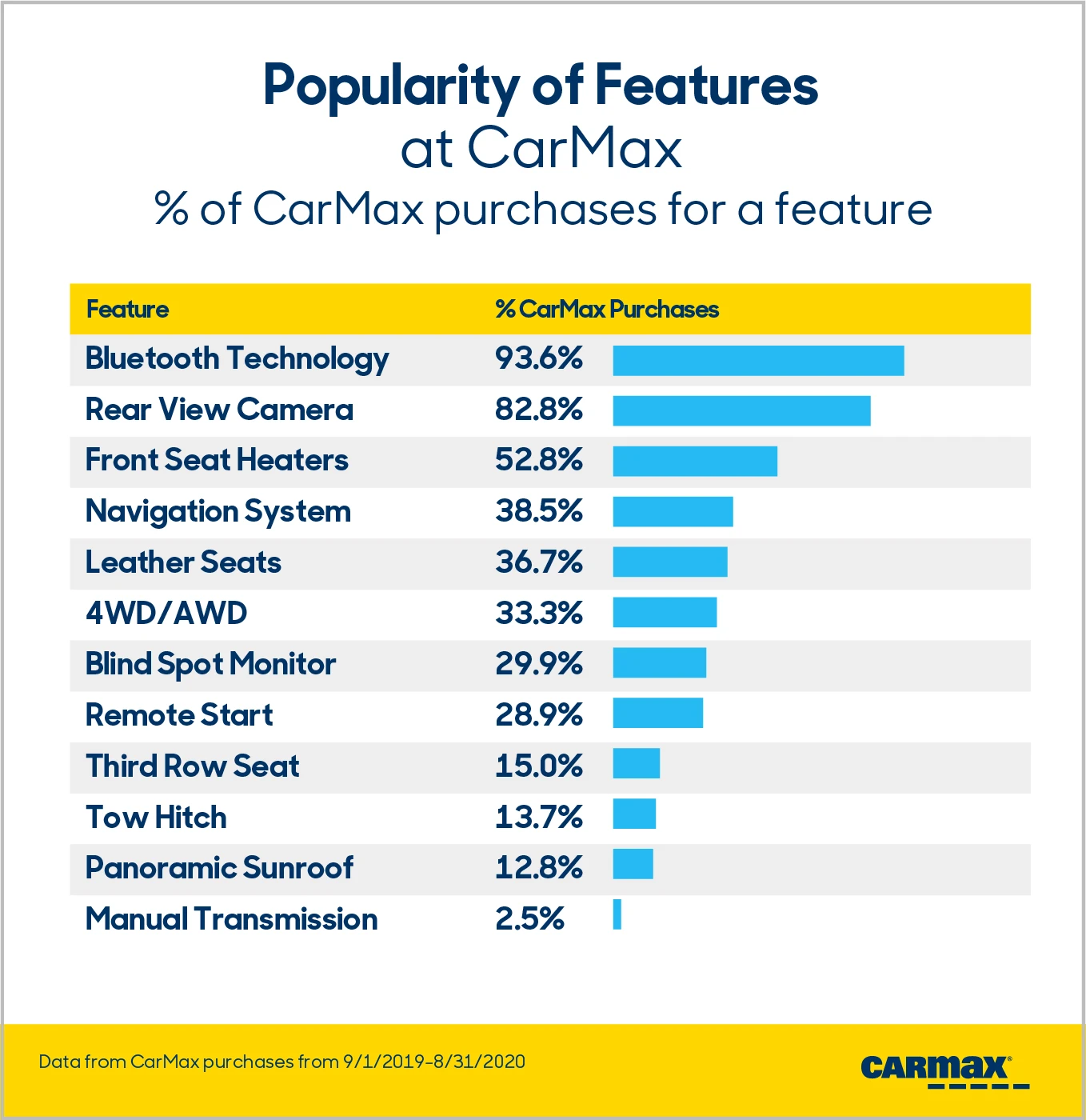 Only 2.5% of shoppers want manual transmission vehicles, compared to 93.6% who elect cars with Bluetooth® compatibility and 33.3% who choose four-wheel- drive cars.
***
While more than 97% of our customers drive automatics, the stick shift is still more common in some places than it is in others. Compared to national trends, are there states where people still stick with the stick shift? Are there states where people avoid it? The chart below shows manual transmission vehicle purchases as a percentage of total sales in states with CarMax stores.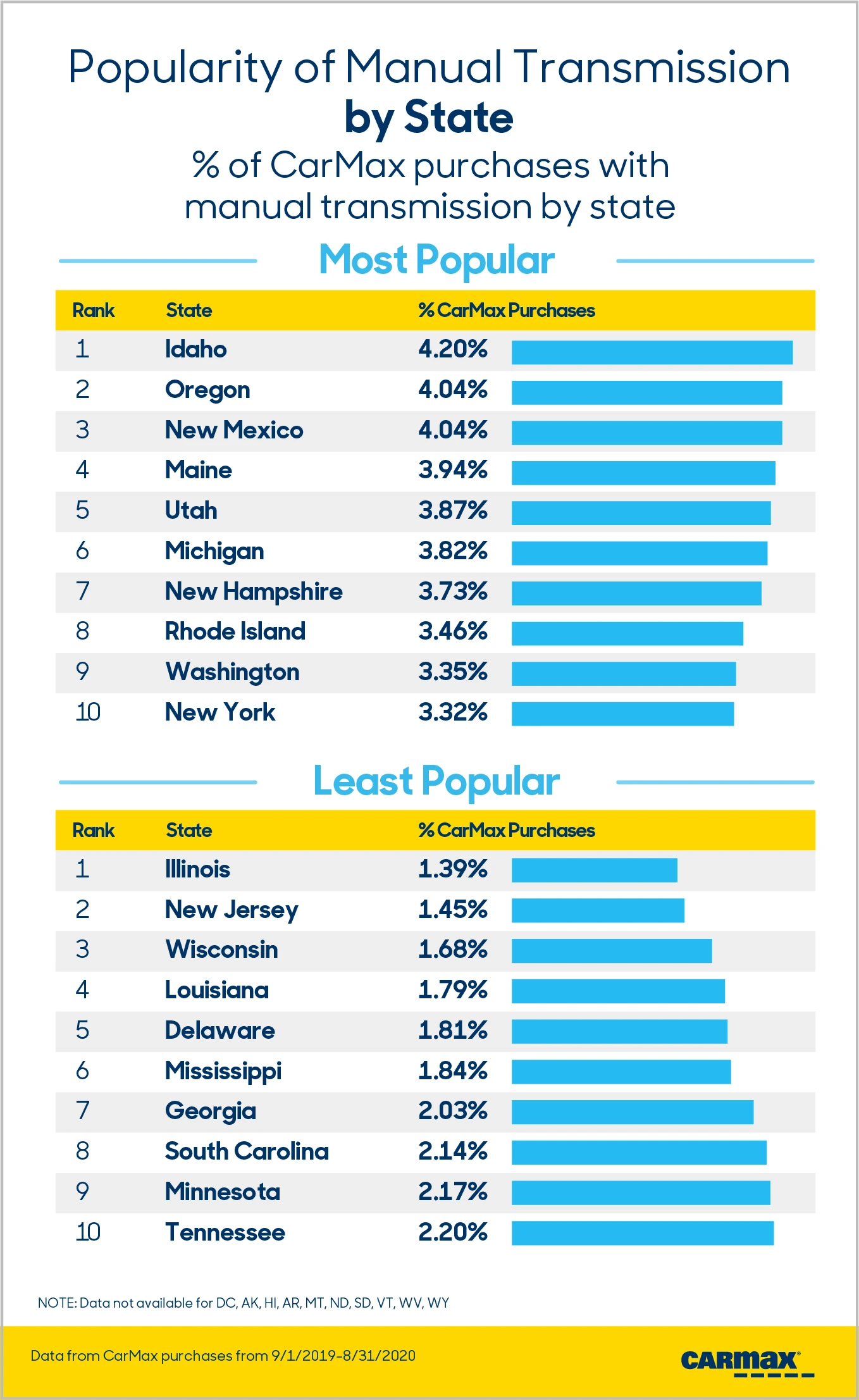 Idaho is the state where our customers are more likely to drive a stick shift, followed by Oregon and New Mexico. Where stick shifts are most popular, they still comprise less than 5% of our sales. On the flip side, Illinois is the state where buyers are least likely to purchase stick shift cars. Just 1.39% of vehicles sold in the "Land of Lincoln" have manual transmissions. Four score and seven years ago it may have been a different story. Our records don't go back that far!<
***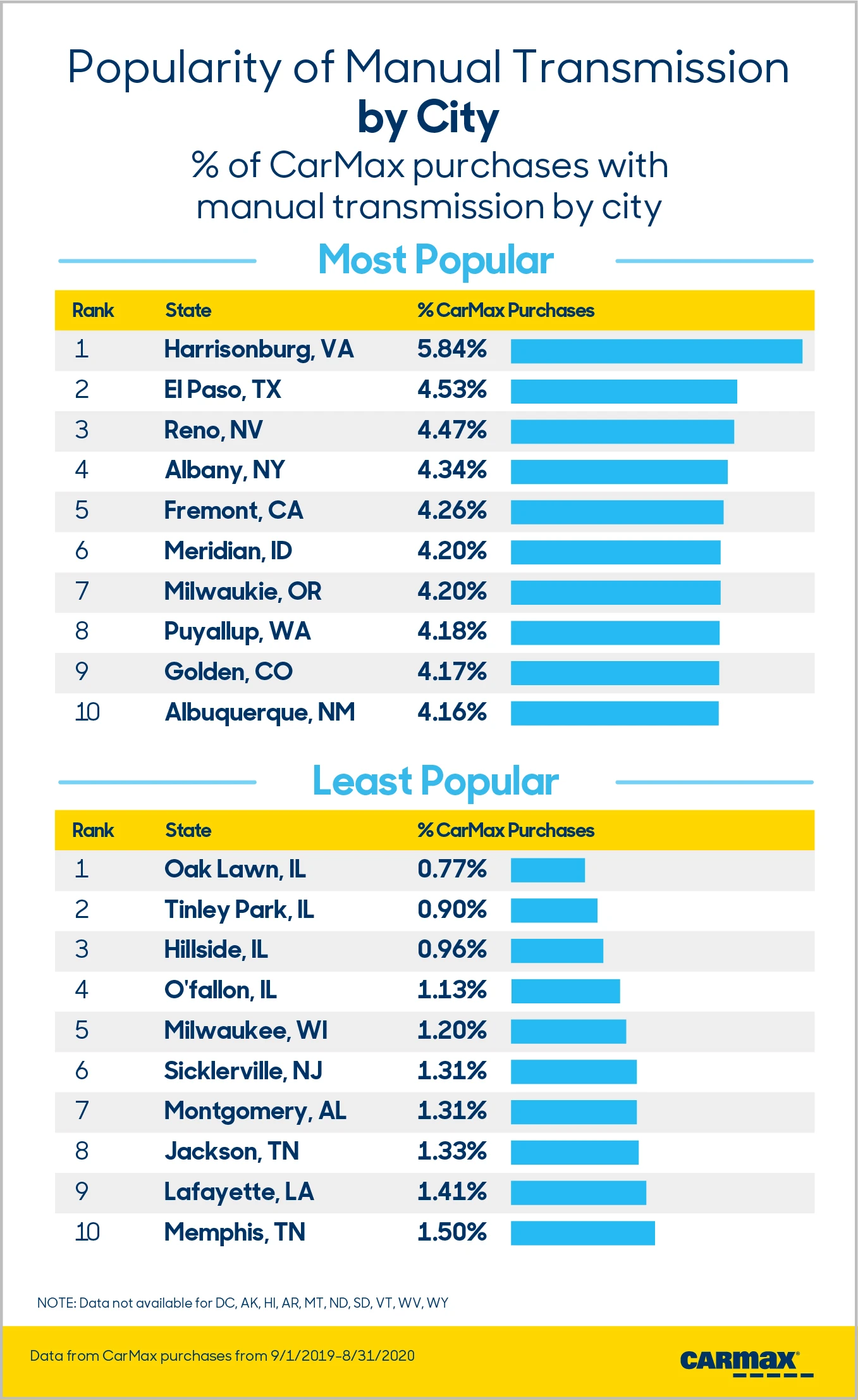 Harrisonburg, Virginia, has the highest rate of stick shift sales, passing El Paso, Texas, the leader from our 2018 analysis. On the other hand, stick shifts are least popular in Oak Lawn, Illinois, where sales fell below 1%.
***
The manual transmission was once a popular choice and is now very rare. Just 2.4% of our cars sold today have stick shifts. Despite this trend, there are still plenty of choices out there. If you want to do the shifting yourself, check out these articles: