Top 10 Minivan Features for Families
---
PUBLISHED THURSDAY, OCTOBER 20, 2016
When you're in the market for a used minivan consider these 10 options.
Whether you're looking for family-friendly minivan features or used minivans for sale, you need the total package. Today's minivans have a lot of amenities, but not all feature packages are created equally. Don't worry, we've got you covered. Minivan features are wide and varied, but some options stick out above the rest. 
Here are 10 Great Features for Family-Moving Minivans: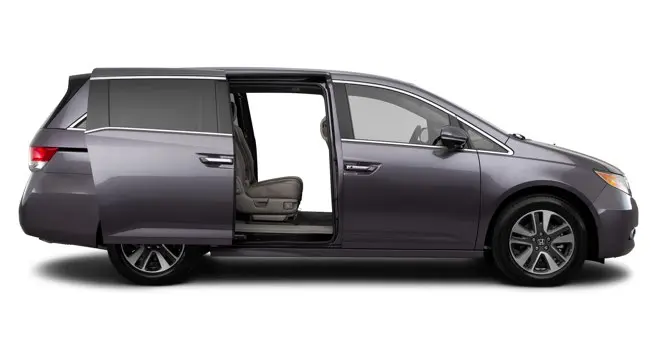 Power-sliding doors.  Manual slide-away doors are things of the past. These days it's all about power-sliding doors—they make the daily passenger's life easy. Simply press a button, sit back, and relax. Powered doors are also useful during bad weather, heavy-packing trips, and when tucking into tight parking spots. Power-sliding doors won't catch fingers, and they circumnavigate the whole "heavy door effort." You'll have total control over every action, opening and closing them at will. 

Fold-away middle row. Toyota Sienna owners love all their extra cabin space. That's because the Sienna has a fold-away middle row that allows total seating for seven when it's in use, and a huge amount of open space when it's lowered. If you're going on a road trip, need to transport the dogs, or simply need more legroom, a fold-away middle row can create the ultimate comfort zone.

Blu-ray® video system. Today's leading minivans are outfitted with Blu-ray video support, which gives passengers HDMI access, unbeatable sound, and crisp picture quality. Sure, you might have smartphone access for Bluetooth® audio, but does your minivan have on-demand video connectivity for your passengers' favorite movies?

DVD video system. Don't skip the onboard DVD, either. DVD video systems are quickly becoming passenger-favored amenities. Together with a high-quality onboard sound system, a DVD video system keeps your passengers occupied and entertained.

Rear air conditioning. Air conditioning needn't be exclusive to driver control. You've probably seen minivans with full-power, dual-zone climate control, but have you seen rear-accessible air conditioning? Don't neglect your passengers. Today's best-optioned minivans give backseat passengers control over their own comfort. A solid rear air conditioning setup offers digital access, creating an environment that offers cool- and warm-air circulation options. Why make your backseat passengers scoot over to catch airflow from the dash vents? Rear HVAC controls give all your passengers their own personal comfort area.

Fold-away third row.  Sometimes, as either a driver or a passenger, you need to get around in tiny, cramped, backseat areas. Fold-away third rows make every minivan trip hospitable and give you the ability to really open up the cabin space. The Kia Sedona and Honda Odyssey have fold-away third-row seat options.

Power-folding third row.  Several minivans' limited edition versions offer power-folding third row seating. Customers like this option because it allows quick and easy access to the rear storage area, and gives drivers and passengers even more control over cabin space.

Power rear liftgate. Sure, it might seem a little over the top. But today, a power liftgate is nearly essential equipment for families on the go. It's convenient, quick, and really boosts accessibility. If you're packing groceries, hauling tools, or are gearing up for a road trip, then you've got both hands full—you need immediate back area access. A power rear liftgate provides quick cargo bay access with the push of a button.

Full roof rack. A full roof rack is one of the best extra goodies on any minivan. Useful for transporting roof cargo baskets, bikes, skis, snowboards, roof bags, and even kayaks, full roof racks are vital for meeting your adventure storage needs. Boost your travel potential and spare interior space by securing your items up top.

Quad seats. Many used minivans for sale offer quad seating, also sometimes known as captain's chairs. If you need extra walk-in room or you plan to travel often, quad seating may be your best bet. The Honda Odyssey, in all trim versions, carries a third-row flip and fold option to optimize quad-seating options.