Ask the Expert: Should You Buy a Toyota Corolla or Toyota Camry?
---
PUBLISHED FRIDAY, JUNE 25, 2021

BY EDMUNDS EDITORS
Your guide to two practical and comfortable Toyota sedans.
With thousands of vehicles in our inventory, we're here to help make car research easier for you. We've partnered with car-review experts from Edmunds to weigh in on what matters most when you're looking to buy a truck or car.
***
Vehicles Reviewed
2020 Toyota Corolla SE
2020 Toyota Camry XSE
The Toyota Corolla and Toyota Camry are two classic examples of practical sedans that deliver a lot of value to their owners. They're similar in a lot of ways, and yet there are enough differences that can influence which one will be better for your next car purchase.
We'll compare and contrast modern examples of the Corolla and Camry to find out. Edmunds' Ryan ZumMallen brings his experience with both models into this detailed guide, complete with personal recommendations.
What are your options?
Toyota introduced its newest Corolla for the 2020 model year. This fully redesigned sedan features more expressive styling and a more pleasing interior than past versions. All Corolla sedans from this period come with seating for up to five passengers.
You'll find trim levels such as the Corolla L, LE, SE, XLE, and XSE. The L is the most basic and most affordable version, while the upper-tier XLE and XSE come with additional standard features. The SE and XSE have sportier styling and a more powerful engine than the one that's in the L, LE, and XLE.
This article focuses on the Corolla sedan. However, the car is also available as the Corolla Hatchback with more space for storing large items. Or you can choose the Corolla Hybrid, a gasoline-electric version of the sedan with an increased EPA-estimated fuel economy rating.
When it comes to the Camry, the current-generation model debuted in 2018. It also has four doors and seating for five. Trim levels include the basic LE and slightly sportier SE. Moving upscale, the XSE and XLE add more premium features, while the x TRD (2020-2021 only) introduces performance upgrades and flashy interior trim. Most Camrys have a four-cylinder engine, but a more powerful V6 is available too.
This article focuses on the gas-powered Camry, but there is also a Camry Hybrid version if you so choose.
Engines and fuel economy
For the 2020 Corolla and on, these engines are available: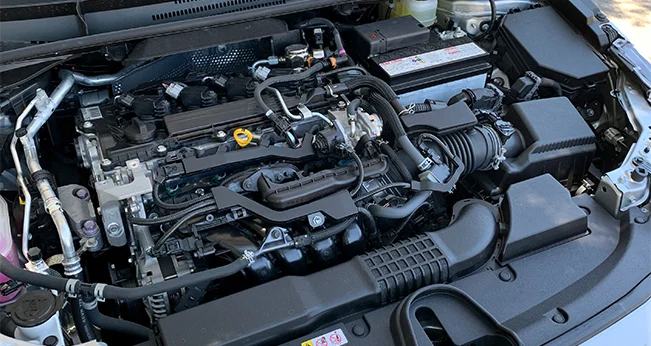 Corolla L, LE, XLE: 1.8-liter four-cylinder (139 horsepower)

Corolla SE, XSE: 2.0-liter four-cylinder (169 hp)
You will notice different fuel economy ratings depending on the engine and transmission in each Corolla. However, to give you a baseline understanding, here are the EPA estimates for the 2020 Corolla in combined city/highway driving with the automatic transmission:
1.8-liter engine (XLE trim only): EPA-estimated 32 mpg combined

1.8-liter engine: EPA-estimated 33 mpg combined

2.0-liter engine: EPA-estimated 34 mpg combined
The Corolla offers a manual transmission on the 2.0-liter engine. While the 1.8-liter engine with a manual transmission also holds an EPA rating of 33 mpg combined, the 2.0-liter engine with a manual falls to 32 mpg combined.
Under the hood of the 2018-2021 Camry is either a 2.5-liter four-cylinder engine or a 3.5-liter V6. The V6 is optional on the XSE and XLE trims, and it comes standard on the TRD trim. From 2020 on, all-wheel drive is also available on Camrys with the four-cylinder engine.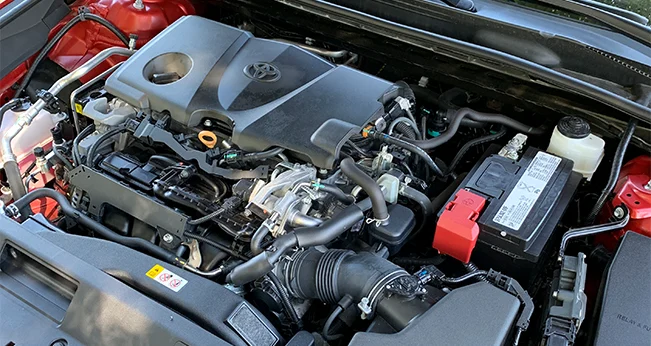 Camry LE, SE, XLE: 2.5-liter four-cylinder (203 hp)

Camry XSE: 2.5-liter four-cylinder (206 hp)

Camry XLE V6, XSE V6, and TRD: 3.5-liter V6 (301 hp)
Fuel economy ratings for the Camry are dependent upon the trim level, engine, and whether or not you selected all-wheel drive. Here are some basic figures on the 2020 Camry to guide you:
3.5-liter V6 (TRD): EPA-estimated 25 mpg combined

3.5-liter V6 (XLE and XSE): EPA-estimated 26 mpg combined

2.5-liter engine (with all-wheel drive): EPA-estimated 28-29 mpg combined

2.5-liter engine (with front-wheel drive): EPA-estimated 31-34 mpg combined
Ryan's take: Thirty horsepower makes a big difference in a little car. I like the 2.0-liter engine in the Corolla because it provides some extra zip and also achieves the highest EPA-estimated fuel economy rating. It's the one to get when shopping for a used Corolla of this generation. For the Camry, I recommend the opposite approach. While the V6 is smoother and more powerful than the four-cylinder, it's not nearly as fuel-efficient. Plus, V6-equipped Camrys are hard to find. Stick with the four-cylinder engine for the Camry.
Interior and utility
When the 2020 Corolla came out, Toyota took a step forward in terms of the Corolla's materials and design, making it more competitive with fashion-forward rivals than previous versions. There are soft surfaces that help the Corolla seem inviting. And for a compact sedan, there's an abundance of room and comfortable seats.
The 2020 Camry, by contrast, has changed little since its 2018 redesign. The cabin feels rather stale as a result. The thick-rimmed steering wheel and plain-Jane controls appear outdated. And while it has less hard plastic than the Corolla, the Camry has its share of unsightly spots that seem out of place. The good news? Passengers have a lot of room to move around and get comfortable. There's also an interesting center console design that makes the touchscreen appear as if it's floating above the shift lever. It adds personality that may make you feel right at home.
In terms of cargo, the Corolla has less trunk space than the average compact sedan. Certainly, there's enough space for groceries, luggage, and other items related to daily life. But you will certainly appreciate the cavernous trunk space in the Camry. Not only does it rank among the largest in its class, the Camry's trunk also has a wide opening and a low liftover height to make heavy loading easier. Unlike the Corolla, the Camry has handy levers you can pull to lower the rear seats as well.
Ryan's take: Both of these Toyota sedans are roomy—if space is all you're looking for, you've come to the right place. But fashion is not a strong suit for our two subjects here. I do like that all of the controls are easy to reach and conveniently located, meaning there isn't much of a learning curve for either vehicle. Based on its price, the Corolla delivers a fair interior that's simple yet attractive. But some buyers might expect a bit more than headroom and storage space in a Camry, especially on the higher level trims.
Technology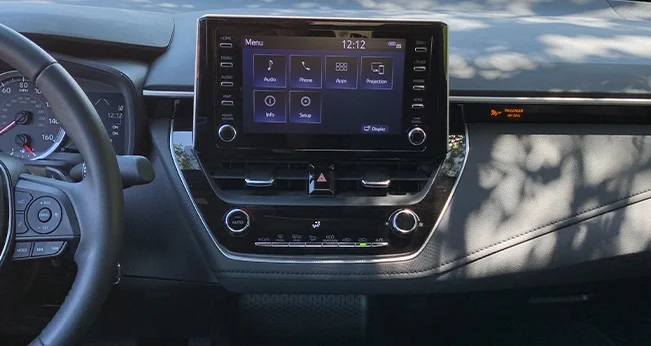 Beginning in 2020, every Corolla comes with a 7-inch touchscreen and Apple CarPlay® smartphone integration included as standard. But be warned: Toyota did not start equipping the Corolla with Android Auto™ until the 2021 model year. On either the 2020 or 2021 model, look for a Corolla XLE or XSE to gain an 8-inch screen and heated front seats. Some models may come with a premium stereo system that includes navigation. The XLE and XSE can also be found with optional adaptive headlights and ambient interior lighting—helpful nighttime features that are rare in the class.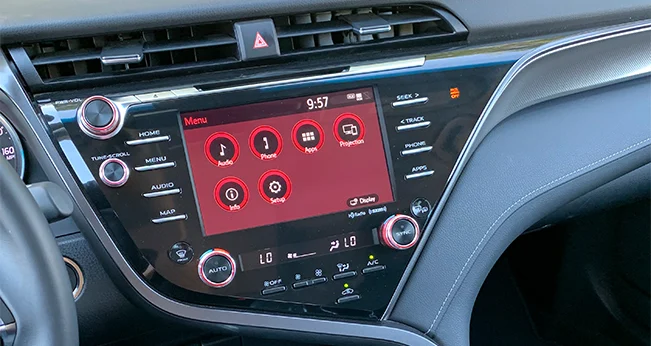 For the Camry, a 7-inch touchscreen has come standard since 2018. The XLE and XSE trims upgrade to an 8-inch unit. If you're looking for smartphone integration in the Camry, skip to the 2019 model for Apple CarPlay and the 2020 model for Android Auto. As with the Corolla, you might find a Camry with an integrated navigation system and a premium JBL sound system. But the Camry does offer a few optional high-end features that aren't available on the Corolla. These include a head-up display (displays important information in your sight line onto the windshield) and a surround-view camera system (gives you a top-down view of the car and its surroundings for tight parking situations).
When it comes to advanced driving aids, these Toyotas are well equipped even in their base models. Every 2020-2021 Corolla, and every 2018-2021 Camry, comes with the following:
Forward collision mitigation (can warn you of an impending collision and automatically apply the brakes in certain scenarios)

Lane-keeping assist (steers the car back into its lane if it begins to drift over the lane marker)

Adaptive cruise control (adjusts speed to maintain a constant distance between the vehicle and the car in front)
Ryan's take: Toyota places a priority on including driver aids in base models of its sedans, and it's a big plus. In particular I like adaptive cruise control because it can help ease driving out on the open highway as well as in congested highway traffic. Aside from that, the technology in the Corolla and the Camry are sufficient but lack a bit of punch. You have to choose the right model year in order to get Apple CarPlay or Android Auto, and you have to find the right trim if you want to upgrade the lackluster stereo. Of the two cars, the Camry gives you a greater selection of tech features.
What they're like to drive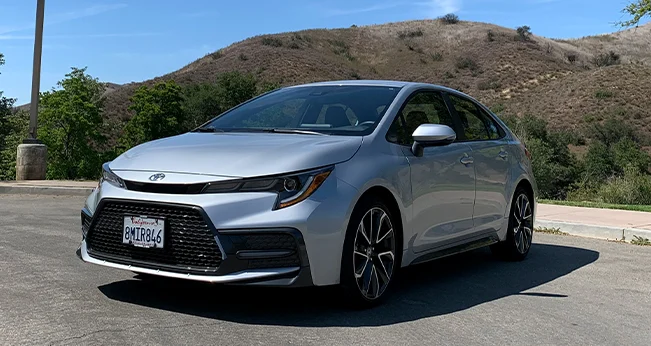 The Corolla has the compact size and aggressive stance that suggests it's fun to drive. Some trims such as the SE and XSE even have a sporty look too. Unfortunately, the engines are stagnant and take more effort to reach highway speeds than many competitors. Instead, the Corolla actually has quite a smooth ride for such a small vehicle. Its suspension does a good job of preventing bumps in the road from disturbing passengers in the cabin. The easy steering and smooth braking feel are just right for an economy sedan too.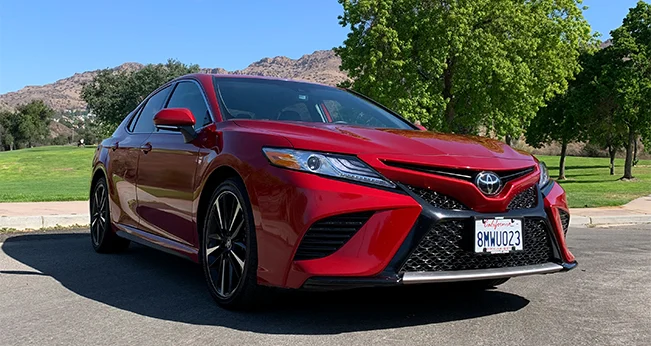 The Camry packs more power. Sadly, it doesn't result in much more excitement because of its additional size and heft. But the Camry is comfortable. There is a cushy suspension and smooth gear shifts galore. But the ride quality can be wafty from time to time, and the steering is light to the point of being uncommunicative. This is a big sedan built for long cruises in straight lines. Handle it accordingly and you'll be rewarded.
Ryan's take: Neither the Corolla nor the Camry is fast, so the driving experience comes down to feel. And, frankly, the Camry's feel is too old-school for me. It just doesn't respond to my commands the way I'd like a modern sedan to. I prefer the Corolla. Even though there's not much speed or grip around turns, the accurate steering and braking make it feel more lively without sacrificing its smoothness. Of course, both are designed to maximize fuel economy. So if that's your goal, it should be easy to find the sweet spot at the pump.
Which one is right for you
The Toyota Camry and Corolla have roomy cabins and an easygoing demeanor on the road. These sedans are about as friendly as they come. Each places an emphasis on providing enough storage space and fuel efficiency to compete against rivals in their class—with the Camry focusing more on the former and the Corolla on the latter.
With both the Corolla and the Camry going through significant overhauls in recent years, you can rest assured these sedans are suited for the rigors of daily commuting. Go with the Corolla for its more nimble feel and higher fuel economy or pick the Camry to get more space and a chance to have a car equipped with a few more technology features.
Ryan ZumMallen has written automotive news and buying advice for nearly a decade. As an automotive reviews editor for Edmunds, ZumMallen examines trends in both the new and used markets with a focus on sporty, affordable cars, off-road trucks, and SUVs.