Toyota Tundra FAQs
---
PUBLISHED FRIDAY, DECEMBER 10, 2021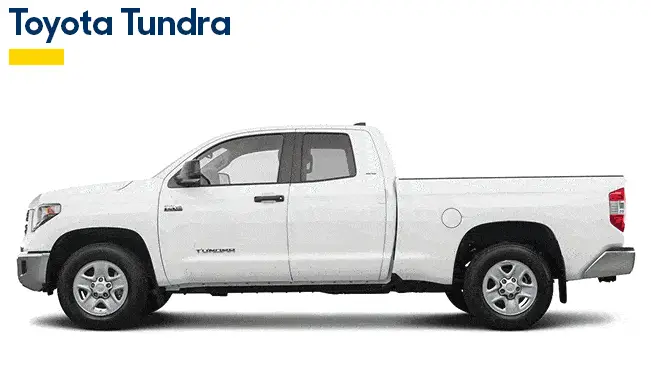 Discover more about this rugged pickup.
A full-size pickup truck like the Toyota Tundra offers rugged power and utility when you need it most. With a standard V8 engine, several bed/cab configurations to choose from, and trims specifically designed with off-roading in mind, there's likely to be a Tundra that suits your needs.
Before you buy, get answers to the most commonly asked questions about this model by checking out our in-depth FAQ.
Toyota Tundra FAQs
Q: Is the Toyota Tundra a reliable truck?
A: According to RepairPal Reliability ratings, the Toyota Tundra has an "above average" reliability score of 4 out of 5. It also has an average annual repair cost of $545.1 With this in mind, the Tundra is known to be fairly reliable.
The reliability of a specific vehicle may vary depending on its maintenance and driving history, model year, trim, and features.
Q: Which is better: the RAM or the Tundra?
A: Ultimately, which truck is better is a matter of opinion and personal taste. Both are full-size pickup trucks offering ample power and a roomy cabin. All 2021 Tundras are powered by a V8 engine, however the 2021 RAM 1500 is offered with four different engine configurations.
Q: What are the different models of Toyota Tundra?
A: The 2021 Toyota Tundra is available in six trim configurations: the base SR, SR5, Limited, Platinum, 1794 Edition, and range topping TRD Pro. Each model is also available in three different cab sizes (double, crew, and CrewMax) and three bed lengths.
Q: Is a Toyota Tundra worth buying?
A: If you're looking for a full-size pickup truck with standard V8 power, the 2021 Toyota Tundra is definitely worth your consideration. It may be the right truck for you if you want a roomy cabin, standard driver-assistance features, and a wide range of trims to choose from.
Q: Which Toyota Tundra should I buy?
A: The Toyota Tundra model that's right for you will depend on what you're looking for in your next pickup truck. If you don't need a lot of extra features, then the base SR trim may suit your needs. Even this base model comes with a suite of driver-assistance equipment, smartphone integration, and a seven-inch touchscreen display.
If you want something with more luxurious features, then the Platinum trim may be your best bet. This model comes with leather upholstery throughout (plus a leather-wrapped steering wheel), an upgraded sound and navigation system, and heated/ventilated front seats.
If you plan on doing some serious off-roading with your truck, then the TRD Pro trim is designed with your needs in mind. Specifically, this trim comes with upgrades such as premium shocks, a revised suspension, a front skid plate, and 18-inch aluminum wheels on the 2021 model.
Q: Is the F-150 better than the Tundra?
A: Both the Ford F-150 and Toyota Tundra are full-size pickup trucks offering a wide range of cab configurations and bed sizes to suit your needs. Both trucks are also available in six trim configurations with standard equipment that includes a touchscreen display and smartphone integration.
Ultimately, which truck is better than the other boils down to what you're looking for. The 2021 Tundra, for example, comes standard with a V8 engine. The 2021 F-150, on the other hand, comes with a standard V6 engine (but has V8 options and turbocharged options available on some trims).
Q: What trucks are similar to the Toyota Tundra?
A: There are many full-size pickup trucks on the market that are similar to the Toyota Tundra. Some examples of the top competitors of the Tundra include the Dodge RAM 1500, the Ford F-150, the Chevrolet Silverado, the GMC Sierra, and the Nissan Titan.
Q: Is the Limited or Platinum better on the Tundra?
A: The Platinum trim is considered to be an upgrade over the Limited trim on the Tundra. Specifically, the Platinum trim offers some exclusive features that include leather upholstery, heated/ventilated front seats, a premium sound/navigation system, and heated exterior mirrors.
Q: How much should I pay for a Toyota Tundra?
A: Many factors can affect the cost of a Toyota Tundra, including mileage, trim, model year, and features. However, according to CarMax sales data, a 2021 Toyota Tundra sells for an average of $49,569.2 Meanwhile, an earlier model year (like the 2014) sells for an average of $32,200.2
Q: How is the Tundra on gas?
A: Many factors can affect the fuel economy of a pickup truck, including road conditions. However, the 2021 Toyota Tundra base trim with four-wheel drive and 5.7L V8 engine gets an EPA-estimated 14 mpg combined (13 mpg city and 17 mpg highway).3
Q: Which Tundra is best for towing?
A: Every 2021 Toyota Tundra comes with a standard 5.7L V8 engine at 381 horsepower that is designed with your towing needs in mind. However, the maximum towing capacity for the 2021 Tundra is an estimated 10,200 pounds, which can be achieved on double-cab models when properly equipped.4
Q: What's the difference between the Tundra TRD and SR5?
A: The SR5 and TRD Pro are two different trim configurations offered on the 2021 Toyota Tundra. The SR5 trim includes upgrades such as an eight-inch touchscreen and fog lights, while the TRD Pro adds more performance features that include upgraded shocks and a revised suspension.
Q: Is the Tundra a half-ton pickup?
A: Yes, the 2021 Toyota Tundra is classified as a half-ton pickup truck. This means that the payload capacity of the truck is at least 1,000 pounds (half a ton). The 2021 Tundra has an estimated payload capacity of 1,560 pounds, when properly equipped.
Q: Is Toyota going to make a diesel Tundra?
A: Yes, the 2022 Tundra will debut with a diesel-powered engine, though it is not yet clear (as of December 2021) whether it will be a V8 or a turbocharged V6. Either way, the new engine is rumored to have a higher horsepower output than the existing V8.
Q: Does the Tundra have a V8 option?
A: Yes, every 2021 Toyota Tundra is powered by a standard 5.7L V8 engine. This is the only powertrain offering for the 2021 model year. This engine puts out 381 hp and 401 lb-ft of torque, offering plenty of power for your everyday towing and hauling needs.
Q: Do Toyota Tundras have 4WD?
A: While rear-wheel drive is standard on every 2021 Toyota Tundra, this model was available with four-wheel drive on every trim when it was sold as new. Trucks equipped with four-wheel drive deliver improved traction and control, even in adverse road conditions.
Q: What does 4Hi mean on the Toyota Tundra?
A: On the Toyota Tundra, 4Hi refers to a setting on the truck's four-wheel drive system. Specifically, when 4Hi is engaged, the front and rear differentials lock together to optimize traction. This setting is best used on slippery surfaces or when stuck in the mud or snow.
Find a Used Toyota Tundra at CarMax
Interested in exploring used Toyota Tundra models near you? CarMax has you covered. Check out our current used inventory to get started.
1
RepairPal Reliability Ratings are based on the actual cost, frequency, and severity of unscheduled repairs and maintenance on make/model data for select 2006-2020 vehicles. RepairPal Reliability Ratings are provided by RepairPal and CarMax is not responsible for their accuracy. These ratings are based on RepairPal Reliability data as of 9/1/2021. Learn more at repairpal.com/reliability.
2
Average estimates are based on prices on CarMax.com from January 1, 2020, through June 6, 2021. Actual prices may vary based on your selected model year, features and trim packages. Prices do not include taxes, tags, titles, and any applicable fees.
3
Fuel economy figures are based on EPA estimates for when vehicle sold as new. Fuel economy may vary for reasons like driving conditions and vehicle history. Unless specified, figures are for vehicles equipped with an automatic transmission. See fueleconomy.gov.
4
Various factors may impact towing capacity, including weight of passengers, cargo, and options/accessories.
Unless otherwise noted, information related to these featured vehicles comes from third-party sources, including manufacturer information. Product and company names may be trademarks™ or registered® trademarks of third-party entities. Use of them does not imply any affiliation with or endorsement by these entities.