Ask the Experts: Should You Buy a Honda CR-V Hybrid?
---
PUBLISHED FRIDAY, FEBRUARY 4, 2022

BY EDMUNDS EDITORS

Better fuel economy in the same practical package.
With thousands of vehicles in our inventory, we're here to help make car research easier for you. We've partnered with car-review experts from Edmunds to weigh in on what matters most when you're looking to buy a truck or car.
***
Vehicle Reviewed
2021 Honda CR-V Hybrid
What do I need to know about the Honda CR-V Hybrid?
The Honda CR-V has long been a popular choice for a small SUV thanks to its impressive cabin space, smooth ride, and comfortable interior. Recently, Honda introduced a new version with potentially even more appeal: the CR-V Hybrid.
The Hybrid, as its name suggests, comes with a hybrid powertrain that offers higher EPA-estimated fuel economy than the regular CR-V. It otherwise has many of the same qualities as the regular CR-V that debuted for the 2020 model year.
What is the CR-V Hybrid's engine and fuel economy?
Every CR-V Hybrid comes with a 2.0-liter four-cylinder engine paired to a hybrid system. Combined output is 212 horsepower. Every CR-V Hybrid has all-wheel drive too, which can enhance traction when accelerating on snowy or icy roads.
The EPA estimates that the 2020-2021 CR-V Hybrid will return 38 mpg combined, with 40 mpg in city driving and 35 mpg on the highway. For comparison, a standard 2021 CR-V with all-wheel drive gets an EPA estimate of 29 mpg combined.
Travis' take: The EPA estimates for the CR-V Hybrid are impressive. But we've found real-world results to be underwhelming. We evaluated the CR-V Hybrid in Edmunds' long-term test fleet, where we own and drive vehicles for 12 months. In that time, the CR-V Hybrid never once had a tank of 38 mpg. Fill-ups in the low 30 mpg range were much more common. Of course, your results will vary, but it's important to go into a CR-V Hybrid purchase with realistic expectations.
What's the CR-V Hybrid like to drive?
The CR-V Hybrid typically accelerates away from a stoplight using electricity from its hybrid battery pack. As the vehicle's speed rises, the system will automatically engage the gas engine to assist or supplant the battery's power. The speed at which the gas engine kicks on is variable and influenced by the battery's state of charge, your driving style, and other factors.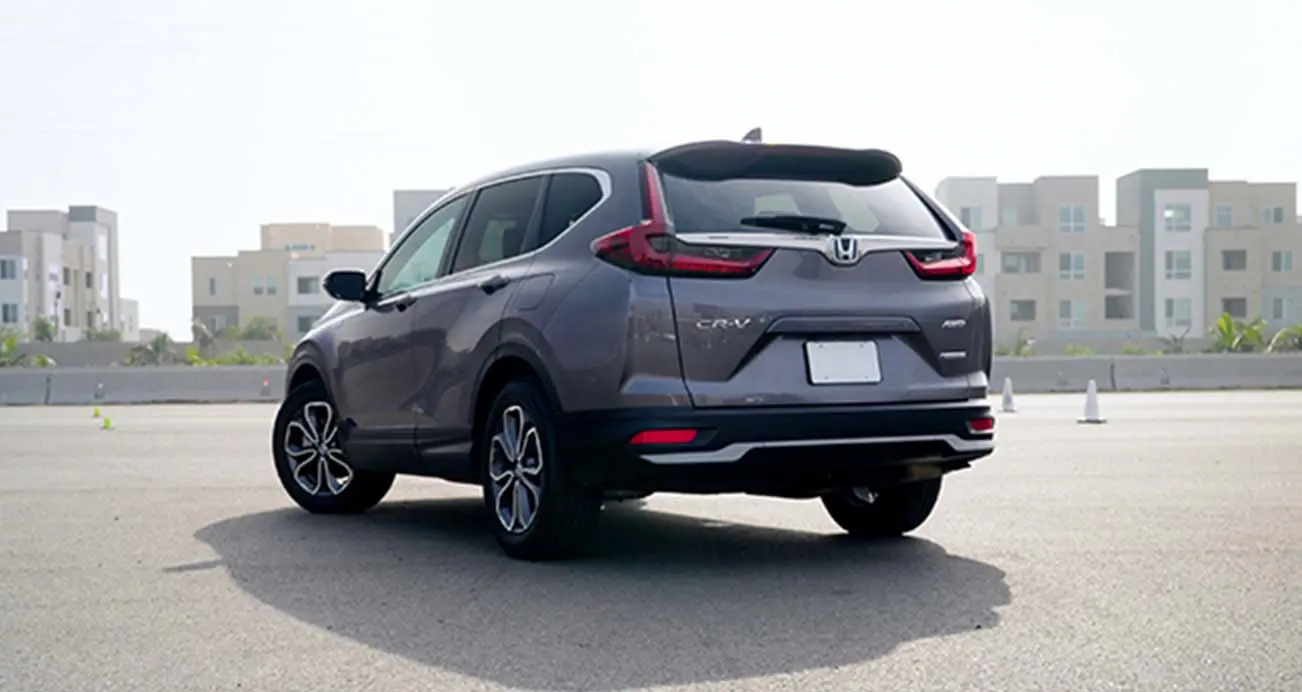 In some hybrid vehicles, the transition from battery to engine power can be jarring, but in the CR-V it's extremely smooth. Similarly, when braking a hybrid vehicle, there can be a jerky sensation. This is a result of the car switching from power regeneration to the use of the physical brakes. With the CR-V Hybrid, this is a very smooth transition—it's much better than in rivals.
Acceleration can feel lively at low speeds or around town. But the CR-V is less impressive when accelerating quickly to highway speeds. Also, the CR-V's engine gets noisy during sustained acceleration or when climbing long mountain grades.
On the upside, the CR-V Hybrid is composed and steady when going around turns. It's fairly entertaining to drive for an economy-minded small SUV.
Travis' take: If you want a quick CR-V, go with the standard engine. The Hybrid is OK for typical around-town driving but feels slow when you need more power. And if you're constantly mashing the accelerator to squeeze every last bit of speed out of it, you're not going to get great mpg. This hybrid is for people who aren't in a hurry.
What's the CR-V Hybrid's interior like?
Spacious, comfortable, and well built, the CR-V Hybrid's interior is a standout. The front seats are super comfortable for daily driving or long road trips. The ride quality is excellent too; the CR-V Hybrid soaks up all sorts of bumps and ruts on the road.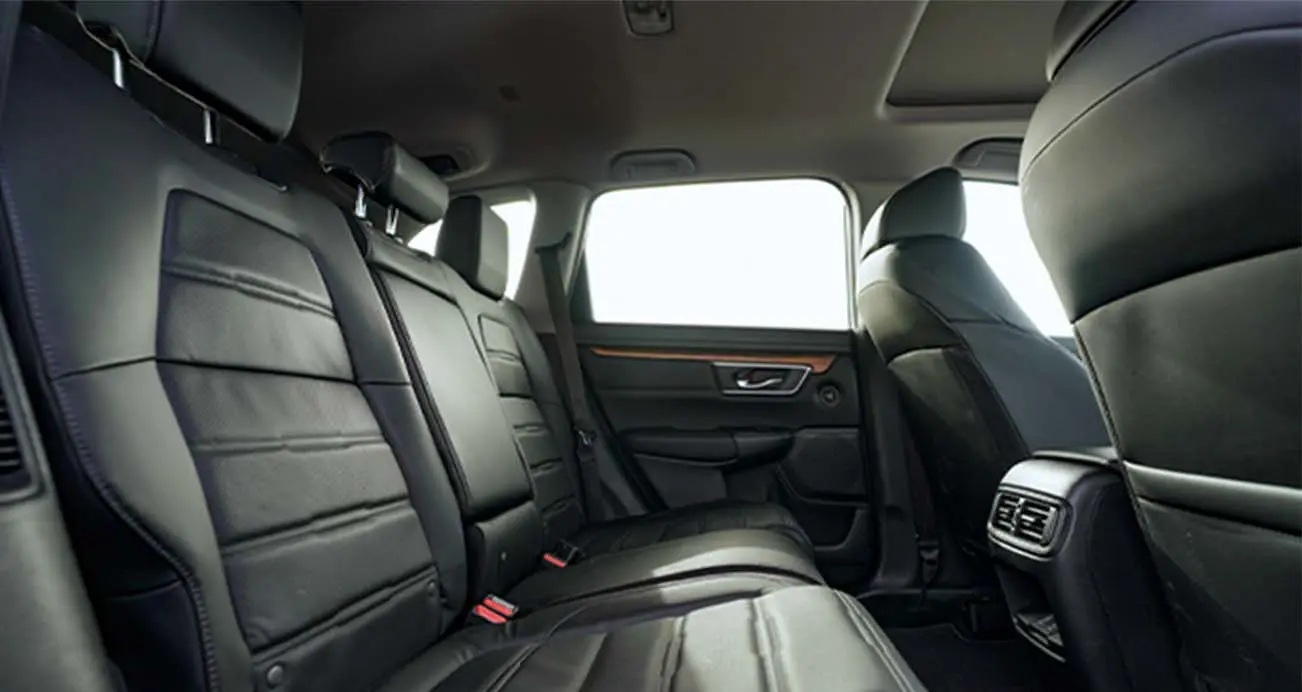 Finding a comfortable driving position and getting used to the CR-V Hybrid's controls should be a quick task for most drivers. The cabin feels large for passengers of all sizes, and there's plenty of legroom and headroom all around.
There's also an impressive amount of storage space for items big and small. The configurable front center console is particularly helpful for storing small items such as smartphones, sunglasses, or small handbags. In back, the CR-V Hybrid has a little less cargo space than a regular CR-V. It measures 33.2 cubic feet behind the rear seats or a maximum of 68.7 cubic feet with the rear seats folded. A regular CR-V can hold up to 39.2 cubic feet behind its rear seats (37.6 cubes for the Touring trim) or 75.8 cubic feet with the rear seats folded.
Travis' take: The CR-V has a really smart interior. There are so many cubbies and pockets that you'll never run out of places to store your small items, and there's plenty of cargo space in the back for big items like suitcases. And bring all your tall friends along because headroom in the CR-V is excellent.
How is the CR-V Hybrid's tech?
The CR-V's infotainment interface is average. Graphics are relatively high-quality and the screen is easy to read. Rivals including Mazda and Hyundai, however, have far sleeker interfaces with better screen resolution. Audio quality is also average, with decent sound coming from both the standard and optional stereo systems, but audiophiles won't be overly impressed. There are a lot of USB charging points, however, which is good for families with a lot of devices to plug in.
Driver aids such as adaptive cruise control, forward collision warning, automatic emergency braking, blind-spot monitoring, and lane-keeping assist are all standard on the CR-V Hybrid.
Travis' take: The CR-V Hybrid has the basics certainly—you do get a pleasing collection of advanced driver aids and Apple CarPlay® and Android Auto™ smartphone integration as standard, for instance—but there's nothing that wows or excites me either.
What other SUVs should I consider?
The Toyota RAV4 Hybrid SUV is an excellent rival to the CR-V Hybrid. It gets better fuel economy estimates from the EPA. And during Edmunds' testing, it returned better real-world results too. There's also the Ford Escape Hybrid and Hyundai Tucson Hybrid small SUVs, which are both worth considering thanks to their smooth ride quality and roomy interiors.
If I decide on a CR-V Hybrid, which one should I buy?
The 2021 Honda CR-V Hybrid offers three trim levels: EX, EX-L, and Touring. For most people, we recommend sticking with the base EX trim because it strikes a good balance between price and equipment. But if you want a nicer interior or helpful add-ons such as a power liftgate or a premium sound system, you'll want to check out the EX-L or Touring.
Travis Langness is an automotive reviews editor for Edmunds.com. As a lifelong car-and-truck enthusiast, Travis has a deep passion for cars. Through instrumented testing, off-roading, epic road trips and local commuting, the Edmunds team tests and writes about new and used vehicles to help car shoppers make informed decisions.