Powertrains & fuel types explained
Compare electric, hybrid and gas vehicles
From standard gas to alternative power options—understand the ever-growing set of powertrain and engine choices for your next vehicle.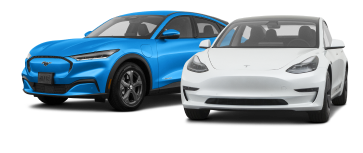 Understanding the different fuel types
BEV

Full electric

PHEV

Plug-in hybrid

HEV

Hybrid

GAS ICE

Gas engine

DIESEL ICE

Diesel engine

What is it?

A battery and electric motor are used for propulsion instead of a conventional internal combustion engine (ICE)

A conventional internal combustion engine (ICE) powered by gasoline combined with a supplemental battery that can be plugged in to recharge

A conventional internal combustion engine (ICE) powered by gasoline combined with a supplemental battery that doesn't need to be plugged in

A conventional internal combustion engine (ICE) powered by gasoline

A conventional internal combustion engine (ICE) powered by diesel fuel

Pros

_No concern about gas price variation

_Simplified maintenance

_Can operate on electric for daily driving but fallback to ICE for longer drives

_Good fuel economy without the need to worry about recharging

_Widespread availability of gas stations for refueling

_Higher levels of torque than similarly sized gasoline engines

Cons

_More limited range can be stressful

_Widespread public charging infrastructure remains unestablished

_Susceptible to lower range in cold weather

_Heavier weight of having two powertrains in place

_Required regular maintenance of an ICE

_Primarily geared toward efficiency so few performance options

_Required regular maintenance of an ICE

_Tailpipe emissions

_Typical regular maintenance

_Tailpipe emissions

_Susceptible to lower performance in cold weather

Cost to drive 25 miles

$1.73

2022 Ford F-150 4WD Lightning

N/A

no comparable PHEV in this case

$3.76

2022 Ford F-150 4WD Hybrid

$4.55

2022 Ford F-150 4WD 3.5L gas

$4.62

2021 Ford F-150 4WD 3.0L diesel

Examples

Tesla Model 3

Mazda MX-30 EV

Chevrolet Volt

Kia Niro Plug-in

Toyota Camry Hybrid

Honda Insight

Nissan Altima

Dodge Grand Caravan

Mazda CX-5

Chevrolet Silverado

Research & shop
FAQs about powertrains and fuel types
Full electric vehicles powered by an electric motor and battery typically have the lowest operating cost (though a variety of factors influence personal operating cost). 

For example, the EPA estimates the cost to drive an all-electric 2022 Ford F-150 Lightning 4WD for 25 miles would be $1.83, while the cost to drive an all-gas 2022 Ford F-150 4WD with 3.5l V6 for 25 miles would be $4.33.   

Your personal results will vary based upon local electricity rates, gasoline costs, and vehicle usage. Figures are based on EPA estimates for when a vehicle is sold as new. The cost to drive 25 miles may vary for reasons like driving conditions and vehicle history. Unless specified, the figures are for vehicles equipped with an automatic transmission. Full details are available at fueleconomy.gov.
With the proper cable (typically included with the car), you can plug into a common 120V power outlet and gain 3-5 miles of range per hour charged.  If you drive 20-30 miles per day, you can plug your BEV in each night and regain the range used during the day.

If you want a faster charge you can explore upgrading to a 240V system, which typically provides 10-20 miles of range per hour charged. For any modifications to your home's power system, consult an electrician to add 240V outlets, installed charging boxes, and ensure your home can support the proper amperage.
You do not necessarily have to plug-in a PHEV*, though it provides the most efficient charging source. The battery can recharge by drawing power from the engine or through regenerative braking.

You can learn more about PHEVs, including popular models, in our Plug-in Hybrid research guide.

* Some PHEVs, like the Audi Q5 Plug-in Hybrid, do require plugging in to fully recharge their battery. 
Flex fuel is a fuel mixture of ethanol and gasoline. The most common type is E85, a blend of 85% ethanol and 15% gasoline, though other varieties exist. 

Ethanol is made from renewable sources such as corn, sugar cane, and other grains, so it rose to popularity as a means to reduce oil dependence; however, studies debate its energy efficiency (meaning it may require more ethanol to go the same distance as gasoline).
A hydrogen fuel cell combines hydrogen with oxygen to produce electric, water, and heat—they operate like an electric car but don't need to be plugged in. Vehicles like the Hyundai Nexo, Toyota Mirai, and Honda Clarity are powered by hydrogen fuel cells; however, their availability is limited (as is access to hydrogen refueling stations). 
A mild hybrid is a vehicle with a conventional engine plus a larger 48-volt battery system that powers an electric motor for accessory systems like air conditioning, infotainment, etc. This results in greater efficiency because the gas engine is utilized only for accelerating the vehicle, while the battery and motor handle other responsibilities. 

The battery in a mild hybrid captures energy through regenerative braking and does not need to be plugged in; however, unlike conventional hybrids and plug-in hybrids, the electric motor does not propel the vehicle. 
EV battery life depends on many things, including the make, model, use, condition, and maintenance of the vehicle. The battery will experience some degradation over time (just as internal combustion engines experience some degradation as they age); however, a majority of electrified vehicles on US roadways are younger than 8 years so we don't yet fully know.  

The US government mandates manufacturers provide warranties for the batteries in BEVs, PHEVs, and HEVs for 8 years or 100,000 miles, whichever happens first. You can read more on the EPA's website.
There are several types of charging available for your electric vehicle: 

- Level 1 charging at home (standard home wall outlet): a common 120V power outlet provides about 3-5 miles of range per hour charged. A good practice of many BEV and PHEV owners is to charge overnight, where you can achieve a 30-mile range in 6-8 hours, so you don't start your day with an empty battery. 

- Level 2 charging at home (upgraded home wall outlet + charging box): a conventional 240V power outlet—like one your washing machine uses—provides power at a faster 10-20 miles of range per hour charged. You will need a charging regulator box to protect the vehicle against things like power surges, which can cost $500-$1000+ before installation. For any modifications to your home's power system, consult an electrician to add 240V outlets and ensure your home can support the proper amperage. 

- Level 2 charging in public (public charging networks): public chargers can also be used on BEVs and PHEVs, though for a PHEV you should evaluate if the cost is justified—because the price of charging at public chargers varies, and it may be cheaper to simply use the gasoline already in your car. 

- Direct current (DC) fast charging: DC fast charging uses direct current (DC) electricity to charge the battery of an electric vehicle. DC fast charging is much faster than Level 1 and Level 2 charging, charging an EV battery up to 80% in about 30 minutes. It's an ideal option for longer trips and for charging an EV quickly when time is limited.  PHEVs do not support direct current fast charging (also known as Level 3 charging); that would be like trying to fill a small bucket with a fire hose.  
The federal government is not mandating a switch to full EVs. The federal government is offering incentives for EV ownership and making investments in nationwide charging infrastructure, but no federal mandate or requirements to stop selling gas-powered vehicles currently exist. 
The cost to fix a mechanical issue depends on what the actual issue is, though electric motors are generally less mechanically complex than internal combustion engines. 
No, you do not have to pay for any subscriptions to drive an electric vehicle; however, some manufacturers offer subscription-based services such as access to technology features (regardless of whether it is a BEV, HEV, PHEV, or an ICE vehicle). 
Energy must be used to get any vehicle up to speed, and typically that energy comes from either a fuel source or battery pack in your car. 

With a traditional braking system, pushing your foot on the pedal triggers the brake components to compress together, creating resistance to slow your vehicle's wheels. Any energy you had used to get up to speed is then lost as heat. 

With a regenerative braking system, your wheels are connected to a motor that recaptures some of the energy used to get your vehicle up to speed, which is then converted back to stored power in the battery—hence the name 'regenerative'. 

Most electric vehicles, including full EVs, HEVs, and PHEVs, feature both braking systems and allow you to select whether to use both or only regenerative braking. Because most regenerative braking systems kick in immediately after releasing your accelerator pedal (no need to apply the brake pedal) you can drive while using your traditional brakes significantly less often; this is commonly called one-pedal driving. 
Back to top
* Price excludes taxes, title, registration, and fees. Applicable transfer fees are due in advance of vehicle delivery and are separate from sales transactions.

We hope you found this information helpful. This content is intended to inform and is not meant to indicate that a particular vehicle is currently available or recommended for you. Information related to these featured vehicles comes from third-party sources, including manufacturer information. We make every effort to provide accurate information, but please verify before purchasing.

Product and company names may be trademarks or registered trademarks of third-party entities. Use of them does not imply any affiliation with or endorsement by these entities.