Ask the Expert: Honda Civic Sedan vs. Civic Si
---
PUBLISHED FRIDAY, AUGUST 5, 2022

BY EDMUNDS EDITORS

Which Civic is best for you?
With thousands of vehicles in our inventory, we're here to help make car research easier for you. We've partnered with car-review experts from Edmunds to weigh in on what matters most when you're looking to buy a truck or car.
***
Vehicles Reviewed
2016-2021 Honda Civic sedan
2017-2020 Honda Civic Si
Do you love the idea of a Honda Civic sedan, but your fast-paced lifestyle demands something sportier? Or are you trying to decide whether the Honda Civic Si's added performance is worth spending a little extra? In this article, Edmunds' expert Will Kaufman compares the Honda Civic Si with the standard Honda Civic sedan to help you decide which version of these cars is best for you.
The Honda Civic has been around in the U.S. since the 1970s, and the Si trim level debuted in the 1980s. We'll focus on the 2016-2021 Civic and the 2017-2020 Civic Si sedans because they're commonly available at CarMax and offer an appealing mix of technology, driving enjoyment, and value.
Trim levels and availability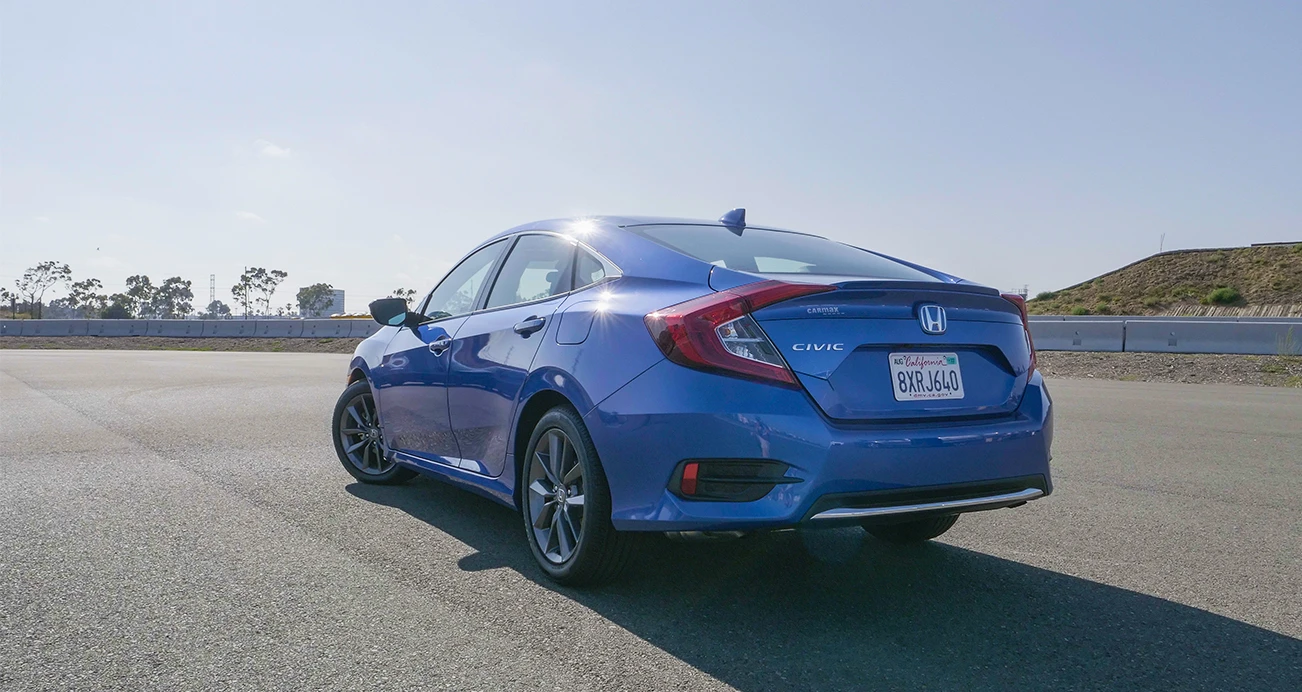 From 2016-2018, Honda offered the Civic sedan in five trim levels.
LX: Most affordable; available with 2.0-liter engine only
EX: Mid-range, available with the 2.0-liter engine
EX-T: Similar to EX, but featured the 1.5-liter turbocharged motor
EX-L: Added leather and additional features to EX-T
Touring: Highest-level trim, featuring all available upgrades
For 2019, Honda revised its trim lineup slightly, dropping EX-T, and adding a new Sport model.
LX: As before, the most affordable, available only with the 2.0-liter engine
Sport: Featured styling cues from Civic Si, but only available with 2.0-liter engine
EX: Turbocharged engine now standard
EX-L: As before, adds leather and other features to EX
Touring: Retains position as highest-level trim, with most features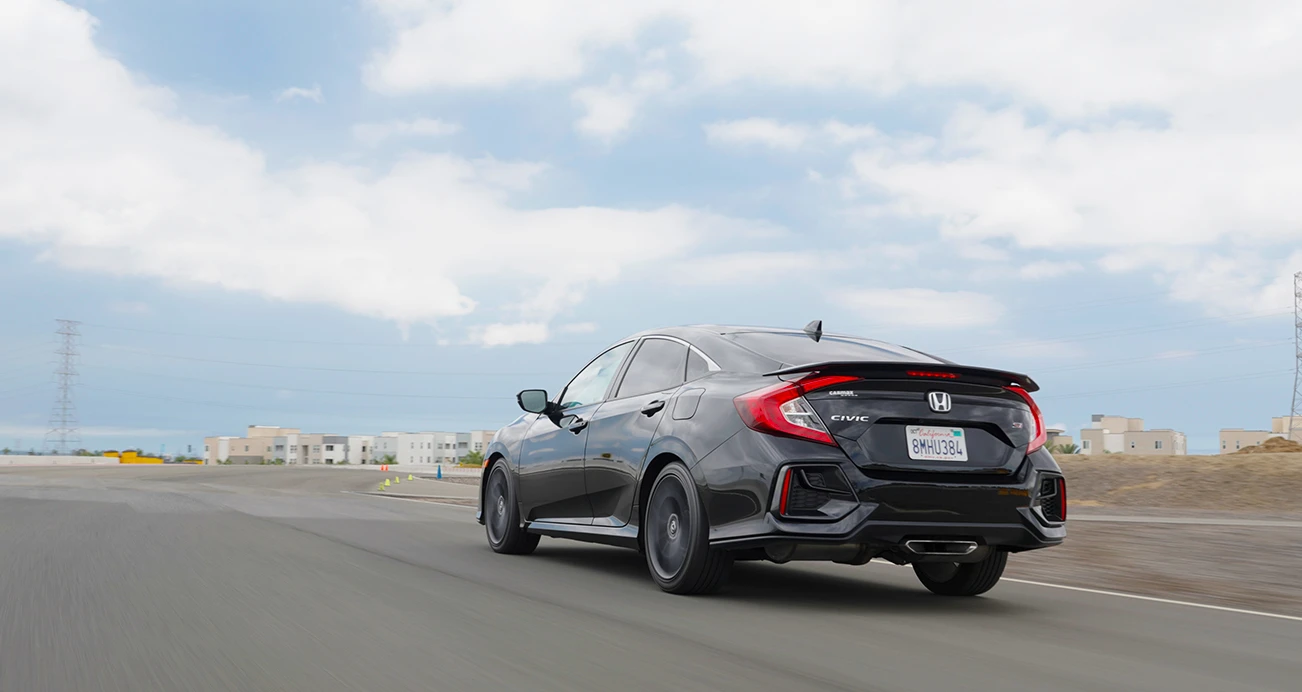 The Civic Si was only available from 2017-2020, and only received minor changes for the 2020 model year. Aside from its performance upgrades, it sits in the middle of the pack in terms of features.
The LX and EX trim levels are easiest to find used, with more limited availability for higher trim levels. Because it's more of a specialty performance car, the Si can also be a bit more rare.
Will's take: With so many trim levels to sort through for the sedan, it's easiest to shop by filtering for must-have features and seeing what best fits your budget.
Features
There's no question the Civic Si brings the goods when it comes to performance. But what about the rest of the car? The reality is that it doesn't offer as many features as the standard Civic, and the options list is limited. But it still comes with a few premium features.
Cloth seats are standard on the regular Civic, and they're pretty comfortable for the most part. On EX-L and Touring trims, leather seats are standard, and the EX and above get a power driver's seat. However, one downside to all Civic models is the lack of adjustable lumbar support.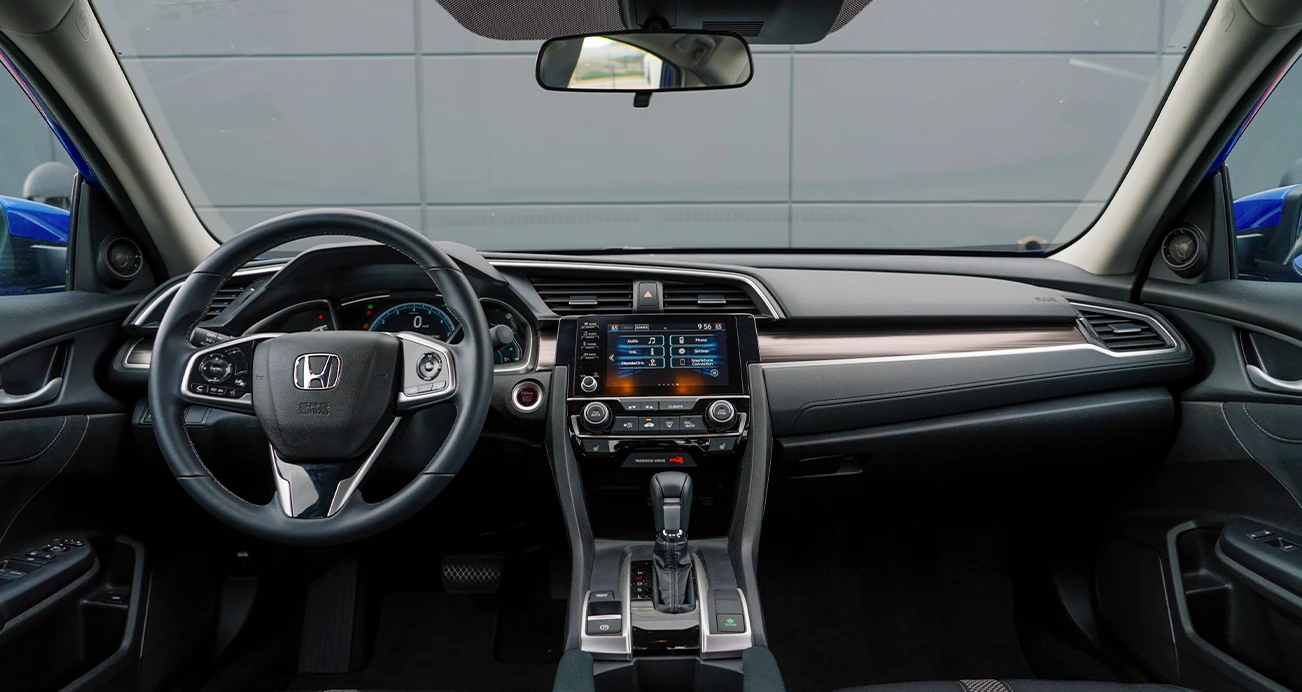 While the base Civic LX has to make do with only Bluetooth® phone connectivity and a smaller screen, all other Civic sedan models get a 7-inch touchscreen, which includes Apple CarPlay® and Android Auto™ smartphone connectivity. A 10-speaker stereo is standard on higher EX-L and Touring trims, and the Touring also gets built-in navigation.
When it comes to driver aids, Honda has you covered. Forward collision alert, automatic emergency braking, and adaptive cruise control were available from 2016 as part of the Honda Sensing® package, and starting in 2019 Honda made them standard on all Civic models. Only the top-tier Touring trim comes with blind-spot monitoring and rear cross-traffic alert, all other trims get Honda LaneWatch™, a camera system that displays a view of your passenger-side blind spot on the infotainment screen when you signal a right turn or lane change.
There's no leather upholstery available for the Civic Si, nor are there power seats. But it does come with manually adjustable cloth seats with thick side cushions to help hold you in place when you're driving hard. The Si's seats are also heated, like on most other Civic trims.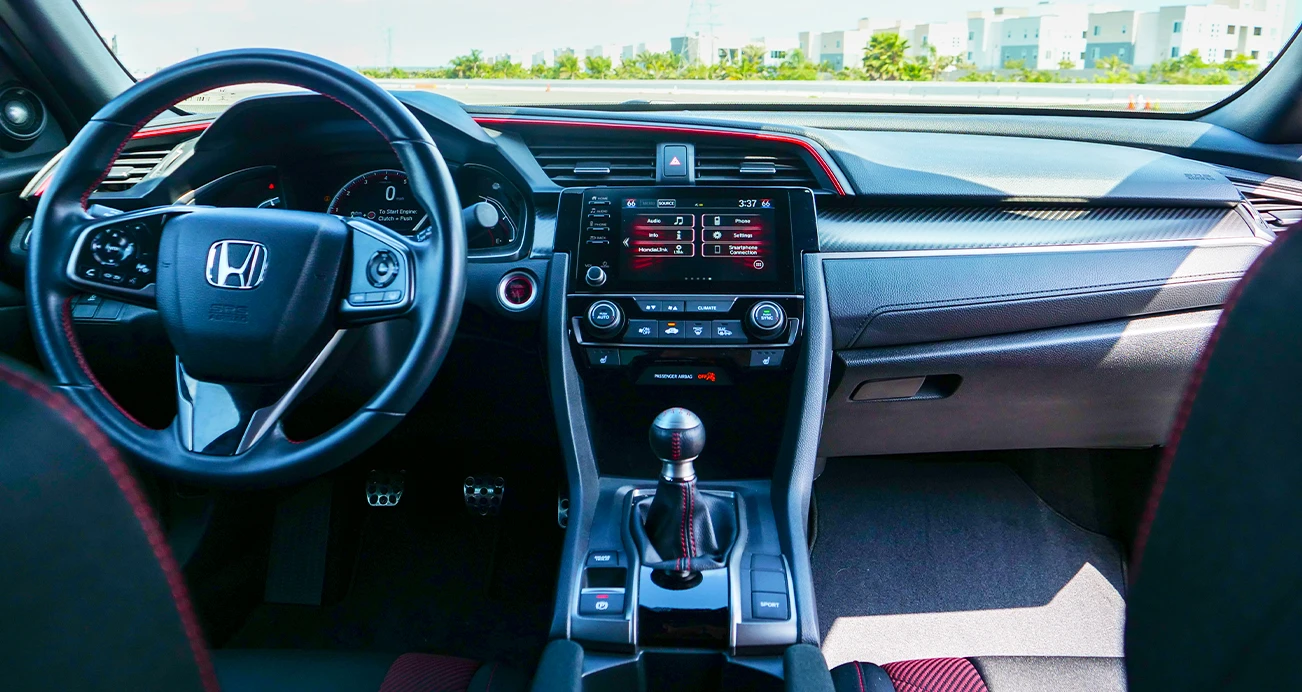 Beyond its unique sport seats, the Civic Si gets a few other minor design tweaks to the interior, including a black-and-red color scheme. Otherwise, all of the practicality and roominess of the standard Honda Civic carry over untouched. In most ways, the Si's features are similar to those of a midtier Civic sedan model.
The Civic Si also gets the 7-inch touchscreen infotainment system with Apple CarPlay and Android Auto. Sorry, built-in navigation isn't an option on the Si, but you do get the upgraded 10-speaker stereo system.
The Civic Si also gets LaneWatch, but the full suite of Honda Sensing driver aids didn't come to the Si until the 2020 model year.
Will's take: The Civic Si has a few nice upgrades from a base sedan, but if you want driver aids you'll need to find a 2020 model. I wish blind-spot monitoring was available on more of the Civic lineup, but otherwise the 2020 Civic Si has the features I really need in a car. For most people, it won't be worth trading added luxury and tech for the Si's extra performance.
At a glance

Honda Civic sedan 2016-2021

Honda Civic Si 2017-2020

Safety

Forward collision mitigation

available (2016-2018), standard (2018-2021)

not available (2017-2019), standard (2020)

Adaptive cruise

available (2016-2018), standard (2018-2021)

not available (2017-2019), standard (2020)

LaneWatch

available

standard

Blind-spot monitoring

Touring only

not available

Tech

7-inch touchscreen w/ Android Auto and Apple CarPlay

available

standard

Premium stereo

available

standard

Comfort

Leather seats

available

not available

Heated seats

available

standard

Power seats

available

not available

Sunroof

available

standard
Performance and fuel economy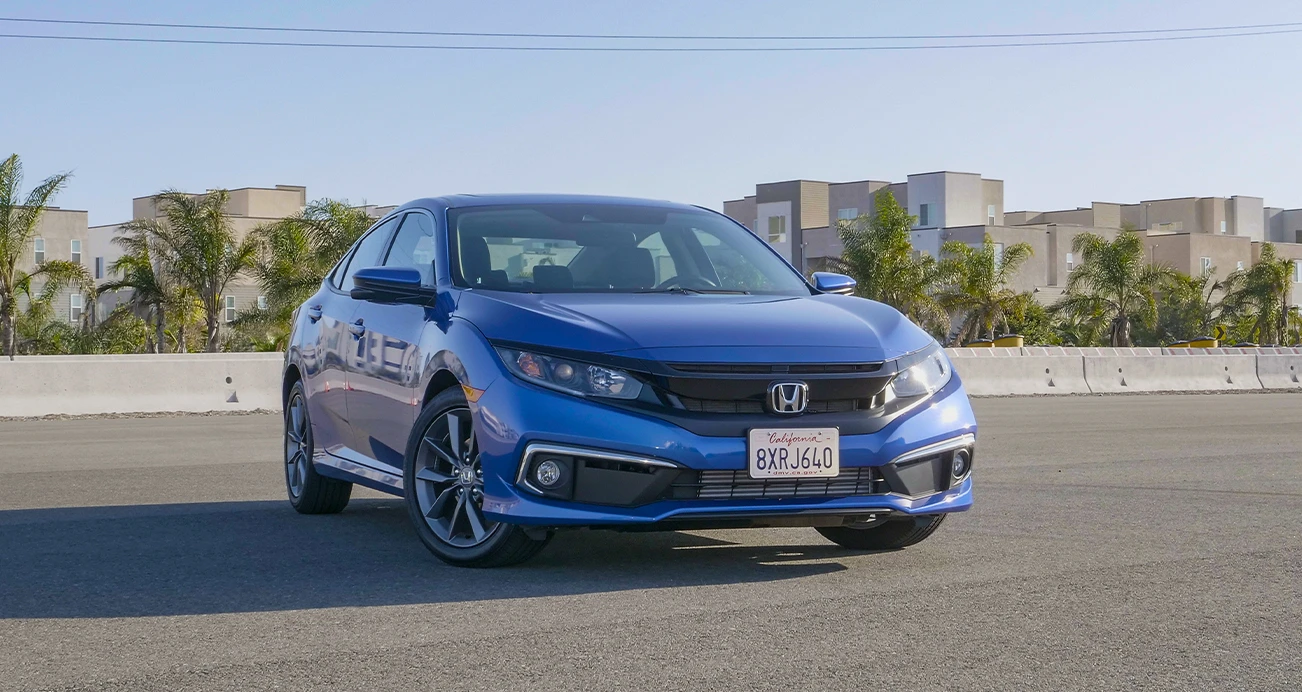 The standard Civic gets two engine choices. Lower trim levels have a four-cylinder engine that's a little slow but will get you from point A to point B. Higher trim levels offer a turbocharged engine that is not just more powerful but also gets slightly better fuel economy estimates. The difference is only a few mpg, but to our minds there are only upsides to opting for the upgraded engine so long as it fits your budget.
Both engines are available with a continuously variable transmission, a type of automatic transmission that's smoother than a traditional automatic. The Civic's CVT is efficient and responsive, especially when it's paired with the turbo engine, and it makes the whole package more fun to drive than most other compact cars.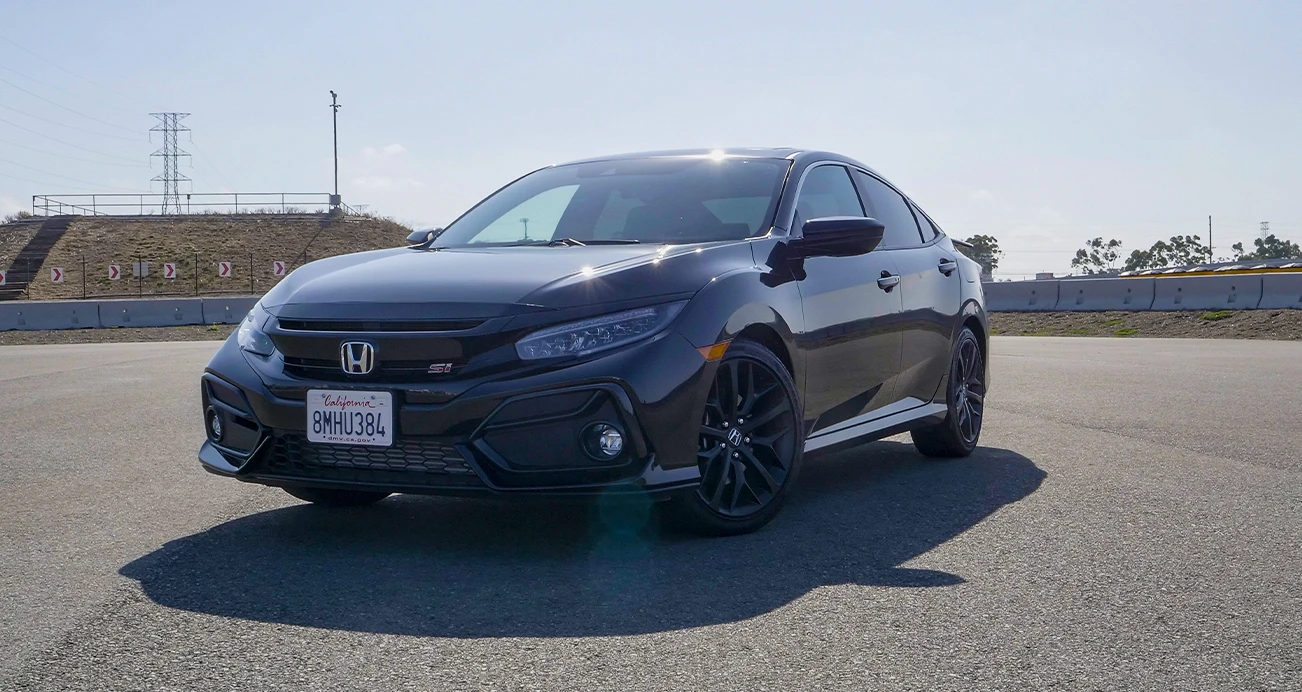 The Honda Civic Si may get a slightly more aggressive look, with blacked-out trim and a spoiler on the trunk, but the most important differences between the Si and other Civic sedan models are under the skin. That's where you find the Civic Si's more powerful turbocharged engine, which makes the Si faster and more exciting to drive.
The Civic Si's extra power does mean it has worse fuel economy than other Civic models, and Honda recommends premium fuel so you'll pay extra at the pump. But more power equals quicker acceleration. And that's just the start of the performance goodies the Si brings to the show.
All versions of the Civic are front-wheel-drive but the Si gets a limited-slip differential to improve its performance. The limited-slip differential helps to put power down evenly when accelerating hard, and it makes the Si more capable in corners.
Even the regular Civic models are no slouch when it comes to handling, and they strike a great balance between comfort and fun. But the Civic Si takes things up another notch. On top of its special differential, the Si comes with adaptive suspension that can be made firmer at the push of a button. That means you can choose between firm, sporty handling or a more cushioned ride depending on road conditions or just your mood.
There's one big catch, though: The Civic Si is only available with a manual transmission. That's great news for enthusiasts and people who love changing gears for themselves, but not everyone knows how to drive manual … or wants to. If you prefer an automatic transmission, you'll have to steer clear of the Civic Si.
Will's take: The Civic Si is definitely more fun to drive, but the regular Civic sedan is no slouch. The Si's manual transmission and higher costs at the pump mean most drivers looking for a bit of fun will be better off opting for the standard Civic with the optional turbocharged engine.
At a glance

2016-2021 Honda Civic sedan

2017-2020 Honda Civic Si

Performance

Max power

172 hp

205 hp

Max torque

162 lb-ft

192 lb-ft

Transmission

CVT automatic or six-speed manual

six-speed manual only

MPG

Max mpg

35 mpg combined (2015), 36 mpg combined (2016-2021)

32 mpg combined (2017-2019), 30 mpg combined (2020)

Upgrades

Performance upgrades

none

limited-slip differential, adaptive suspension
Value
Part of the Honda Civic's popularity has always been its strong value. The 2016-2021 Civic sedan offers excellent EPA-estimated fuel economy and performance with its available turbocharged engine, and it balances above-average handling with a comfortable ride. It offers plenty of technology features and available upgrades. The Civic sedan is also practical and roomy, with a large trunk compared to competitors and a back seat with plenty of legroom for adults.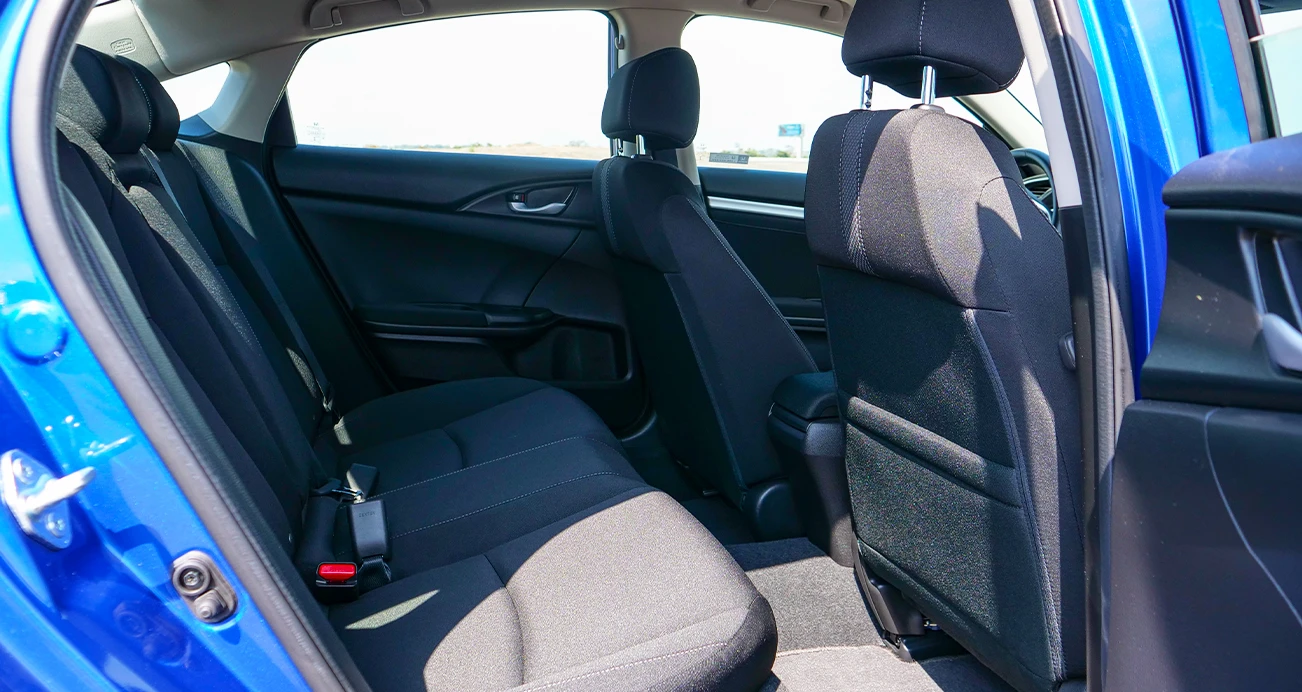 The most popular trim levels that have the turbocharged engine are the EX-T (2016-2018), EX (2019-2021), EX-L, and Touring models. After the 2019 model year, all of these trim levels also have the 7-inch touchscreen, forward collision warning, automatic emergency braking, heated seats, and other upgrades. With 2016-2018 models, be sure to check the options if those features are important to you.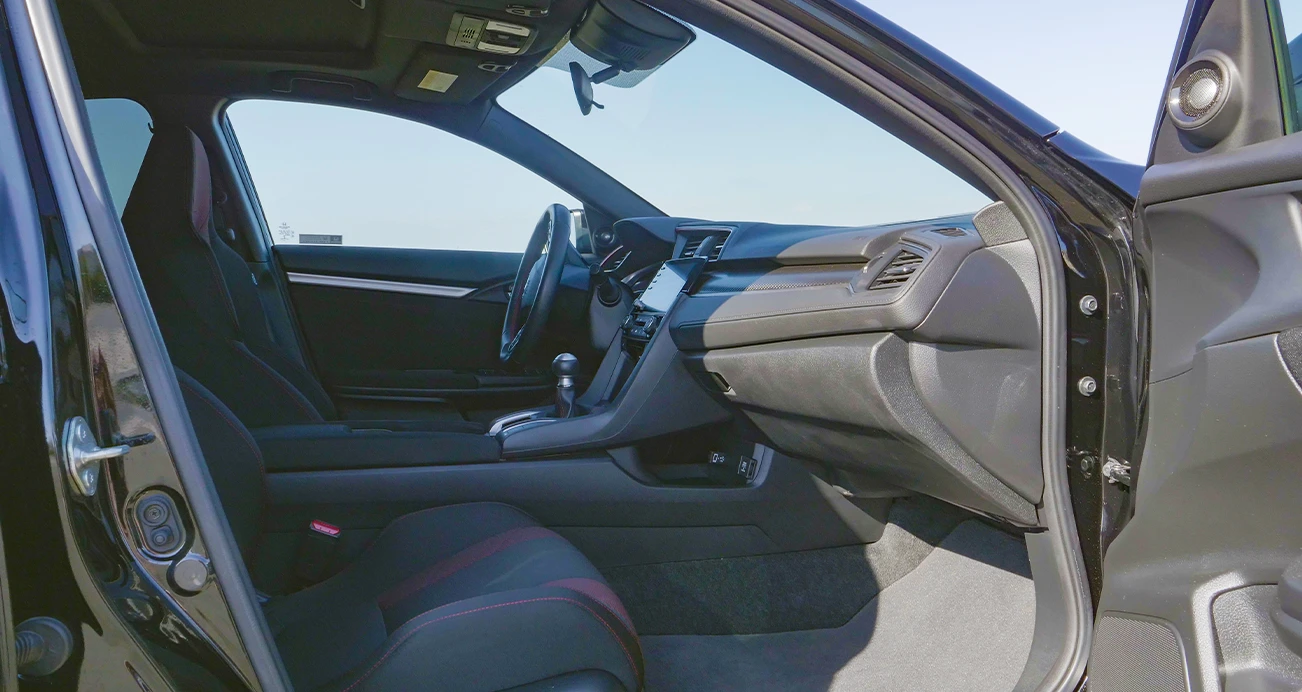 The Civic Si is no slouch when it comes to value either. You get plenty of standard features on top of the added power and other performance upgrades. And in the world of affordable sports cars, you'll be hard-pressed to find anything that balances fun and practicality like the Civic Si. But with fewer Civic Si models available than standard Civic sedans, it does command a small price premium.
Will's take: I recommend finding a Civic sedan in one of the trims listed above to get the more desirable turbocharged engine. As for a Civic versus Civic Si comparison, both are a good value. It's up to you to decide whether you'd rather have more luxury and comfort features or a more performance-oriented car.
What's next?
If you're in the market for an affordable sports car and you can drive a manual transmission, there's no question the 2017-2020 Honda Civic Si is a great choice. If an automatic transmission is a must-have, other Civic sedan models can still deliver a healthy dose of fun.
But if you're on the fence, take time to consider whether the Civic Si is missing any features that are important to you because the Si doesn't have many options and is largely a take-it-or-leave-it proposition. Also consider your budget: With more trim levels to choose from, and a more affordable base engine, the standard Civic sedan offers more flexibility when it comes to cost.
Whichever version you choose, we think it's hard to go wrong with the Honda Civic.
Will Kaufman is a senior writer and content strategist for Edmunds.com. He used to write SAT study guides until he landed his dream job of talking about cars all day.