Reasons to Buy a Jeep Grand Cherokee
---
PUBLISHED FRIDAY, NOVEMBER 11, 2016
On or off the road, this fully-featured Jeep SUV is a category killer.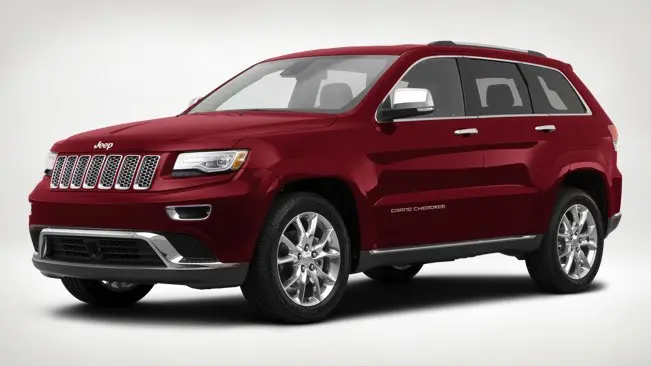 All at once muscular, well-proportioned, and luxury-minded, the rugged Jeep Grand Cherokee has been around for more than 20 years now. It's a favorite SUV of critics and customers alike.
The Grand Cherokee's numerous automotive awards are well earned. 
Here are five reasons why a used Jeep Grand Cherokee might be the right ride for you!
On- and off-road road driveability. Jeep is a name that's synonymous with four-wheel drive. Handy for winter weather, bumpy roads, outdoor activities, and more, the Grand Cherokee thrives with four-wheel drive. It does, however, also come in a rear-wheel-drive-only version that benefits from improved fuel economy. The Grand Cherokee's electrically-assisted power steering and adjustable ground clearance (Quadra-Lift air suspension) gives drivers plenty of versatility for on- and off-road adventures. This versatility makes the Grand Cherokee ideal for road trips up mountains, down to the beach, and into the woods. It's got a unibody construction, instead of a body-on-ladder frame construction, so the Grand Cherokee's handling and driving characteristics can feel more car-like than truck-like.

Yes, they come with a turbo-diesel. Starting in 2011, you could get a Grand Cherokee with a turbodiesel six-cylinder engine. It lets drivers tow up to three tons and returns close to 30 mpg on the highway, which isn't bad at all for a 5,000-pound, mid-sized SUV. Other engine options include a 300-hp V6 or a 5.7-liter Hemi® V8 that's good for more than 450 hp.

Height and view. The Grand Cherokee gives you a commanding view of the road. Its roofline is close to six feet high—you'll easily be able to peer around natural obstructions like bushes or smaller vehicles in shopping centers. And, the rear-seat headrests can be flipped down when not in use, so you can see behind you more easily. The rear backup camera in later models provides improved visibility while parking.

Ample interior and plenty of features. The Grand Cherokee's interior, with wood trim accents, provides supportive seating for five (seats available in leather or cloth) and ample legroom. Heated seating and rear-reclining seats make road trips relaxing for passengers, and the USB ports make charging devices easy. Optional features include a dual-screen entertainment system, premium sound system, Bluetooth®, rain-sensitive windshield wipers, sun/moon roof, and a voice-activated touchscreen system for navigation, hands-free calling, voice commands, and voice texts. Rounding out the interior are a power-lift gate for quick access to the trunk and 38 cubic feet3 of cargo space (which can be doubled by folding the rear seats down) for carrying everything from camping equipment to the family dog.

Towing Capacity. The Grand Cherokee is quite capable of towing large loads. The Laredo, Limited, Overland, and Summit models can tow up to 6,000 lbs using their six-cylinder gas or diesel engines; models equipped with the Hemi V8 can tow up to 7,400 lbs. Plus, Jeep's tow package features include measures for counteracting trailer sway.
If you just need a vehicle for commuting and have no plans for outdoor recreating, this car's probably not for you. The lack of third-row seating might also dissuade you if you're looking to carry more than five passengers, or need more storage space than room for passengers. Overall, if you need an all-around used SUV for sale that can get you to the office on weekdays and double as a getaway ride for weekend adventures, it's worth your time to consider the Jeep Grand Cherokee.