Ask the Expert: Should You Buy a Subaru Crosstrek?
---
PUBLISHED MONDAY, OCTOBER 31, 2022

BY EDMUNDS EDITORS

From the city to backroads, the rugged Subaru Crosstrek compact SUV handles it all
With thousands of vehicles in our inventory, we're here to help make car research easier for you. We've partnered with car-review experts from Edmunds to weigh in on what matters most when you're looking to buy a truck or car.
***
Vehicle Reviewed
2022 Subaru Crosstrek Premium
Meet the 2018-present Subaru Crosstrek
Debuting for the 2018 model year, the second-generation Subaru Crosstrek doubled down on the rugged reputation of the original 2012-2017 Crosstrek and also made it more pleasant to live with day in and day out. It makes the Crosstrek an excellent choice for those who enjoy the great outdoors on the weekend, but still have to contend with the daily grind of city life the rest of the time.
On the rugged front, Subaru left the original Crosstrek's 8.7 inches of ride height but added a new X-MODE® system to help expand its off-road capabilities in tougher terrain. Quality-of-life improvements included a nicer interior and the addition of high-tech features including standard Apple CarPlay® and Android Auto™ smartphone connectivity. Subaru also made its EyeSight® advanced driver-assist system (ADAS) optional, which added forward collision warning and automatic emergency braking; for the 2020 model year, Subaru made it standard equipment on all Crosstreks with an automatic transmission.
When introduced in 2018, the second-generation Crosstrek was available in three primary trim levels: base, Premium, and Limited. For the 2019 model year, Subaru introduced a plug-in hybrid version of the Crosstrek, utilizing its partnership with Toyota to base it on similar technology as the Toyota Prius Prime. For the 2021 model year, all Crosstrek models received exterior styling updates. Limited models got a larger and much more powerful engine, and a new Sport model was introduced, which also features the new engine.
Crosstrek trim levels
Base: The base Crosstrek includes standard all-wheel drive and a 2.0-liter engine with 152 horsepower. The standard transmission is a six-speed manual, but opting for the continuously variable automatic transmission (CVT) adds X-MODE and hill descent control, making it a combination worth having. Also standard is a 6.5-inch touchscreen audio system that includes Apple CarPlay and Android Auto, manually adjustable front seats that include a driver's height adjustment, air conditioning, and cruise control.
For the 2019 model year, EyeSight was optional on base Crosstrek models with a CVT. Starting in 2020, all automatic-equipped Crosstreks got EyeSight standard, and the automatic climate control previously reserved for upper trims also joined the standard equipment list.
Premium (trim tested): The Premium trim builds on the base trim with an updated audio system featuring two front USB ports, a leather-wrapped steering wheel and shift handle, and an all-weather package that includes a windshield wiper de-icer and heated front seats with orange contrast stitching. Key options include a power moonroof and blind-spot detection with lane change assistance and rear cross-traffic warning.
Sport (2021 and newer): Introduced for the 2021 model year, the Crosstrek Sport provides a lower-cost way to enjoy the more powerful 182-hp 2.5-liter engine introduced for this model year. Along with the additional power, the Sport also includes a dual-mode X-MODE with Snow/Dirt and Deep Snow/Mud settings. It's also available with the larger 8-inch touchscreen previously available only on Limited trims.
Limited: The most upscale Crosstrek trim, the Limited includes leather upholstery, an upgraded audio system with an 8-inch touchscreen, and an optional Harman Kardon stereo if you want to up the ante on tunes. EyeSight has been standard on the Limited trim since the second-generation Crosstrek launched in 2018, and the more powerful 2.5-liter four-cylinder engine has been standard since 2021.
Hybrid (2019 and newer): Aside from the hybrid powertrain, which achieves up to 35 mpg combined in EPA testing and up to 17 miles of EV-only range, the Crosstrek Hybrid is equipped very similarly to the Limited model. Other differences are primarily cosmetic, such as Hybrid badging and other distinguishing styling touches.
Interior and comfort
Despite the Crosstrek's compact outward dimensions, the interior is roomy and comfortable. The front seats are good for short and long trips, and the grippy cloth upholstery in our Crosstrek Premium combined with the side cushions provide good support in the corners of the chair without making the seat feel confining. The manual seat controls in our Premium model were easy to use, and we especially appreciated the adjustable height, operated with a simple pump up or down of a large handle on the driver's seat. The orange contrast stitching on the seats is a nice upscale touch that's also used on the dash and leather-wrapped steering wheel.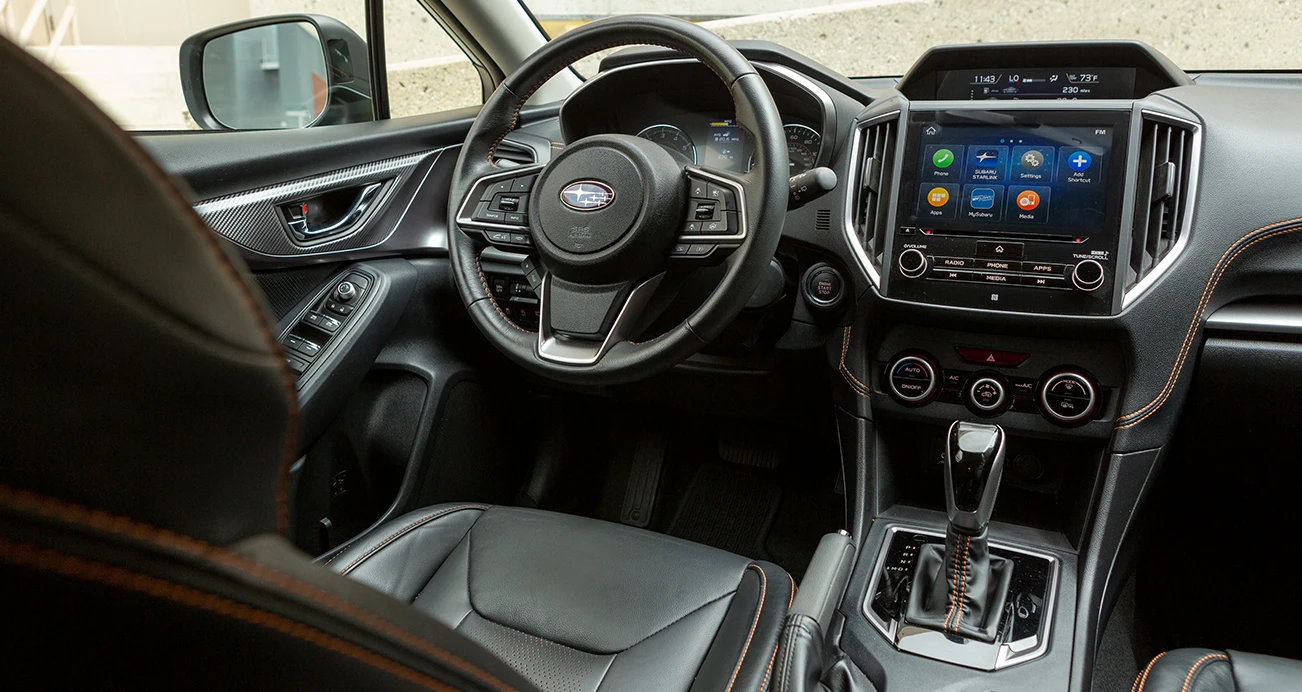 We wouldn't call the interior luxurious, but it's not spartan either. Even in our Premium test vehicle, there are nice touches like soft-touch padding on top of the doors and cloth inserts on the doors and dash. The extra-thick padding on the door armrest makes it a pleasant spot to rest your elbow during long drives. The padding on the center console bin lid isn't quite as thick, but overall the Crosstrek is a comfortable place to spend your drive time. That is, as long as you're in front. The rear seats aren't quite as accommodating, and we recommend taller passengers pull rank for the front seat. The rear has good headroom thanks to the tall roofline, and the upright seating position is still comfortable thanks to good lumbar support. Legroom is the problem, especially with a tall driver, and as in most small SUVs, the center position is only usable for very short trips.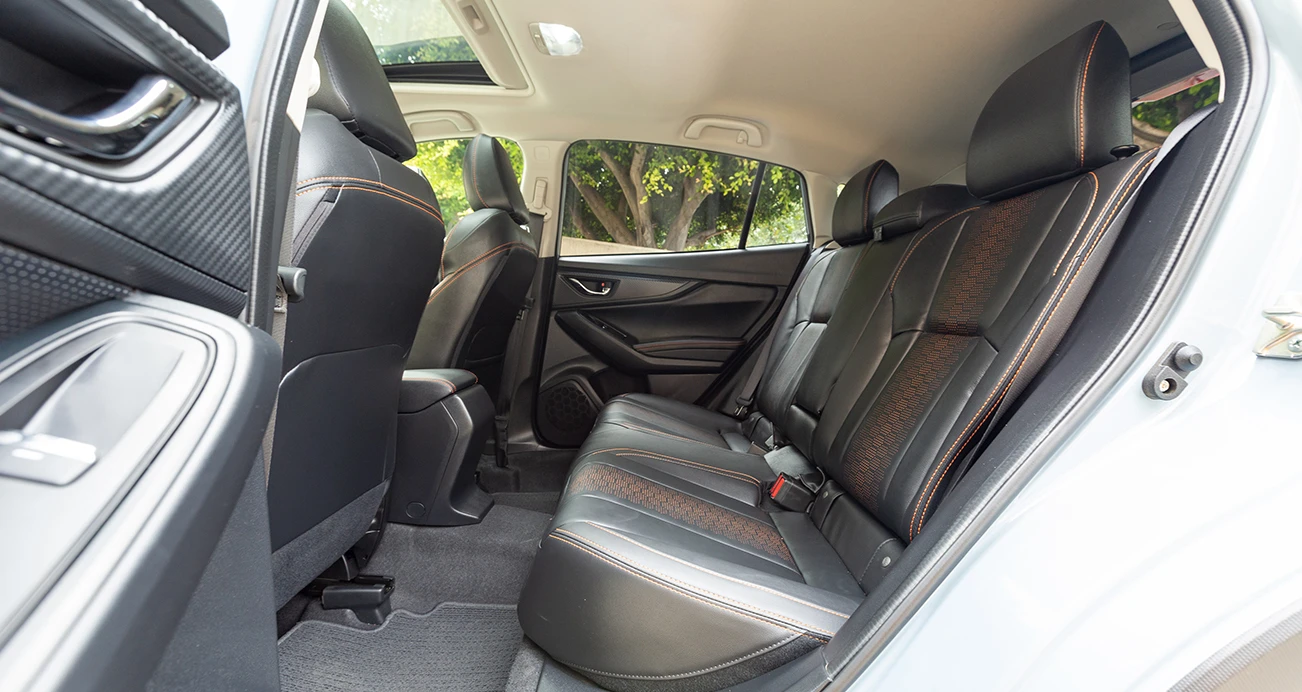 There are a handful of spots where you can sense cost-cutting. There are limited soft-touch surfaces for rear passengers and no rear air vents. We also noticed that all of the interior door handles have a sharp mold line you feel every time you grab them, making the Crosstrek feel a little downgrade. However, these are minor quibbles in an otherwise comfortable interior that feels a cut above many others in the class.
Keith's take: Considering the price and size class it competes in, the Crosstrek does an admirable job of coddling its front seat occupants. Sure, the rear seat is on the tight side, but this is a small vehicle, so that's to be expected.
Cargo and storage
Behind the Crosstrek's rear seats there's plenty of usable cargo space, although it's slightly less than you'd find in competitors like the Honda HR-V or Volkswagen Taos. Those more traditionally shaped subcompact SUVs can pack about an extra four grocery bags' worth of stuff with the seats up. For more space, the seats fold easily for a mostly flat floor. With the seats folded, the Crosstrek offers significantly more space and just about closes the gap with the HR-V.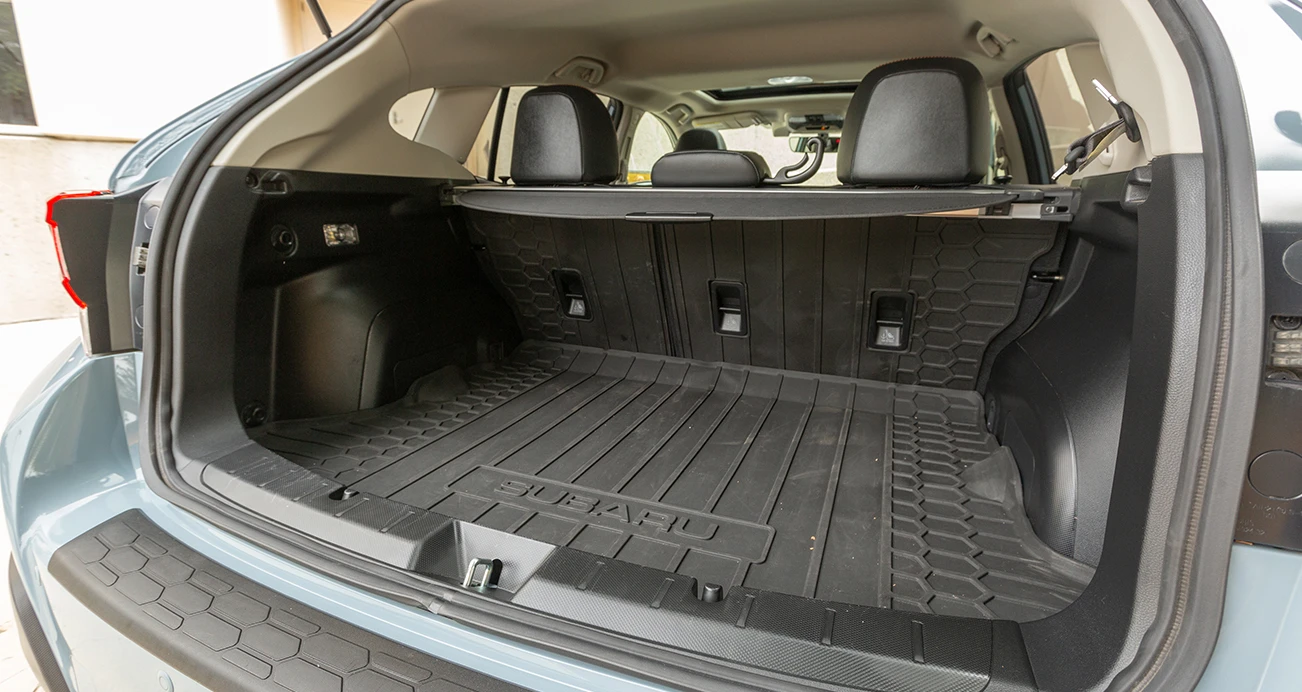 The Crosstrek makes it easy to get things in and out of its trunk: The lightweight hatch opens wide, and there's enough of a lip that cargo won't slide out if you're parked facing uphill. The cargo opening is also relatively low to the ground, so it's easy to lift heavy objects inside.
We wish the Crosstrek had more knickknack storage. There are small door pockets and a small bin under the center console lid. There's a pocket ahead of the shifter as well, but it isn't big enough to accommodate a large smartphone. The glovebox is nicely sized, but a good chunk of that space is taken up by the thick owner's manual. Rear passengers get tiny door pockets, and only the Limited has a rear fold-down armrest with two cupholders. If you travel with a lot of random stuff, other vehicles might accommodate you better.
Keith's take: The only real downside to the Crosstrek's interior is its lack of small-item storage, so consider carefully how much stuff you take with you when you travel, be it day-to-day or on a road trip. Overall cargo space may be less than other subcompact SUVs, but it's very user-friendly.
Infotainment and connectivity
Our Crosstrek Premium didn't have the larger touchscreen or high-end audio system that's available in the Sport and Limited trims. Even without those upgrades, we didn't have many complaints. The standard stereo lacked a powerful low-end punch, but otherwise it sounded good. If you spend more time listening to podcasts than hip-hop, you'll likely be more than satisfied.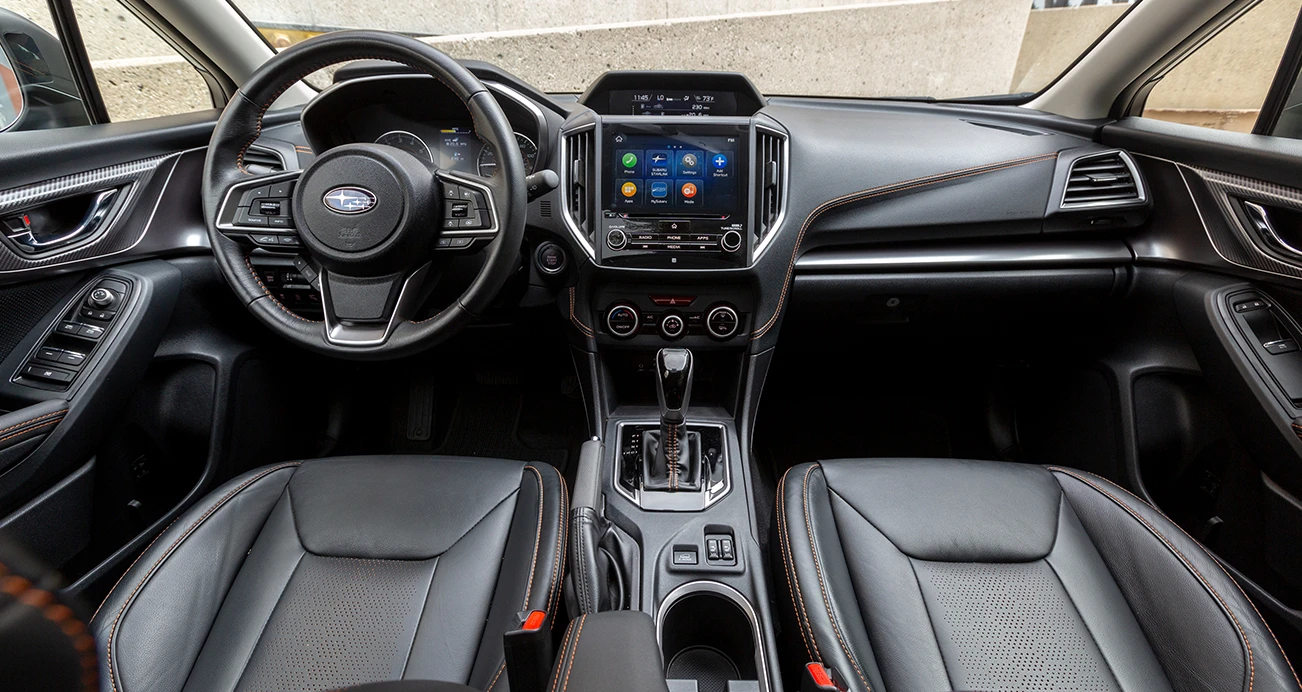 On the positive side, Subaru's system is easy to use. The stock Subaru interface features large, clearly marked touchscreen icons and a big physical Home button that gets you back to the main page regardless of how deeply you've dug into the menus. There are also physical buttons for quickly selecting radio, phone, apps, and media, and knobs for volume and radio tuning. Of course, the fact that Apple CarPlay and Android Auto are standard means you might not spend much time using the standard interface, and the system responds just as quickly and easily to touch and voice commands when a phone is connected.
The Crosstrek also features a color information screen between the gauges on the dashboard, with multiple functions to show as much or as little as you want. It's controlled through switches on the steering wheel below the left spoke. Their placement feels a bit like an afterthought, but at least they're big and easy to figure out.
Keith's take: If you're looking for ultimate audio, the Harman Kardon system in the Limited is the way to go, but the standard system delivered better than expected sound quality. The interface is also smartly designed, but the Crosstrek really wins us over thanks to its physical buttons and knobs, which are much more useful than touch-sensitive controls.
Driver aids
Subaru calls its advanced driver-assistance system (ADAS) EyeSight, and it includes staples such as forward collision warning and automatic emergency braking, lane keeping assistance, and adaptive cruise control. The last of those includes a low-speed follow function that will bring the little Subie to a full stop in heavy traffic. After a few seconds it requires the driver to put a foot on the brake, but it's easy enough to reactivate by tapping the "resume" switch on the steering wheel.
Overall, EyeSight's lane keeping assistance accurately keeps the car between lane markers without ping-ponging back and forth between them, and it provides good distance and smooth stops when following other cars. Its reactions aren't what we'd call "natural," but they aren't overly intrusive either.
If there's a downside, it's that the cameras EyeSight uses are bulky, and take up a notable amount of real estate at the top of the windshield. The majority of the time it's not a problem, but occasionally it can make some traffic signals a bit hard to see. On the flip side, it blocks the sun during those awkward morning and afternoon moments when it would otherwise peek around the rearview mirror, so it balances out.
Keith's take: We're going to keep saying this until we're blue in the face: If you can, get a car with an advanced driver-assist system like EyeSight. We think it's worth the stretch for the additional peace of mind it can bring you. And road tripping using adaptive cruise control will spoil you.
Engines and mpg
Let's be clear here: The Crosstrek Premium, with its 2.0-liter engine, is NOT going to win any drag races. If you want more power, you'll want to move up to 2021 or newer Sport or Limited models. These come with a larger, more powerful 2.5-liter engine that significantly improves the Crosstrek's acceleration.
On paper, the EPA estimates the combined fuel economy of the 2.0-liter to be around 30 mpg, which is about average for an all-wheel-drive subcompact SUV. Surprisingly, the larger and more powerful 2.5-liter engine shows only a single mpg drop in the EPA's combined and city scores, and a 1 mpg improvement on the highway, so there's no need to worry about a fuel-economy penalty for going with the bigger engine.
As an added bonus, the Crosstrek has a large gas tank for such a small vehicle, giving it an extra hundred miles or more of EPA-estimated driving range, compared to most other subcompact SUVs. That means less worry about running out of gas when you head into the wilderness and more distance between fill-ups on road trips.
There is a plug-in hybrid variant of the Crosstrek, just called the Crosstrek Hybrid, but we don't think it's worth the added upfront cost unless you mostly make short trips or are very serious about using less gas. Its EPA-estimated electric-only driving range of just 17 miles is unimpressive. When you're not running on electrons, the Hybrid only improves the Crosstrek's EPA-estimated combined mileage to 35 mpg.
Keith's take: We like the added range from the Crosstrek's big gas tank, and the fact that there's not much of an efficiency penalty for choosing the more powerful engine. The Crosstrek isn't an efficiency champion, but it's solidly average.
Driving and off-road ability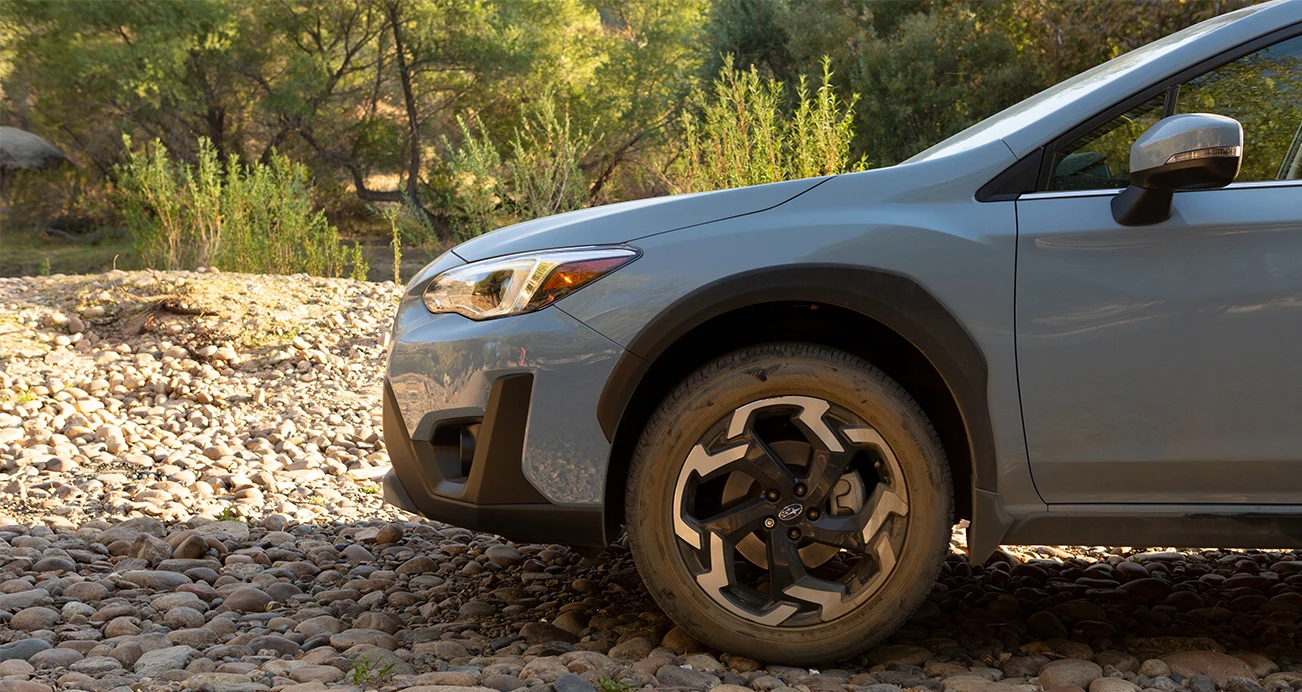 We tested the less powerful engine and thought it was fine around town. The automatic transmission, a CVT (an optional extra on the Base and Premium trims, which come standard with a six-speed manual), responds as quickly as it can to make the most of the modest power, and most drivers will find it perfectly decent for day-to-day use on city streets. On the highway it's a slightly different story. There's enough power to accelerate to the speed limit on a typical on-ramp, but if you're going to be merging with faster-moving traffic, you'll need more time to get up to speed. You'll also need to keep the modest power in mind before trying to pass that slow-moving semi on a two-lane road.
Around town or out on the open road, Crosstrek drivers and passengers benefit from a soft and comfortable ride. The flip side of that is that the Crosstrek leans quite a bit in corners, but in fairness to the little hatchback, hard cornering is not exactly in its mission profile. It's also surprisingly quiet, considering the class of vehicle, with wind noise well controlled.
The real ace in the hole for the Crosstrek is how it behaves when the pavement ends. Believe it or not, this little compact crossover has 8.7 inches of ground clearance, more than a base Jeep Grand Cherokee. That plus Subaru's clever all-wheel-drive system combine to make the little Subie a virtual billy goat when the terrain gets tough.That extends beyond the dirt-road capability most crossover SUVs have. The ground clearance gives the Crosstrek added competence over deeper ruts and larger rocks than you might otherwise consider.
If the going gets especially tough, Subaru's X-MODE helps to enhance off-road traction by holding the engine revs steadier, reprogramming the traction control, and making the gas pedal a little less sensitive, all to help maximize traction on difficult terrain. We don't want to oversell it of course — the Crosstrek is no Jeep Wrangler. But it's more capable than other cars in its class, with little downside in town.
Keith's take: You may read elsewhere that the Crosstrek with the 2.0-liter engine is "too slow." We wonder, too slow for what? Drag racing your neighbor's Honda HR-V? It's admittedly a little pokey on the highway, but most drivers won't mind. If you must have extra power, the 2.5-liter has it, but remember that it's only in newer, higher-trim level Crosstrek models, and it's going to cost more. Regardless of engine choice, the Crosstrek is a versatile and surprisingly capable little crossover for those weekend camping adventures and light off-roading.
Conclusion
There's a good reason the Crosstrek is a top seller in its class. We think it's worth stepping up to the 2018 and newer models if it's in your budget, simply because of the availability of features like standard smartphone integration, traction-enhancing X-MODE, and the wide availability of Subaru's EyeSight driver-assist system. If you want your SUV to do SUV things like go off-road, the Crosstrek is one of only a small handful of vehicles in its class that can handle that duty with ease and with arguably the best refinement and comfort. Do we wish the base engine had more power? Sure, but it's not a deal breaker, and overall the little Crosstrek gets a solid thumbs-up.
Keith Buglewicz is a managing editor at Edmunds. He's been covering the automotive scene for more years than he'd care to admit, and feels lucky to be working the dream job he's had since high school.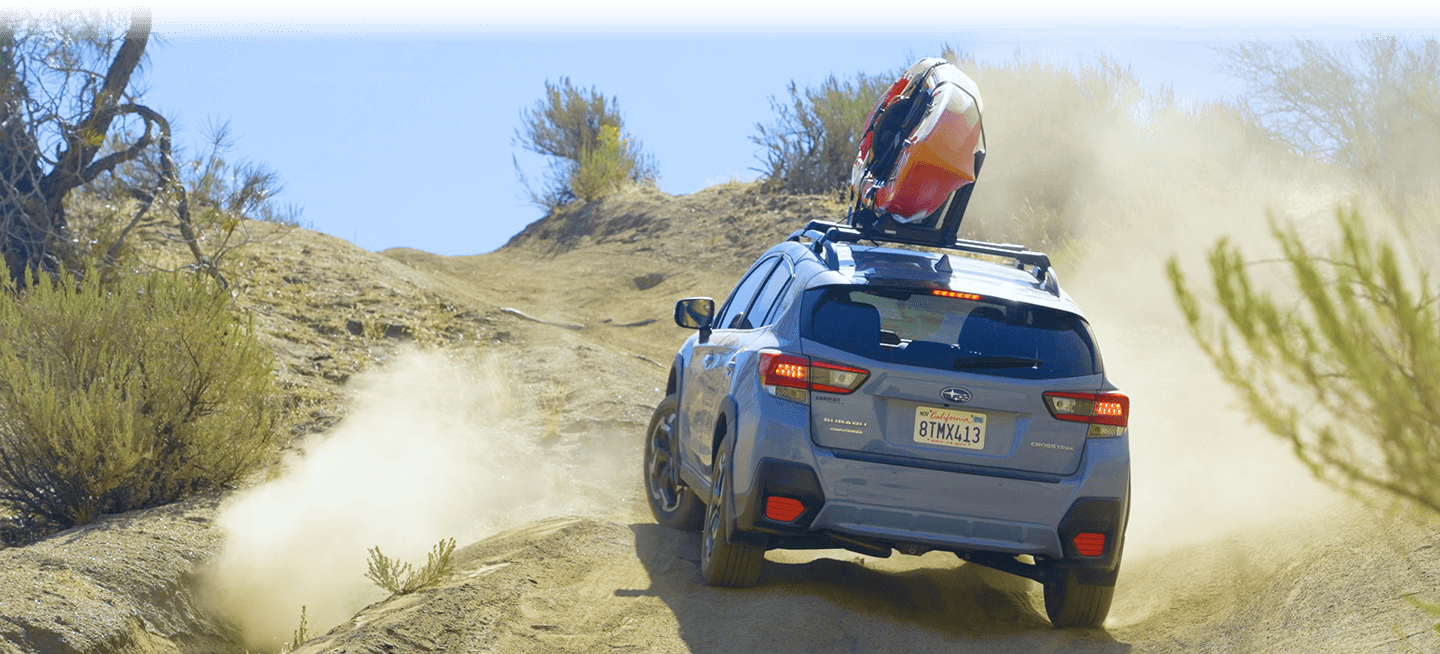 Unless otherwise noted, information related to these featured vehicles comes from third-party sources, including manufacturer information. Product and company names may be trademarks or registered trademarks of third-party entities. Use of them does not imply any affiliation with or endorsement by these entities. Use of them does not imply any affiliation with or endorsement by these entities and all trademarks listed are the property of their respective owners. We hope you found this information helpful. This content is intended to inform and is not meant to indicate that a particular vehicle is currently available or recommended for you.