Best Budget Cars
---
PUBLISHED MONDAY, APRIL 19, 2021
Choices for your lifestyle and budget.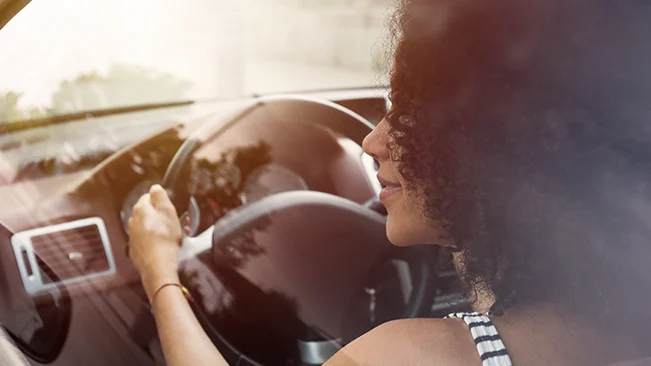 With thousands of vehicles in our inventory, we're here to help make car research easier for you. We've partnered with car-review experts from Edmunds to weigh in on what matters most when you're looking to buy a car.
***
If you're looking for a vehicle that fits your lifestyle and lets you keep a tight rein on your budget, you have many great options. From compacts with the parking prowess preferred by city dwellers and first-time buyers to smooth sedans or hatchbacks for families and ride-sharers, your next vehicle can tick all your boxes and meet your budget, too.
To add perspective and help you find your perfect fit, this article includes comments from car-review experts at Edmunds. See their in-depth reviews in the video below, which highlights five of the 10 cars on our list, plus a few other choices.
Check out our 10 best used cars under $15,000 for 2021 shoppers, based on CarMax sales and average pricing data from April 1, 2020, through September 30, 2020.1 Please be aware that upper-trim configurations and select model years may bring the prices of some of these vehicles over $15,000.
10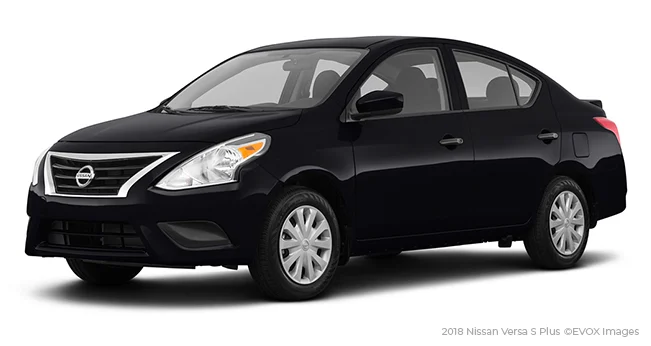 The Nissan Versa is a compact sedan with some serious rear-seat roominess. All 2017–2019 Versa models are powered by a 1.6L four-cylinder engine that produces 109 horsepower and 107 lb-ft of torque. The 2017–2019 base model S offers five-speed manual transmission, with the higher trims fitted with continuously variable automatic transmission, and all models delivering power to the front wheels. From 2017, the base trim S model has:
Bluetooth® connectivity

Four-speaker sound system

15-inch steel wheels

Power mirrors

Seven-inch touchscreen (mid-2018 onwards)
Edmunds' take: The Versa has interior space galore for a small sedan. There's plenty of room in both the front and back. It even has a large trunk that rivals some much larger vehicles. The 2019 Versa with the continuously variable transmission, or CVT, also gets appealing EPA-estimated fuel economy of 34 mpg combined. Value enters the equation too. Odds are good that you'll find a Versa priced lower than some other comparable sedans. 
09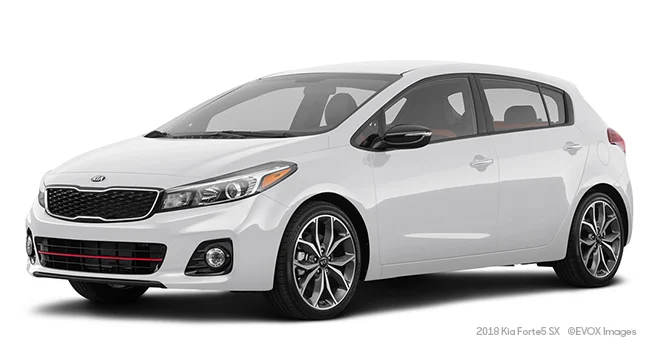 For body options and interior tech, the Kia Forte should be on the must-see list if you're looking for generous cargo space and plenty of trim options to personalize your next ride. The Forte's notable body types are the sedan (2010 –present) and hatchback versions (2011-2018). All 2017–2019 Kia Forte sedans are powered by a 2.0L four-cylinder engine and have up to 14.9 cu-ft of cargo storage. The 2017–2019 Forte sedan base trims (LX, FE) feature:
15-inch steel wheels

Tilt and telescopic steering wheel

USB connectivity

Front cup holders

Tire pressure monitoring
Edmunds' take: The Kia Forte is a good car to check out if you want a lot of features. Whether you're looking at 2014-2018 models or a newer one from 2019 and on, the Forte comes equipped with easy-to-use technology features. There are other vehicles on this list we'd recommend for a smoother ride or higher EPA-estimated fuel economy. But a 2017 or newer Forte is one of the better ways to go if you want a small sedan that can be equipped with advanced driver aids, voice controls, and Apple CarPlay® and Android Auto™ compatibility.
08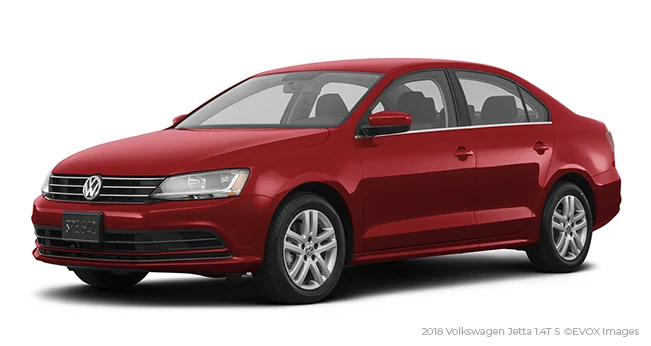 The Volkswagen Jetta is a stylish compact sedan that's roomier than its "compact" label might suggest. Seating five passengers, it's a great choice for regular road trips, or heading cross-country to college or visit family. The 2017–2018 Jetta features three four-cylinder turbocharged engine choices: a 1.4L, 1.8L, and a range-topping 2.0L GLI edition. From 2019, the refreshed Jetta features one engine option, a 1.4L turbocharged four-cylinder engine, paired with a six-speed manual or eight-speed automatic transmission. In addition to 15.7 cu-ft of cargo space, the 2017–2018 mid-range SE Jetta features:
Rearview camera

Simulated leather upholstery

Emergency braking assist

6.3-inch touchscreen

Sunroof
Edmunds' take: The Jetta isn't the most exciting car on this list. It is, however, one of the roomier sedans available at this price. The cabin has a lot of space for both front and rear passengers, and the trunk can fit several suitcases thanks to its substantial width and depth. If you're looking at a 2014-2018 model, seek out the stronger 1.8-liter turbocharged engine—a surprise highlight during Edmunds' testing—or the SEL trim level for extra available tech.
07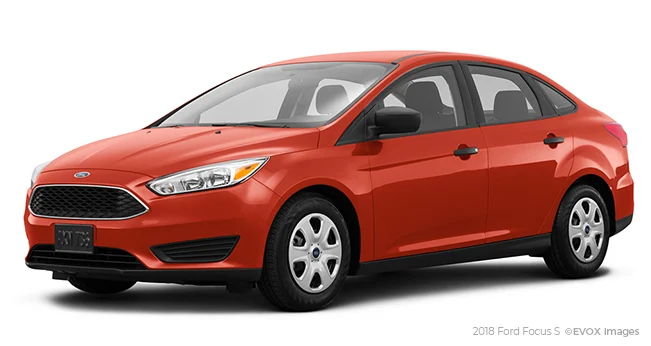 Available as a commuter-minded compact sedan, or a four-door hatchback (with gas or electric powertrain), the 2017–2018 Ford Focus is an easy driver with smart handling, a comfortable interior, and a pleasing level of entertainment and driver-assistance tech. The standard engine for the 2017–2018 gas-powered hatchback and sedan models is a 2.0L four-cylinder delivering 160 horsepower and 146 lb-ft of torque. An optional 1.0L turbo three-cylinder engine is an option for the SE trim sedan in 2017 and 2018, too. The 2017–2018 base S trim sedan features:
60/40-split folding rear seats

4.2-inch screen display

Post-collision safety system

Rearview camera
MyKey secondary driver system
Edmunds' take: Ford stopped making the Focus in 2018. Our advice is to go for the hatchback—compared with the sedan version, it offers more cargo space and we think it looks cooler. Hatchbacks also start at the SE trim, meaning you'll bypass the base sedan models that lack some desirable features. Look to get a 2017-18 Focus SEL—that gets you a larger touchscreen and standard Apple CarPlay and Android Auto compatibility. Nimble handling is another plus of the Focus.
06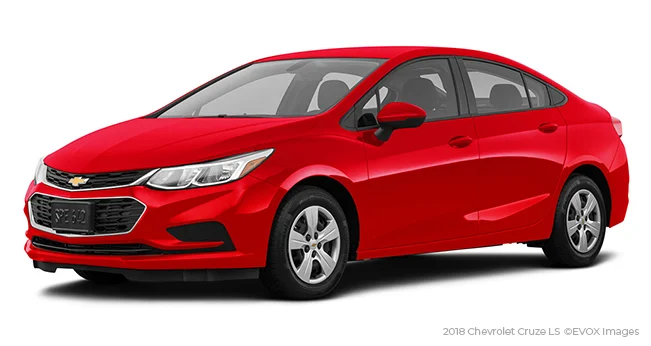 Another vehicle on our listing that features two body styles, the Chevrolet Cruze hatchback and sedan models are both comfortable and roomy five-seaters. The 2017–2018 Cruze hatch is powered by a 1.4L turbo four-cylinder engine that pushes out 153 horsepower and 177 lb-ft of torque. A 1.6L turbodiesel engine is also an option for the Cruze sedans from 2017, and hatchbacks from 2018. A 2019 ground-up refresh brought onboard a seven-inch infotainment screen, and improved smartphone integration as standard features for the Chevrolet Cruze.
The 2017–2018 hatchback base LT trim benefits from:
Steering wheel mounted phone and audio controls

Front and rear cup holders

Heated mirrors

18.5 cu-ft of cargo space

Six-speaker audio system with USB port
Edmunds' take: The Cruze is also nimble to drive and makes trips feel more fun than they normally would. You can get the Cruze as a hatchback too, although they are far less common than Focus hatchbacks. Calling cards for the Cruze include its impressive technology features from a responsive touchscreen and excellent smartphone integration—even as far back as 2016. You might also be able to find a 2016 or newer Cruze with some advanced driver aids such as forward collision warning, lane departure warning, and more.
05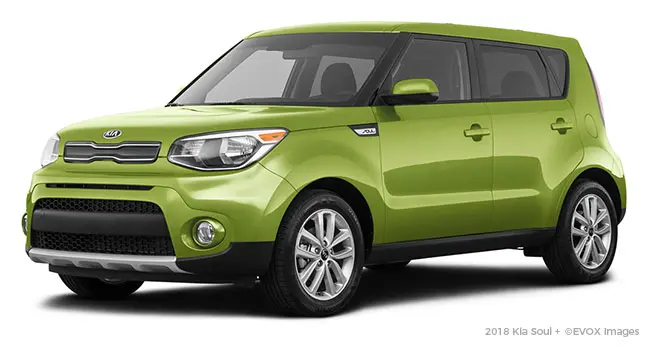 The vibrant Kia Soul is all about personality: its unique boxy shape, colorful exterior options, and spacious interior make this a fun and versatile choice for your active, busy lifestyle. The Kia Soul is a wagon with people-moving skills. Its three trims each feature a different engine choice, with the top Exclaim trim powered by a 1.6L turbocharged four-cylinder with a seven-speed automatic transmission. Want to pack for a weekend of activities or a longer road trip? With rear seats in place, all 2017–2019 Kia Souls have 24.2 cu-ft of cargo space, expanding to 61.3 cu-ft with the second row folded down. Standard features on the 2017–2019 base trim Soul include:
Six-speaker sound system with satellite radio

Overhead airbags

Dual illuminating vanity mirrors

16-inch alloy wheels

Bluetooth connectivity
Edmunds' take: How often do you see an affordable economy car with personality? Not very often. That's what makes the Soul special: Its boxy shape is easily recognizable and enhances the Soul's versatility. The spacious interior and cargo hold make the Soul great for carting around people or cargo. Even the Soul's trim names—including the Soul Plus and the Soul Exclaim—are playful. Another bonus is the Kia Soul comes with a generous number of standard features. 
04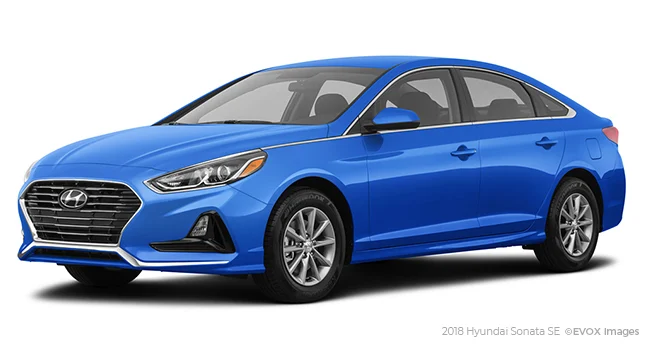 The spacious interior of the Hyundai Sonata makes this midsize sedan a real contender for drivers that enjoy days out with family or friends. The 2017–2019 Sonata has a trunk offering 16.3 cu-ft of cargo storage and an EPA-estimated 122.4 cu-ft of interior volume, so if you enjoy traveling, this is both a comfortable and convenient choice. The 2017–2018 Sonata has seven trim levels (2019 models have six) and three engine choices, with the base, SE, and SEL trims driven by a 2.4L four-cylinder engine supplying 185 horsepower and 178 lb-ft of torque. The 2017–2019 SE Sonata features:
Automatic headlights

Apple CarPlay and Android Auto compatibility

Overhead console with storage

Rearview camera

Blind-spot monitoring with rear cross-traffic alert
Edmunds' take: The Sonata sedan's combination of generous interior space, easy-to-use technology, and many standard features make this more than a bargain buy—it's also a smart one. Even base Sonatas are comfortable. We like the turbocharged 1.6-liter engine on the 2019 Sonata Eco because it feels peppy and boasts respectable EPA-estimated 31 mpg in combined city/highway driving.
03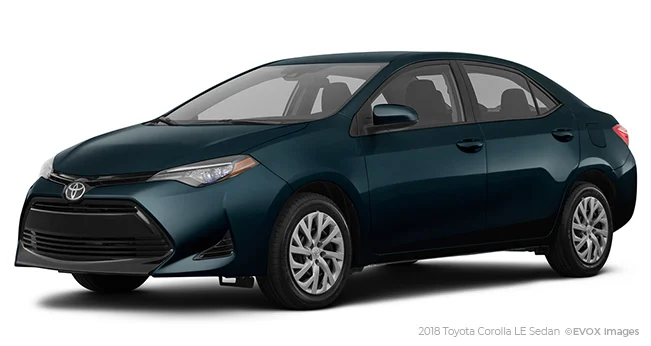 Coming in high on our list for good reason, the Toyota Corolla is a compact sedan now in its 12th generation. With six regular trim levels, 13.0 cu-ft of trunk space and an impressive array of driver assistance features, the Corolla appeals to shoppers wanting a progressive and functional all-rounder. All 2017–2019 Corollas are powered by a 1.8L four-cylinder engine with 132 horsepower and 128 lb-ft of torque. The Corolla has plenty of fun color options, with the 2017 50th anniversary special edition featuring an exclusive color, the head-turning Black Cherry Pearl. All 2017–2019 base L trim Toyota Corollas have as standard:
LED headlights

Adaptive cruise control

Siri® Eyes Free voice control system

6.1-inch touchscreen

Automatic emergency braking and pedestrian detection
Edmunds' take: Corollas have always been hot sellers, so you should have no trouble finding the right one for you on the used market. There's a surprising amount of room inside the cabin and the SE trim comes with excellent sport seats. The various years of the Corolla are similar in terms of comfort and driving experience, making your shopping experience easier.
02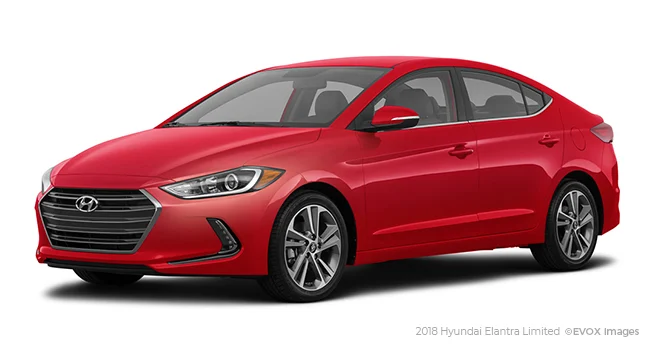 A four-door, five-passenger compact sedan that benefited from a full redesign in 2017, the Hyundai Elantra is a smooth driving choice for long journeys and regular highway commutes. The 2017–2019 Elantra's standard engine is a 2.0L four-cylinder paired with a six-speed automatic transmission. If you're looking for upgraded acceleration try the Sport trim - its 1.6L turbocharged engine delivers 201 horsepower, has 18-inch alloy wheels, and flashy chrome exterior accents. The 2017–2019 Elantra SE base trim offers these standard features:
15-inch steel wheels

60/40-split folding rear seat

Air-conditioning

Six-speaker sound system

USB port (2018 onwards)
Edmunds' take: There is a lot to like about the Elantra. Regardless of trim level, all models are spacious and the 2019 Elantra Eco offers an appealing EPA-estimated 35 mpg in combined city/highway driving. The fit and finish on the interior is above average compared with other compact sedans from similar production years. Just don't go looking for driving excitement since the Elantra is lacking in power and handling capability. It's everywhere else that this sedan makes great sense.

01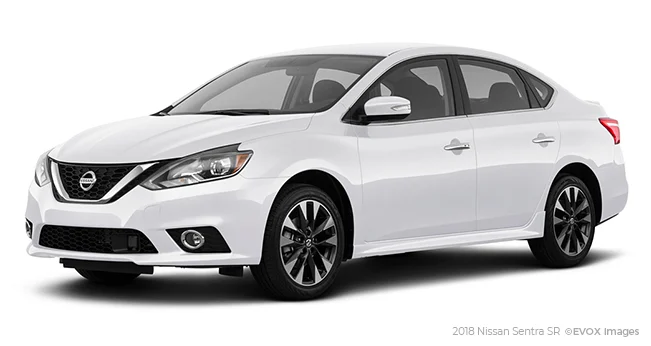 Taking the top spot on our list is the Nissan Sentra, a compact five-seater sedan that increases its amount of standard features year after year; so if you're looking to make the most of your budget, the Sentra is a worthy choice. The 15.1 cu-ft of trunk space and generous rear legroom means this is a car that can grow with your family in the years to come, or be particularly accommodating for trips with friends. The Sentra's standard engine (S, SV, SR, SL trims) is a 1.8L four-cylinder powertrain matched to a continuously variable automatic transmission. The 2018–2019 Nissan Sentra S base trim offers:
Central touchscreen

Remote keyless entry

Bluetooth connectivity

Rearview camera

Automatic headlights

Nissan Sentra
Edmunds' take: This is a small sedan that sticks to the basics—there's nothing you don't need. And if you want to add bonus convenience or luxury-oriented features, they're generally available on higher trims and packages. But the Sentra's real value is in low-cost versions that are cozy and spacious. If you're searching for a sensible small sedan, the Sentra deserves a shot.

Whether you are enjoying your college years, making a daily commute, or choosing a family vehicle, there's certain to be a used car on this list that will work for you and your budget. With lots of the latest tech available as standard and cabin space for your passengers to relax and enjoy the journey, this could be your easiest decision yet.
Looking for more great used car options and advice? Check out these related articles:
1
Based on CarMax average prices between April 1, 2020, and September 30, 2020. Actual prices may vary based on your selected model year, features, and trim packages. Prices do not include taxes, tags, titles, and any applicable fees.