Planning a Fall Road Trip
---
PUBLISHED THURSDAY, OCTOBER 28, 2021
Tips for autumn leaf peeping.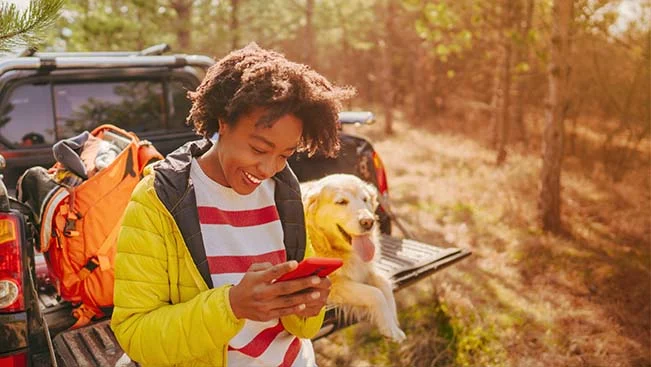 The great American road trip is a tradition that spans generations, and fall is a popular time of year to head out on the open road. Between the crisp air, festivals, and changing foliage, there is something for everyone to enjoy during the autumn season.
Read on for a rundown of the best vehicles for your autumn journey, since your route and destination can influence your choice of vehicle. Whether it's a family-friendly SUV or minivan, fuel-sipping hybrid, or sleek drop-top convertible, choosing your ride is an essential part of the fall road trip planning process.
Plan Your Trip
Each fall, from late September to early November, nature decides to put on the ultimate color show. As much fun as it can be to just pick up and go check it out, a little legwork upfront will make your trip even more enjoyable.
The United States is a big place; driving across just one state can take a full day or more. Many people make plans for fall foliage road trips all over the country, ready to view the kaleidoscope of gold, orange, and red leaves through autumn sunlight. Each area offers a little something different, and may require a specific vehicle to tackle whatever conditions come your way.
Northeast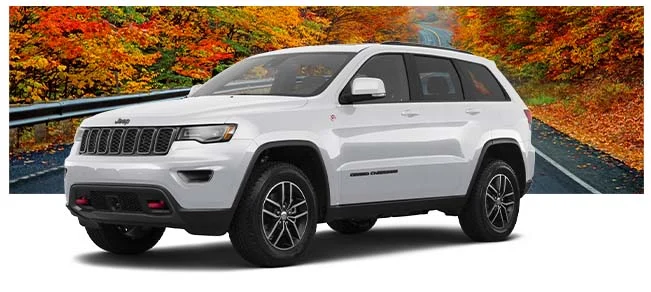 Peak leaf peeping with stunning roadside views.
New England features some of the most breathtaking fall scenes in the country. Fall in the Northeast can start to get chilly, though, with the first snowfall in some areas starting as early as November.
The journey begins as you travel along the Kancamagus Highway in New Hampshire. The "Kanc" (as it's called locally) is an amazing stretch of road that features miles of gorgeous scenery. A bit farther south is the Molly Stark Byway in Vermont, which is a favorite spot for autumn family drives. The breathtaking Green Mountains serve as the perfect stage for the leaves to put on their annual performance.
Keep heading south and you'll find some spectacular fall visuals at the nearly 70-mile-long Mohawk Trail through Massachusetts, from Athol to Williamstown. Finally, The Last Green Valley is a National Heritage Corridor that encompasses 35 towns for tons of side adventures and scenic stops. This journey lasts almost 300 miles and features some of the best fall scenery in the country.
Our Vehicle Picks
With a potential of snowy weather, you'll want a capable SUV with 4WD or AWD to guide you on your journey. Try an off-road ready Jeep Grand Cherokee. Want to keep warm? Shop for a Chevrolet Equinox with front-seat heaters or a Nissan Rogue with a heated steering wheel.
Southeast
A tour of autumn flora and fauna.
Regardless of the time of year, the Smoky Mountains of Tennessee and the Blue Ridge Parkway in Virginia and North Carolina offer awe-inspiring views. But during the fall foliage seasons, they offer a next-level trip. A drive through the Smoky Mountains region to check out the more than 100 species of trees native to the area would be pretty special.
The region provides one-of-a-kind scenery each day, and the 470 miles of roadway along the Blue Ridge Parkway feature plenty of easily accessible hiking trails. Park just off the roadway to stretch your legs and get a closer look at the foliage.
Or, hop in the car and head about two hours northeast from Atlanta to find Clayton, GA. This is a great destination for scenic drives, with amazing scenery that includes Tallulah Gorge State Park. The state park boasts a cool backdrop of autumn leaf colors alongside an amazing 1,000-foot-deep gorge.
Our Vehicle Picks
During longer trips on scenic parkways, you'll want a car that stretches your fuel budget. Choose between a Toyota RAV4 Hybrid or Toyota Highlander Hybrid. For a hint of luxury, consider a Lexus RX 450h.
Midwest
Breathtaking waterfront landscapes.
The Midwest is pretty year-round, but particularly during the fall. Pack up your crew and head toward the narrow peninsula between Green Bay and Lake Michigan called Door County. There, you'll find tons of waterfront towns set along the backdrop of autumn colors.
About an hour from Minneapolis, Lake Pepin is another must-see Midwest fall destination. The windy roads and small towns make for lasting memories. If you find yourself near Michigan, drive to the stunning Upper Peninsula. Here, you'll be treated to even more spectacular scenery.
Moving across the region, McCloud Nature Park in Indiana is yet another great spot to check out the fall foliage. With miles of trails, there's a lot to do in this fall destination. As long as you're making your way to one of these vibrant Midwest destinations, you won't be disappointed.
Our Vehicle Picks
Spending a day or two by the water means extra gear for camping trips or lakeside picnics. An MPV or minivan offers room for the whole crew and all your stuff. Check out a Chrysler Pacifica or a Honda Odyssey.
Southwest
Fall adventures of a different variety.
The Southwest isn't necessarily known for its foliage, but that doesn't mean fall isn't an amazing time to visit. Check out the Enchanted Circle Scenic Byway in New Mexico, which offers an otherworldly experience for your fall foliage pilgrimage. The terrain is the star at the Enchanted Circle, where you can traverse over mesas, through valleys, and along mountain curves to catch a glimpse of the glorious trees and their late fall offerings.
Or check out the Texas Hill Country River Region of Texas to see some vibrant foliage that's said to rival that of the Northeast. If the weather is still warm, take a dip in the Frio River at Garner State Park for the ultimate leaf-watching splash. A pickup truck would be a great companion across historic Route 66, allowing you to experience the spectacular colors found along the Ponderosa Forest while visiting Flagstaff, AZ. Or, at 8,000 feet up, the Grand Canyon North Rim is one of the best places in Arizona to see the leaves change from the driver's seat of your car.
Our Vehicle Picks
Rugged terrain calls for a vehicle to match. Try a Jeep Wrangler for navigating mountains and valleys. Or, glide across desert roads in style and comfort with a Ford F-150, RAM 1500, or Chevrolet Silverado 1500.
West
Deep forest delights for everyone.
Not to be outdone, areas like the Pacific Northwest and Northern California have some unbelievable scenery as well. The fall foliage makes a surreal backdrop to what are already some of the most beautiful sights in the country. Starting on the northern end, pack up your car and head to the Columbia River Gorge in Oregon. Or put the bike rack on and head to Wild Rivers Coast Scenic Bikeway. This lush Pacific Northwest paradise has it all.
If you want to look a bit farther south, waste no time filling up your car with kids, bicycles, swimsuits, running shoes, hiking boots, and anything else you can think of to head to California's Eastern Sierra region. It's a fall foliage destination just east of Yosemite National Park and north of Sequoia National Park, and it's one of the best places in California to see huge, colorful leaves set among amazing canyons and mountainous peaks.
Need some nourishment? Take some time to tour Napa and Sonoma wine country. Top-down cruising through windy Northern California roads in the fall might get a little chilly, but it's a great excuse to snuggle up with your favorite people and head out to Lake Tahoe for the weekend to unplug and watch the leaves change.
Our Vehicle Picks
If early morning bike rides are your thing, choose a car with available roof rails and lots of cargo space. Try a Ford Escape or a Subaru Outback—both are perfect for outdoor adventures. Leaning toward relaxation? Cruise through wine country in a Chevrolet Corvette – you can even opt for a convertible if that suits your style.
Time to Hit the Road
There you go—the ultimate fall road trip! If you're especially adventurous, you can start in the Northeast and make the entire cross-country round trip. Regardless of how far you're planning to travel for your autumn foliage road trip, whether it's an epic voyage or just a long weekend, you need to equip yourself with the right vehicle. Start shopping today, and you'll be road-trip ready in no time.
Need some inspiration on which vehicle would make a great road trip companion? Take a look at these related articles:
Unless otherwise noted, information related to these featured vehicles comes from third-party sources, including manufacturer information. Product and company names may be trademarks or registered trademarks of third-party entities. Use of them does not imply any affiliation with or endorsement by these entities.