BMW 3 Series vs. Mercedes-Benz C-Class: What to Know When Buying Used
---
PUBLISHED FRIDAY, AUGUST 6, 2021

BY EDMUNDS EDITORS
Which entry-level sedan is right for you?
With thousands of vehicles in our inventory, we're here to help make car research easier for you. We've partnered with car-review experts from Edmunds to weigh in on what matters most when you're looking to buy a truck or car.
*** 
Vehicles Reviewed:
2020 BMW 330i
2019 Mercedes-Benz C300
The BMW 3 Series and the Mercedes-Benz C-Class are excellent candidates if you're looking to purchase a used luxury sedan. Both have well-built interiors, refined on-road characteristics, and lots of available high-end features. But each offers a slightly different take on how it goes about manifesting those attributes. Depending on your priorities, one might be more appealing than the other.
In this article we'll compare the 3 Series and the C-Class and help you decide which one will be best for you. Edmunds' Travis Langness brings his experience with both models to this detailed guide, complete with personal recommendations.
What are your options?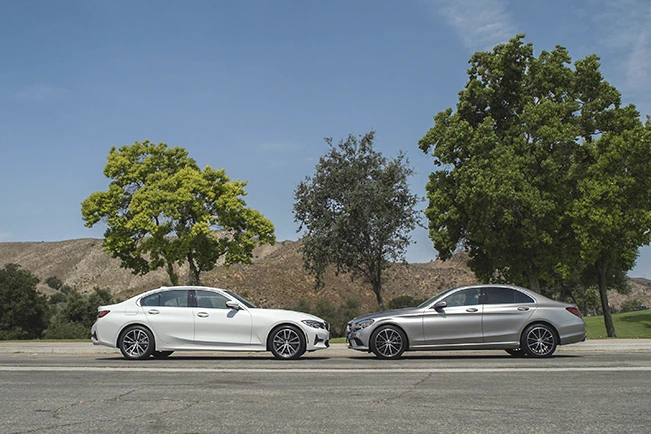 While the 3 Series and C-Class have both been available in coupe and convertible body styles over the years, we're going to focus on the sedans in this article. Specifically, we'll compare the 2020 BMW 330i and the 2019 Mercedes-Benz C300, the respective entry-level versions of each sedan.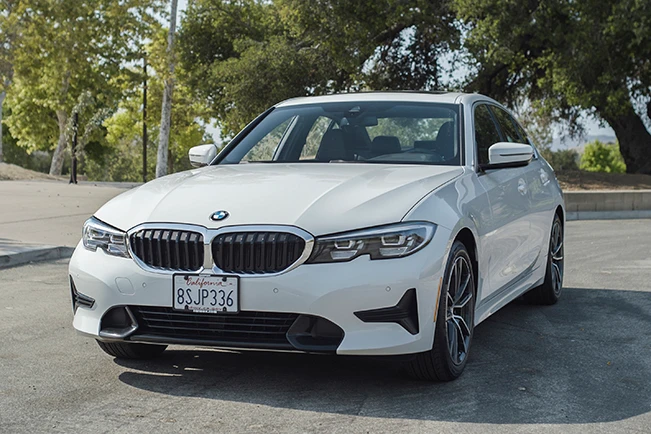 The BMW 3 Series was completely redesigned in 2019, so the 2020 model we're reviewing here is relatively fresh. There are two available trim levels for the 2020 3 Series: 330i and M340i. They come with a similar set of standard features, but the M340i offers a more powerful engine and supporting upgrades such as a sport-tuned suspension and larger brakes. There's also the M3, which offers significantly higher levels of performance than the standard 330i and M340i. However, it wasn't available from 2018 to 2020 so you'll need to look for one from the previous generation, or something a bit newer, if you want maximum 3 Series performance.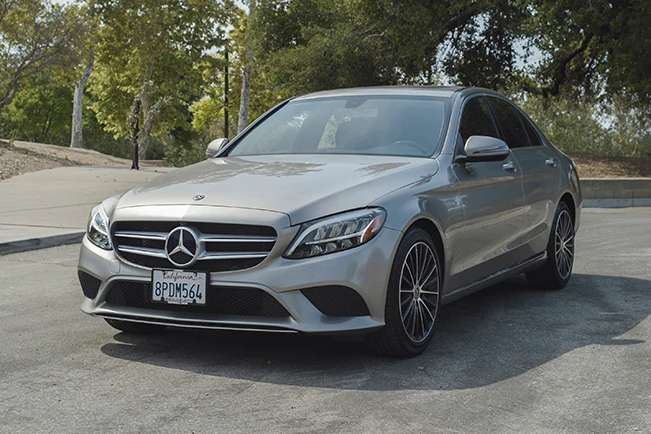 Mercedes-Benz last redesigned the C-Class for the 2015 model year, and the 2019 model is part of that generation. The C300 starts off the lineup. From there, if you want a bit more power under the hood, you can opt for the C43 AMG and C63 AMG versions. These are close matches to the M340i and M3, respectively. 
Engines and fuel economy
The BMW 330i and Mercedes C300 come with similar engines.
The 2020 BMW 330i has:
A turbocharged 2.0-liter four-cylinder engine (255 horsepower, 295 lb-ft of torque)

An eight-speed automatic transmission
The EPA estimates fuel economy for the 330i at:
30 mpg combined with rear-wheel drive

28 mpg combined with all-wheel drive (also known as xDrive)
The 2019 Mercedes-Benz C300 has:
A 2.0-liter turbocharged four-cylinder engine (255 hp, 273 lb-ft of torque)

A nine-speed automatic transmission
The EPA estimates fuel economy for the C300 at:
27 mpg combined with rear-wheel drive

26 mpg combined with all-wheel drive (also known as 4Matic)
The differences are small here, but the BMW comes out on top in terms of power and fuel economy.
Travis' take: There's not much difference when you look at the numbers, but driving these two feels a bit different. The Mercedes is tuned for calm and easy shifting in everyday driving. The BMW's engine feels a bit sharper and ready to play. Those quick shifts, along with the extra torque, helped the BMW 330i get from zero to 60 mph in 5.6 seconds during Edmunds' testing, while the Mercedes took 6.1 seconds. That's a small gap but one worth noting.
Interior and utility
The BMW and Mercedes have their own distinctive take on how to offer a sleek interior design. The C300 is a bit more pleasing to the eye at first with its flowing center console and contrasting trim pieces. The BMW is luxurious as well, but it can look a bit toned-down compared to the Mercedes' cabin design.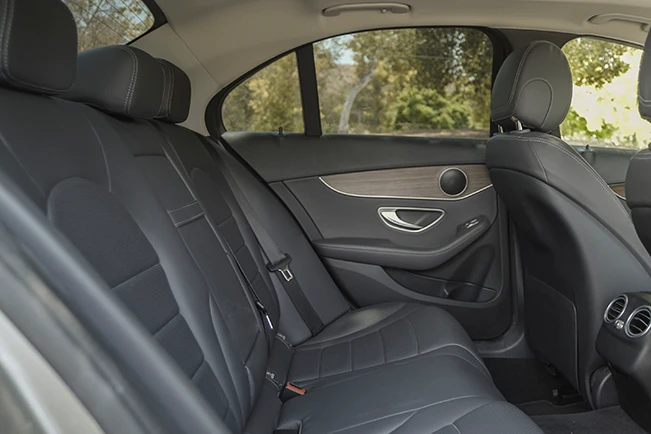 The Mercedes' front seats have plenty of room for adults, with ample seat adjustment range so you can easily dial in your preferred seating position. The back seat of the C300, however, is a bit cramped when it comes to legroom. Cargo space and small-item storage are two places where the Mercedes could do a bit better. The 12.6 cubic feet of cargo space in the C300 is slightly less than the 13 cubes you get in the BMW 3 Series. In the cabin, Mercedes has used a sufficient number of cupholders and cubbies, but most of those small-item storage spots are shallow and can't hold very much.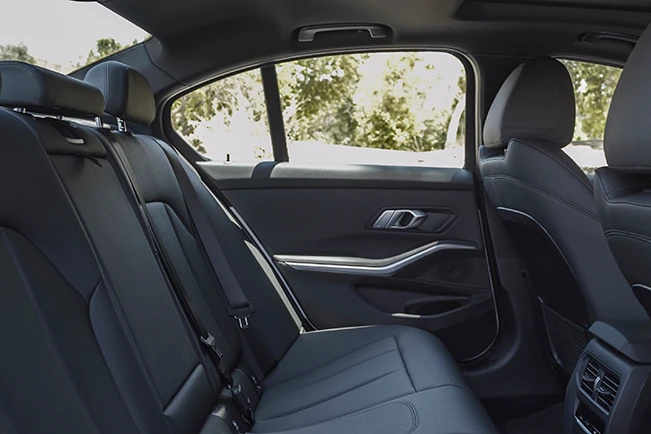 As far as interior space goes, the 3 Series does it all slightly better. Room up front is totally adequate for adults, and legroom in the rear is adult-friendly too. The 3 Series' larger trunk is helpful on road trips or when you're transporting large items—especially since the rear seats fold completely flat. In the C300, they're slightly angled up and the trunk opening isn't as large. Small-item storage in the cabin is better in the 3 Series too, thanks to the deep door pockets and large center console.
Travis' take: The BMW's interior is a bit underwhelming at first glance, but when you realize how much more utilitarian it is, things get much better. The bigger trunk space, better storage for small items, and increased rear legroom are all important differences. I enjoy the C300's interior a lot, and I would prefer to look at it on a daily basis, but the BMW is clearly the objective winner.
Technology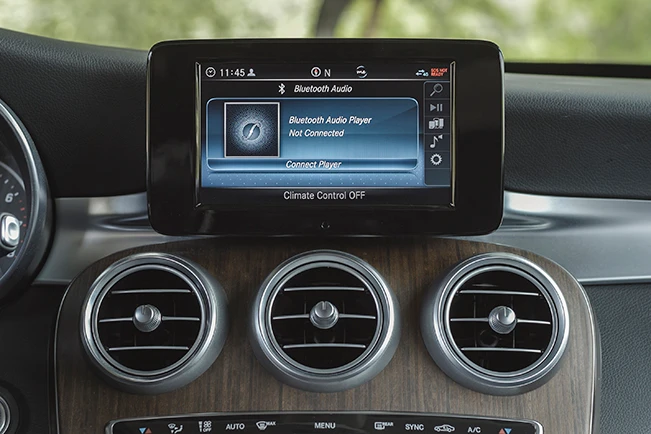 When it comes to ease of use, the Mercedes C300's infotainment interface has a lot going for it. It should be noted that newer Mercedes vehicles use an interface called MBUX (Mercedes-Benz User Experience) to control infotainment functions, but this C300 still uses an older system called COMAND®. MBUX is sleeker to look at and responds to a "Hey, Mercedes" voice prompt without the use of any buttons, but the COMAND system also functions very well. Whether you're using voice controls, steering wheel controls, or controls on the center console, it's easy to find the command you're looking for. The C300 has a standard 7-inch screen or a larger 10.25-inch optional screen.
There are a few other standard features for the 2019 C300, including a rearview camera, Bluetooth® phone, and audio connectivity. However, advanced driver aids are largely restricted to the options sheet. These options include blind-spot monitoring (can alert you if a vehicle in the next lane over is in your blind spot), forward collision warning with automatic emergency braking (can warn you of an impending collision and apply the brakes in certain scenarios), and traffic-adaptive cruise control (maintains a driver-set distance between the Mercedes and the car in front). Look for a C300 fitted with the optional Premium package and Driver Assistance package if those are features you're interested in.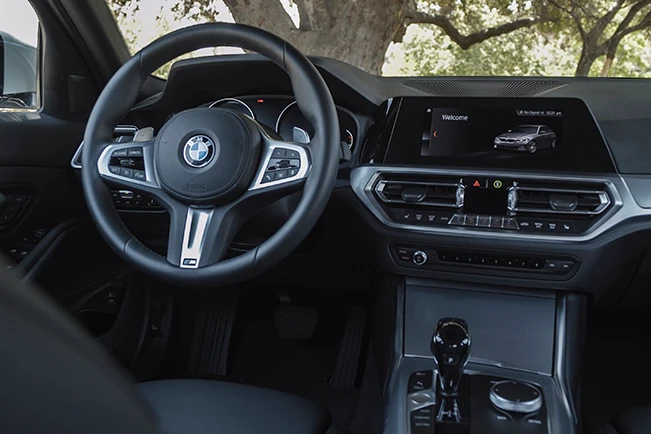 Inside the 330i you'll find a sleek but slightly unintuitive infotainment interface. You get similar-size screens (a standard 8.8-inch screen and an optional 10.25-inch screen) as in the Mercedes, but the graphics are a bit less crisp. The BMW's system, which is controlled by software called iDrive, takes more time to get acquainted with because not all of the menus or functions are in places you expect them to be. Also, the 330i's voice control system isn't as consistent at recognizing your commands as the Mercedes system.
The 2020 330i also has a rearview camera, Bluetooth phone, and audio connectivity. It also comes standard with forward collision warning with automatic emergency braking and lane departure warning (alerts you if the vehicle begins to drift out of its lane). Like the Mercedes, you'll get more in the way of high-tech driver aids by looking for a car fitted with some optional packages such as the Driving Assistance package and Driving Assistance Professional package.
Travis' take: For the looks alone, I'd go with the C300 and its optional 10.25-inch center screen. The graphics are crisp, the screen has excellent contrasts, and it's very simple to find what you need to in the menus. The BMW iDrive system is a bit harder to learn, and voice controls don't pick up natural language as easily as the Mercedes system. Since the BMW was more recently redesigned, however, there are more high-tech driver aids to choose from.
What they're like to drive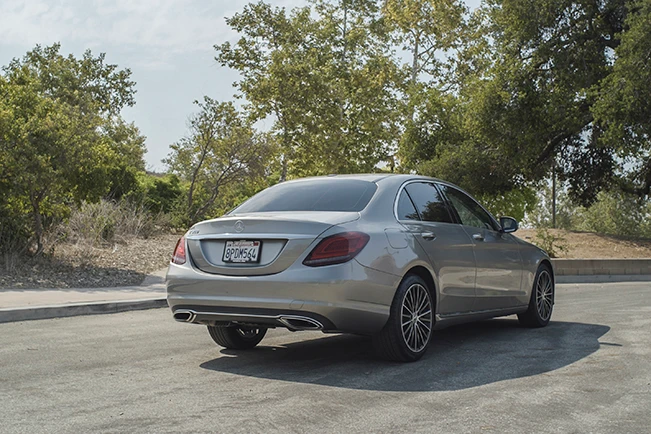 In their respective base trims, the C-Class and the 3 Series are comfortable and competent highway cruisers. The similar levels of power mean both of these sedans can make swift passing maneuvers on the highway. The C300 is more well suited to calm and quiet road trips thanks to its hushed cabin and front seats that are more comfortable over the long haul. Steering and handling are impressive in the C300, allowing for a sporty driving experience if that's what you're looking for.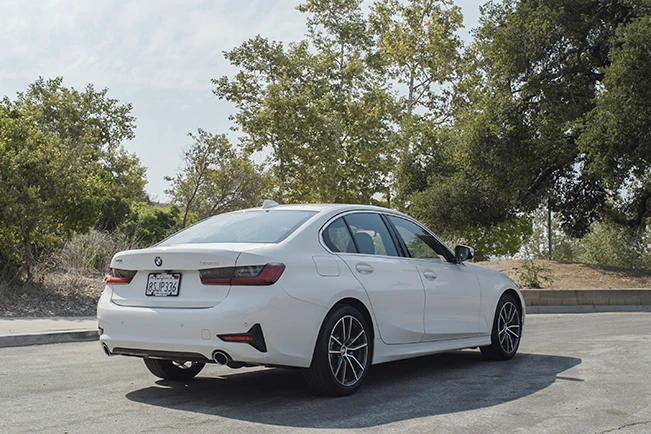 But for maximum enjoyment in the corners, stick with the BMW. The 330i is a bit more agile than the C300 around turns and, during Edmunds' track testing, it was the faster sedan. On the open highway, the ride in the 330i is a bit less forgiving, so you'll feel a few more sharp bumps than in the C300. It's not what you would call uncomfortable, but when you combine the stiff suspension with the BMW's firmly padded seats, there's definitely a noticeable difference compared to the Mercedes.
Travis' take: Either one of these luxury sedans should provide a fun driving experience, but the BMW is the sportier one. The steering feels more connected, handling is slightly better, and you'll feel its small advantage in torque when you're accelerating. The Mercedes wins the battle here if you're looking for a great highway cruiser, and it's still relatively competent in sporty driving scenarios. One piece of advice for shoppers with a sensitivity to rough rides: Steer away from the optional sport suspension on both of these cars. It gives the vehicle better handling but also a much bumpier ride.
Picking a winner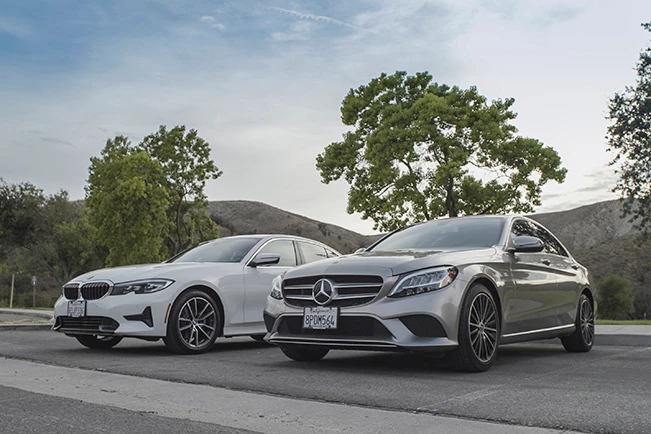 Who wins the matchup between these two luxury sedans? Well, that depends on your priorities. The C-Class is more comfortable and quiet, especially on the open highway. It offers easy-to-use infotainment technology along with a stylish interior. The 3 Series is sportier, with better handling and steering, but it can feel a bit stiff over rough roads. Thankfully, the 3 Series makes up for these comfort drawbacks with more storage space and better acceleration. Whatever you're looking for in an entry-level luxury four-door, one of these two cars is likely to offer it.
*Travis Langness is an automotive reviews editor for Edmunds.com. As a life-long car-and-truck enthusiast, Travis has a deep passion for cars. Through instrumented testing, off-roading, epic road trips and local commuting, the Edmunds team tests and writes about new and used vehicles to help car shoppers make informed decisions.