Cars & College: A Complete Guide
---
PUBLISHED FRIDAY, JANUARY 27, 2017
Are you getting ready to start college? Do you plan to have a car on campus? Here's what you should know.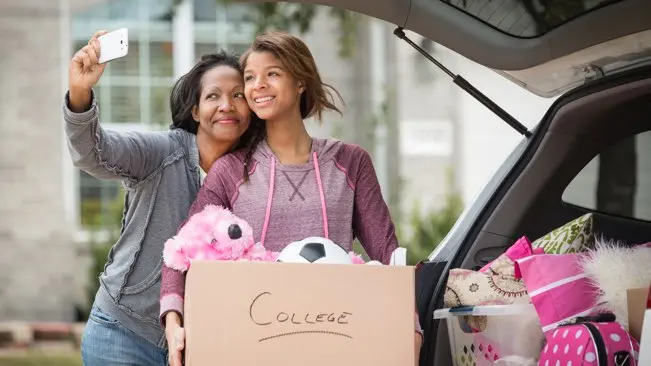 As you prepare for college, your mind may be focused on signing up for classes, settling into your dorm, and meeting new friends. At this point, car ownership, and transportation in general, is probably the furthest thing from your mind. Unfortunately, neglecting this important decision could leave you scrambling for a ride when it's time to find a job, leave campus for events, and attend social engagements around town.
Thankfully, you can use this guide to help you determine whether you require a vehicle of your own, to learn about the best cars for college kids, and to learn more about the purchasing process. Read on to learn more before you begin your journey toward buying and owning a great car on campus.
How important is it to own a car on campus?
Without a doubt, attending college, either locally or out of state, is an expensive endeavor. In fact, beyond tuition rates, college students across the nation can end up paying over $10,000 per year for room and board, textbooks, transportation, and personal items.
If you can land yourself a job during the semester, and drive to do your shifts between classes or at the end of the day, you could minimize your dependence on dehydrated soup and spending all your weekends in the dorms. Therefore, if you need to work while attending college, you'll likely benefit from having your own car on campus.
Your own car can also help you stretch your shopping budget by giving you the ability to hunt for the best deals. A car allows you to drive home for the holidays, give friends rides for a bit of pocket money, and take a quick jaunt away from campus when you need a break. Just the freedom and independence alone can help relieve the stress you feel from a heavy course load and rejuvenate your mind for the next day of classes. 
Vehicle Alternatives While at College
Depending on the location of your college, you may have direct access to public transportation options, including the subway, light rail, bus lines, and trains. While determining if these travel options will work for you, make sure that available route schedules meet your transportation needs. Keep in mind that public transportation routes can sometimes deviate from published schedules.
Public transportation
Dense urban areas often have the most options for public transportation. Rural or secluded areas are a bit more hit-or-miss when it comes to the availability of public transportation routes. Either way, you may need to catch the bus to the train station, and then walk the rest of the way to your destination. While considering this option, take a look at the different stops and stations in your area to determine your total walking distance and time for each route.
If you'll have to walk a great distance, you may want to reconsider solely utilizing public routes for your travel needs. Many colleges arrange for buses to pick up students on campus to help keep them safe and minimize travel times, however, so check with student services to see if this arrangement is available to you.
Taxis and ride-sharing programs
For quick jaunts around town, you may be able to arrange for transportation by taxi or a local ride-sharing service. Although these options get you to your destination nearly as fast as your own car would, and without having to find parking, the expenses add up quickly.
Although fares vary by region, each trip you take using a ride-sharing service could cost you 10 dollars or more each way. Fares continue to increase each year to keep up with vehicle maintenance and fuel costs, so the price you pay toward the end of your educational journey might be far higher than your initial expenses.
Bikes
If you prefer to treat your travels like workouts, you could pedal to your destination by purchasing your own bike or utilizing nearby bike-sharing kiosks. Your educational institution may even have a program to encourage bicycling and keep limited space for campus parking open for those without suitable alternatives.
At some colleges, freshmen who agree to forgo car ownership in favor of bicycling around town receive a bike free of charge. Check with the student center at your college to review your available transportation options and see whether the travel arrangements will suit your situation.
Top Cars for College Students
If you determine that car ownership works best for your schedule and travel needs, you're ready to start the car research process to identify your ideal vehicle. Since new vehicles depreciate immediately upon leaving a car lot—sometimes by more than 10 percent—buying used can offer some shoppers a better value. The following top cars under $15,000 are favored by college students because of their average cost, ease of parking, fun features, and attractive looks. And, in many cases, these cars expertly squeeze lots of miles out of a gallon of gas.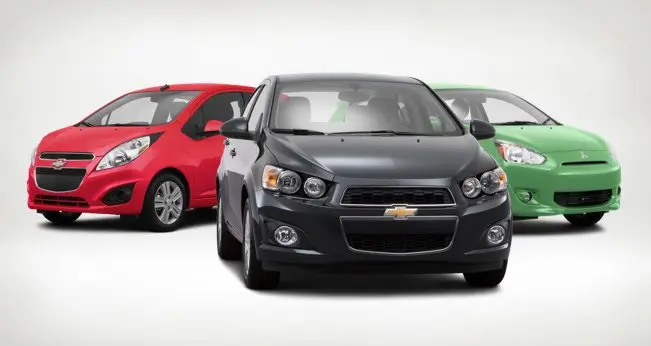 The ultra-cute Chevrolet Sonic is the picture of efficiency in a fun package. In its popular hatchback configuration, there's ample room for your college gear and shopping bags without limiting space for passengers.
Nissan created the Sentra to meet the need for a full-sized sedan equipped with ample power and features. The 130-horsepower, 1.8L four-cylinder engine has enough get-up-and-go to maneuver around town without guzzling gas.
Of all the cars on this list, the stylish Elantra is relatively stuffed with luxury amenities. The sporty exterior and lush interior will make every drive off campus a treat, and you won't pay a fortune in sports car or luxury car insurance rates.
The Dodge Dart fulfills the need for a sporty sedan with a grounding in practicality. Both the 2.0L and 2.4L powerplant options feel more than inspired as the Dart's six-speed automatic transmission deftly puts the power to the ground.
Don't let the Nissan Versa Note's tiny-looking exterior fool you—it certainly performs like a full-scale sedan when needed. As an added benefit, this adorable little vehicle is a breeze to park in notoriously-full campus lots.
If you're seeking a highly-capable vehicle that comes in an understated package, put the Nissan Versa high on your list of options. Its even balance of fuel efficiency and peppy horsepower lets you cruise around town without worry over emptying your wallet at the gas pump.
The Kia Forte's modern body lines, comfortable interior components, and power on demand are impressive. A slew of entertainment options will keep you looking for  reasons to head out for a drive.
As a highly-customizable and enjoyable vehicle, the Hyundai Accent remains an economical car of choice for many. The Accent comes in either a four-door sedan or five-door hatchback configuration with plenty of optional features throughout.
With the Focus, Ford has shoehorned the spirit of a high-performance vehicle into a much more sensible car's body. The 160-horsepower engine ensures you've got plenty of power on demand without standing out in a crowd.
With even-handed touches of performance, comfort, and style, the Chevrolet Spark is a strong choice for a college campus cruiser. High-tech features throughout will help keep you at ease behind the wheel on both short drives and long road trips.
Ample fuel economy without compromising on performance is the name of the Mirage's game. The optional, five-speed manual transmission keeps control over power production in your hands for spirited, off-campus drives.
The menacing stance and style of the Dodge Avenger doesn't betray its civilized driving characteristics. This vehicle offers ample customization options throughout each of the trim levels, from the base-model SE to the sporty R/T.
The deliciously retro Fiat 500 has an upbeat attitude to it that feels infectious—you just want to climb into it and hit the road. Its small footprint makes driving through heavy traffic and parking in crowded lots a non-issue.
Toyota released the Yaris with the idea of giving drivers an affordable, well-equipped vehicle that performs beautifully. This car's popularity with CarMax customers has been in part due to its standard, high-tech entertainment features.
As the name suggests, piloting the Ford Fiesta on short and long drives feels like a fun party. Its smaller dimensions mean you'll always be able to find parking in busy lots full of narrow spaces.
First-Time Buyer Tips
While you navigate the process of buying your first car, you can take a systematic approach to avoid common pitfalls and make the most of your available funds. Keep the following tips in mind to make the most of your car buying experience.
Make a list of important features
Entertainment, performance, and comfort come in different levels of packaging called "trim," and makes and models vary on the trim they offer. See what features are available and make a list of the ones you think are the most important to have in your car. You'll have an easier time finding the vehicle that best meets your expectations for desired trim level, but know you may have to adjust your budget to accommodate more features.
Comparison shop online
With hundreds of unique vehicle makes and models on the market today, and dozens more added each year, browsing through the options in person can become an exhausting endeavor. You can narrow down your choices without exerting all that extra effort by comparison shopping online before you leave your dorm. Pit the the vehicles on your preferred list against each other to compare their performance specifications, comfort elements, and high-tech features to find your top contenders.
Complete at least three test drives
After choosing your top three vehicles, take each of them out on an extended test drive to find the one that best fits your needs. Take the time to set up your seat and mirrors, try out the interior features, and set your route on the navigation system before leaving the lot. As you pilot the vehicle, pay attention to how it performs during acceleration, braking, and cornering maneuvers. Check to make sure you're good with its outward visibility Also, gauge how the vehicle makes you feel in terms of comfort and features before finally weighing its fun factor.
Car Ownership Considerations
To keep your car in optimal condition, and take the stress out of vehicle ownership, make sure to plan for parking, insurance, maintenance, and repairs before committing to your purchase. If any of these areas fall short, you could end up experiencing unnecessary stress that could take some of the joy out of owning a car during your college years.
Make parking arrangements before buying a car
With limited parking resources available to students, many colleges are boosting the price of parking passes or even assigning spots using a lottery system. You should arrange parking ahead of time to ensure you have a convenient place to park your vehicle. Look into nearby off-campus parking alternatives as well, including spot rental arrangements made by your school at local business lots. Work any yearly parking fees into your vehicle ownership budget to avoid expensive, surprise charges at the start of each school year.
Shop around for car insurance
Be sure to shop around for car insurance to find the best rates for your age, vehicle specifications, and geographic location. Check with your car insurance company to find out if they offer discounts for college students who earn high marks in their courses. If your vehicle has an on-board diagnostic (OBD-II) port under the dash, you may be able to acquire a discount on insurance by plugging in a monitored telematics device. These devices read your driving habits, mileage, and usage times, and insurers use them to issue a discount to drivers who demonstrate good driving habits.
Complete maintenance on schedule
The best way to avoid paying for costly repairs on your used car is through the completion of timely maintenance on a regular schedule. You should always follow the vehicle manufacturer's recommendations to keep your fluids and moving parts in optimal condition, year after year. You can work with your local automotive repair shop to identify these recommendations and set up a visit schedule to match.
Set aside funds for repairs
Despite your best efforts in keeping your vehicle in optimal condition, the need for repairs will eventually arise. Repairing damaged parts at the first sign of a problem keeps the issue from spreading to adjacent components and increasing your repair needs. You can plan for future repairs by setting aside a portion of your funds each month in a savings account. Stick to this savings budget and by the time you need repairs, you should have enough saved toward your repair bill without having to strain your finances for the month.
Deciding to buy a car for college
Once you understand the importance of vehicle ownership while living on campus, and how to get a car while you're in college, you can begin to research reliable transportation—and how to acquire a vehicle that's right for you. Keep the tips for first-time car buyers in mind while comparison shopping online, and visiting used vehicle lots in person, to make the purchase process easier. Good luck!