Classic Cars Making a Comeback
---
PUBLISHED THURSDAY, MAY 20, 2021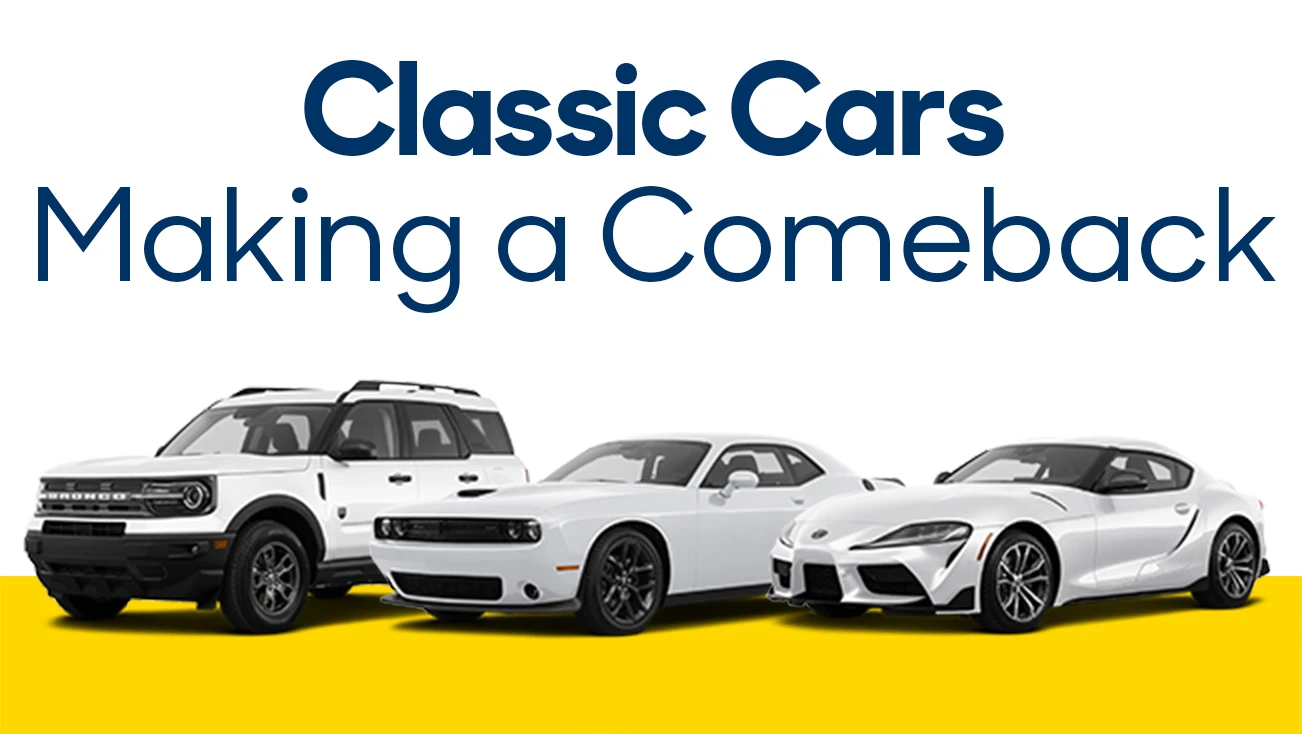 Iconic names meet modern amenities.
Iconic cars establish a place in history, as well as in people's lives. Unfortunately, they aren't always immune to changes in the economy or buying trends. So even great classics like the Ford Bronco and Fiat 500 saw their time come to an end. Luckily, just as fashion trends are cyclical and return decades later, many of the great classic cars, trucks, and SUVs from the past are making a resurgent comeback.
Take a look at this list of icons from the past that are returning to the market. Each one will deliver a bit of that old nostalgia in a new, more modern, vehicle.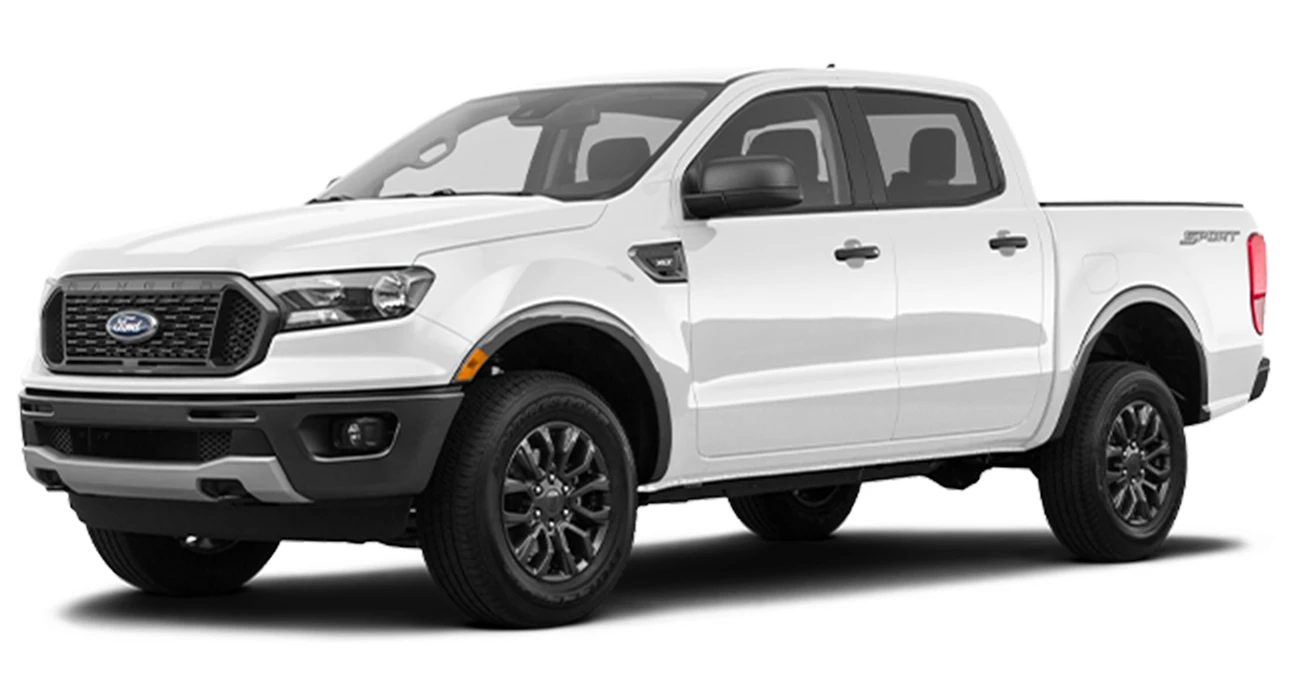 The Ford Ranger first went into production in 1982 and had the recipe for success. Not only did it look like the larger F-Series, but it also had a variety of engine and trim options from which to choose. Two more generations of the compact pick-up truck soldiered on until 2011 when it left the Ford lineup. However, in 2019, the Ranger made its triumphant return, now as a midsize truck. The larger size means the Ranger is even more versatile and has available 4WD—great for camping trips with friends and family.
The new generation Ranger can be found in four-door SuperCab (with a six-foot bed) and four-door SuperCrew (with a five-foot bed) configurations, and is powered by a 2.3L EcoBoost® inline four-cylinder engine with a stout 270 hp and 310 lb-ft of torque. Trim levels for 2019–2021 include XL, XLT, and Lariat. The base XL is a little sparsely equipped, but the popular XLT delivers a ton of great standard features for the 2019 model year including:
A 4.2-inch center screen with Ford Sync®

Front and rear parking sensors

Automatic high beams

Ford's Co-Pilot360™ system (includes blind-spot monitoring with rear cross-traffic alert and lane-keeping assist)

Keyless entry with remote tailgate locking

Available 4G Wi-Fi hotspot1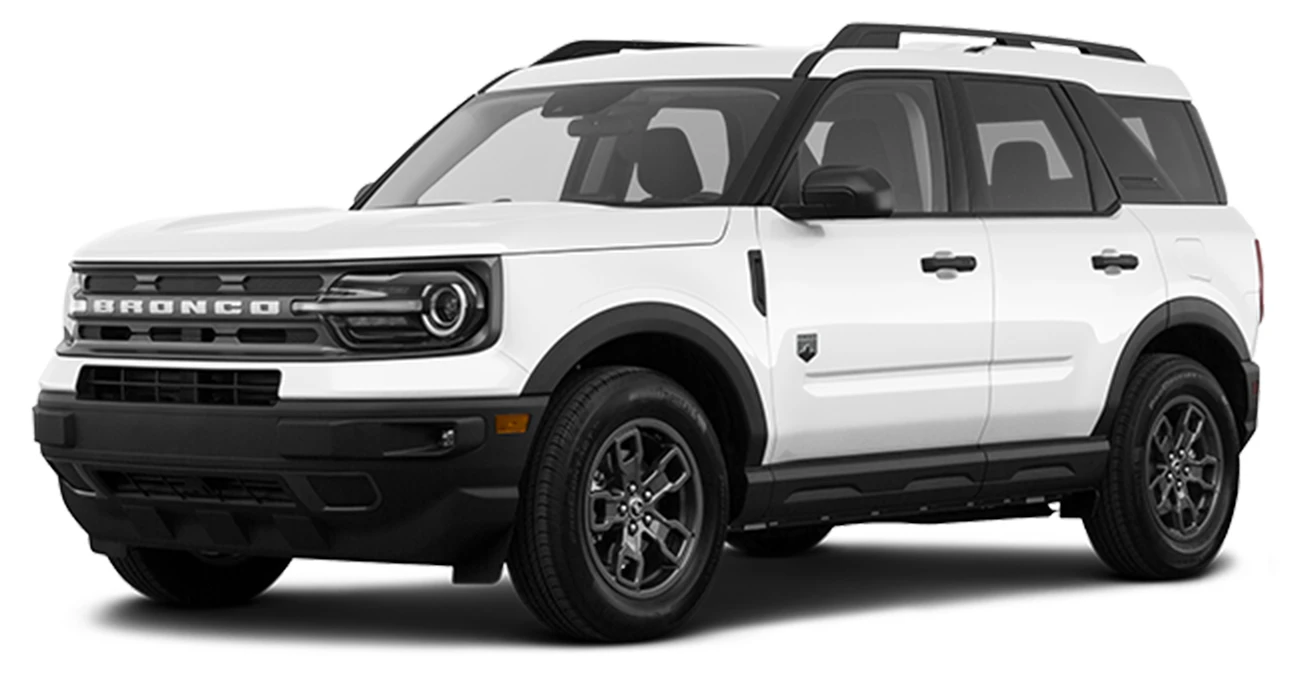 Ford's Bronco SUV has been through a lot of changes over the years. The Bronco first debuted in 1966, but five generations and thirty years later, it was discontinued for the 1996 model year. During that time, it gathered quite a following and the original compact version became quite collectible. Like the Jeep Wrangler, some Bronco versions had removable tops and doors for an open-air off-roading experience. Have no fear, though, Bronco lovers, it's back for the 2021 model year! This time the Bronco is going head-to-head with the Wrangler with a brand new midsize version.
The new Bronco can be optioned in both two and four-door layouts and comes in seven trims: Base, Bend, Black Diamond, Outer Banks, Wildtrak, Badlands, and the limited First Edition. Your off-road adventure can be powered by a standard 2.3L four-cylinder engine with 270 hp and 310 lb-ft of torque, or an optional turbocharged 2.7L V6 with 310 hp and 400 lb-ft of torque. It also comes with the new Sync 4 infotainment system, as well as wireless connectivity to Apple CarPlay® and Android Auto™. Even the base model for 2021 has other cool standard features like:
Four-inch LCD capacitive touchscreen with swipe capability

Manual swing-gate with up to 150-degree swing

Flip-up rear glass

Soft-top (four-door) or hard-top (two-door)

Removable doors

Active grille shutters

Terrain Management System (TMS)
Like the Bronco, the Blazer dates back to the late 1960s and carried on until 1995 when it was replaced with the two-door Tahoe. It was a popular off-roader back in the day, with a variety of six and eight-cylinder engines. Chevrolet went with a different approach for the latest Blazer, which was released in 2019. Instead of a beefy off-road-focused SUV, the latest Blazer was reinvented as a sleek modern crossover.
The re-launched Blazer is thoroughly updated and comes in L, LT, RS, and Premier trim levels. However, there are three sub-trims that help you know which engine and interior material are used, including the 2.5L Cloth, 3.6L Cloth, and 3.6L Leather. The base powertrain is a 2.5L four-cylinder engine putting out 193 hp and 188 lb-ft of torque. Or you can select a model with the 305 hp 3.6L V6 engine option. Check out the base model Blazer from 2019 on, and you'll find a lot of great standard features including:
Xenon headlights

Eight-inch touchscreen infotainment system

Apple CarPlay and Android Auto connectivity

Rearview camera

Dual-zone automatic climate control

Available OnStar with a 4G LTE Wi-Fi hotspot1,2
Like a lot of the vehicles on this list, the Supra has quite a storied history of going above and beyond. The first Supra dates back to the 1978 model year and went through four generations until it was discontinued in the United States for the 1999 model year. One thing that was consistent across all Supra models: the front-engine, rear-wheel drive layout. Well, that and being an absolute blast to drive.
Supra delivered on the concept of attainable performance early on, sharing parts with the Toyota Celica. By the end of its run, the MKIV Supra was a fire-breathing twin-turbo performance legend.
Thankfully, after 21 years of waiting, enthusiasts got a brand new Supra for the 2020 model year. The concept was similar to the original, but it is now called the Toyota GR Supra. In this case, GR stands for Gazoo Racing, which is a motorsports-influenced specialty vehicle label for Toyota. Also different this time is a key partnership with BMW, which provided the engine, gearbox, and more from the 2019 BMW Z4.
The 2020 Toyota GR Supra comes in 3 trim levels: base 3.0, 3.0 Premium, and Launch Edition. The 2020 model is powered by a 3.0L six-cylinder with 335 hp and 365 lb-ft of torque (which ramps up to 382 hp for 2021). A turbocharged 255 hp 2.0L four-cylinder engine was also added for 2021. Check out the base 2020 GR Supra and you'll get standard equipment like:
6.5-inch infotainment touchscreen

Dual-zone automatic climate control

Leather and simulated suede upholstery

Adaptive suspension dampers

LED headlights

Driver aids like frontal collision warning with automatic emergency braking and lane-keeping assist
The muscle car era of the 1960s and 1970s brought us a bunch of great cars, and the two-door Dodge Challenger coupe was one of them. With its long hood and aggressive styling, it was massively popular. The Challenger soldiered on through two generations for its first go-around, although the second-generation car was a rebadged Mitsubishi. It ended production in 1983 and it wasn't until 2008 before we saw a return of the cool muscular Challenger. Dodge went back to the same formula for the new two-door Challenger, which packed standard V6 and optional V8 power, just like the original.
Take a look at the 2017 Challenger, which features a variety of trim levels including SXT, GT, R/T, R/T Scat Pack, SRT 392, and SRT Hellcat. Most Challengers are RWD, but if you want AWD, check out the GT trim from 2017. Engine options are robust, to say the least, and the 2017–2020 model years include everything from a base 3.6L V6 engine with a decent 305 hp, up to the insane 6.2L V8 Hellcat that packs an unbelievable 707 hp. Dodge continued the trend by adding an 808 hp dragstrip-focused Challenger SRT Demon for 2018. However, even on the base 2017 V6 SXT, you'll get standard features such as:
Five-inch touchscreen

18-inch wheels

Heated mirrors

Keyless ignition and entry

Auto-dimming rearview mirror

Dual-zone automatic climate control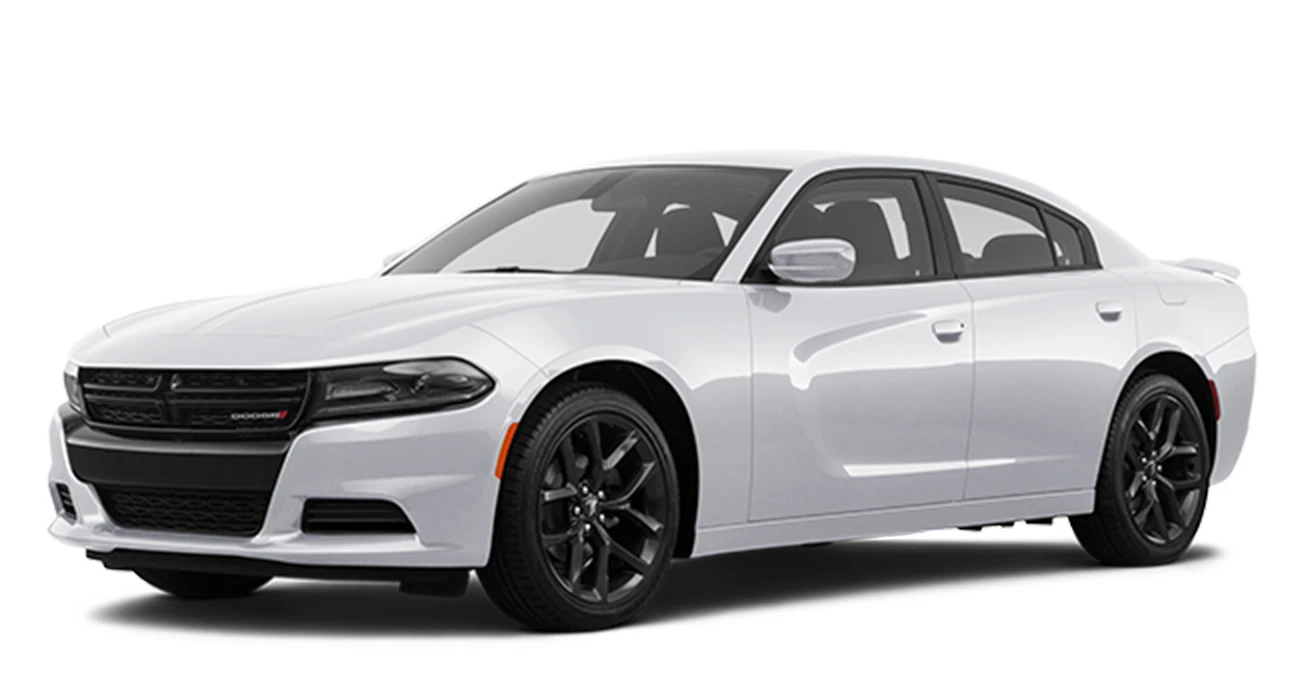 The story of the Dodge Charger starts out much the same as that of the Challenger. It made its production debut for the 1966 model year as a two-door muscle car. The Charger had plenty of high-horsepower V6 and V8 options to choose from over the years and established itself as another iconic Dodge muscle car. After a brief hiatus, the fifth generation was released around 1982 as a front-wheel drive subcompact. It had a triumphant return to the Dodge lineup in the 2000s, but it was only available as a four-door sedan.
Thankfully, it was still packed with power, and included similar powertrain options offered in the Challenger. So, if you need a full-size sedan with muscle-car looks and the power to back it up, take a look at the Charger—perfect if you have family and friends to drive around but want to take a spirited drive or trip to the track every once in a while.
Recent V6-powered models like the 2017 Charger SE and SXT are great, or you can look for the R/T, Daytona, R/T Scat Pack, Daytona 392, SRT 392, and SRT Hellcat trim levels for even bigger V8 power. Lots of features come as standard, even on the base SE model from 2017:
17-inch alloy wheels

Five-inch touchscreen

Dual-zone manual climate control

Leather-wrapped wheel

Keyless entry and ignition

Six-way power-adjustable driver seat

60/40-split folding backseat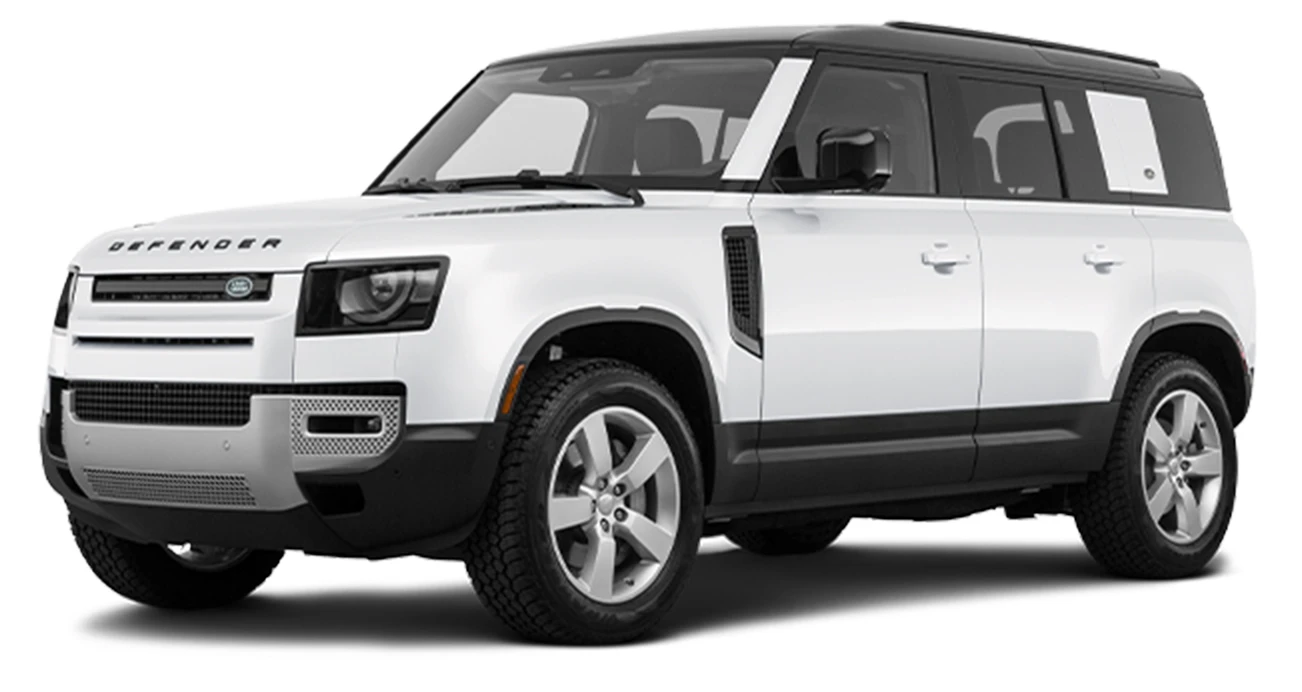 Aside from the original Willys Jeep that inspired the modern Wrangler, there are few vehicles with the rugged pedigree of the Land Rover Defender. Inspired by the wartime Land Rovers, the original Land Rover 110 went into production in 1983, with its name giving a nod to the 110-inch length of the wheelbase. Defenders continued that rugged trend over the years and were powered by everything from an inline four-cylinder to a V8. By 1990, it had taken on the Defender name, and continued production all the way until 2016.
For the 2020 model year, the mighty Defender returned. Built on a common Jaguar-Land Rover platform, it comes in three- and five-door layouts. For 2020, there were six trim levels available: base, S, SE, HSE, First Edition, and X. Power comes from a standard turbocharged 2.0L four-cylinder engine putting out 296 hp or an optional turbocharged 3.0L six-cylinder engine with a stout 395 hp and mild hybrid capability. Naturally, the base 2020 model is incredibly well-equipped with standard features including:
10-inch touchscreen

Apple CarPlay and Android Auto integration

Adjustable air suspension

Cloth seating with leather-wrapped steering wheel

Power-adjustable front seats

LED headlights

Six-speaker sound system
We close out our list of great classic cars that have made a comeback with the adorable Fiat 500. The 500 is an icon in the motoring world, bringing a sense of Italian fashion and flair to the masses. Since it began production in 1957, the Fiat 500 set about delivering a small and simple car that was as fun to drive as it was to look at. Fiat produced a convertible version and even elongated wagon and van versions over the years. The original 500 was powered by a tiny engine and production lasted until 1975.
To celebrate the 50th anniversary of the legendary 500, Fiat launched an all-new four-seat three-door hatchback 500 model in 2007. The new car was larger, but still captured the compact magic of the original. You could get it as a three-door coupe or two-door convertible, and a host of variations and trim levels were sold along the way. It even had fun trim levels for 2017 like Pop, Lounge, and Abarth.
The Abarth was a raucous 160 hp performance-focused version but the other 500s were powered by a smaller 101 hp four-cylinder engine. Check out the 2017 Pop trim which includes these standard features:
Heated mirrors

A five-inch touchscreen

Seven-inch color driver information display

Keyless locking/unlocking

Air-conditioning

Full power accessories

Cloth upholstery

Six-speaker Alpine® audio system
So, if you want to take a great trip down memory lane, but with some modern conveniences, the cars on this list may be right up your alley. There are capable off-roaders, fast sports cars, and family-friendly sedans and SUVs. There are more reimagined classics on the way as well, with Fiat-Chrysler readying a new Jeep Grand Wagoneer and Volkswagen looking to launch a cool Microbus EV version in the future.
1
Wi-Fi hotspots require a data plan to activate and may also require a compatible device. See the owner's manual or manufacturer website for more information.
2
OnStar features require activation and most require a paid OnStar plan to use. Wi-Fi hotspot functionality may also require an additional data plan. Limitations and restrictions apply. See onstar.com for more information.