7 Vehicles You Can Get In and Out of Easily
---
PUBLISHED THURSDAY, AUGUST 26, 2021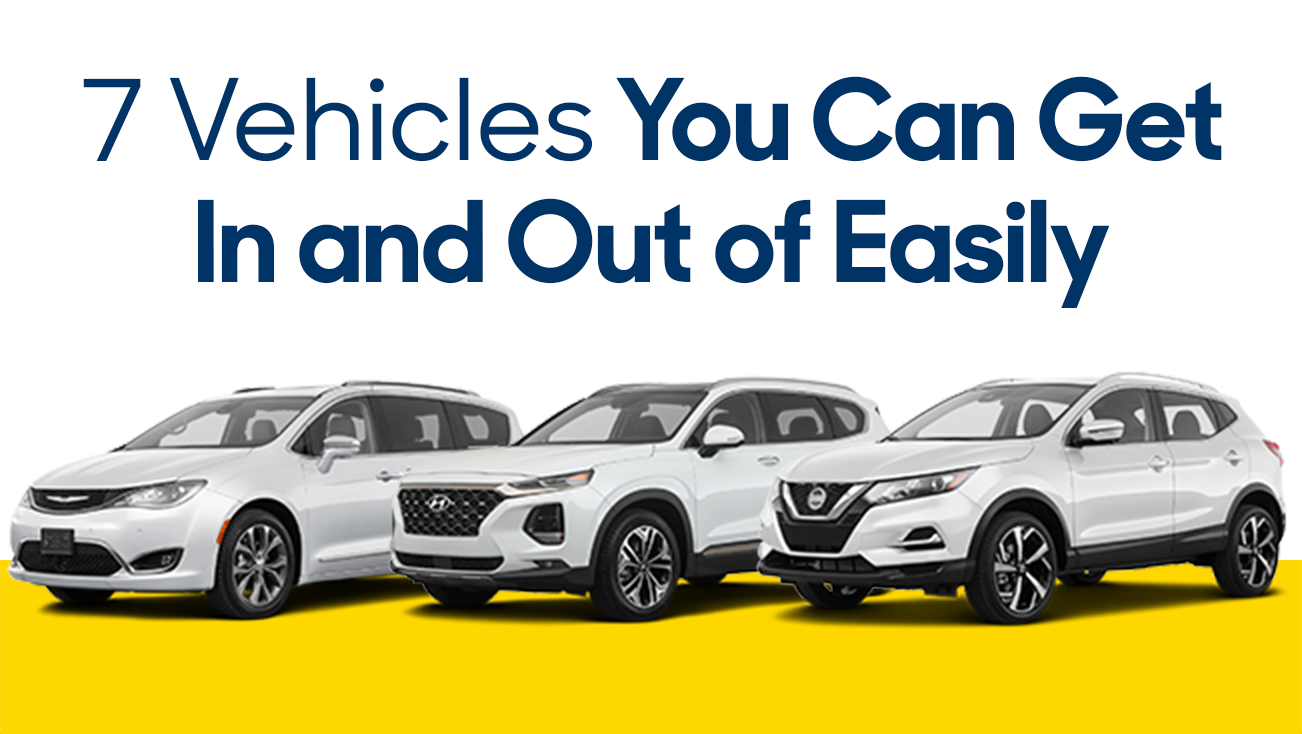 These cars make mobility a breeze.
Stepping into a tall SUV isn't always easy for people with limited mobility, and it can be difficult for small children as well. Sports cars are wonderful, but they lose their fun factor if the low-to-the-ground seats don't work for you. You might be in the market for the Goldilocks-variety vehicle: not too big and not too small. We have some "just right" options here in this list of seven vehicles you can get in and out of easily.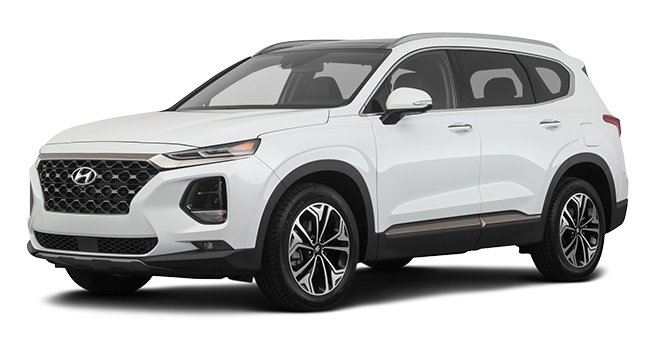 In 2019, Hyundai redesigned its Santa Fe crossover, making this popular vehicle more useful than ever. The Santa Fe is a great choice if you're looking for an SUV with ample room and comfortable seats that offer a number of adjustment options, not to mention a generous amount of padding. For all models from 2017-2020, you can even opt for ventilated seating.
Santa Fes from 2017-2020 include a generous overall package, starting with a 3.3L V6 under the hood and a number of standard features. All of the technology in the 2017-2020 Hyundai Santa Fe is easy to use, with an intuitive interface that doesn't require much learning time.
The following features are standard on the 2017-2020 Hyundai Santa Fe:
Rearview camera

Six-speaker sound system

18-inch alloy wheels

Seven-inch display screen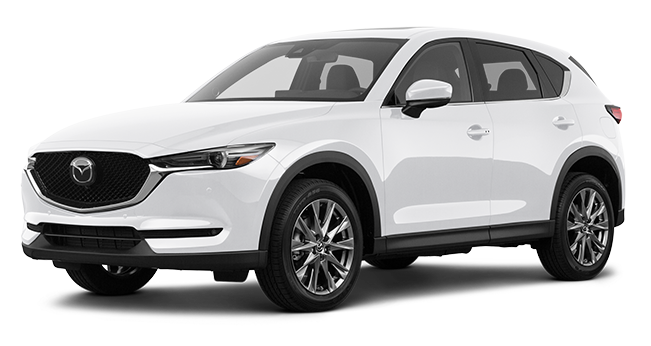 You'll love the zippy drive of the Mazda CX-5, which is equipped with a 2.5L four-cylinder engine and six-speed automatic transmission. Sleek, elegant, and quiet, the 2017-2020 Mazda CX-5 base model comes with a four-speaker audio system, Bluetooth® connectivity, two USB ports, and cloth seats.
Stepping into a CX-5 is comfortable, and tall windows make it easy to see all around you from your perch in the driver's seat. Passengers will be comfortable in the front and back seats, and upper trim levels include heated seats for everyone. Looking for style and comfort? The CX-5 has both in spades.
You can expect these features and more on the 2017-2020 Mazda CX-5:
Seven-inch touchscreen

Backup camera

Four-speaker sound system

Cloth upholstery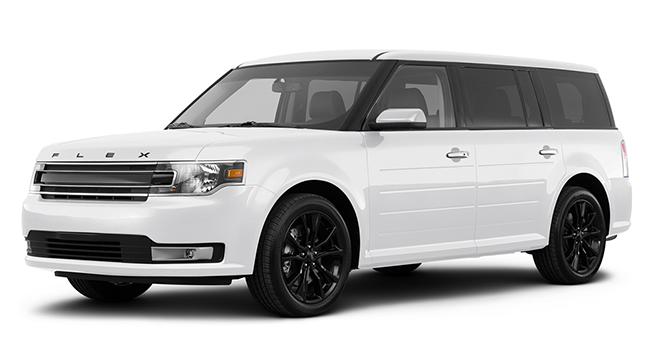 The boxy Flex offers two particularly attractive features: excellent visibility and maximum space for a vehicle of this size. Plus, the 2017-2019 Ford Flex is a breeze to get in and out of, and the squared-off roofline makes this vehicle supremely functional. With the second- and third-row seats folded down, you'll have a stunning 83.2 cu-ft of cargo space for packing in plenty of gardening supplies or room for pets. Even with just the third row folded down, you'll get 43.2 cu-ft for your stuff.
For 2017-2019, the Flex has a 3.5L V6 engine that offers plenty of power. You'll love the six-way power driver's seat, too. This is a great SUV for parents, grandparents, and kids alike.
The following features are standard on the 2017-2019 Ford Flex:
60/40 split-folding second-row seats

Rear parking sensors

Six-speaker audio system

Leather-wrapped tilt-and-telescoping steering wheel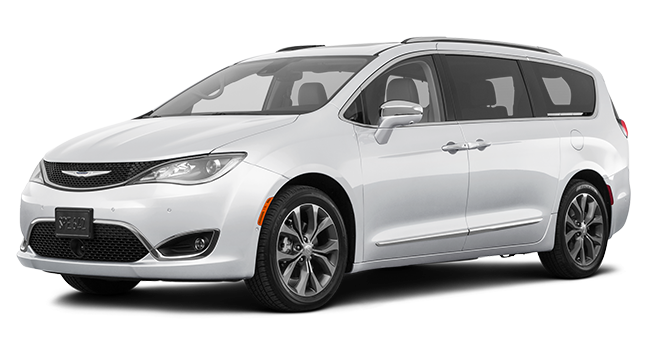 There's no denying that a minivan can be an incredibly comfortable and convenient ride. The 2017-2020 Chrysler Pacifica is at the top of the heap for little touches that make a big difference, including an eight-way power driver's seat with four-way power lumbar controls as standard. It's easy to step in and out of the first and second row of a Pacifica; just leave the third row for the kids and grandkids.
You can even add a tow package if you'd like. The gas-powered 2017-2020 Pacifica can tow an estimated 3,600 lbs, when properly equipped.1 Or, if you don't need to tow and you're more interested in some electric power, the Pacifica Hybrid may be right up your alley.
The following features are standard on the 2017-2020 Chrysler Pacifica:
Folding and collapsible second-row stowing seats

Rearview camera

Bluetooth connectivity

LED daytime running lights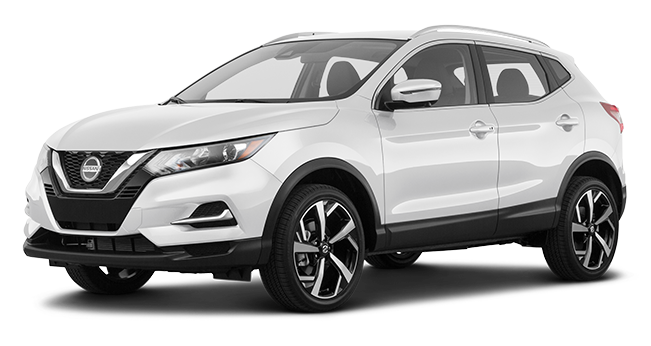 Nissan's five-passenger Rogue is available in a number of trims and configurations from model years 2017-2020. Sharing the same peppy 2.5L four-cylinder engine as the Nissan Altima from the same years, the Rogue crossover has the advantage of being easier to get in and out of than its sedan cousin. Available with front-wheel drive or all-wheel drive options in gas and hybrid varieties, there's a Rogue for everyone.
The liftgate for the Rogue is thoughtfully designed, with an access point that makes it easy to load groceries, sports equipment, or a wheelchair. Nissan's "zero gravity" seats, created to cradle you at key pressure points, can help keep your body from experiencing fatigue on long trips.
Nissan Rogue models from 2017-2020 include these amenities:
40/20/40 split-folding rear seats

Rearview camera

Cloth upholstery

Bluetooth connectivity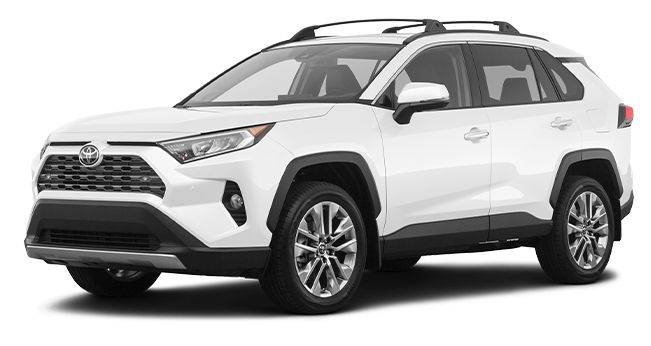 After debuting in 1996, the Toyota RAV4 has continued to improve over time. It started off as a small SUV that turned heads with its unique shape; today, it's a well-regarded crossover for those looking for comfort, practicality, and style.
The standard engine in the 2017-2018 RAV4 is a 176-hp, 2.5L four-cylinder; in 2019, the RAV4 got a facelift and 27 more hp. You'll appreciate the easy-to-configure 60/40 split seats, and your passengers will love that the seats recline in the second row. Smart and spacious, the RAV4 is a great place to take a nap between the kids' sporting events or while waiting to pick them up from after-school clubs.
Check out these standard features on 2017-2020 Toyota RAV4 models:
Eight cup/bottle holders

Lane departure alert

Tire-pressure monitoring system

Backup camera display with static grid lines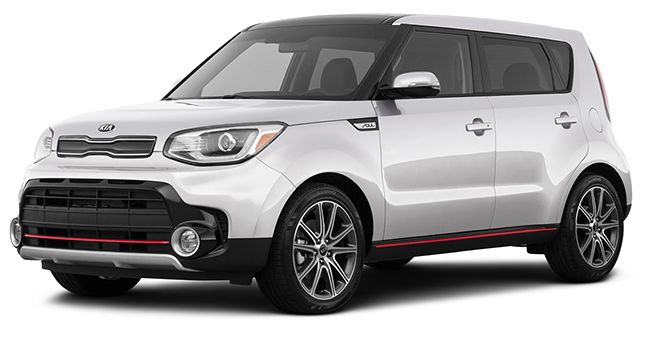 The unique body style of the Kia Soul is always turning heads. Once you slide behind the wheel and experience the shape and size of the Soul, you'll wonder why you never test drove one before. The base 2017-2020 Soul has a 1.6L four-cylinder engine making 130 hp; upgrade to the Exclaim trim for the 201-hp turbocharged version.
Getting in and out and loading cargo into the Soul is no problem. And with generous doors and an upright seating position, the Kia Soul is stunningly hassle-free. You'll be sitting taller in the Soul than you would in a sedan, which means stepping out of the vehicle is a natural motion.
The following features are standard for 2017-2020 Kia Soul models:
Six-speaker audio system

Bluetooth connectivity

60/40 split-folding rear seats

Tilt-and-telescoping steering wheel
When you're looking for a car you can get in and out of easily, one of these vehicles may be just the ticket. And with a generous list of features on each one, you won't be disappointed in your choice.
Looking for more information? Check out these additional articles:
1
Various factors may impact towing capacity, including weight of passengers, cargo, and options/accessories.
Unless otherwise noted, information related to these featured vehicles comes from third-party sources, including manufacturer information. Product and company names may be trademarks or registered trademarks of third-party entities. Use of them does not imply any affiliation with or endorsement by these entities.