Ask the Experts: Should I Buy a Ford Bronco Sport?
---
PUBLISHED FRIDAY, FEBRUARY 11, 2022

It has rugged Bronco looks but in a smaller package.
With thousands of vehicles in our inventory, we're here to help make car research easier for you. We've partnered with car-review experts from Edmunds to weigh in on what matters most when you're looking to buy a truck or car.
***
Vehicle Reviewed
2021 Ford Bronco Sport
What do I need to know about the Ford Bronco Sport?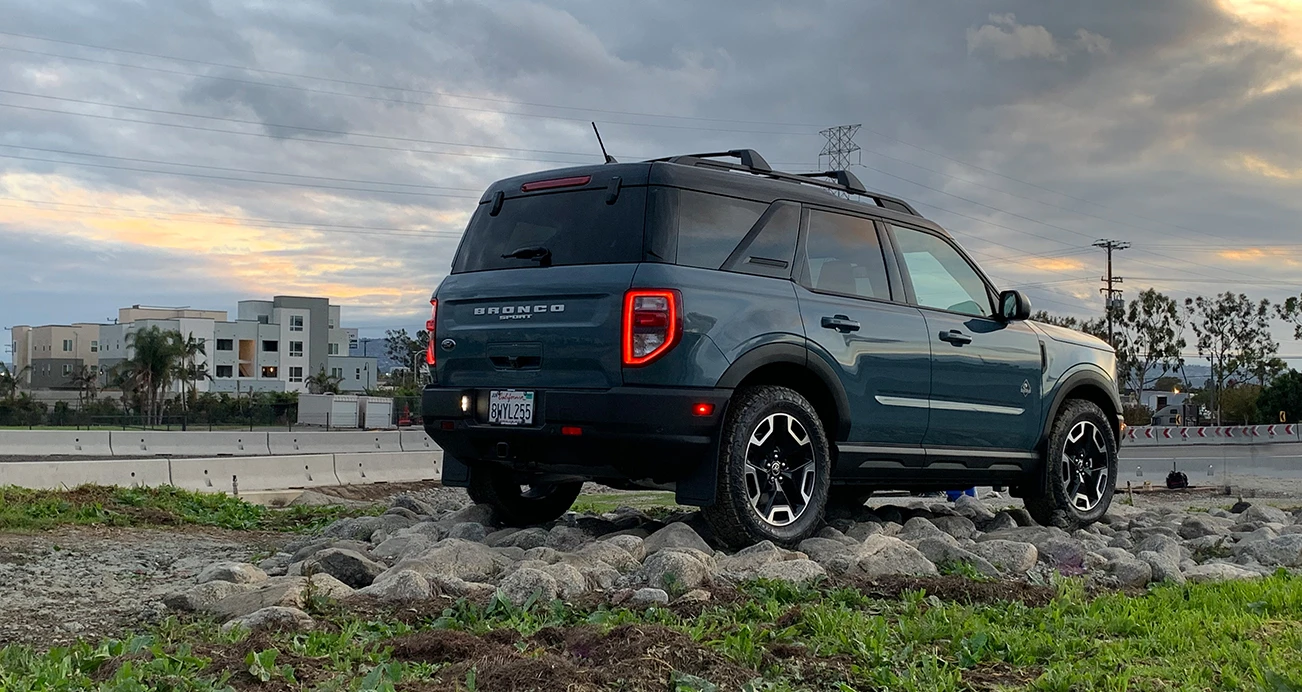 The Bronco Sport is a small SUV that offers rugged-looking styling along with above-average off-road capability. The Bronco Sport was introduced in 2021, the same year Ford brought back the larger Bronco SUV. These two SUVs, while they share a name, should not be confused with each other. The Bronco Sport is a bit less capable than its big sibling for off-roading, towing, and hauling large loads. But in most cases it's less expensive and gets higher EPA-estimated fuel economy. It's worth a close look if you are shopping for a practical SUV that's ready for adventure.
What is the Bronco Sport's engine and fuel economy?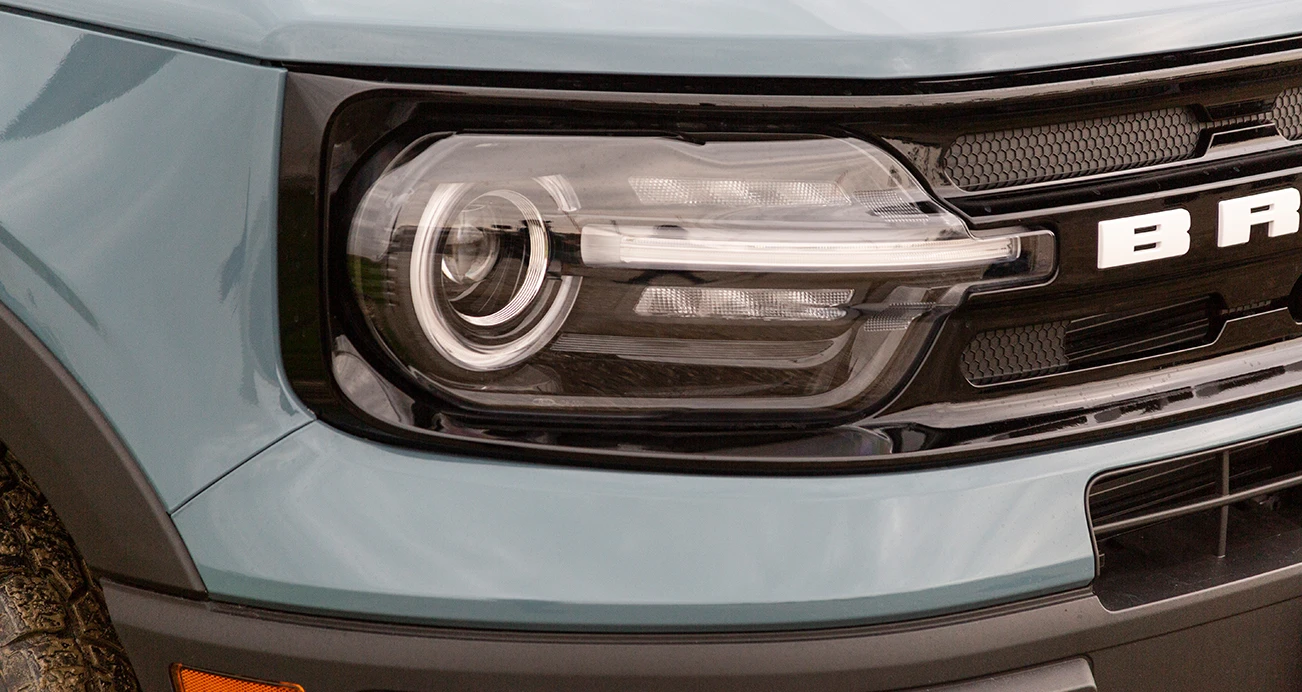 The Bronco Sport is available with two engines: a turbocharged 1.5-liter three-cylinder that produces 181 horsepower or a turbocharged 2.0-liter four-cylinder engine that produces 250 hp. Both engines are paired to an eight-speed automatic transmission and all-wheel drive.
With the 1.5-liter engine, the EPA estimates a 2021 Bronco Sport will return 26 mpg combined (25 city/28 highway), while the 2.0-liter engine receives an EPA estimate of 23 mpg combined (21 city/26 highway).
Travis' take: You might see some small fuel economy advantages with the 1.5-liter engine, but the 2.0-liter engine is the one to get. The extra power makes it much more enjoyable to drive, and there's not a big drop-off in fuel economy estimates either. And if fuel economy is your top priority, you might want to look elsewhere—the Bronco Sport is well below class leaders when it comes to efficiency.
What's the Bronco Sport like to drive?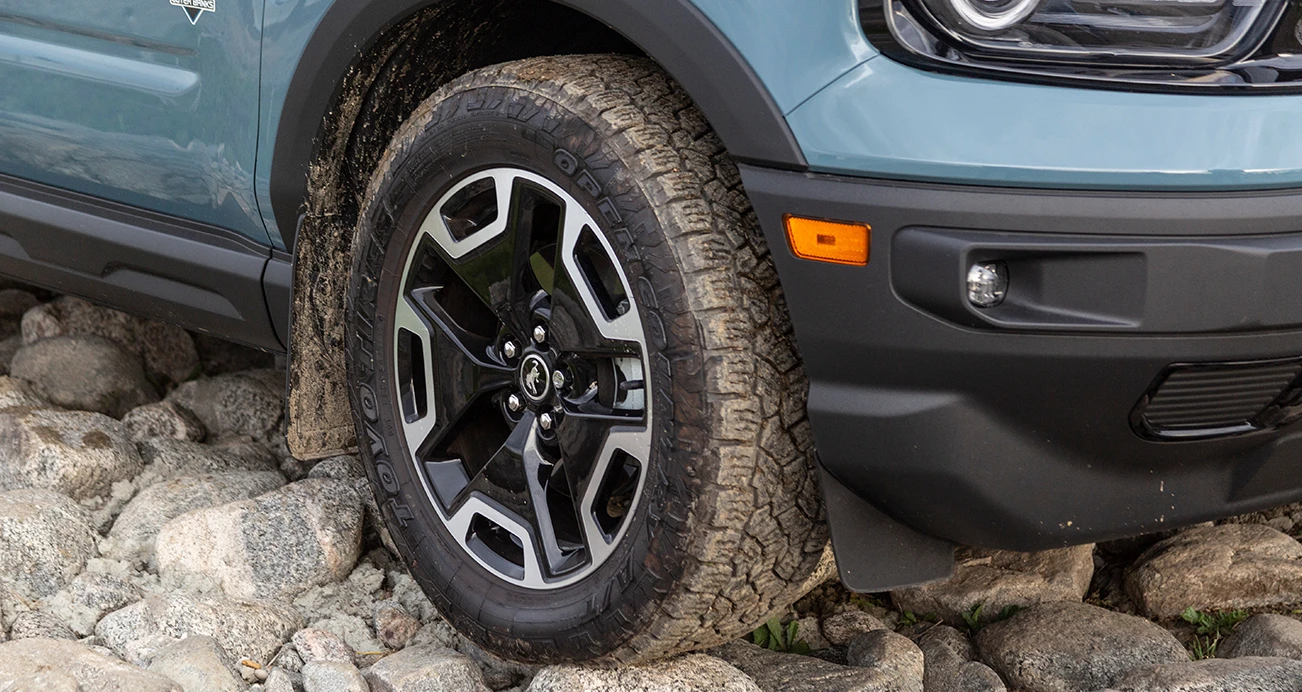 The standard 1.5-liter engine has adequate power for driving around town, but the upgraded 2.0-liter engine feels livelier during highway passes or climbing long grades. All Bronco Sports suffer from light and vague steering that can make it a bit tricky to know what the front tires are doing or give you confidence when going around turns.
On the highway, the Bronco Sport has a bit of a rough ride, especially over bad pavement. The boxy design leads to some extra wind noise too. The front seats have a decent range of adjustability, but they lack the comfort needed for long road trips.
Thankfully, off-road capability is impressive in the Bronco Sport, especially in the Badlands trim level. The Badlands' extra features, which include an upgraded suspension, all-terrain tires, and a specialized all-wheel-drive system, all contribute to serious off-road prowess that allows the Bronco Sport to more easily drive over rocks and ruts than your typical small crossover SUV.
Travis' take: The Bronco Sport sacrifices a bit of on-road comfort for some pretty serious off-road capability. Few SUVs in this class can do what the Bronco Sport can in the dirt. If you're a true blue off-roader, you'll probably want something a bit more serious like a Jeep Wrangler or a standard Bronco. But if you just like going off the beaten path and camping somewhere that cellphone signal doesn't reach, the Bronco Sport will probably get you there.
What's the Bronco Sport's interior like?
The Bronco Sport is spacious on the inside. There's plenty of headroom for adults in the front and back rows, and the doors open wide in the front so getting in and out is easy. Access to the rear seat is tighter and legroom is merely average for the class, making rear-seat entry a bit more difficult.
Dashboard controls are logically placed and everything is within reach. Interior storage is great for most small items; the center console is spacious, and the higher Bronco Sport trim levels have extra storage spots, such as underfloor rear storage, zippable pockets, and Molle straps on the backs of the front seats that you can latch or secure items to.
Behind the rear seats, the Bronco Sport offers up to 32.5 cubic feet of cargo space. This is about average for the class, but the high ceiling and low load floor make it particularly easy to load bulky items. There are also several hooks that can be used as tie-down points.
Travis' take: The Bronco Sport values function over form. If you like to go camping for the weekend and get your SUV dirty without any concern about scratching up high-quality surfaces, the Bronco Sport has you covered. The buttons, knobs, and other interior materials feel low-quality and hollow, but it doesn't feel disrespectful to throw your dirty tent and boots in the back and take off toward the next campsite. And during our tests, the Bronco Sport seemed well constructed, without any squeaks or rattles.
How is the Bronco Sport's tech?
Tech is a bright spot for the Bronco Sport. Every trim level comes with an 8-inch touchscreen powered by Ford's SYNC® 3 infotainment system. Smartphone integration, where you can connect your Apple or Android device and mirror many of your phone's functions, is quick and simple to use. The infotainment system's integrated voice controls understand natural language, and they're quick to respond to your commands.
A few advanced driver aids, such as forward collision mitigation (warns you of an impending collision and applies the brakes in certain scenarios) and a blind-spot monitor with rear cross-traffic alert (warns you if a vehicle is in your blind spot during a lane change or while in reverse), are standard and work well. Even more features, including adaptive cruise control (maintains a driver-set distance between the Bronco Sport and the car in front), come as part of the optional Ford Co-Pilot360™Assist+ package.
Travis' take: It might not look very good, but Ford's SYNC system is super easy to use. I prefer the graphics of some other systems like the Uconnect® system in the Jeep Cherokee, but you don't gain any significant functionality. On a compact SUV like the Bronco Sport, having driver aids such as forward collision mitigation and blind-spot monitoring are a great plus, but the lane-keeping assist is too sensitive for my taste.
What other SUVs should I consider?
Check out the Jeep Cherokee, specifically in Trailhawk trim, if you're looking for a small SUV with some off-road chops. Another one of our favorite off-road-friendly SUVs is the Subaru Forester since it offers standard all-wheel drive, impressive ground clearance, and a large cargo area for all your gear. For something a bit more well rounded that excels at the daily commute, we recommend the Honda CR-V. And if you want a small SUV with a more stylish cabin than what the Bronco Sport can offer, the Mazda CX-5 should be at the top of your list.
If I decide on a Bronco Sport, which one should I buy?
The Bronco Sport is at its best in its top-level Badlands trim—it has the most features for off-roading and is the only trim to come with the more powerful 2.0-liter engine. But not everyone will need all the extra power and capability that trim provides. Alternatively, the midlevel Big Bend trim is worth a close look. It has a decent collection of standard features for the price, and an available option package for the Big Bend adds a few helpful extras such as heated front seats and extra interior storage pockets.
Travis Langness is an automotive reviews editor for Edmunds.com. As a lifelong car enthusiast, Travis has a deep passion for cars. Through instrumented testing, off-roading, epic road trips, and local commuting, the Edmunds team tests and writes about new and used vehicles to help car shoppers make informed decisions.