Ask the Expert: Toyota RAV4 Hybrid vs. Honda CR-V Hybrid
---
PUBLISHED FRIDAY, FEBRUARY 25, 2022

BY EDMUNDS EDITORS

These two hybrid SUVs stand out for different reasons.
With thousands of vehicles in our inventory, we're here to help make car research easier for you. We've partnered with car-review experts from Edmunds to weigh in on what matters most when you're looking to buy a truck or car.
***
Vehicles Reviewed
2020 Toyota RAV4 Hybrid
2021 Honda CR-V Hybrid
There's an obvious appeal to the Honda CR-V Hybrid and Toyota RAV4 Hybrid. They have the excellent space and comfort that so many people are looking for in a vehicle. But on top of that, there's the added promise of increased fuel efficiency by way of a hybrid powertrain. Each SUV has a well-earned reputation for value and versatility too. So how do you pick between the two? Edmunds' Ryan ZumMallen walks you through the pros and cons of each to help you decide.
What are your options?
The current Toyota RAV4 Hybrid is part of the fifth-generation RAV4 that debuted in 2019, though the RAV4 Hybrid has been around since the 2016 model year. Like the standard RAV4, the hybrid model has seating for up to five passengers. For this comparison, we've used a 2020 RAV4 Hybrid as the representative model, but the information here generally applies to all 2019-2022 models as well.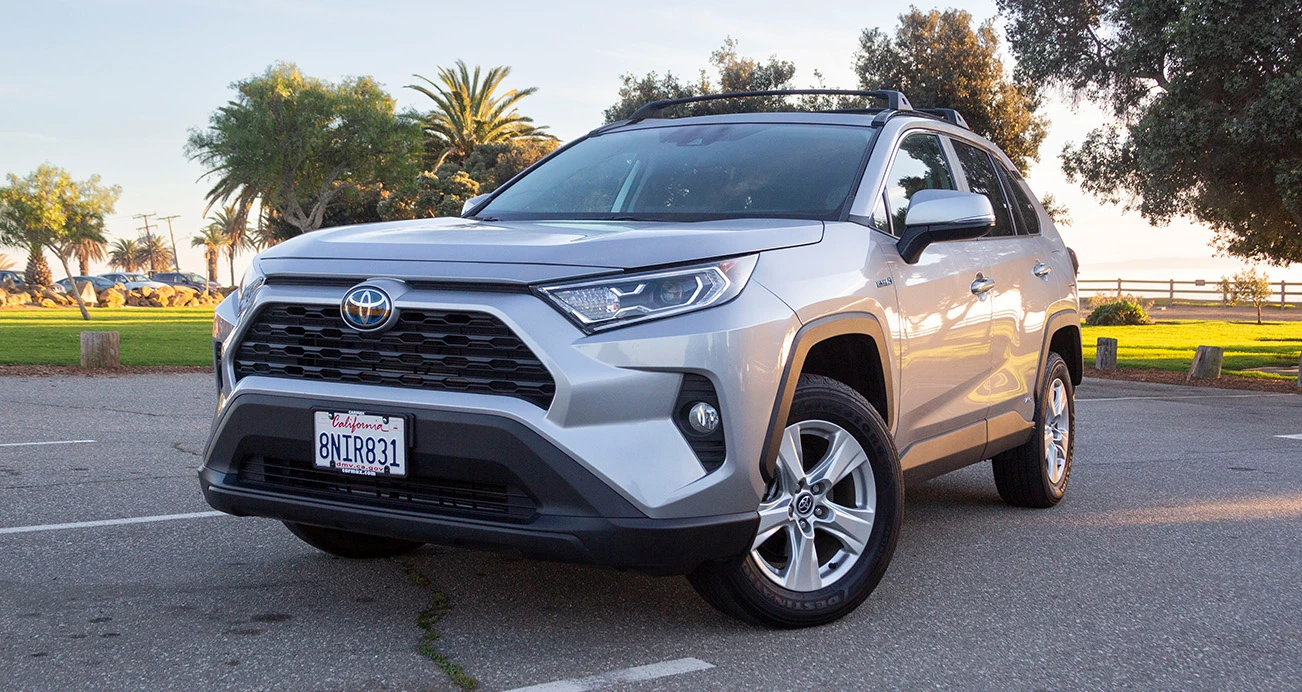 The RAV4 Hybrid offers several trim levels. The base version is called the LE, and it comes with a decent set of standard features including LED headlights, dual-zone automatic climate control, and power-folding side mirrors. The XLE adds a power-adjustable driver's seat, among other features, and starting for the 2021 model year, there's the XLE Premium that includes a sunroof and simulated leather upholstery. The XSE is a sporty model with an upgraded suspension, while the Limited tops the line with an improved stereo and navigation.
Honda's CR-V Hybrid hasn't been around as long. It debuted for the 2020 model year, which is part of the standard CR-V generation that has been out since 2017. It also seats up to five people. For this article, our reference point is a 2021 CR-V Hybrid, and the information applies to all 2020-2022 models unless stated otherwise.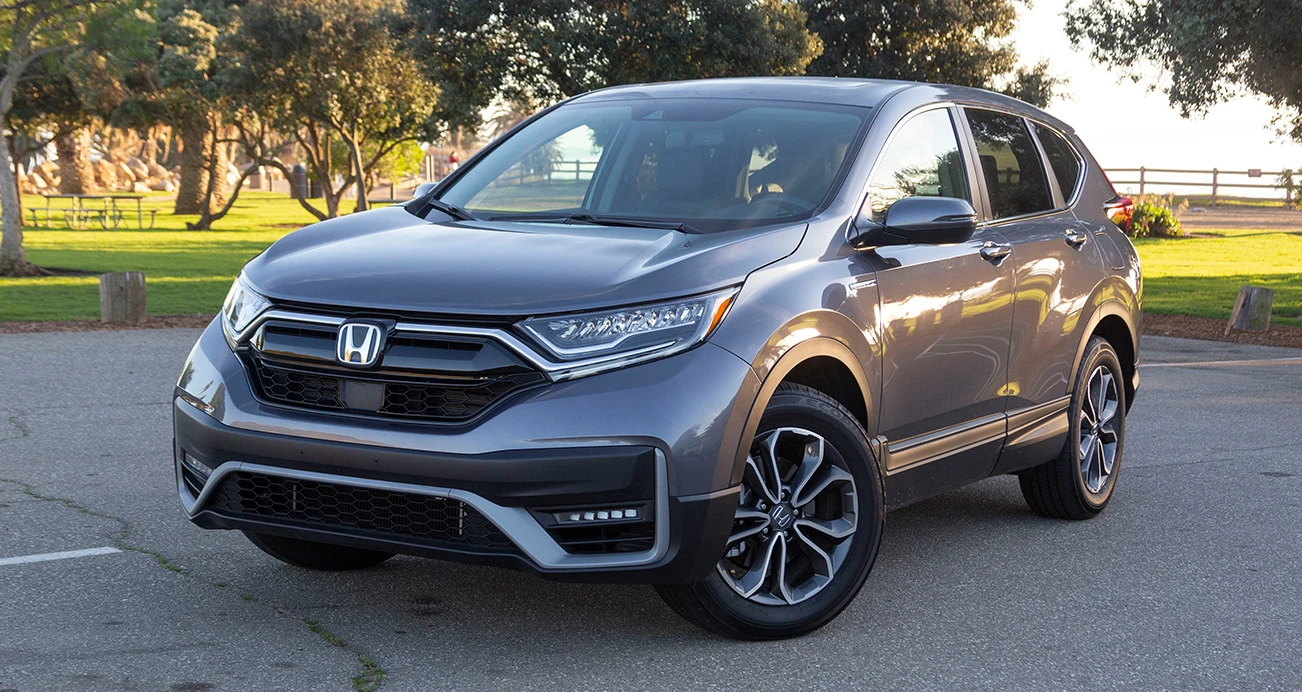 As for trim levels, Honda keeps it simple by offering just three. The base model is the EX, which is well equipped with features such as dual-zone climate control and plenty of USB ports. Next is the EX-L with its leather seats and additional convenience features, while the top-level Touring adds parking sensors and an integrated navigation system just to start.
What engines do they come with?
The RAV4 Hybrid comes with a 2.5-liter four-cylinder engine—but that's not all. There's also a hybrid system that combines electric motors and a hybrid battery pack to help supplement the engine's power and enhance fuel economy. When you combine the gasoline engine and the electric motor, the RAV4 Hybrid makes a total of 219 horsepower. All-wheel drive also comes standard.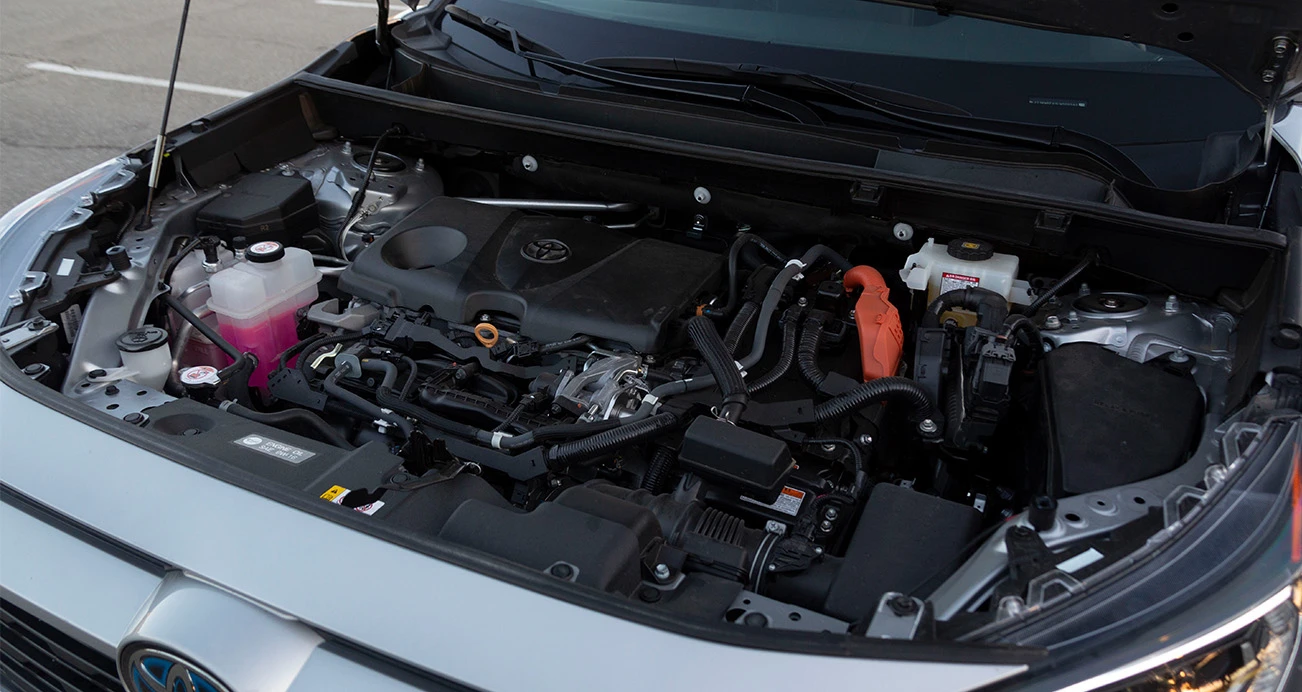 In all trim levels, the 2020 RAV4 Hybrid has an EPA-rated estimated fuel economy of 40 mpg in combined city/highway driving. This is an improvement of 10 mpg over the highest-rated version of the standard 2020 RAV4, which gets an EPA-estimated 30 mpg combined.
Honda takes a similar approach with its CR-V Hybrid. This model combines a 2.0-liter four-cylinder and a hybrid system for a total of 212 horsepower. All CR-V Hybrids come standard with all-wheel drive.
EPA-estimated fuel economy for the 2021 CR-V Hybrid is a bit less than the RAV4 Hybrids—38 mpg combined. But this is still a significant gain over the standard 2021 CR-V that gets up to an EPA-estimated 30 mpg in combined driving.
Ryan's take: Both of these SUVs promise big fuel economy figures. But in Edmunds' testing, only one of them easily backed the promise up—the RAV4 Hybrid. On our real-world route, the RAV4 Hybrid returned fuel economy that is very close to its EPA estimate. That makes us confident that it can hit its targeted numbers consistently. The CR-V Hybrid, on the other hand, fell farther short of its EPA estimate. Wondering if that was a fluke? Us too. However, we owned a CR-V Hybrid for over a year as part of our long-term test fleet. That only validated our original findings—over 17,000 miles, the CR-V Hybrid never met its 38 mpg combined rating and averaged just under 30 mpg overall.
What are the interiors like?
There's a lot to like about the RAV4 Hybrid's interior. The cabin has a playful vibe with big knobs and buttons, soft materials along the dashboard, and a couple of cool trays for storing small odds and ends. It's comfortable inside and easy to access, so people who prefer not to crouch into smaller cars or climb into larger ones will feel right at home. You also have a commanding view of the road due to a high seating position. Taller drivers may wish the seat lowered a little more, but it's not a deal-breaker. There is a lot of plastic inside that keeps the RAV4 Hybrid from feeling as premium as some competitors. But this is offset by comfortable and supportive seats that round out the RAV4 Hybrid interior nicely.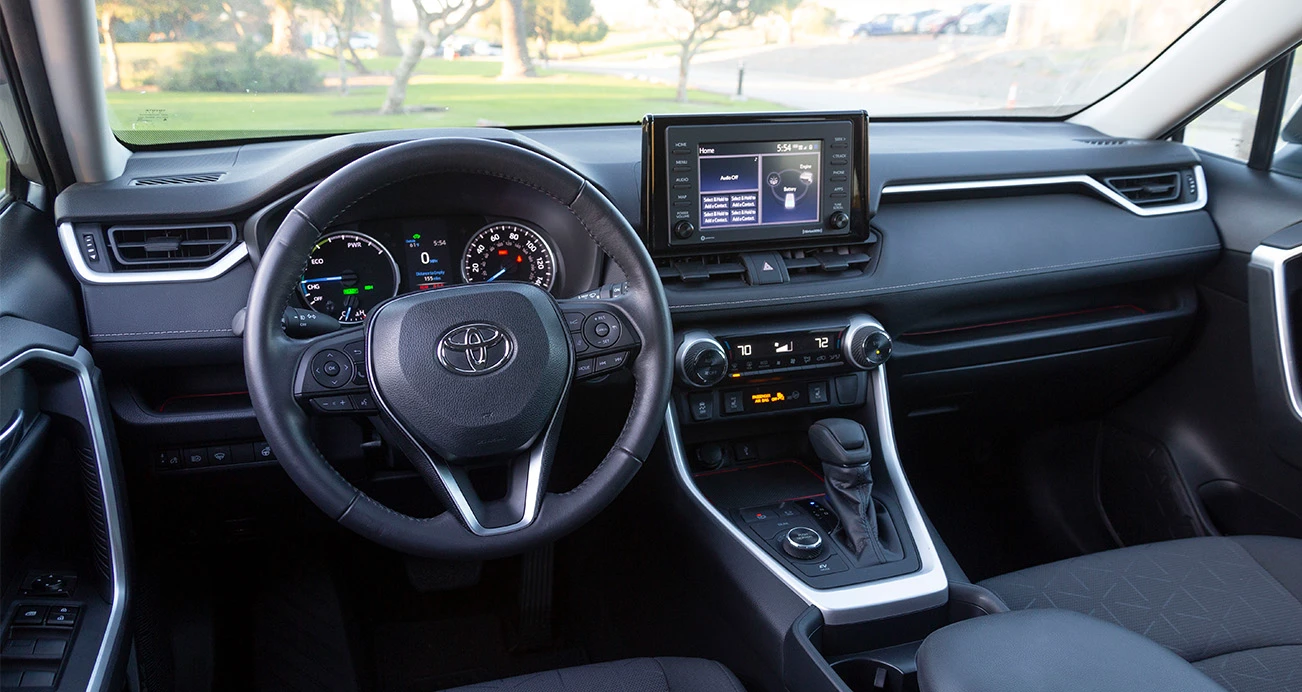 The interior of the CR-V Hybrid immediately feels more sophisticated. What does that mean exactly? You'll notice the trims with leather have an upscale texture and comfort level, while there are also pleasing wood sections and less use of hard plastic overall compared with the RAV4 Hybrid. Even better is the way the interior all fits together—the panels line up nicely with tight stitching. It makes the CR-V Hybrid feel solid inside. Even better is the abundant space, which is cavernous in the front and rear seats alike. Access is also excellent, and the CR-V Hybrid offers greater adjustability in the driver's seat and steering wheel to help you find the perfect position. Downsides? Your visibility may take a hit due to the high shoulder line. Otherwise it's a thumbs-up for Honda.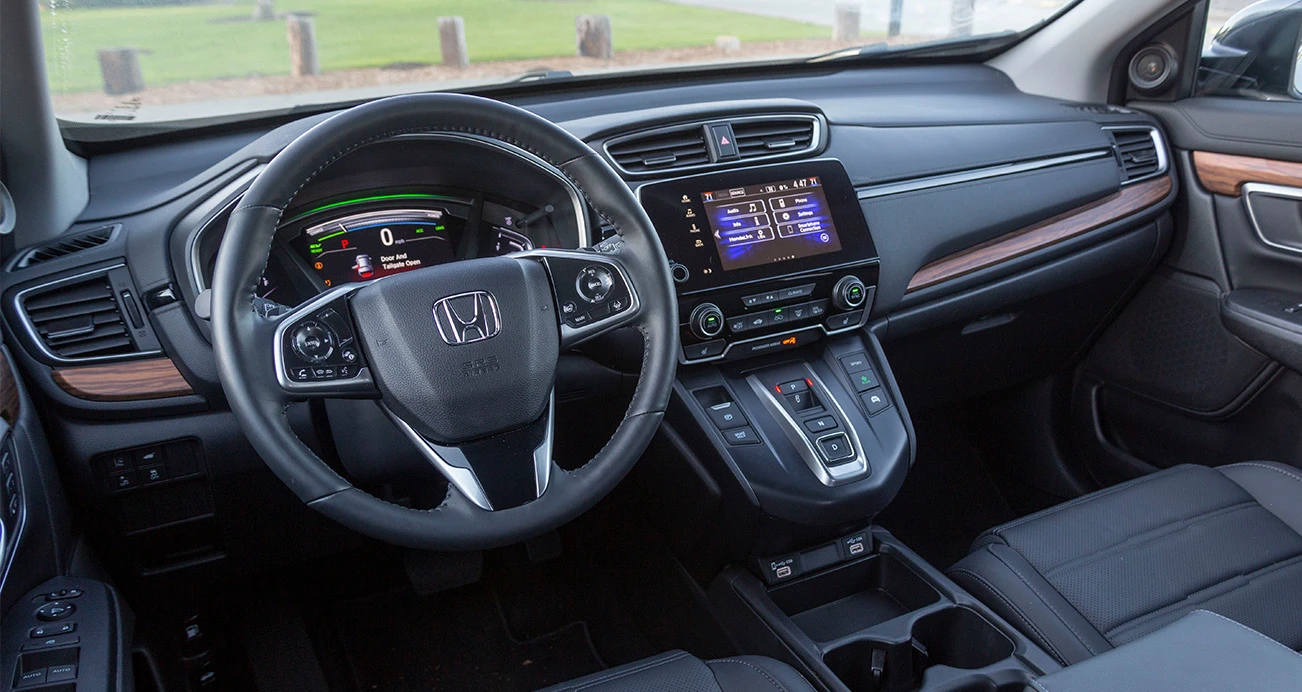 Ryan's take: The interior of the CR-V Hybrid is seriously impressive. I'm 6 feet tall and the amount of space still surprises me every time. It's also comfortable, quiet, and darn near luxurious. Now, there's also something to be said for the RAV4 Hybrid's interior and its rubberized grip surfaces and hard plastics that you won't mind getting dirty once in a while. I definitely give Toyota points for throwing a little personality into the cabin. But at the end of the day, I'd rather be spending time in the CR-V Hybrid.
What about technology features?
The centerpiece of the RAV4 Hybrid is the standard 7-inch touchscreen. If you'd like something larger, there's an 8-inch screen that comes on the XSE and Limited trims. With either screen, Apple CarPlay® and Android Auto™ smartphone integration comes standard. That's good news because Toyota's native operating system, called Entune®, can be frustrating to use. Look for the Limited trim if you want a factory navigation system—some Limiteds will have the optional surround-view camera or wireless charging pad as well.
Toyota includes several driver aids as standard equipment and offers others as options. Standard on every RAV4 Hybrid are:
 Forward collision mitigation (warns you of an impending collision and applies the brakes in certain scenarios)

Lane-keeping assist (steers the RAV4 Hybrid back into its lane if it begins to drift over the lane marker)

Adaptive cruise control (adjusts speed to maintain a constant distance between the vehicle and the car in front)
Standard on the XLE trim and higher is:
Blind-spot monitoring (alerts you if a vehicle in the next lane over is in your blind spot)
The CR-V Hybrid only comes with a 7-inch touchscreen, and no upgrade is available. But it does have standard Apple CarPlay and Android Auto. As with Toyota, that's good news because the native Honda infotainment interface suffers from slow responsiveness and too small on-screen buttons. The better play is to use CarPlay or Android Auto when available.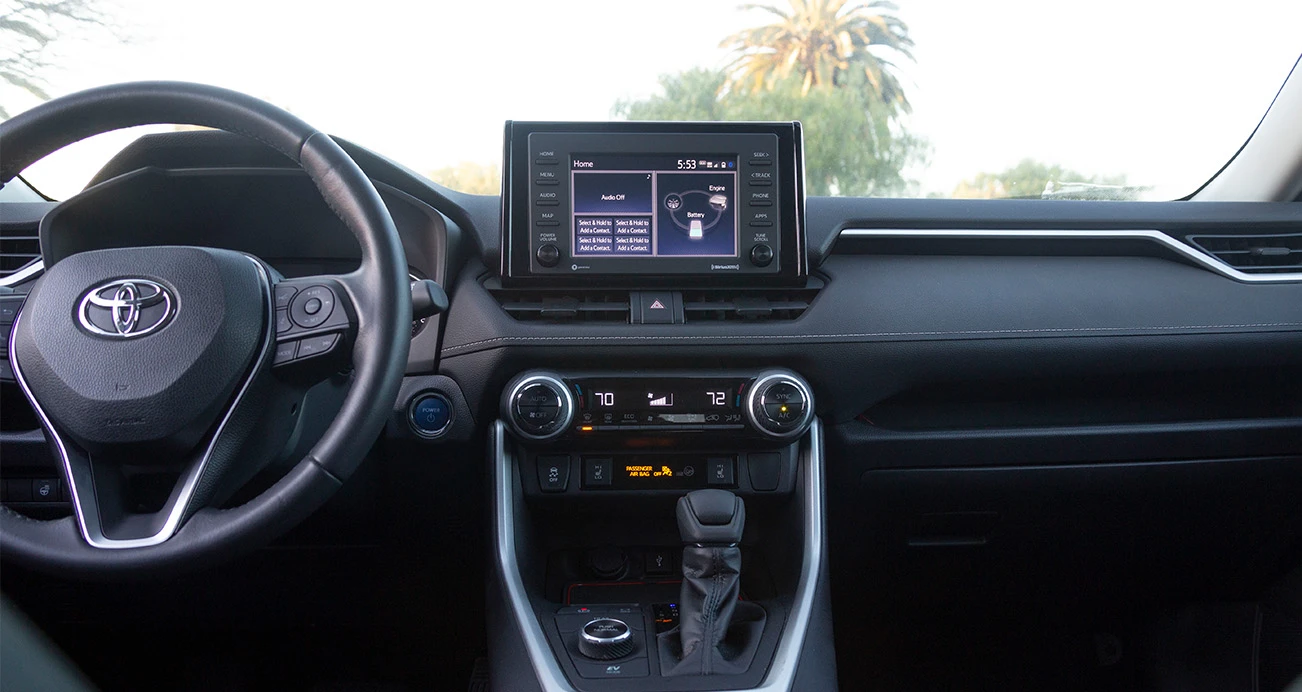 The CR-V Hybrid also comes with a comprehensive collection of driver aids. The following features come standard on all trim levels:
Forward collision mitigation

Lane-keeping assist

Adaptive cruise control

Blind-spot monitoring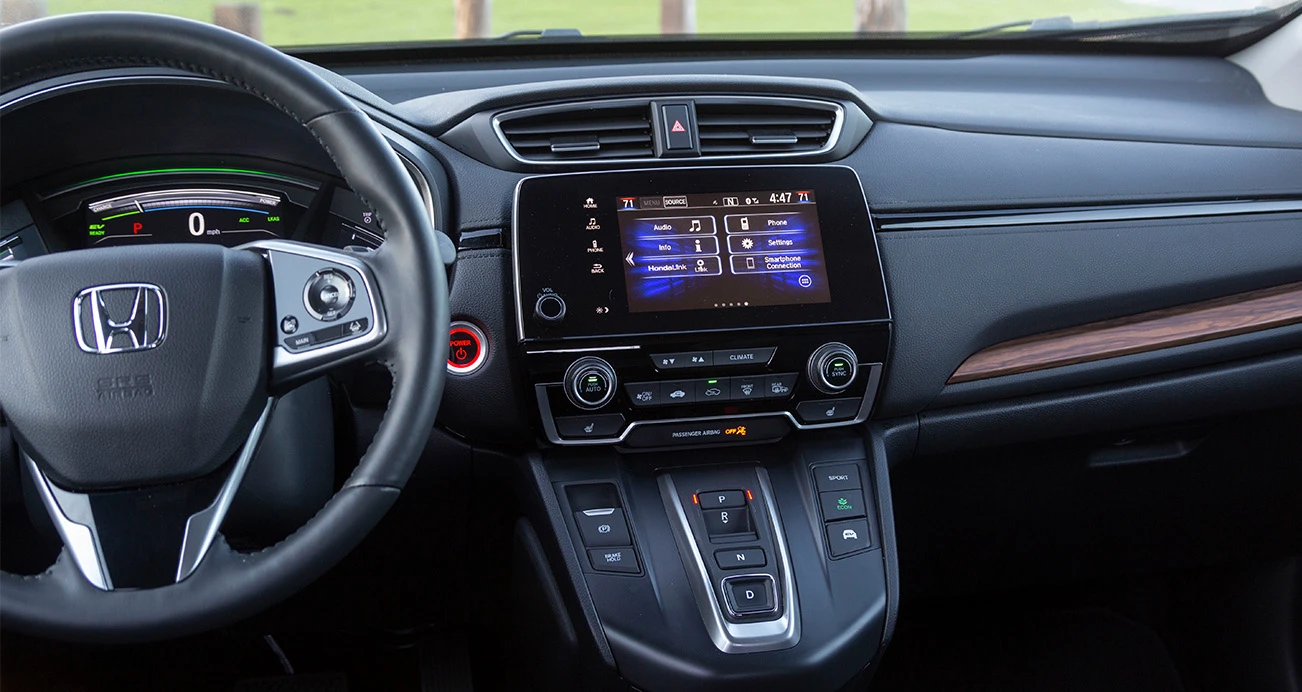 The forward collision warning system tends to be overeager to activate, so you may get warnings or alerts when they aren't necessarily warranted. But you can adjust the sensitivity settings, and overall the CR-V's suite of driving aids is a helpful backup.
Ryan's take: Boy, it's a good thing smartphone integration apps exist because neither of the operating systems in these cars is top in their class. You'll probably find yourself using Apple CarPlay or Android Auto almost exclusively. It's also tough because the screen in the RAV4 Hybrid is difficult to see in direct sunlight, which happens to me in Southern California all of the time. Yet the screen in the CR-V Hybrid is just as frustrating because it has glitched or shut down on me several times in the past. What to do? I suppose go with the RAV4 Hybrid because of its smoother driver aids. But the tech features are not a huge draw in either car.
How do they drive?
On the road, the RAV4 Hybrid is a substantial upgrade over the standard version RAV4. That may sound odd since hybrids often have a reputation for being sluggish. But the battery pack inside the RAV4 Hybrid provides it with more power. In fact, the RAV4 Hybrid feels lively, and it accelerated from 0 to 60 mph in 7.8 seconds on the Edmunds test track—a full second quicker than the standard RAV4. It's true the steering remains numb and uncommunicative, and it can be noisy inside while you're driving. But the electric power feels good when combined with the traditional engine, and standard all-wheel drive should be an advantage to folks who drive on wet or slippery roads.
With the CR-V Hybrid, the experience is less about speed and more about smoothness. The engine and electric motor work seamlessly together. It doesn't feel as spunky or quick as the RAV4 Hybrid, but the CR-V Hybrid does feel more composed. The ride is very comfortable thanks to an excellent suspension, which soaks up bumps in the road better than other crossovers in its class. Handling is also composed, not in the way that a sports car can attack curves, but in a way that the direct steering increases driver confidence around a corner. In our testing, the CR-V Hybrid accelerated from 0 to 60 mph in 8.5 seconds, which is leisurely. But again, this is outweighed by its pleasant overall nature on the road.
Ryan's take: It's really, really hard to beat the way the CR-V Hybrid drives. The smooth operation is simply remarkable. It's like gliding down a mountain of fresh snow, if I was any good at that. The problem is that it's not very fast. We also have a long-term Toyota Sienna minivan that accelerated from 0 to 60 mph quicker than the CR-V Hybrid did. If the lack of swiftness doesn't bother you, enjoy your new Honda. But if you simply can't stand going that slow, the RAV4 Hybrid is a nice remedy. It feels fun and peppy, but I'm personally not a fan of its vague steering and braking feel.
How is the storage?
If you like the storage space in the standard RAV4, you'll also enjoy the space in the RAV4 Hybrid. That's because they're exactly the same. Both vehicles offer 37.6 cubic feet of space in the trunk behind the rear seats. That's plenty of room for loads of camping gear or sporting equipment, or even small furniture pieces. One downside is the trunk's floor is high compared to other compact crossovers, so if you're loading something heavy inside, remember to lift with your legs. But the space is attractive, and there's also a power outlet and multiple tie-down loops inside as well. Overall it's a nice use of space.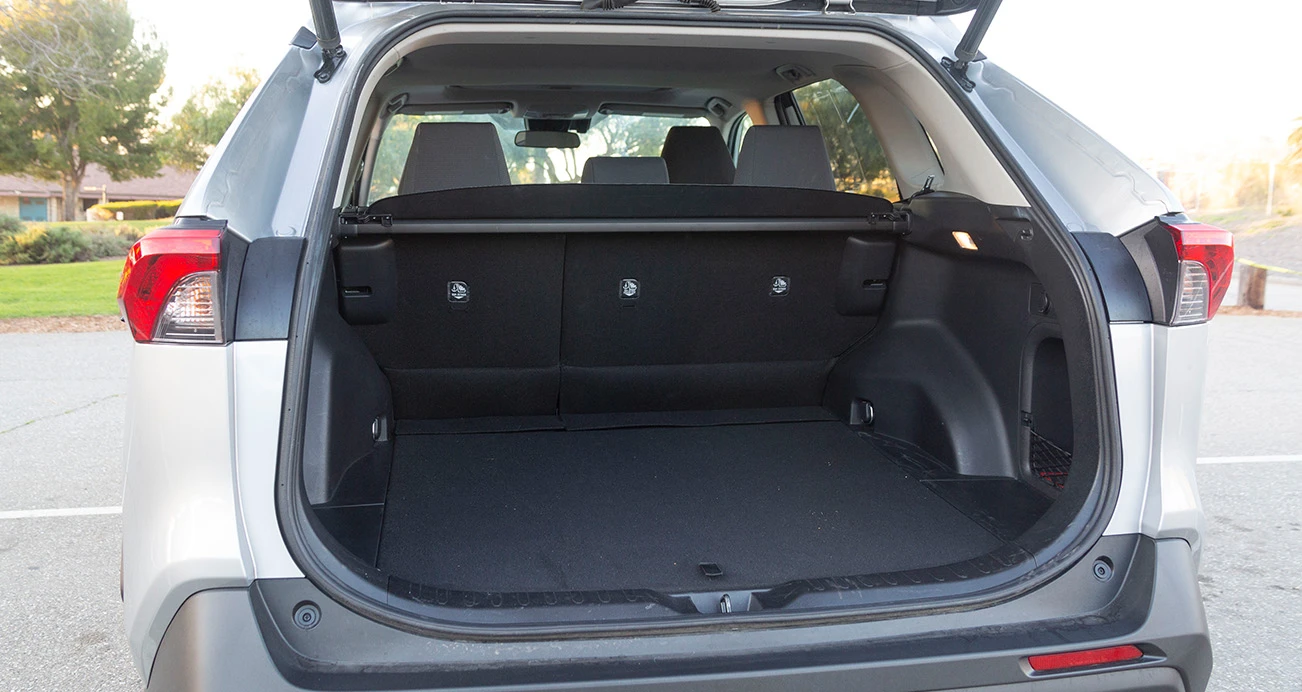 The CR-V Hybrid comes up a little short in this area. It has 33.2 cubic feet of space behind the rear seats, which is less than the RAV4 Hybrid. You'll definitely notice the difference comparing these two SUVs side by side. It also has less cargo room than the standard CR-V, which holds up to 39.2 cubic feet (37.6 cubes for the Touring trim). If you're looking for a bright side, the floor of the CR-V Hybrid is lower for easier access, and the opening is more accessible in general due to a wide outline. There are also tie-downs in the cargo space and handles to fold down the rear seats while you're there, which the RAV4 Hybrid doesn't have.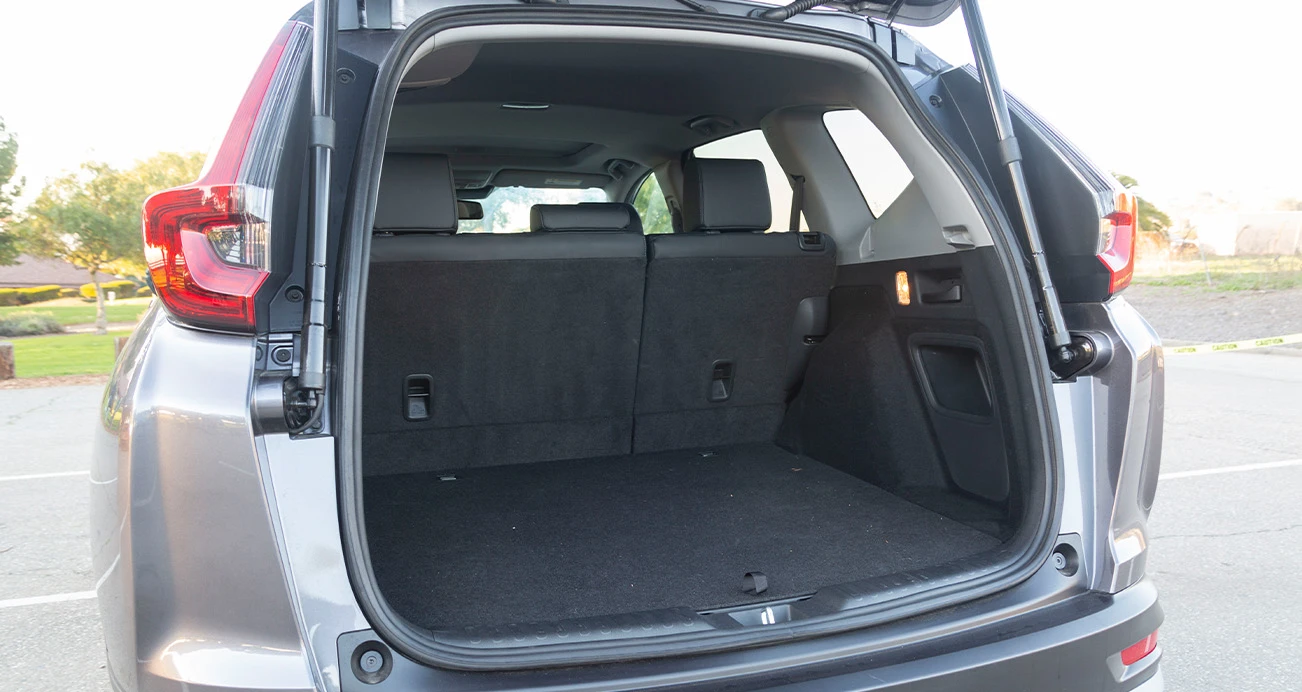 Ryan's take: This one hurts. The CR-V Hybrid loses a substantial amount of cargo space compared to the standard CR-V, particularly under the floor. On a regular CR-V, there's a hefty storage area when you lift up the rear floor, but in the CR-V Hybrid that's all taken up by the batteries and associated equipment. What a bummer. As a result the RAV4 Hybrid wins this category simply by offering the same space as the standard RAV4. Plus, you can tow up to 1,750 pounds with the RAV4 Hybrid, while Honda recommends you do not tow with the CR-V Hybrid at all.
What else should I consider?
There are only a few other small hybrid SUVs on the market besides the RAV4 Hybrid and CR-V Hybrid. One is the Ford Escape Hybrid. The latest generation came out for the 2020 model year, and it's a compelling option. The Escape Hybrid is available in front-wheel drive (EPA-estimated at 41 mpg combined) or all-wheel drive (40 mpg combined), and our testing shows it largely lives up to those estimates on the road. Another option is the Kia Niro. It's smaller than the CR-V and RAV4, but every Niro model is a hybrid (or even a plug-in hybrid). A hybrid 2021 Niro, for example, gets an EPA-estimated 43-50 mpg, depending on the trim level. The Niro has been available since 2017.
Ryan's take: The Ford Escape Hybrid is a solid crossover, so it's definitely worth a look. There's no one standout strength, however, while the RAV4 Hybrid and CR-V Hybrid both have distinctive strengths that are more appealing to me personally. Now, if you can manage to squeeze into a slightly smaller space, the Kia Niro is really interesting. It's closer to a Toyota Prius in size, which is partially what helps it achieve that Prius-like fuel economy rating.
Conclusion
Both the Toyota RAV4 Hybrid and the Honda CR-V Hybrid accomplish their basic mission: Improve upon the fuel economy estimates of their standard versions while providing similar levels of comfort and utility. Yet each has different priorities. For instance, the RAV4 Hybrid is noticeably quicker and just as spacious as the standard RAV4. Meanwhile, the CR-V Hybrid is supremely comfortable and has a great ride.
Choosing between them is a close call. In the Edmunds rating system, the CR-V Hybrid scores slightly higher. But if you ask me, the RAV4 Hybrid makes more sense for most people. After all, we've observed better real-world fuel economy in the Toyota, which alone may earn it the crown. On top of that, the RAV4 Hybrid also wins the cargo space battle. To me, those pluses push it over the top.
Ryan ZumMallen has written automotive news and buying advice for over a decade. As an automotive reviews editor for Edmunds, ZumMallen examines trends in both the new and used markets with a focus on sporty, affordable cars, off-road trucks, and SUVs.