How to Trade In a Car: Everything You Need to Know
---
PUBLISHED MONDAY, JANUARY 16, 2023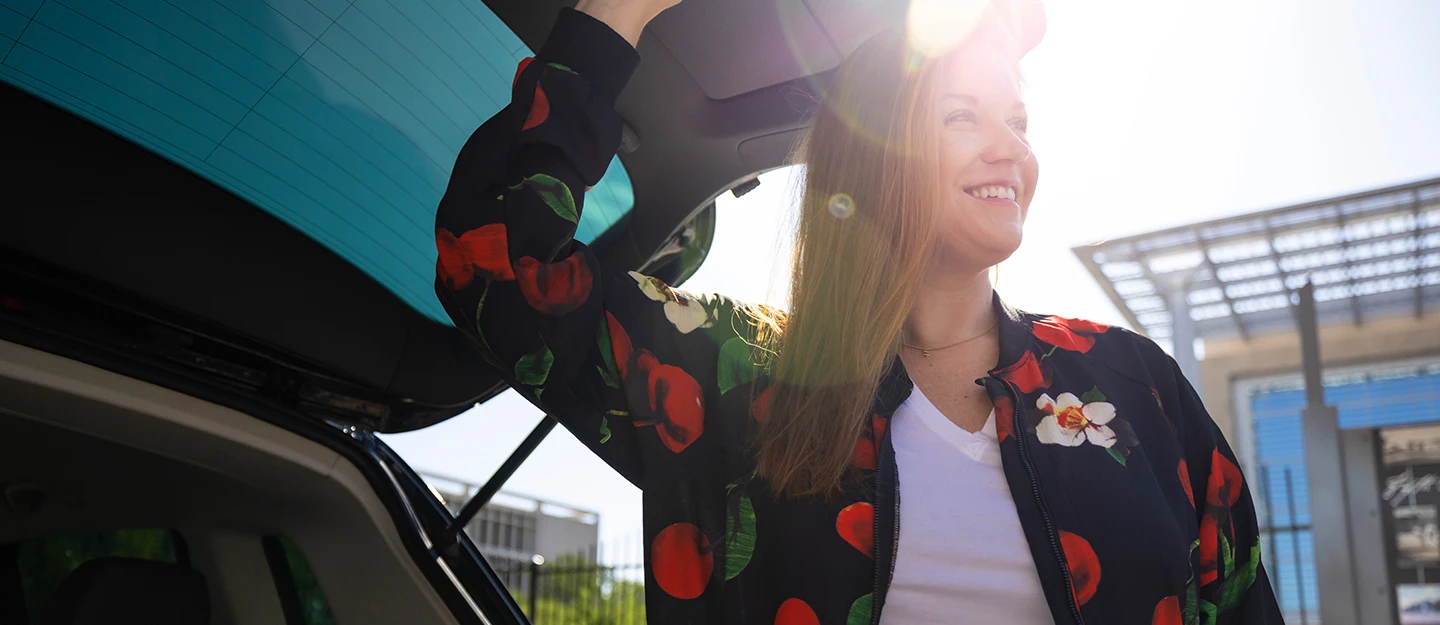 The ins and outs of trading in your car.
Are you looking for a newer car? Maybe your current car is getting a little too old, and you want to upgrade to a vehicle with more features and technology. Or, maybe you have a growing family and need a car with a little (or a lot) more room.
Either way, trading in your current vehicle can be an ideal solution. You won't have the hassle of selling your used car privately, and you may be able to apply the trade-in car value to your newer ride, reducing the amount you need to finance. It's a simple process that will have you driving away in a different vehicle before you know it.
We gathered helpful advice from two experts—Jason Day, Regional Vice President of Purchasing at CarMax, and Will Kaufman, Senior Writer at Edmunds—to help you learn the ins and outs of how to trade in your car.
The Fix It vs. Sell It Decision
The Private Selling vs. Trading In a Car Decision
Can You Trade In a Financed Car With a Loan or Lease?
What to Know About Trading In a Leased Car
How to Get an Offer
Understand Your Appraisal Options
Negotiating and Shopping Around
The Fix It vs. Sell It Decision
Frequent breakdowns and high repair bills are common problems for owners of older cars. If you're tired of being stranded, having your car in the shop, and pouring money into an aging machine, upgrading to a newer vehicle is appealing. But is trading in and buying a newer vehicle the wisest decision? It depends! Sometimes fixing a car has its merits.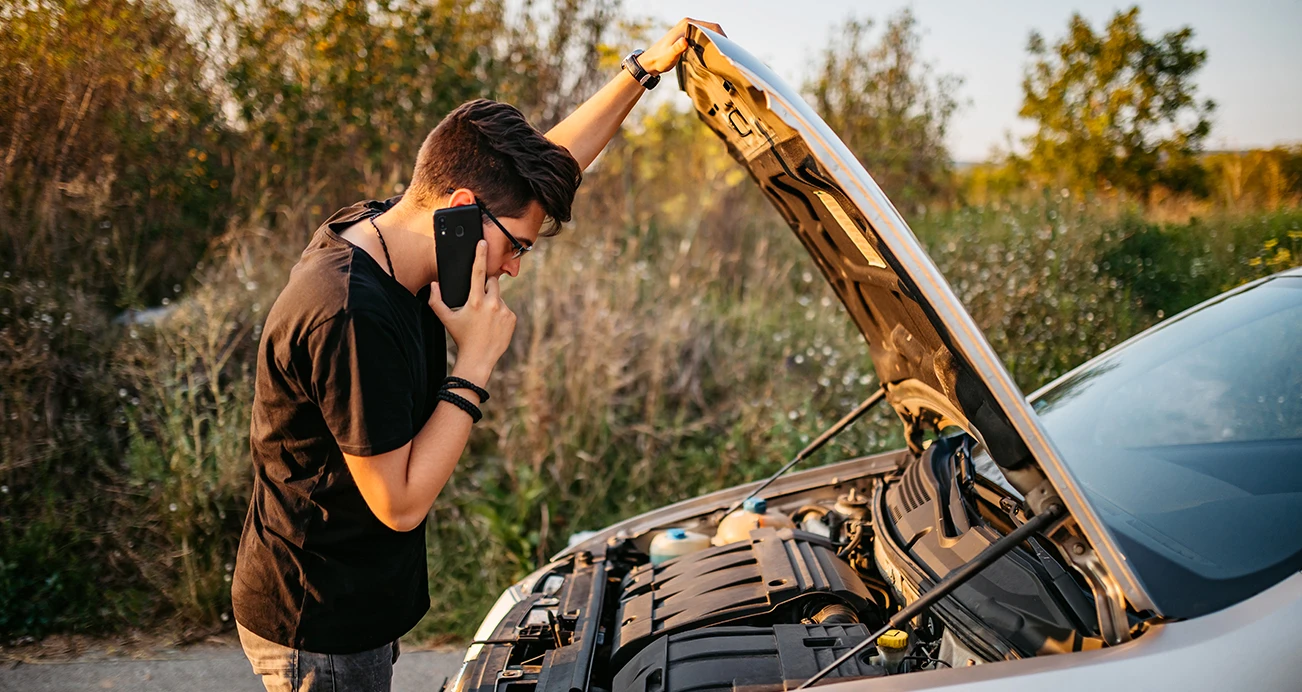 "Big-ticket items such as engine or transmission failure—or expensive suspension components on an older vehicle—may be enough to make it worth considering buying a different vehicle," says Will Kaufman, Senior Writer at Edmunds.
There are no definitive answers, and every situation is unique. In light of that, Will Kaufman, a Senior Writer at Edmunds, offers three questions to ask yourself when deciding to trade in or fix your current vehicle.
1. Are repairs becoming more frequent and challenging to keep up with?
Constant repair bills can cause considerable strain on a budget, especially when they catch you by surprise. If chronic repairs are draining your wallet and patience, it may be time to move on.
"If the repair cost is more than half the value of your vehicle, it's probably worth considering trading up," says Kaufman.
You may also have more significant maintenance expenses later, which should be factored into your decision. "Most cars will face bigger maintenance expenses between 90,000 and 120,000 miles, like timing belt service and water pump replacement," adds Kaufman. "If you're coming up on these milestones and facing a major repair, consider whether that total price tag is worth it."
2. Is your car leaving you stranded on the road or costing you more time than you can spare?
Frequent repairs mean more downtime every time your vehicle is in the shop. And being without a car can be a huge inconvenience when you lead a busy lifestyle.
"If you're having lots of consistent issues, especially if you're winding up stranded or losing more time at the shop than you can spare, it might be time to trade," says Kaufman. "Constantly repairing small issues adds up faster than you think."
3. Can you afford payments on a newer car, and do you want to be making those payments or not?
Your budget is a driving factor in whether or not you should upgrade your car. Trading repair expenses for monthly auto loan payments may not be the right solution for you. Other costs to consider include insurance, maintenance requirements, and fuel for a newer car.
The Private Selling vs. Trading In a Car Decision
If it's time to say goodbye to your current car, you'll want to consider what you'll do with it. Two common options are selling it privately and trading it in to a car dealership. Both have their advantages and disadvantages, which are important to weigh.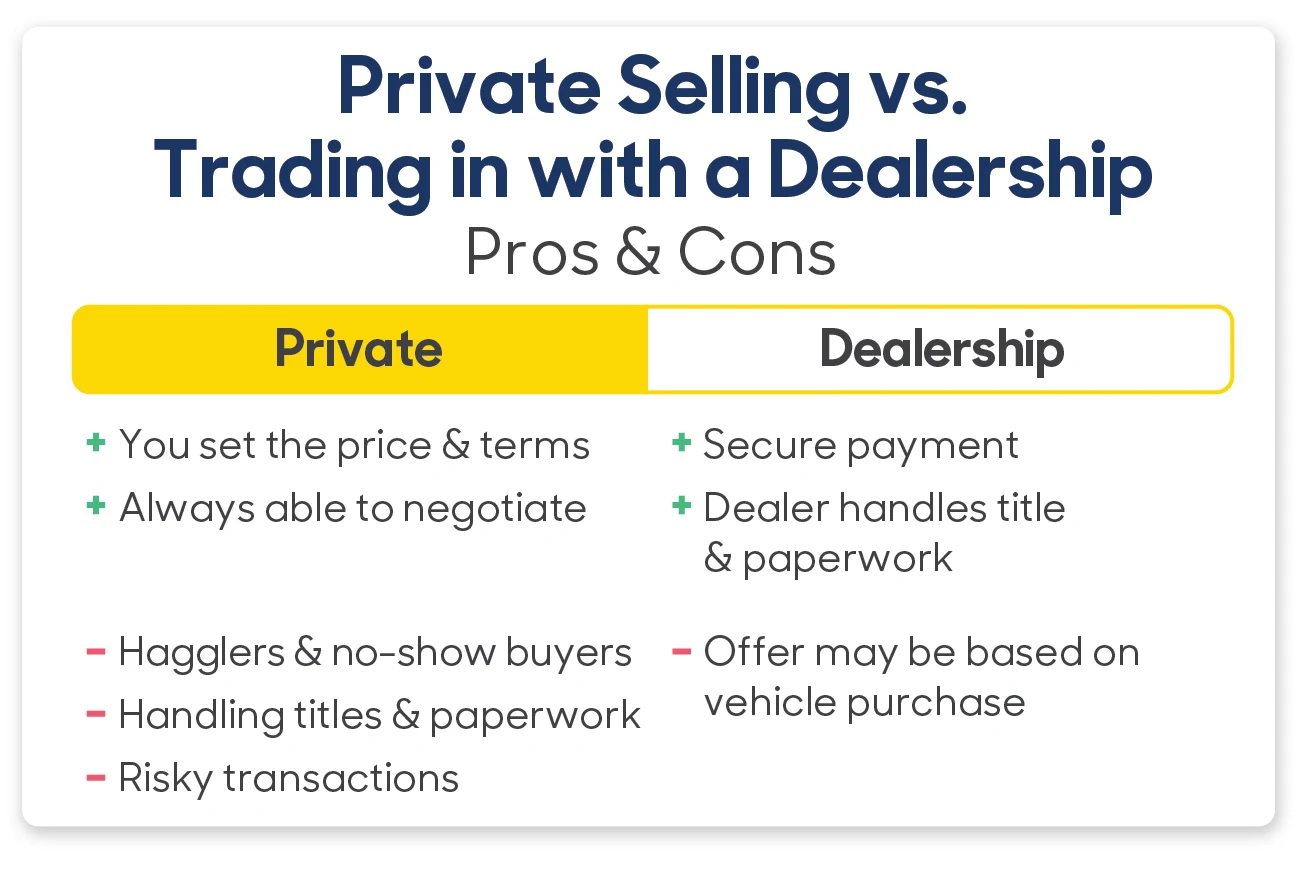 Selling Your Car Privately
One of the most significant advantages of selling privately is setting your desired price. You are in charge of the deal and its outcome, with no middle person. However, if you list your vehicle above market value, you may get little interest from used car buyers or find yourself negotiating with hagglers. On the flip side, if you list it too low, you may have less of a down payment for your next vehicle.
If you're not bargaining with hagglers, you might have to deal with tire kickers. These are used car buyers who will waste your time asking questions, taking test drives, and drawing out the sales process without the intention to buy. A lot of time and effort goes into selling a car—and for many people, the hassle of selling it on their own is not worth it.
Additionally, you have to consider how you'll be paid and how you'll transfer the title when you sell on your own.
"The vehicle, title, and payment are three main considerations when selling a car privately," says Jason Day, Regional Vice President of Purchasing at CarMax. "It can be a risky situation [if the transaction doesn't go smoothly]." When selling a vehicle independently, all issues fall on you, which is a significant downside for many vehicle owners.
Trading In at a Dealership
Trading a vehicle with a car dealer can be a seamless experience. Simply arrive at the dealership with your car, figure out your trade value, and get ready to buy your next vehicle with your down payment. The dealership handles the transaction from start to finish, meaning you don't have to waste time with used car hagglers.
But while trading in your car at a dealership is faster and more convenient, you still need to be a shrewd negotiator.
"When trading your car in, the negotiation shouldn't be about your monthly payment," says Kaufman. "Be sure to establish the value of your trade-in and separately establish the price of the new vehicle. From there, you can talk about loan terms and the down payment to help adjust your monthly payment to the one you're comfortable with. If you only focus on the monthly payment from the start, it's easy to lose sight of how much you're getting for your trade-in and how much you're paying for your next car."
For this reason, Day recommends all car sellers get a vehicle appraisal before trading in at a dealership or even selling privately. "When you get an appraisal, you're better off as a consumer by knowing [the car's worth], regardless of trade-in."
Note: While some dealerships may negotiate trade-in values, CarMax considers an appraisal a separate transaction from a trade-in or car purchase and does not negotiate. Our offers are firm and stay the same whether you purchase a car from us or not.
Can You Trade In a Financed Car With a Loan or Lease?
Don't feel limited in your ability to upgrade your car if your current car has a loan or is on a lease. You can trade in a financed car you still owe money on. However, there are considerations to keep in mind—one of which is whether you're entering the trade-in process with positive or negative equity.
Positive vs. Negative Equity
The best-case scenario is positive equity. In this situation, your car is worth more than the amount you still owe on your auto loan. When you trade it in, that positive equity may be applied to your next vehicle purchase as a down payment, reducing the amount you have to finance.
One thing to note is most states have a trade-in sales tax credit. Generally speaking, this means that you're only taxed on the difference between your newer car and your trade-in offer (rather than the entire vehicle purchase). Some states may have a cap on the credit. If you're in a state that offers trade-in tax credits and you have positive equity in your car, trading in with a dealership may save you some money on your newer car purchase.
Negative equity, on the other hand, is when your current car is worth less than what you still owe on your car loan. This scenario is known as being "underwater" or "upside-down;" unfortunately, the difference between the trade value and payoff amount remains. You are responsible for paying this amount owed. In some cases, you may be able to roll this amount into a new car loan or pay with personal loans.
What to Know About Trading In a Leased Car
Financing and leasing a vehicle are two separate scenarios; there are extra steps when trading in a leased vehicle. When you finance, you are buying the car with the help of an auto loan. When that loan is paid off, you own the vehicle outright.
On the other hand, leasing is when you pay for a car for a set term—usually two to four years. When the lease ends, you may be able to buy the vehicle for a fixed price (known as the residual value), sign a new lease on a different vehicle at the dealership, or purchase a car using cash or financing.
Say you're partway through your lease term and want to trade in your car. In most cases, you'll be required to buy out the lease before trading in, so you own the car outright. However, this may result in paying more than the car's trade-in value and incurring fees for terminating the lease early.
For this reason, it's important to do the math to determine how much it will cost to buy out the lease, including fees, and how that relates to the trade-in car value you'll receive. Getting a vehicle appraisal before trading in a leased vehicle is recommended to ensure you won't have negative equity.
Note: Some leasing companies will not allow you to sell the car prior to the expiration of the lease. Also, your leased car might not be eligible for trade-in tax savings. Check with your leasing company for complete details.
How to Get an Offer
Just like buying a car, trading-in takes some planning. Before you begin the trade-in process, here are some steps to maximize your car's value and make you feel confident throughout the process.
Prepare Your Car
You want to make a great first impression when you trade in, so preparing and improving your vehicle's curb appeal is essential. "A clean car is better than a dirty car," says Day. "Having no trash or excessive dirt and debris in the car is beneficial to you." Before the time to trade in comes, a quick wash, tidying the interior, and running the vacuum are good ideas.
If your vehicle has minor scratches, dents, paint discoloration, or cosmetic flaws, you don't have to worry about fixing these issues, but you should be upfront about the car's condition. Hiding these flaws may backfire and result in a lower trade-in value. For the most accurate offer, take good photos of your vehicle to show its condition, especially when getting it appraised online. If you have service records proving you have regularly maintained your car, gather this paperwork.
Additionally, if your car is customized with aftermarket parts, you'll need to decide if you want to keep them on the vehicle or remove them to sell privately to others. Sometimes, these enhancements won't increase your trade-in car value, so it's important to consider your options beforehand.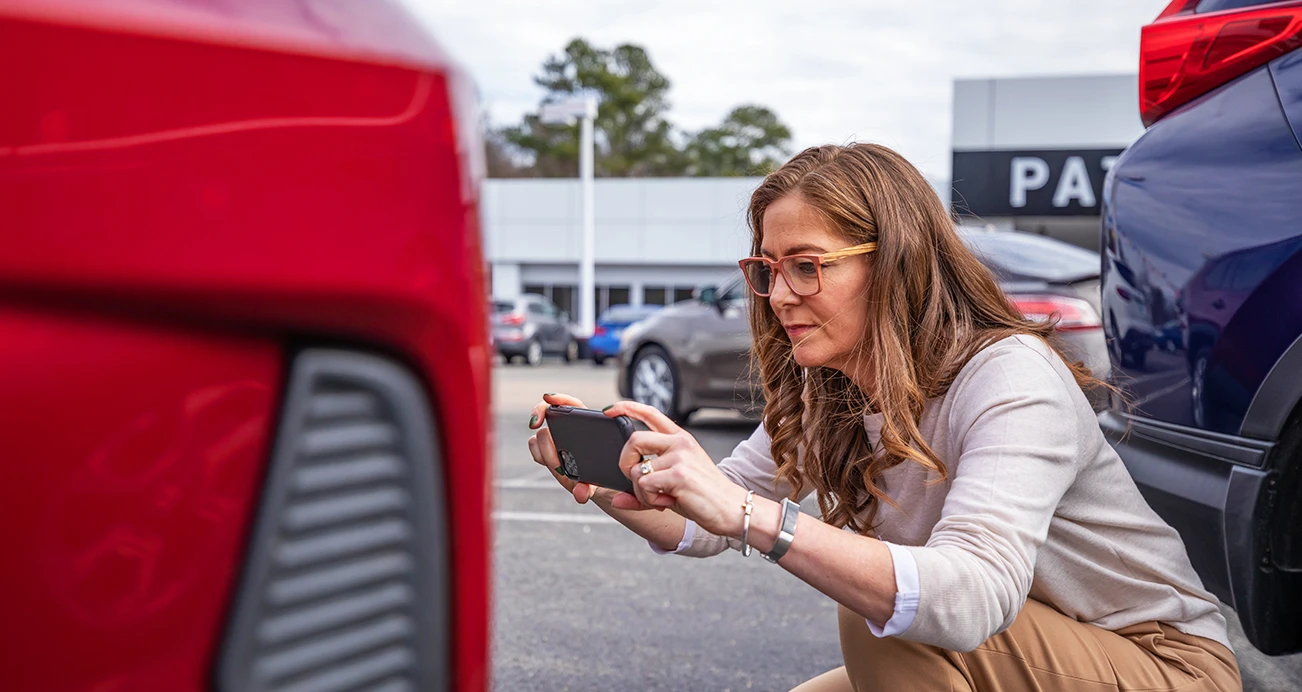 "Getting an appraisal is always a separate transaction with CarMax and isn't tied to purchasing a car from us," says Jason Day, Regional Vice President of Purchasing at CarMax. This added appraisal step provides considerable peace of mind for sellers looking to trade in their used vehicle.
Understand Your Appraisal Options
Next, you'll want to consider your appraisal tool options, which include having your vehicle appraised in person or online to establish its market value.
Online Appraisals
Online appraisals are convenient and fast. Most online tools request the license plate or VIN number, and the state in which the vehicle is registered to determine the appraisal value quickly. You may be asked to bring the car to the dealership for a validation process, where the dealer will assess the condition and mileage, and a final offer will be made. This is why you should always include accurate photos and descriptions of the vehicle's condition for a seamless appraisal process.
In-person Appraisals
Alternatively, you can bring your car into a dealership for an in-person appraisal. A range of factors like make/model, mileage, condition, and accident history will be assessed, and the dealer will make a final offer.
Remember: You should always treat the trade-in as a separate transaction. This way, you can avoid the situation of a dealer changing the value of your trade-in as you negotiate the final terms of the car you're trying to buy. Establish the value of your trade-in first, then agree on the price of the new car. From there, you can adjust loan terms and your down payment to find a monthly payment you're happy with.
Negotiating and Shopping Around
Shop around to ensure you get the best deal, and never take the first offer you're given. It's a good idea to explore all your options to get the most trade-in car value for your current vehicle.
Getting the best deal will also depend on the time of year. "In general, cars tend to retain their value in the first half of the year, before the new model year is released in the late summer or fall," says Kaufman.
If you're considering a trade-in, it's best to get offers as soon as possible to maximize your down payment on your next vehicle. If your make or model is in high demand, you can also expect a higher offer for your car.
A great way to get started is by having your car appraised with CarMax – online at CarMax.com or at a CarMax store location. Many people get a CarMax offer to establish a benchmark when they first consider trading in their vehicle. CarMax provides real offers, both online and in-store, which are good for 7 days. If opting for an online appraisal, most cars will get an instant offer, but some may need to be verified in-person.
"CarMax buys and sells more cars than anybody in the business—and we track it all," says Day. "We come in with all our data and experience. Being accurate in an offer is our primary goal."

Appraisal/offer: An appraisal assigns an estimated dollar value to a car. The dealership uses this information to give you a trade-in offer, which may be used as a down payment on a newer vehicle.
Lien/lienholder: When financing a car, a lien is placed on the vehicle—meaning the lender (or lienholder) retains the car's title and is the legal owner until the loan is paid off. The purpose of a lien is to protect the lender if the borrower fails to make payments and the vehicle needs to be repossessed.
Negative equity: Also known as being "upside-down" or "underwater," negative equity is when you owe more on the loan than the car is worth.
Positive equity: Positive equity is when your car is worth more than the amount you still owe on your auto loan. That positive equity may be applied to a vehicle purchase as a down payment and can also result in tax savings.
Payoff amount: A payoff amount is the total amount of money needed to pay off a car loan.
Resale value: A car's resale value estimates its market value. Many factors go into a car's resale value, including the make/model, mileage, age, and condition of the vehicle.
Who We Are
At CarMax, we've been buying and selling cars since 1993, and we've made it our business to pay close attention to which cars customers like—and buy—the most. As the largest used car auto retailer in the United States, our overall sample size is large and reflective of the variety of years, makes, and models we sell.
Still curious about how trading in a car works? Check out these related articles for additional insight:
We hope you found this information helpful. This content is intended to inform and is not meant to provide legal, financial or investment advice. We make every effort to provide accurate information, but please verify before transacting and consider talking to a qualified professional about your unique circumstances.