Evaluating Tech Features: Exploring Drivers' Car Technology Habits and Preferences
---
PUBLISHED FRIDAY, SEPTEMBER 3, 2021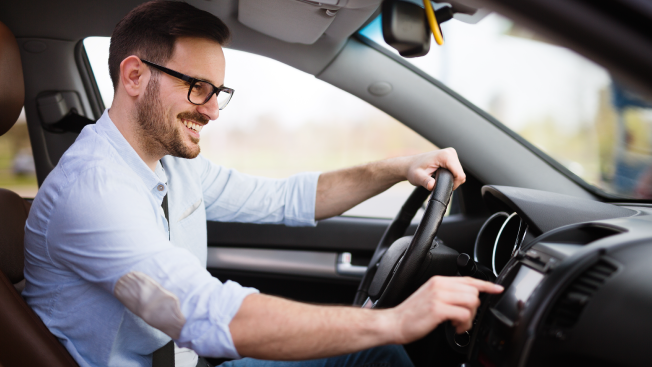 Highlights
Nearly 50% of car owners said they wish their current car had more tech features.

People in their 20s and 30s were the most likely to say that a vehicle's tech features were extremely important to them when considering buying a car.

Power windows and Bluetooth® connectivity were the features that people were most likely to say were indispensable.
When Henry Ford made cars accessible in the 20th century, they rarely had distinct features. Typically, cars served an entirely functional purpose – to get from one point to another. Now, with the rise of various features from four-wheel drive all the way to entirely electric vehicles, consumers have plenty of customizable options to choose from. To find out which features Americans prefer most, we conducted a survey of over 1,000 current car owners, alongside sales data provided by CarMax. Keep reading to learn more about America's most used and most popular car tech features.
Top Car Features in the Country
What's not to love about car features that make our life easier? Check out below which features Americans loved most this past year nationally as well as state to state.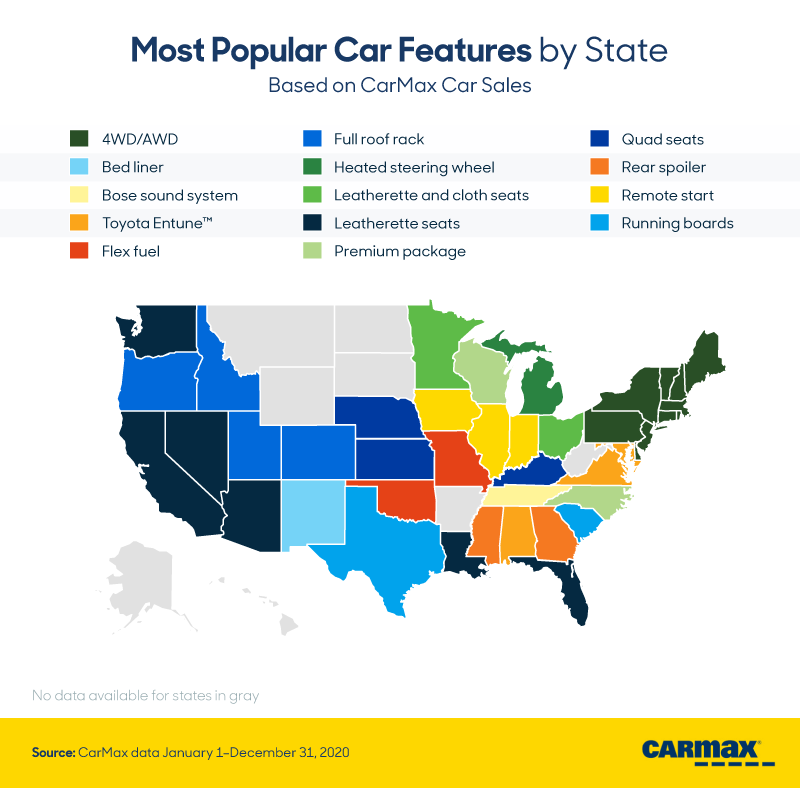 According to a geographical breakdown of the survey, certain car features were more popular in some areas than others. For example, four-wheel/all-wheel drive dominated as the most popular feature in the Northeast – perhaps to navigate the icy roads of a northern winter. Similarly, leatherette seats were fairly dominant in warmer climates such as the West Coast and in other places like Louisiana and Florida. These examples seem to imply geography plays a meaningful role in the kind of features drivers want from their cars.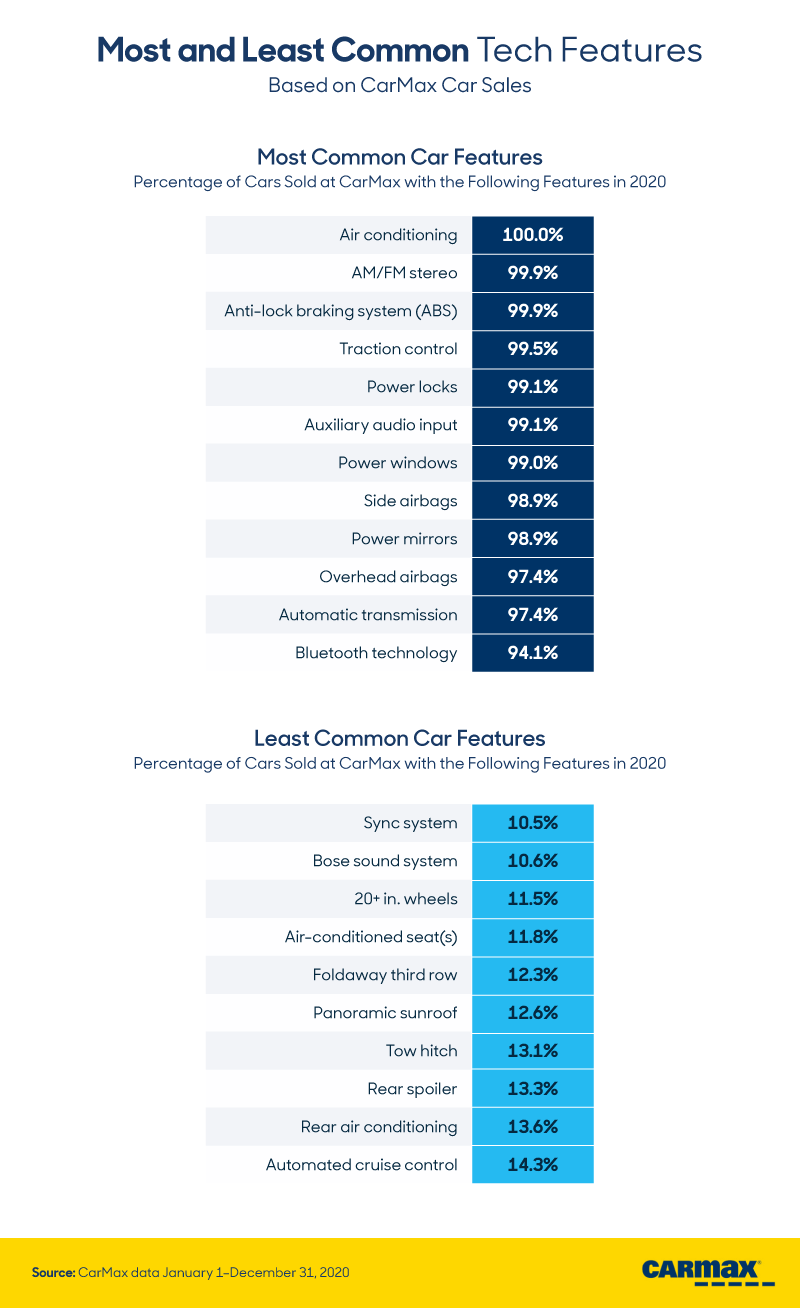 There were several features that were popular across all vehicle types and regions in 2020 car purchases. In fact, air conditioning, AM/FM stereo, and anti-lock braking system (ABS) were included in nearly 100% of car purchases made this past year. In line with the rise of streaming platforms and wireless connectivity, roughly 94% of cars purchased also featured Bluetooth technology in 2020.
There were also less popular features overall – for example, only about 3 in 10 cars sold in 2020 featured four-wheel drive – despite its popularity in the Northeast. Other features barely made any impact this past year, including the Bose sound system – which was present in just under 11% of cars sold.
Here, the survey reveals the variety of cars – and features – available to consumers. Like many other consumer goods, cars now have to appeal to growing demand for customization, enabling drivers to purchase a car that fits their needs perfectly.
Feelings about Features
While cars are now evidently more diverse and customizable, how seriously do buyers take a car's features into consideration when making a purchase?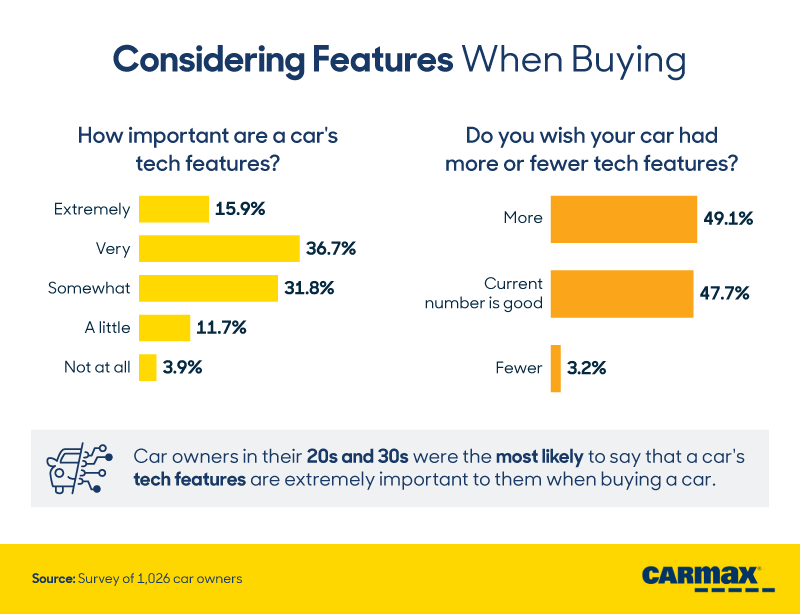 Unsurprisingly, car buyers pay careful attention to the features offered by a potential purchase – with over 8 out of 10 respondents ranking features as at least somewhat important. In fact, just over 50% of respondents believed a car's features are very or extremely important – with under 4% disregarding them completely as influencing factors.
In line with this trend, roughly 5 in 10 respondents wished their car had more features – indicating an increasing demand for cars with multiple capabilities. Those in their 20s and 30s were the most likely to rank a car's tech features as extremely important when making a purchasing decision.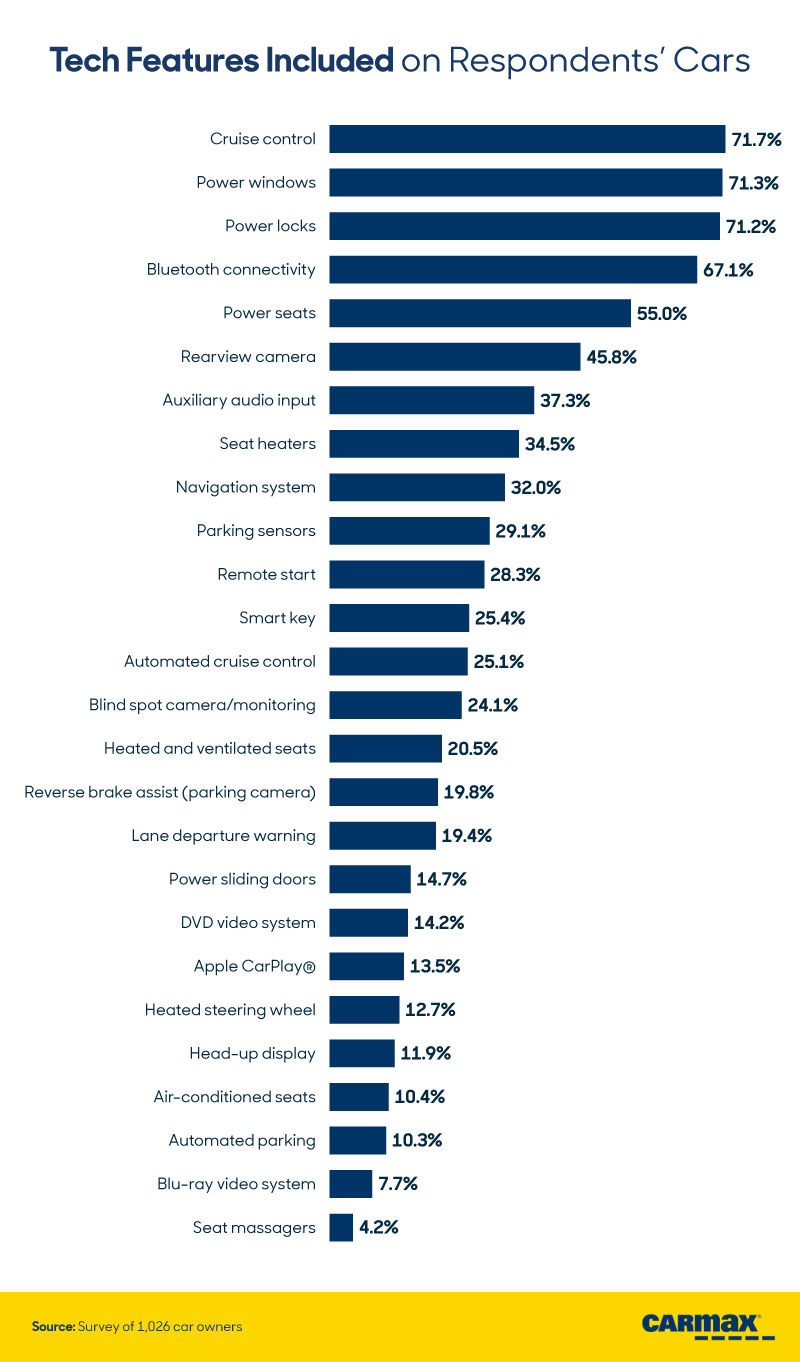 We next took a look at what kind of features current car owners were most likely to already have. About 7 in 10 of the people surveyed had cruise control, power windows, and power locks – all of which are designed to make life easier.
In comparison to CarMax's data on cars sold in 2020, there were a few notable discrepancies. First, about 7 in 10 currently owned cars had Bluetooth technology, while nearly all cars sold from this dataset in 2020 had this feature installed. Additionally, power windows were available in 99% of the cars purchased from CarMax in 2020– demonstrating that manual controls are swiftly becoming outdated.
What do these trends ultimately mean for vehicle enthusiasts? Technology, in many respects, has become the expectation – from Bluetooth technology to power windows – and the majority of consumers view these features as important.
Frequently Used Features
After exploring drivers' preferences and desires, we next wanted to know which features they actually use in their daily life.
Basic functions, including power windows and power locks, came out on top – with about 6 in 10 respondents saying they use them regularly. These two features also happened to rank in the top three for tech that drivers simply can't live without.
What factors influence the kind of features respondents need? Interestingly, men were more likely than women to report using cruise control regularly. Additionally, about 54% of respondents stated they use Bluetooth connectivity regularly – and it ranked second in terms of features drivers deem indispensable – perhaps reflecting once again the growth of music streaming services and the decline of radio.
On the other end of the spectrum, respondents typically ranked less common features as unnecessary – including seat massagers, air-conditioned seats, and automated parking – all of which are usually reserved for luxury cars. Other forms of technology, including DVD video systems and head-up displays, also ranked relatively low – with only around 6.5% saying they use these features regularly.
In a way, the growing demand for some features as well as the decreased demand for others reflects current trends in other areas of life. For example, it seems the popularity of streaming services like Netflix and Hulu have made features like DVD players more and more redundant.
Most Wanted Car Features
For the next section of our study, we wanted to know which features current car owners are looking for in their next car purchase, as well as which car brands they believe offer the latest and greatest – and which don't.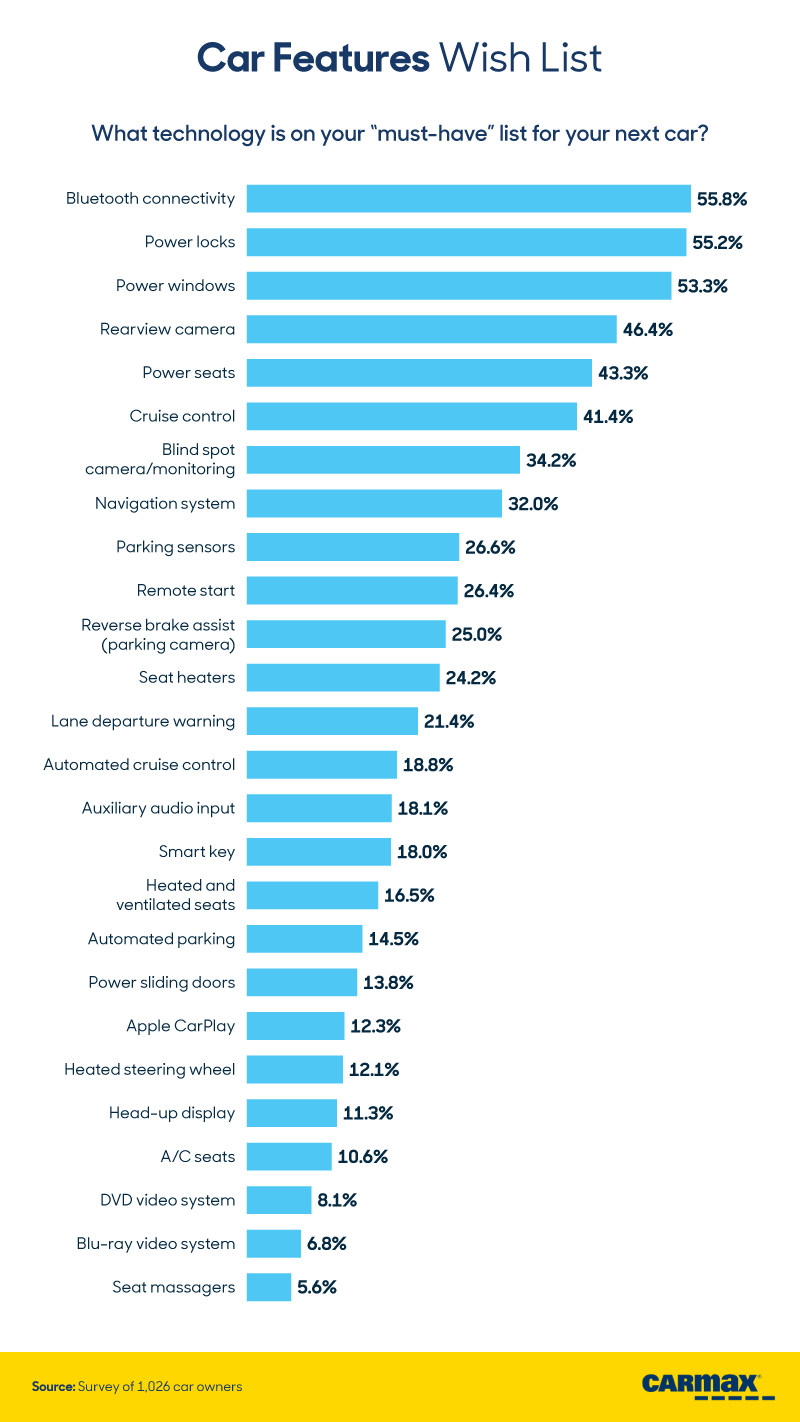 Given our discussion of Bluetooth, it should come as no surprise to find that roughly 56% of all respondents said they want their next car to come with this connectivity – the most popular of any feature surveyed here.
Power locks and power windows were ranked as the most regularly used features by respondents, and roughly 5 in 10 respondents reported them as being "must-haves" for their next purchase – indicating buyers' preference for convenient and easy-to-use car tech.
Some trends across the survey remain the same even here – with seat massagers, Blu-ray video systems, and DVD players falling to the bottom three of buyers' "must-haves." This section of the survey therefore continues to demonstrate that video players are generally considered unnecessary in vehicles today.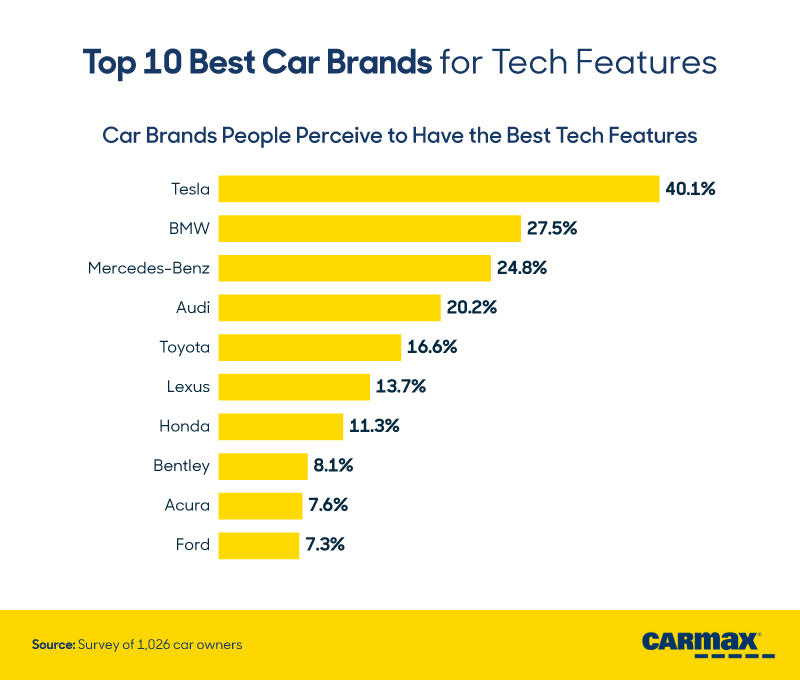 In terms of reputation, which car brands do people perceive as having the best tech? According to the survey, just over 40% of respondents viewed Tesla – a company that has received massive amounts of attention this past year – as the go-to brand for car tech. This falls in line with Tesla's emphasis on electric vehicles and modern car features.
While Bentley and Ford were companies that fell on the lower end of this list, their future plans may change public perception. Bentley's CEO, Adrian Hallmark announced that by 2030 they will no longer produce combustion engines saying that, "The future of Bentley will be fully electric." Meanwhile, Ford is investing $22 billion through 2025 to deliver battery electric vehicles. That's all to say, the future of car technology is guaranteed to change as more companies make the switch to electric.
Features to Look Forward to
Having discussed what buyers think of cars presently available to them, what do they think will happen in the future? In the mid-1900s, American consumers dreamed of fully self-driving (or flying) cars. While that has yet to happen, drivers are already fantasizing about what their future car will be able to do for them.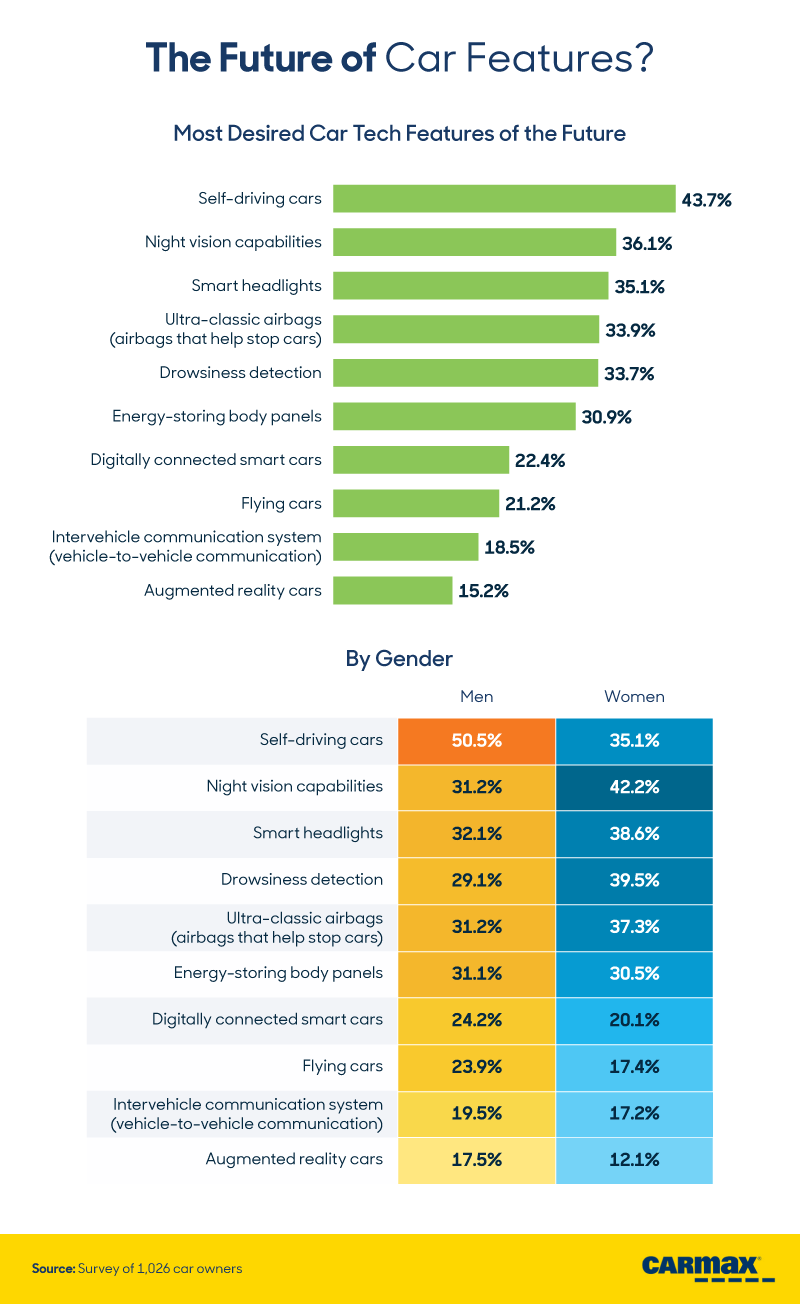 Self-driving cars have generated a significant amount of buzz – with many manufacturers already test-driving these autonomous vehicles. As a result, 43.7% of respondents ranked self-driving capabilities as their most desired feature of the future – with 5 out of 10 men, in particular, reporting wanting to see this become a reality.
Other features were more spread out, with roughly the same number of respondents desiring night vision capabilities, smart headlights, ultra-classic airbags, and drowsiness detection. Interestingly, all of these focus primarily on safety while driving – from increasing visibility to ensuring someone is sufficiently conscious to drive.
Here, gender played a more influential role in how respondents reported their answers. Rather than preferring self-driving substantially, like men did over other features, women were more equal in their preference for features of the future – with 4 in 10 voting for night vision capabilities, the most popular overall choice for ladies.
While this portion of the survey asked respondents to hypothesize on the future of vehicle tech, perhaps these features are not so far off. Technology has accelerated the development of automobiles at a profound pace, and it has given drivers the ability to customize their experience behind the wheel. Hopefully, these features of the future will soon be available in the cars of today – protecting more drivers while increasing their satisfaction.
Focused on Features
As more tech-based features are implemented in cars, it's clear that they've become important to buyers. Nearly 50% of car owners we surveyed said they wish their car had more tech features, and 52.6% of people said tech features are very or extremely important to them when they're looking to buy a car. Some people are even considering what features they might see in the future, like self-driving cars and night vision capabilities.
At CarMax, we want to help you find the vehicle that has the capabilities and features you want most. That's why we offer a stress-free experience with no-haggle pricing and flexible options for customers to buy and sell a car on their own terms, including options to buy online or at one of CarMax's 220+ stores nationwide. We also have the nation's largest inventory of used vehicles of nearly every make and model – available to ship to you from any store in the country (fee and limitations may apply). CarMax's Love Your Car Guarantee provides customers with peace of mind, including 24-hour test drives so you have a full day to decide if a car is the right fit and 30-day returns that let you return a car for any reason for a full refund if the vehicle has not been driven more than 1,500 miles. Visit CarMax.com to learn more.
Methodology
Using CarMax sales data from January 1, 2020, to December 31, 2020, we analyzed trends in tech features included in vehicle sales. State data was normalized using nationwide sales percentages. We then pinpointed the car feature in every state that was most above the national average in its presence across vehicle sales.
We also surveyed 1,026 current car owners within the general population about their feelings on car technology features. Respondents were 55.6% men and 44.2% women. Three respondents were nonbinary. The average age of respondents was 39.2.
When reporting which features their vehicles already have, which features they consider to be must-haves, and which features they would like to see in the future, people were instructed to select all the options that applied to them. When reporting which brands they perceived to have the best and worst car technology, respondents were instructed to select up to three options for each. For all of these situations, percentages therefore won't add up to 100.
When choosing which features they couldn't live without in their car, respondents had to first report owning that feature.
Limitations
CarMax has 224 stores nationwide, but there are a handful of states without a CarMax location. The data presented in this project should therefore serve as an analysis of CarMax sales only and not a broader commentary on people's preferences.
Some of the data we are presenting rely on self-report. There are many issues with self-reported data. These issues include, but are not limited to, the following: selective memory, telescoping, attribution, and exaggeration.
Fair Use Statement
Technology is evolving and advancing all the time, and vehicle technology is no different. If someone you know would be interested in the information in this project, you may share for any noncommercial reuse. Please link back here so the entire project and its methodology can be reviewed. This also gives credit to the contributors who made this work possible.