Reasons to Buy a Nissan 370Z
---
PUBLISHED TUESDAY, MARCH 14, 2017
Why buy a Nissan 370Z? Sure there's the wow factor. But the prices are nice too.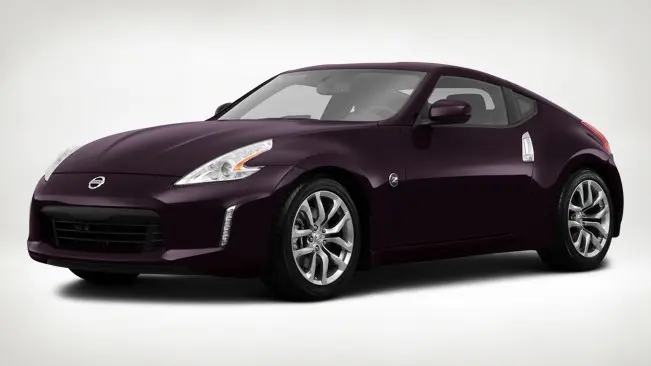 Over the last nearly 20 years, the Nissan 370Z has built up quite a strong reputation in the US. It has performed admirably against its pricier competition, such as the Toyota Supra and the Mazda RX-7. Today, the Nissan 370Z remains an excellent choice for those in the market for a sleek, stylish sports car with brilliant handling and an impressive interior with lots of driver-friendly features.
Here are 10 reasons CarMax customers seek out a used Nissan 370Z for sale.
1. Impressive braking and handling. It's no secret that handling and braking are two of the most important aspects of any sports car, and the Nissan 370Z really delivers here. Drivers enjoy precise steering (even around the tightest of turns), excellent grip, and firm braking in slick road conditions. Specifically, the 370Z's braking range is right around 106 feet when going from 60 mph to a dead stop, which is pretty impressive for a car that weighs close to 3,500 pounds.
2. Affordable price tag. It's hard to find a comparable sports car on the market that offers a better value than the Nissan 370Z. In fact, this model is one of the few sports cars that you can buy new for under $30,000. That's a significant savings over the starting prices for many of its competitors, such as the Chevy Corvette (which starts at a whopping $55,000!). And of course, you can save even more by buying a used Nissan 370Z.
3. Smooth, quiet ride. Let's face it: sports cars tend to be loud. Some drivers and enthusiasts even enjoy a loud, boisterous engine. However, many also prefer a smooth, quiet ride. The Nissan 370Z delivers on this front. With  active noise-cancellation technology in the cabin, its interior stays quiet even at highway speeds. The 370Z delivers a surprisingly smooth ride, for a vehicle that rides so close to the pavement.
4. Three models, including a convertible. You'll have no shortage of options to choose from when buying a Nissan 370Z, as there are numerous trim options and additional packages to select from. Specifically, you've got your choice of a soft-top convertible or a hatchback coupe. From there, there are a few different trim options to choose from, including:
370Z Touring

370Z Nismo and Nismo Tech

370Z Sport and Sport Tech
For reference, a base-model 370Z includes features such as 18-inch wheels, climate control, a leather-wrapped steering wheel, keyless entry and ignition, and a basic stereo system. Not bad at all for a base model, and more than you'll get with many competitors' base models!
5. Comfortable for long rides.  It seems as though this car was designed for people who have longer daily commutes, because even the base model is loaded with interior cabin features that make for a more comfortable ride, even on longer road trips. For example, all of the 370Z touring models, including the 2015 Nissan 370Z and the 2016 Nissan 370z, come with heated seats, while the Roadster models also have ventilated (cooled) seats for a more comfortable ride. All driver seats are also power-adjustable to suit any driver's unique needs.
Many taller drivers, and drivers of larger stature, have commented on how surprisingly spacious and comfortable the Nissan's cabin is — especially for a sports car.
6. Avoid the traffic. For those who opt for the upgraded infotainment and touchscreen navigation system, they'll be impressed by the numerous available features that make for a more enjoyable ride. For example, the navigation system on the 370Z comes with a re-route feature that gives you a heads up you in the event of a traffic incident and finds you a faster route to help avoid traffic jams and other delays. This is a must-have for anyone who has a daily freeway commute to work. And this is just one of several impressive features you'll find in Nissan's updated infotainment system.
7. Sleek, high-tech interior. Many have raved about the Nissan 370Z's impressively sleek interior, which achieves a high-class feel for thousands less than its competitors. Specifically, you'll find upscale materials such as leather throughout the interior, and the cabin matches the 370Z's overall sporty vibe. You'll also find that the seating in the 370Z has been specifically designed and contoured for a spirited ride, so all passengers can stay comfortable through twists and turns.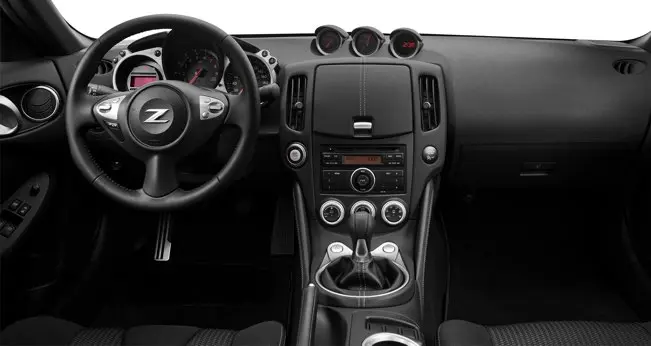 8. Loaded with features.  Compared to some of the competition, the Nissan 370Z has a lot of impressive features that come standard with base models or other trim options. For example, you can have yours with an honest-to-goodness manual transmission. If you're into driving and sports cars and you want the full experience, you'll like your 370Z with the six-speed stick option. Also, all models come standard with anti-lock brakes, as well as side airbags and stability/traction control. For those considering the Touring trim, it's also worth noting that a rearview camera comes standard with this trim, as well as the Sport and Nismo tech options.
9. Solid fuel economy for a sports car.  Let's be realistic: fuel economy isn't usually a top priority for sports car shoppers. These drivers understand that engine power often means sacrificing some fuel efficiency. Still, the Nissan 370Z gets decent fuel economy for a car of its size and power. Specific city and highway mpg averages vary from one trim level to the next, but most drivers will find that they get around 25 mpg on the highway and 20 mpg in the city in this vehicle, which is not too shabby at all. If fuel economy is important to you, your best bet will likely be the 370Z coupe with automatic transmission, which clocks in at 19 mpg in the city and 26 mpg on the highway. These are decent numbers for a sports car!
10. Powerful engine and acceleration. Finally, while the 370Z may lack a little in power when compared to some of the pricier sports cars on the market, you'll get quite the bang for your buck in terms of engine power and acceleration. Specifically, the 370Z's V6 engine (standard on most trim options) produces an impressive 270 lb-ft of torque and 332 horsepower, allowing it to accelerate from zero to 60 mph in just over five seconds. That's right in line with the acceleration capabilities of the BMW 228i coupe and convertible, which is pretty significant.
Overall, the Nissan 370Z is an excellent option for budget-conscious drivers who want to enjoy a sporty ride with some power under the hood.
Product and company names may be trademarks™ or registered® trademarks of third-party entities. Use of them does not imply any affiliation with or endorsement by these entities.