Your Ultimate Road Trip Checklist
---
PUBLISHED TUESDAY, JUNE 6, 2017
Looking to hit the road this summer? Plan a road trip!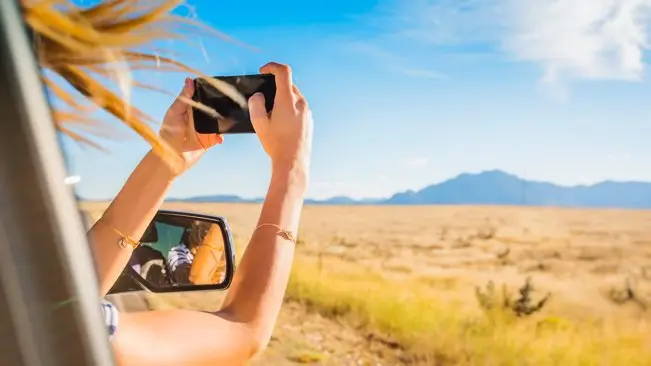 It's that time of year — time for summer, and time for your family's annual summer road trip! Maybe you're all packing up and going to Grandma's house, or maybe you're scouting colleges. Maybe you all want to hit the road on a scenic route to somewhere — anywhere — and you need some ideas. We've put together the following ultimate road trip guide as a checklist to help you plot your trip, from the drawing board to the open highway. Enjoy your travels!
Really great road trips are made up of three main ingredients: plenty of entertainment options for all passengers, a destination, and a properly fitted-out and road trip-worthy vehicle! Let's take a look at these three components.
Entertainment
Pack plenty of podcasts
Podcasts are self-contained listening treats for your ears. And your kids' ears, too! Podcasts are both downloadable and stream-able, and you can pipe them through your road trip cruiser's speakers (the Ford Escape's AppLink- and Bluetooth®-enabled interior and 10-speaker Sony sound system would do nicely) to keep your passengers hanging on every word. Check out our list of 23 podcasts for revving up your road trips. Here are just a few from this list.
Stuff You Missed in History Class: Did you ever daydream in history class and miss out on a few lectures? Don't worry, because in Stuff You Missed in History Class, cohosts Holly Frey and Tracy Wilson teach you about hidden, cool, or weird events in history.

Stuff You Should Know: In Stuff You Should Know, co-hosts Josh Clark and Chuck Bryant explore the answers to odd questions about incredibly complex subjects. If you enjoy witty banter and learning about everything from whether you can die from a broken heart to what the deal is with Baby Boomers, this podcast is perfect for you. 

StarTalk Radio: StarTalk  is hosted by astrophysicist Neil deGrasse Tyson, and each weekly episode features comedians, scientists, and celebrities who have a lively discussion with Neil about the intersection of science and pop culture. The podcast does a magnificent job of breaking down complicated scientific subjects into fun and digestible explanations that anybody can enjoy.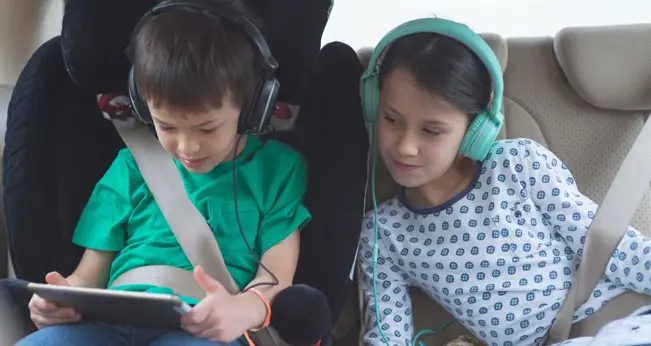 Round up some road trip games for your riders
Beat backseat boredom with plenty of road trip games! Here are some ideas for road trip games the whole family can play.
Radio DJ. Set your mobile device on music shuffle. When a song plays, someone hits pause, and you have to finish the rest of it, karaoke-style. If no one knows the lyrics, it's on to the next song. The person who knows the most lyrics wins. Of course, the car is a judgment-free zone. Sing loud and sing proud!

Don't Say It. This game is a nice way to keep everyone on their toes and watching their mouths. To play, you pick a word that will be off-limits. This is the "forbidden word"— it can be any word you choose. Anyone who forgets and says the word over the course of the trip has to either add a dollar or their name to a cup. At the end of the trip, the money in the cup or the person with their name added the most often pays for gas or snacks of the passengers' choosing.

Hot Seat. What is there about the person sitting next to you that you've always wanted to know? Try this game. To play, one person is in the "hot seat." Everyone else in the car has the chance to ask him or her a question. The question can be about anything, from what their superpower would be to who was the last person they had a crush on. If the person in the hot seat doesn't want to answer, they can take a pass. But be careful, the game only allows one "skip," so choose wisely. Continue until everyone has had a turn in the hot seat.

Scavenger Hunt. This game requires a little bit of pre-planning, but it pays off in the end. To play, draw up a list of items to search for on the road. The list can include things like a food sign or stick-people decals. Heck, you can even search for CarMax decals on cars' tailgates! Print out a sheet for each passenger. Keep in mind the scenery on the road trip—there's no use looking for cornfields while driving through the city! The most important part is not making the game too easy. The first person to cross off everything on the list wins.

The License Plate Game. This game is a classic, and it never gets old. And it can get competitive, too. As you're passing by another car, keep tabs of the state on its plate and call out a new state when you see one. The goal is to find license plates from all 50 states, and Washington, D.C. Two people cannot call the same license plate. The game ends when someone spots the most states by the end of the trip.

The Alphabet Game. Which list of road trip games would be complete without the alphabet game? This game is great because it keeps everyone on the hunt for that next letter, and it can last for hours. Players look for words that start with A, B, C, etc. in sequence. The words can be on billboards, businesses, or road signs. License plates don't count. Once a person calls a word on a sign, no one else can repeat it. The first to get to Z wins.
Destinations
If you're going to take a road trip, you've got to have a destination. Of course, there are plenty of online resources you can use to plan your road trip. TripAdvisor and Yelp and Trivago are just a few of the standbys, but everyone has their own go-to resource favorites for planning a road trip. We recently shared our own list of 17 ultimate road trips for 2017 to help you create some unique memories with your family. Here are some potential destinations your family will never forget:
Scenic road trips
East Coast: For a great East Coast drive, check out North Carolina's Blue Ridge Parkway, or Skyline Drive in western Virginia. Skyline Drive is, in all, 100 miles of gently curving road that carves through the beautiful Shenandoah Mountains. Stop along the way at scenic overlooks above the Shenandoah Valley. There are plenty of places to pull off and pitch a tent for the night, too. The Blue Ridge Parkway runs between Shenandoah National Park and the Great Smoky Mountains National Park with Asheville, NC in between — in all, close to 500 miles of nature. Sign the kids up to become Blue Ridge Parkway Junior Rangers!

Route 1 to Key West: Head south from Miami to Key West, FL, a 150-mile road trip that takes you along the Overseas Highway and the Seven-Mile Bridge — an uninterrupted span over the water. We recommend a larger family vehicle with plenty of windows, like a Toyota Sienna, for this kind of scenic trip. Key West is a laid-back party town that's also the southernmost tip of the United States. It's the furthest south you can get by car without needing to pack your passport!
Gourmet gallops
Are you a foodie? Are you always on the lookout for the best-tasting local savory snacks? Try a gourmet gallop around the country to hit the best foodie spots, including these locales:
BBQ road trip: How about following the brisket-filled byways that run between Virginia and Texas? Now that's saucy! Here's one (subjective) rib-smoked road trip map from 2013 that includes stops in Kansas City and St. Louis.

New Orleans French Market: Start with sugary beignets (bain-yays) at Cafe du Monde and then wander on down through the French Market for pralines, alligator sausage, and other culinary Creole and Cajun delights. Pick up food "to geaux," like a po' boy from Johnny's on St. Louis Street, and stroll to the Moonwalk to watch the Mississippi River roll by.
Park to park
The US has a huge destination list of state and national parks for you to check out with your family. For the most part, admission is affordable or free, allowing you to experience our natural wonders in person, and in real time.
Grand Canyon: Arguably, the big daddy of national parks. But who wants to argue this? Once you've been there and had your breath taken away by the vistas and sheer size of this park (10 miles across and more than a mile deep!), you'll never forget the Grand Canyon. Close by is the nearly-as-spectacular Zion National Park; with 90 miles of backpacking trails and outdoor activities, this is a hot spot for adventuring families (check ahead for hiking permits).
Adirondack Park: This is actually the biggest publicly-protected forestland in the US, encompassing close to 10,000 square miles. With thousands of miles of streams and rivers and 3,000 lakes, the Adirondack Park is the biggest state park on the country's right-hand side. It's technically a mix of publicly-protected and private land; kit out a Jeep Grand Cherokee with outdoor gear and visit one of the area's hundred or so picturesque towns, many beside lakes with names like Old Forge, Saranac Lake, and Lake George, during the fall foliage season and you're in for a real treat. This area is a paradise for canoers, kayakers, and hikers. 
Vehicle Prep
Gone are the days of road tripping while riding on a hot, sticky, vinyl back seat with no air conditioning to keep you cool. Modern creature comforts, like leather seats, automatic climate control, and navigation systems found in the Chevrolet Camaro and Ford Mustang make today's road trips a breeze. No more relying on hand-cranked windows and constantly poking your brother for entertainment; these days, back-seaters can plug into all kinds of on-board distractions, like the totally tricked-out rear entertainment system in the Honda Odyssey, for hours of road tripping without backseat arguments!
And no set of preparations or packing lists are complete without a checklist of road trip essentials — those items you'll wish you'd stowed on board before leaving on your family trip. Don't road trip without these items!
FIRST AID KIT. Stay prepared for the unexpected with a basic set of essentials: bandages, gauze, antibiotic ointment, antacids, pain management (aspirin, ibuprofen), antihistamines for allergic reactions and burn cream. Bonus extra: tweezers for splinters (and for ticks if you're spending lots of time outdoors)

JUMPER CABLES. Don't skimp on cheap cables. Invest instead in a set that's made with heavy-gauge, insulated wires (the lower the gauge number, the heavier-duty the jumper cables). All sets take up roughly the same amount of space in your trunk.

TUNES! Build a digital playlist everyone can contribute to — it's a great way to learn what everyone's into. Hit on a song everyone likes, and you can plan another road trip to catch a concert together.

ROAD TRIP GAMES. When the drive gets longer and the passengers are getting restless, break out some road trip games in order to make getting there fun for the whole family!

SNACKS AND DRINKS. Bad snacks are whack! Stock a tote of your favorite crackers, nutbars, and jerky, or even toss together a homemade bag of kettle corn the night before you get on the road. A mini-cooler of your favorite bottled water or iced coffee will provide a little extra refreshment. Double-baggie some ice for emergency drink coolers or first aid relief.

MOVIES AND PODCASTS. Download plenty of digital media, including these great podcasts, so you'll all have something to watch or listen to, when you're tired of watching and listening to each other.

MASKING TAPE. For creating backseat borders to give your kids designated, no-touching real estate on those really long excursions (see Les Nessman's groundbreaking imaginary borders concept for the WKRP office).

MOBILE DEVICE CHARGING CABLES. Dead devices tell no tales. They play no videos. They display no emails.

POWER INVERTER. Look for a DC-to-AC inverter that you can plug into your accessory port; this setup lets you plug in your home devices and run them as long as you're on the road. To run several laptops at once, look for an inverter in the 400- to 500-watt range.

ELECTRIC BLANKET. You can find plug-in blankets online that plug into your car's 12-volt accessory port for toasty heat when your car's own heat isn't enough. This article's author packs one in his trunk. It's a cozy red, plaid flannel number that's come in handy more than once.

BATTERY BOOSTER. These small jumpstarters plug into your accessory port and work like an extra car battery to give your car battery extra juice for starting. Look for a jumpstarter in the 600-amp range; if you live in chillier climates, pack a jumpstarter that provides 1000 amps of starting power. These units often have USB ports so you can juice up your mobile devices too.

EXTRA PLASTIC BAGS AND A ROLL OF PAPER TOWELS. It's smart to keep these items in your trunk for cleaning up unanticipated messes. Don't ask us how we know.

TRIP LOG. This is a 99-cent, black-and-white composition notebook, stowed at arm's reach in the family car to document notable stops, silly situations, and quote-worthy utterances. This will serve as a great permanent record of your travels.
BEFORE YOU LEAVE
All ready to roll? Before you head out on your road trip, make sure you do the following:
Check your engine oil level

Inflate your tires to the recommended PSI (pounds per square inch) pressures (this will help you get the best possible MPG on your trip)

Download trip maps to your phone (don't get lost in the event you lose cell coverage!)
Product and company names may be trademarks™ or registered® trademarks of third-party entities. Use of them does not imply any affiliation with or endorsement by these entities.