Car Shopping: How Do Seasonal Trends Impact Car Buying?
---
PUBLISHED WEDNESDAY, DECEMBER 1, 2021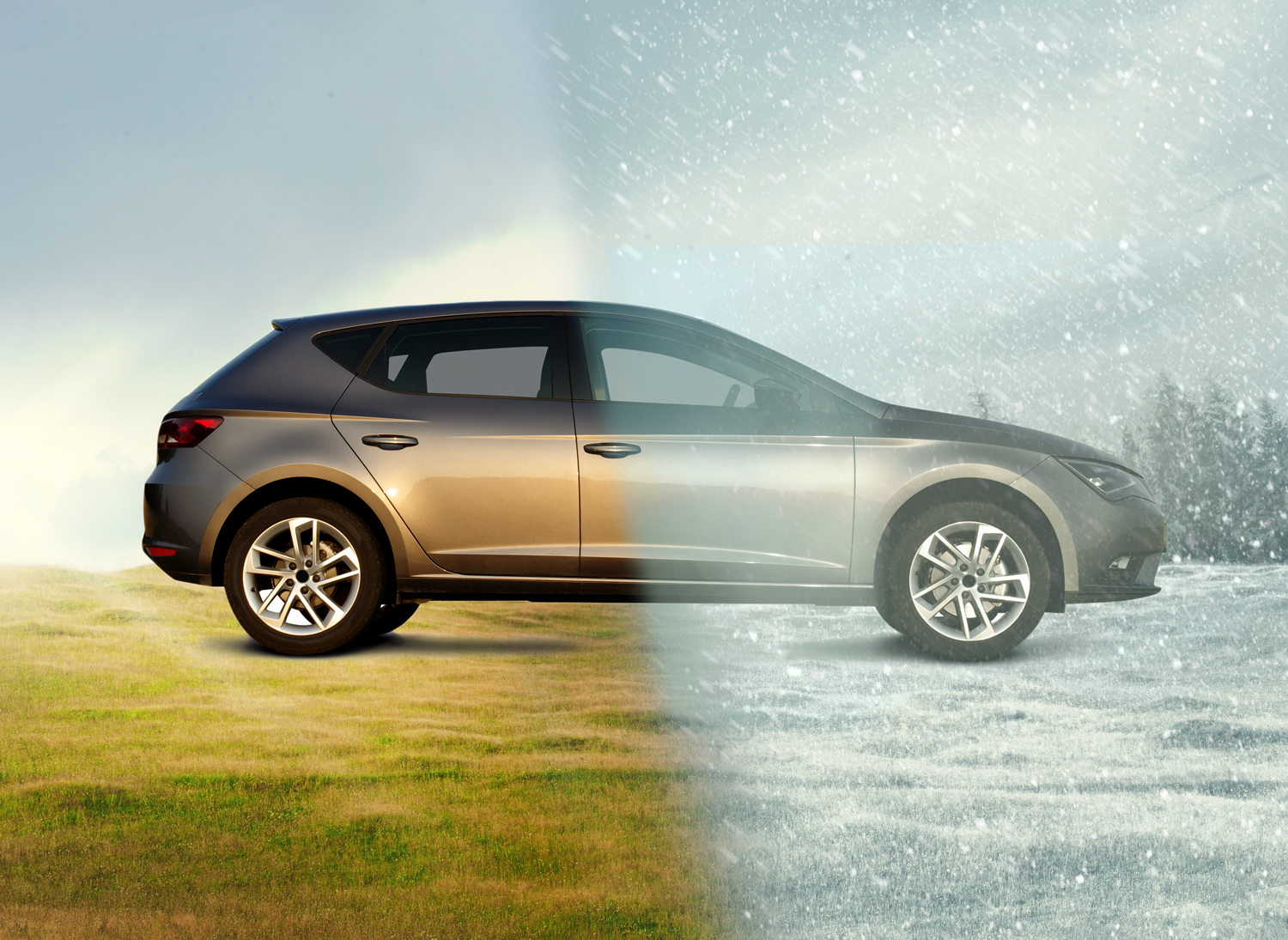 Highlights:
CarMax data shows the Ram 1500 was the most popular make and model for summer car purchases between 2018 and 2020.

Sports cars and luxury vehicles are most commonly purchased in winter months.

Summer is the most popular season for vehicle purchases.
Seasonal Effects on Car Preferences
The automotive industry experiences seasonal trends, and the time of year often has an impact on car shopping patterns. For instance, the colder winter months are often slower, as consumers are less motivated to go out when the temperatures drop. Dealerships start to see a spike in sales as the weather warms up and people are out and about, perhaps coupled with the arrival of tax returns making people more apt to spend money on a car.
These are not the only factors that come into play for consumers and their decision-making processes. We used internal sales data to explore trends when it comes to the seasonality of buying a car, based on CarMax sales data from January 2018 through December 2020. The data takes into consideration factors such as weather and where consumers are located within the country to provide some insight into the seasonal patterns of used car buyers.
It's not just about when people are buying, though, it's also about what. We look at all aspects of purchasing a car, including the specific makes and models, and colors. Whether you are considering a car purchase this season or in the future, the information gathered makes for an interesting read and tells us a lot about how the seasons can impact one of our most important life decisions.
How Car Sales Statistics Differ by State
Before we dive into seasonal car-buying trends, we wanted to examine purchasing habits over the past few years. Our sales data shows that the state in which a store is located can play a big role in the number of automobile purchases, possibly due to the varying weather and temperatures in different parts of the country throughout the year.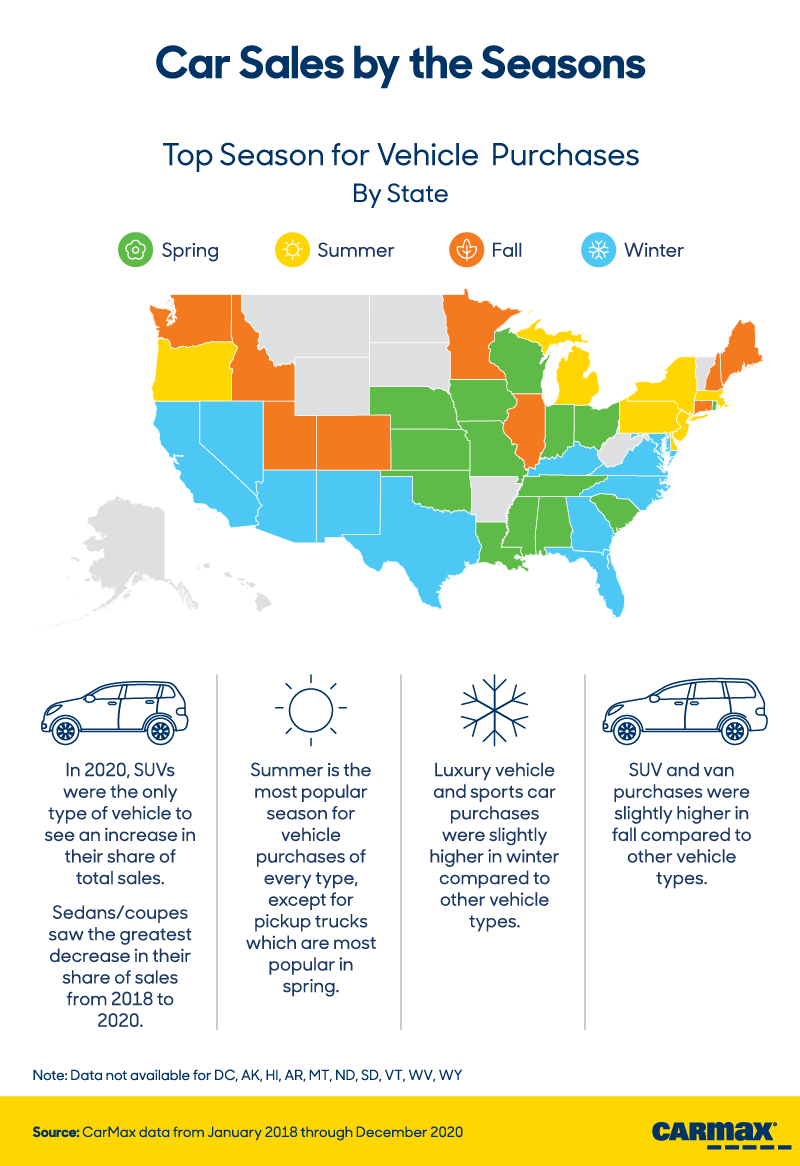 The farther south the state, the more car sales peak during winter and spring. From a climate standpoint, these are the states that typically avoid harsh temperatures during the colder months. Instead, they are defined by beautiful weather that encourages people to be out driving around, not worrying about shoveling snow out of the driveway, defrosting windows, sleet-covered roads, and other weather-related issues. States located closer to the equator, like Arizona, Florida, and Texas, that are known for year-round sunshine and heat showed the most sales during the winter. Midwestern states, like Kansas, Missouri, Iowa, and Oklahoma, had higher sales trends during the spring months, which is when temperatures are mild and the sun is shining.
After exploring how the seasons influence the consumer's decision to purchase, we also saw evidence that the seasons create buying patterns for what brand they are purchasing as well.
It's All in the Details
Our data explores the question of seasonal preferences even further by showing that each month has its own most popular make and model. It also shows that consumers prefer certain colors of each of these cars. 

Let's look at September, for instance. The top-selling make and model at CarMax was the Dodge Grand Caravan, a seven-passenger van known for its versatility and abundant space and storage. September aligns with the beginning of the school year, and with it comes extracurriculars and other daily activities. For families with children, a van like this provides the seating and space needed to shuttle kids and their friends around.
The Chevrolet Cruze was the most popular car for February and March at CarMax, the months of the year that showed the highest sales for this particular make. During the winter, people that drive a lot may need a big truck to weather seasonal storms; but those that tend to cut down on their driving time may prefer something simple, stylish, and fun to drive to get from point A to point B – which is where the Chevrolet Cruze comes in. In addition, fewer trips and activities means less demand for a larger car with extra seating or storage space.
What's Trending?
Consumers are often driven by what's on trend when it comes to clothing, shoes, home decor, and even food and drinks. The same truth applies to the automotive industry. Specific car makes and models are preferred over others during certain times of the year. Let's look at some of the features that could explain why some cars are seasonally more fashionable than others.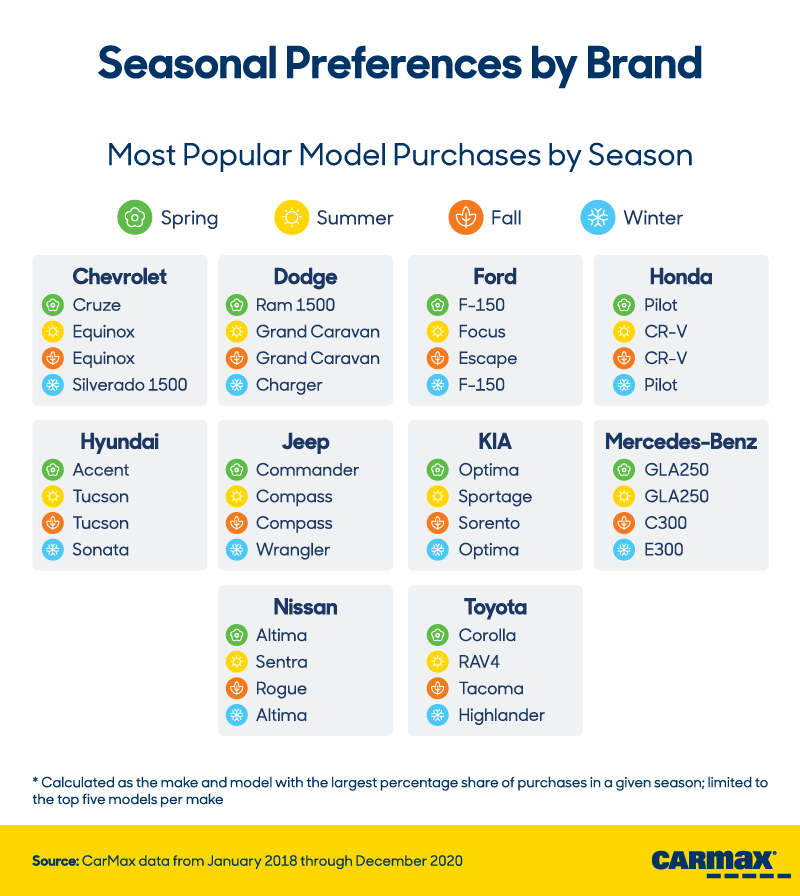 During the winter, for example, Chevrolet's Silverado 1500 was the most popular vehicle choice within the brand's portfolio. This particular model is known for its strong, sturdy build, making it ideal for areas that experience harsh winter weather. Consumers may prefer a 4WD truck that can get through snow, sleet, and ice better than a smaller sedan or SUV. 
In summer, models such as the Dodge Grand Caravan and Jeep Compass were the most purchased. People are more likely to go on longer drives or take road trips in the summer, so larger cars with more space, comfort, and driver convenience features may be more coveted.
'Tis The Season
The numbers may be extremely close, but facts are facts: The study found that the number of car purchases remains consistent year-round, despite the changing seasons.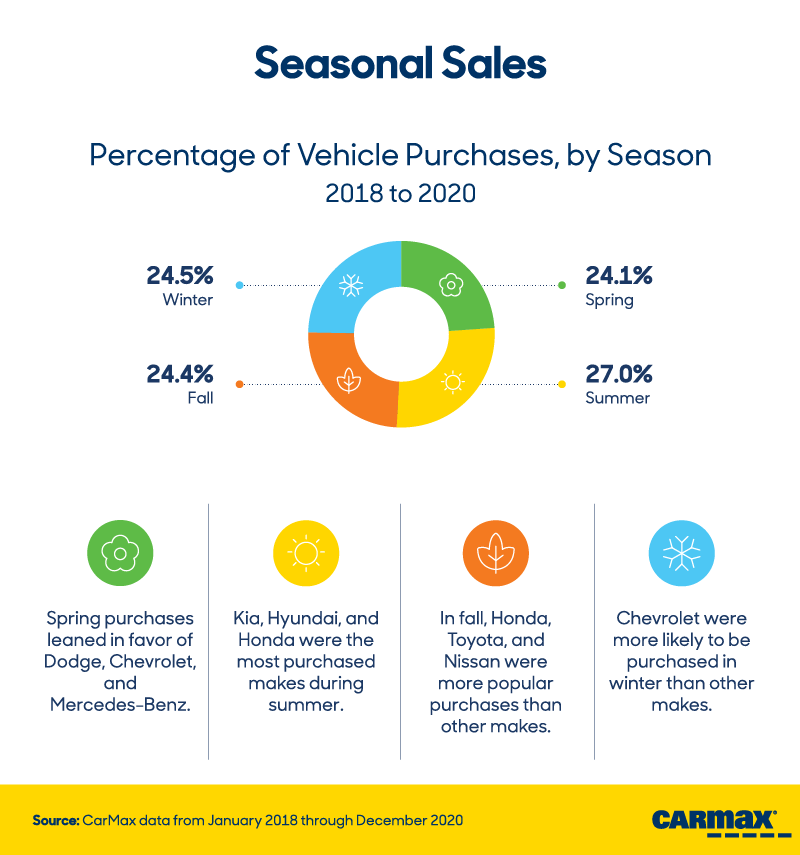 When zooming in on seasonal car sale volume, summer is the season where car purchases are the most common. For this car buying season, the top-selling makes at CarMax were Kia, Hyundai, and Honda. The only car makes that were the most popularly purchased in more than one season were Honda and Chevrolet.
Changing of the Seasons
There is no question that consumers' preferences are widely influenced by various trends. Our study shows a pattern in the seasons that are most popular for purchasing cars in different parts of the country. Southern states that experience the warmest winter weather see spikes in car purchases during this time, whereas Northern states see more sales during the summer – leading us to the conclusion that temperatures do influence the buying season regionally.
We also found specific car makes and models to be more popular than others as the seasons change. Powerful trucks and SUVs with 4WD and high horsepower are preferred in the colder months, as these vehicles are more likely to be able to muscle through winter weather. Spacious vans are ideal in fall as the school year begins, specifically for families who may need the extra room to transport their children to school and extracurricular activities.
There are a lot of factors that go into buying a car, and they should not be taken lightly. As you prepare for this significant purchase, it's important to consider all of your options and look at the details of each car very closely. At CarMax, we can guide you through every step of the car-buying process, helping you to make the choice that best suits your personal taste and lifestyle. Visit carmax.com to browse through our inventory based on your preferences, set up a test drive at your convenience, and ultimately drive home in your dream car.
Our Data
Findings are based on CarMax sales data from January 2018 through December 2020, which included a total of 2,241,191 cars. Unless otherwise noted, information related to featured vehicles comes from third-party sources, including manufacturer information. Product and company names may be trademarks™ or registered® trademarks of third-party entities. Use of them does not imply any affiliation with or endorsement by these entities.
Fair Use Statement
We can clearly see how different times of year have an effect on consumers' decisions to purchase a car, as well as what makes and models are preferred. If you or anyone you know is in the market to buy a car, feel free to share this article for any noncommercial use. Please remember to provide readers with a link to the article so those involved in the study are properly credited for their work.