AI Plans a Road Trip
---
PUBLISHED MONDAY, AUGUST 9, 2021
An Artificial Intelligence Network Designed Road Trips for Eager Travelers. Would You Ride Down These Routes?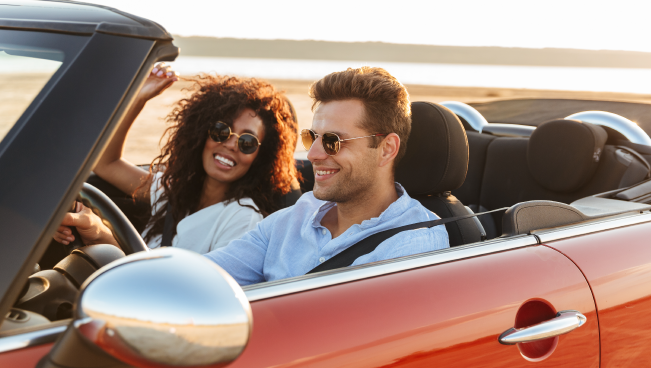 Highlights
More than 83% of people said they are planning to take a road trip this year.

Our survey showed Americans are more likely to go on an AI-designed road trip compared to one designed by humans.

According to our respondents, road trips should be 566 miles long, on average.
Lots of preparation goes into planning a road trip. Who you're going with, how long you'll be on the road, and what stops you make are only a few of the plethora of factors to consider when driving off into the sunset. Planning a route involves complicated decisions that one would think could only be mapped out by a person with a GPS and a hankering for adventure, but recent advancements in artificial intelligence (AI) technology may have made this notion a thing of the past. By using AI neural networks, computer systems can simulate human intelligence processes. 
So, we were curious, can a computer generate a better road trip than a person? To find out, we surveyed over 1,000 people in the U.S. to see what they think makes the perfect road trip. We then used the AI system, Generative Pre-trained Transformer 3 (GPT-3), to generate the best road trips according to eight different genres. We then asked respondents to compare AI-generated road trips to routes from popular travel magazines to see which respondents would prefer to follow. 
We also considered important road-trip variables, such as what kind of car, music, snacks, and essentials people like to take on the road with them. Read on to find out the results!
Road Trip Plans for 2021
The global pandemic has dissuaded people from traveling internationally, prompting many to organize domestic road trips instead. Over 83% of respondents were planning to take one this year, and 46.8% believed that summer would be the best time to do so. Survey takers also agreed that, on average, 566 miles was the ideal road trip length.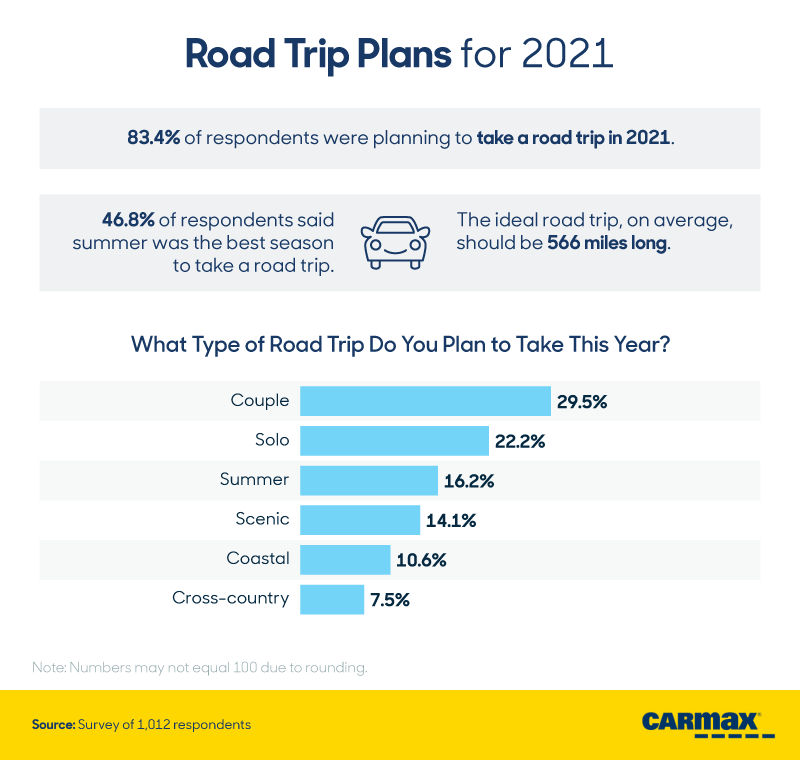 Almost 30% of respondents were looking to spend more time with loved ones and opted for a road trip with their significant other, while over a fifth would prefer to go it alone. Others, as mentioned, wanted to go during the summer, travel along scenic routes, or drive along the coast. While cross-country road trips might be a little daunting for some, 7.5% of respondents were interested in undertaking one. Measured from the Eastern Seaboard to the West Coast, the U.S. is 2,800 miles wide – traveling this distance is clearly off the table for many respondents, as it is more than 2,200 miles longer than the stated averaged ideal road trip length of 566 miles.
Best Overall and Best Couple Road Trips
Let's compare road trips designed by AI and humans based on trip type.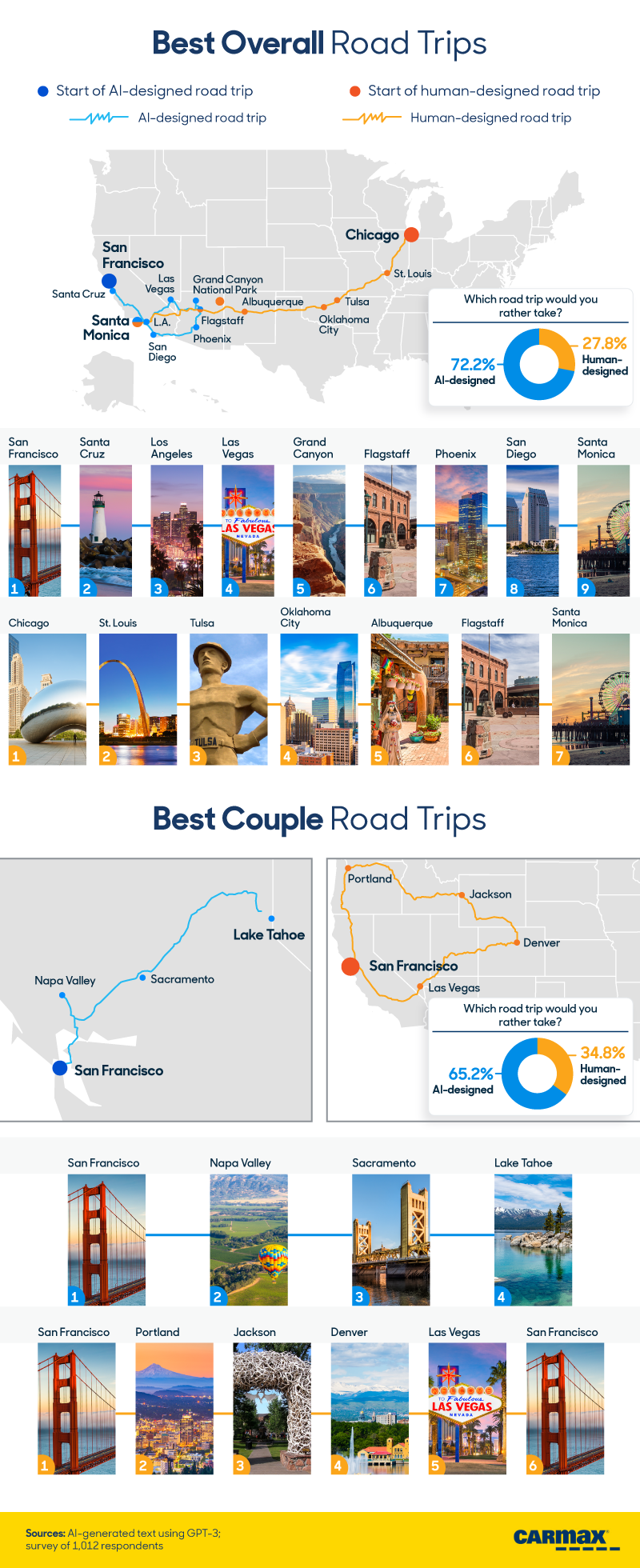 The first route was mapped with the goal of being the overall best road trip. The human-generated road trip had drivers starting in Chicago and working their way southwest, passing by major cities like St. Louis, Oklahoma City, and Los Angeles, following along historic Route 66. The AI suggested starting in San Francisco and staying southwest, soaking up all the sun in San Diego, Phoenix, Grand Canyon National Park, and Las Vegas. Both trips were to end in Santa Monica. Once there, visitors could check out the famous Santa Monica Pier, Third Street Promenade, a handful of farmers markets, and other entertaining attractions.
For trips to take with your significant other, both recommended starting in San Francisco. The human-generated route looped around Las Vegas, Denver, Jackson, Wyoming, and Portland before finishing up where it started. The AI recommended heading north, hitting Napa Valley and Sacramento before ending in Lake Tahoe.
Best Cross-Country and Coastal Road Trips

For those looking to go across the country, the human-planned route suggested starting in Seattle, heading down to San Francisco, and then making a beeline east to Charleston, South Carolina. The AI route had drivers start on the East Coast in Miami, traveling westward across the Southern U.S. before ending up in Los Angeles.
When traveling exclusively along the coast, the human-designed route started again in Seattle, passed through Portland, and headed straight down to San Francisco before stopping in Los Angeles and concluding the trip in San Diego. The AI route was solely California-based and started in San Francisco, then took drivers south through San Jose, Big Sur, and Santa Barbara before ending in Los Angeles.
Of these first four routes, the AI-suggested road trips were much more popular among respondents than the human-designed ones.
Best Road Trips for Foodies and for the Summer
Continuing to compare AI-generated and human-designed road trips, we offered even more routes for summer travelers to consider.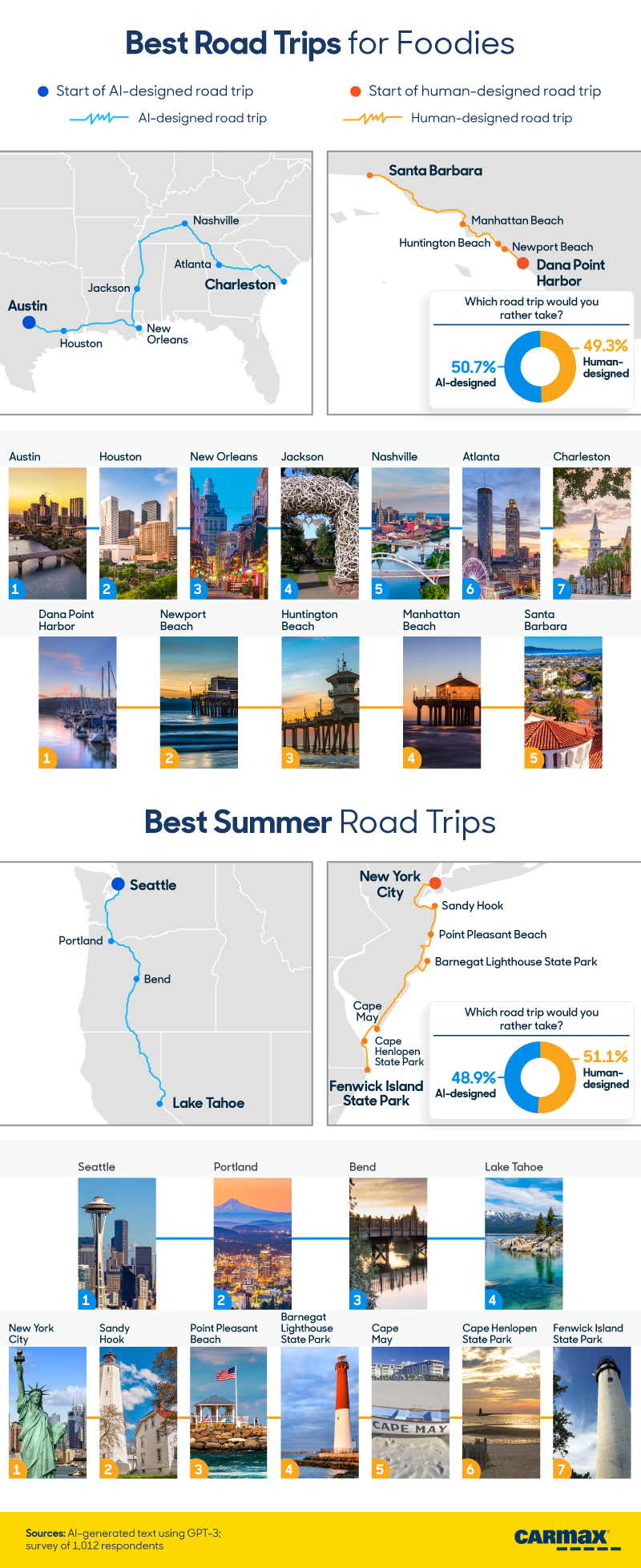 For all the foodies out there, AI suggested starting the trip in the BBQ hotspot of Austin and hitting major culinary spots such as New Orleans (known for its gumbo, various crawfish dishes, jambalaya, and more) and Nashville (world-famous hot chicken) along the way, before enjoying a last road trip meal in Charleston (popular for its southern-style dishes). The human-designed road trip started off on the West Coast at Dana Point Harbor in California with breakfast burritos, hit various beaches along the way, and finished off in Santa Barbara for a surf and turf dinner with a seaside view. If you are still hungry, why not stop for a Geladough (a croissant-donut filled with ice-cream of your choice) while you enjoy the beautiful beaches California has to offer on the way? 
Following the foodie trip, we wanted to explore the best road trip when considering the heat of the summer. The best summer road trip, according to AI, starts in Seattle, passes by the cities of Portland and Bend, Oregon, then concludes in Lake Tahoe. The human-organized trip started on the other side of the country in New York City and had drivers ride along the East Coast, stopping at various beaches and parks, and finally ending at Fenwick Island State Park in Delaware.
Both of these routes didn't create a clear favorite; the AI-designed foodie road trip narrowly beat out the human designed one, while human designs had the slight advantage for the suggested summer road trips.
Best Road Trips for Views and Visiting National Monuments
Not all AI suggested road trip routes were favored by our respondents, proving that AI does not always know best.

According to AI, people wanting to take in as much scenery as possible should start in New York and make their way down South, passing by major cities including Philadelphia and Washington, D.C., before arriving at their final destination in Charleston. The human route commenced in Portland, Maine, then prompted drivers to head through Boston, Providence, and Newport, before concluding in New Haven, Connecticut.
There are many national monuments to see across the country, so deciding which ones to visit can be tricky. The AI interpreted the task of deciding the best road trip for visiting national monuments differently from the human-generated road trip. In addition to national monuments such as the Statue of Liberty in New York, it also included monuments in Washington, D.C. The human-generated road trip, on the other hand, focused on natural sights across the U.S. that make for spectacular experiences along the way. For those that wish to see as many as possible, the AI route had drivers head down from New York to Monticello, stopping at hot spots along the way – especially Washington, D.C., home to countless monuments, including the Washington Monument, National World War I and II memorials, the Martin Luther King, Jr. Memorial, and more. The human-generated route opted for the outdoor experience, encouraging drivers to admire the breathtaking views of Yosemite National Park, Death Valley, the Grand Canyon, and a couple of other stops before finishing at Saguaro National Park in Arizona.
For both of these road trips, respondents convincingly favored the scenic and national monument route mapped out by humans versus the AI-generated alternatives.
The In-Car Experience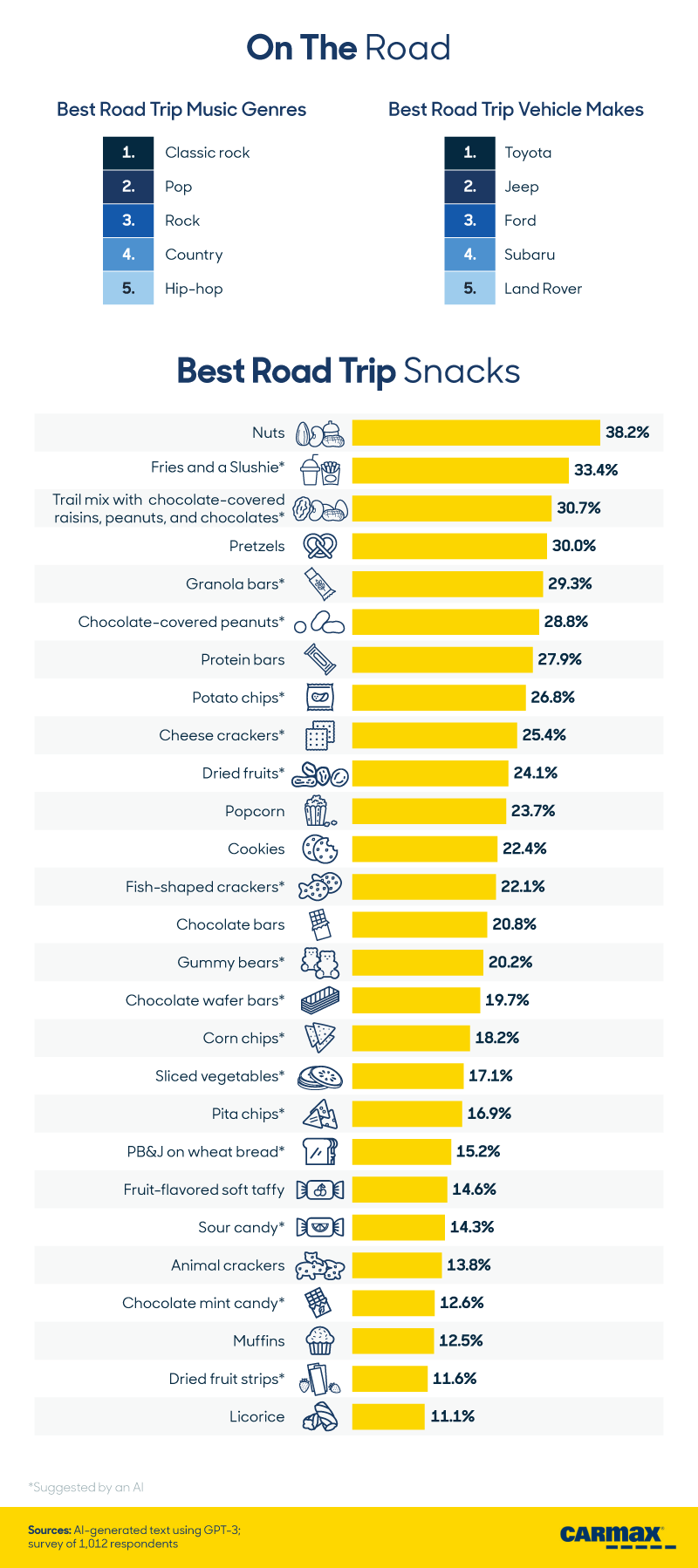 Now let's dive into the details of road tripping. By a significant margin, the car brand deemed best for a road trip was Toyota, collecting 17.3% of respondents' votes, a full 9.1 percentage points higher than the next brand, Jeep. Toyotas have become a popular brand of choice – in the first quarter of 2021, three of the top five best-selling cars in the U.S. were Toyota models, including the RAV4 in the number one spot and the Camry and Corolla in the fourth and fifth spots, respectively.
When it comes to music, respondents reported they like listening to a variety of genres while on the road, but classic rock and pop were the top two favorites. Rock, country, and hip-hop got some love as well.
As we know, snacks are also a crucial component for a successful road trip, and nuts were the favorite among respondents with fries and a slushie following close behind. Seventeen out of the 27 options were suggested by an AI – clearly, even robots know a good snack when they see one!
Packing List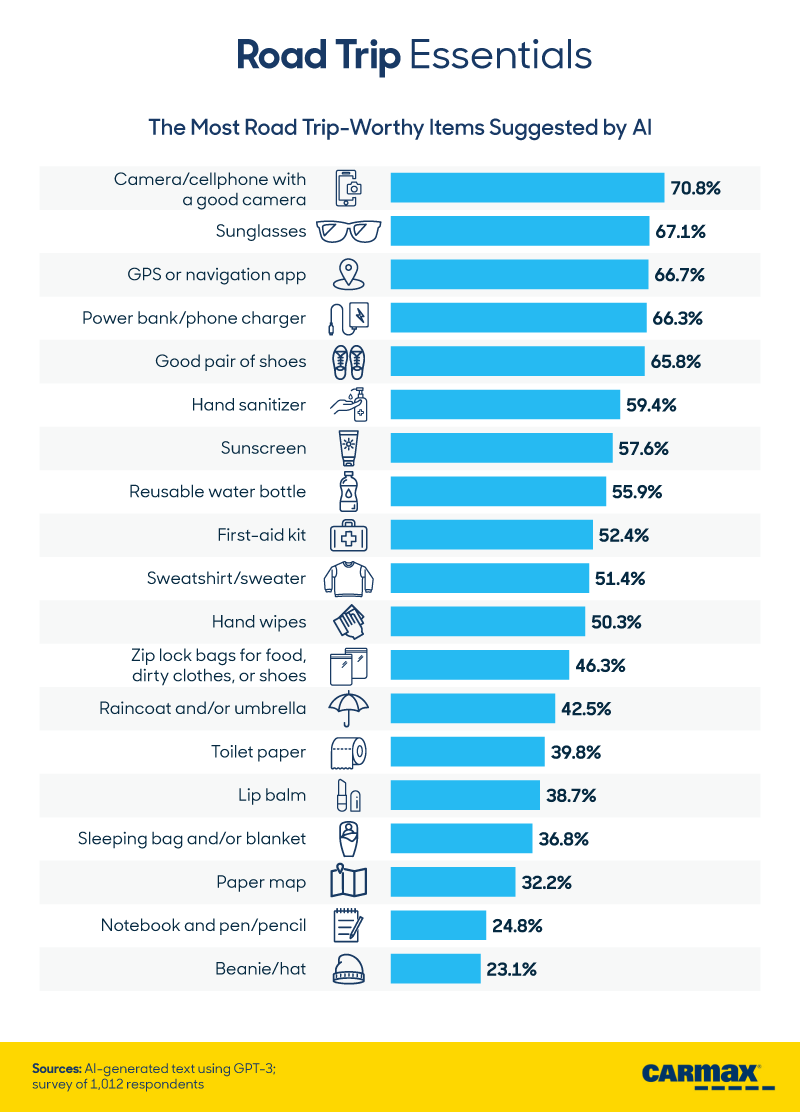 How many respondents agree with AI-suggested road trip essentials? For starters, over 70% of them were on board with having either a camera or a cellphone with a good camera (to capture the memories made along the way). More than 60% also considered sunglasses, some form of GPS, a phone charger, and a good pair of shoes to be of utmost importance. Likely due to the pandemic, hand sanitizer was also high up on the essentials list.
When looking at generational differences, 85.2% of baby boomers believed that a good pair of shoes were a road trip must-bring item, compared to 73.4% of Gen Xers and 59.5% of millennials. Whether people plan to take a hike, explore a new city, or camp out somewhere, a good pair of shoes can be essential to make any trip a success. Another difference in generations was found when looking at bringing a physical map on the road trip. Almost half of baby boomers considered this a must-have item, while less than one in three Gen Xers and millennials agreed. While GPS or a phone app can provide maps, they can also lose signal, run out of battery, or simply malfunction. A physical map is a great back-up option to have to make sure the road trip can be enjoyed without worrying about getting lost.
Before You Hit the Road...
Many respondents are looking to hit the road this year, and they have lots to consider when planning their route. Of the eight road trip itineraries we looked at, the AI-suggested route was chosen five times compared to the human-designed routes chosen three times. Either way, there are clearly multiple routes available, no matter what kind of trip someone wants to take.
Also, no outing is complete without good music, delicious snacks, and a comfortable ride. Choosing the right car is important, and CarMax has what you're looking for. From SUVs to sedans and sports cars, we offer a wide variety of new and used vehicles ready for you to drive across the country with. Head over now to see what could be in store for you!
Methodology
Generative Pre-trained Transformer 3 (GPT-3) is a language model created by OpenAI that uses deep learning to generate human-like texts. Using identical prompts, GPT-3 was asked to produce output for each aspect of the road trips. This output was lightly edited for length and repetition but not for content or fact-checking. The findings in this article are limited by small sample batches and are for exploratory purposes only. Future research on the capabilities of AI should approach this topic in a more rigorous way.
A survey of 1,012 Americans was run on the Amazon Mechanical Turk survey platform where respondents were presented with a series of questions, including attention-check and disqualification questions. 54.9% of respondents identified as men, while 45.1% identified as women. The average age of respondents was 38.6 years old with respondents ranging from 18 to 76. 6.5% of respondents were Gen Zers, 58.4% millennials, 24.4% Gen Xers, and 10.7% baby boomers. This study has a 3% margin of error on a 95% confidence interval. Please note that survey responses are self-reported and are subject to issues such as exaggeration, recency bias, and telescoping.
Fair Use Statement
Before you head out on your next road trip, make sure to review our findings! Also, if you know someone who might enjoy this article, feel free to send it their way. We just ask that you do so for noncommercial use and to provide a link back to the original page so contributors can earn credit for their work.