Getting Used Cars Ready to Sell: Meet the Master Mechanics Behind the Process
---
PUBLISHED MONDAY, DECEMBER 5, 2022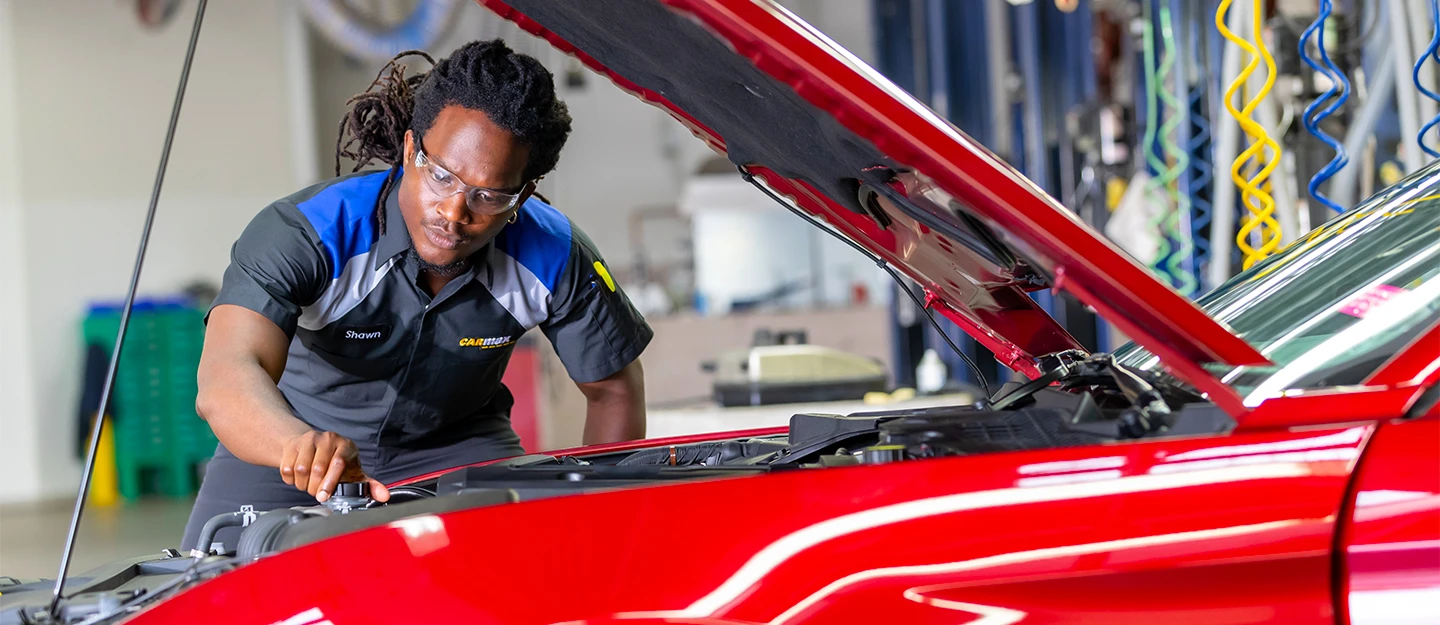 CarMax auto technicians reveal how they recondition used cars for the front lot.
For the average person, automotive shops can be stressful—a dreaded place that can ruin an average day of the week when an unexpected car repair pops up. But for auto technicians at CarMax that recondition
used cars to be sold to customers around the country, a service bay is heaven. For them, working on a car isn't a simple act, it's a chance to breathe new life into a vehicle and create a finished masterpiece for someone.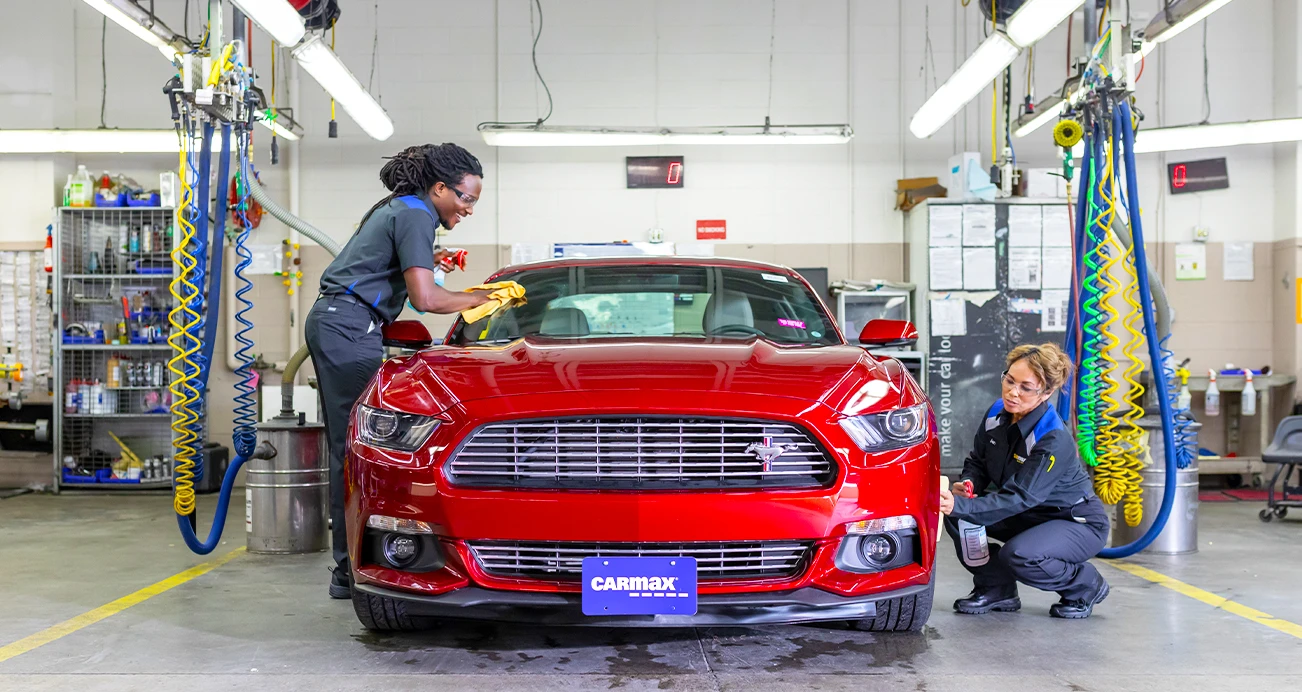 Vannessa Flory, a Master Technician at the CarMax Baton Rouge store, prides herself on being able to find out what needs to be repaired on a used car.
"It's like being handed a jigsaw puzzle and I get to put together all of the pieces," says Flory.
For the last 4 years, Flory has been reconditioning cars for CarMax. She's also a Certified Master Technician from the National Institute for Automotive Service Excellence (ASE). One of the highlights of her workday is the variety.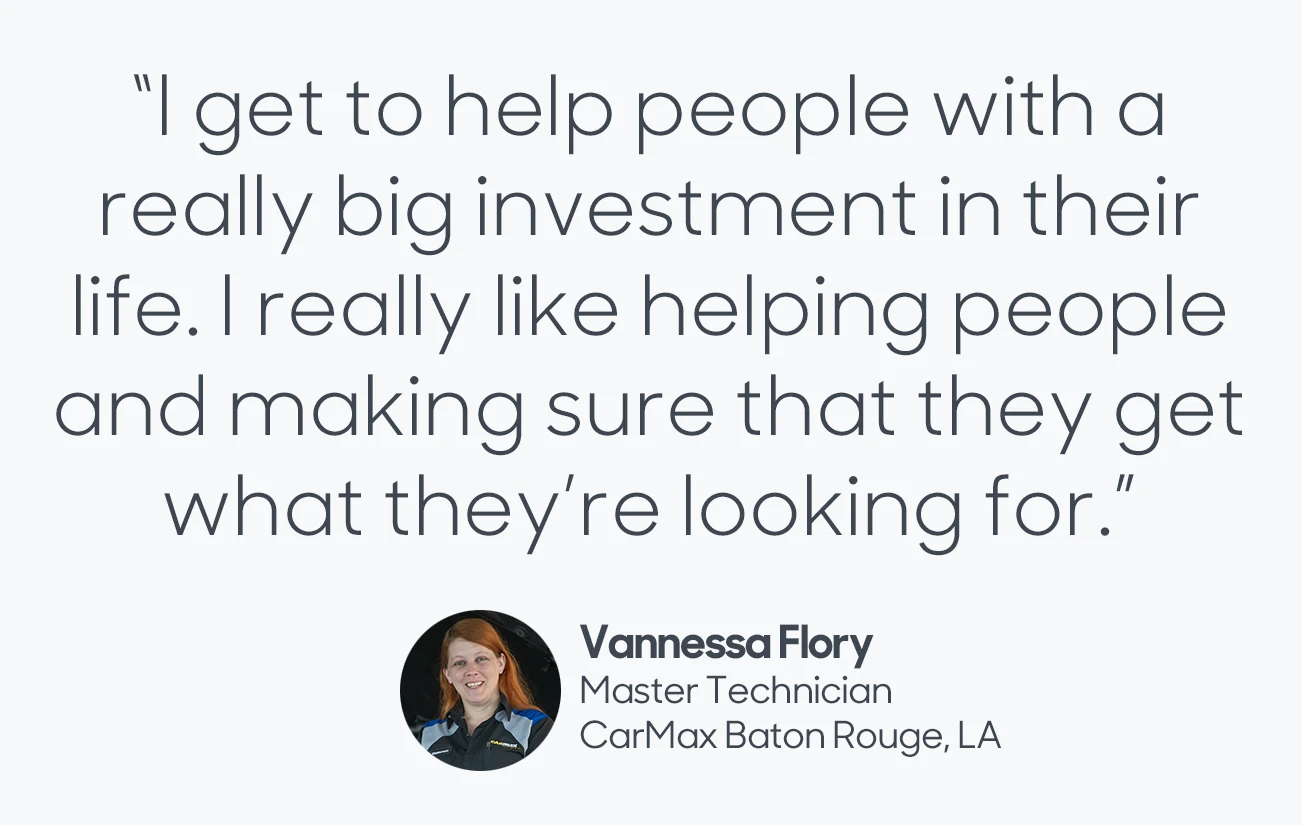 "Work is never boring," she says. "A malfunction indicator code can have anything from one issue to twelve. It can be frustrating at times but it's definitely rewarding because the next time you see a car like that, you may know what to do faster."
When CarMax buys a used car, it can go one of two places: the auction lot (to be sold to private dealers) or straight to vehicle reconditioning at more than 105 production facilities to get ready for sale to CarMax customers.
Bobby Kosobucki, an ASE Certified Master Technician at one of the CarMax Richmond, VA stores, says the vehicle reconditioning process gives him a sense of pride in his work. "During the initial inspection, we check for a variety of things, from engine noises to the control buttons on the doors," says Kosobucki, who's been with CarMax for 12 years.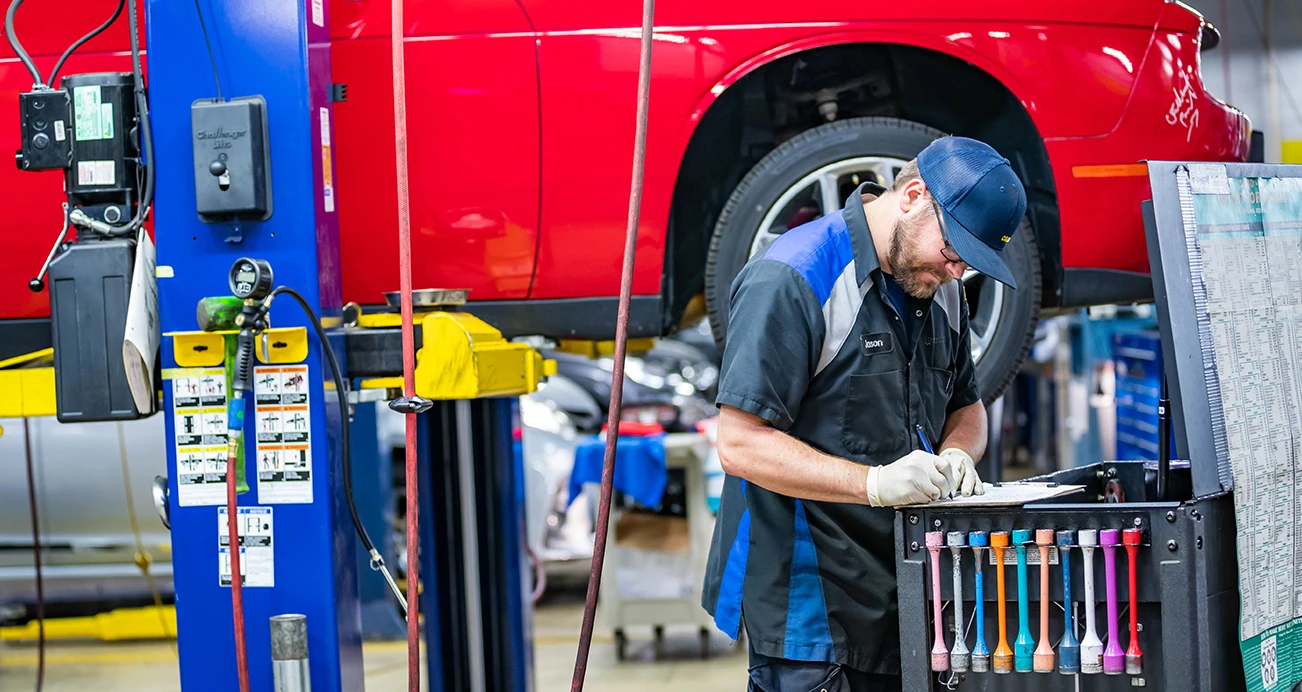 Technicians follow a detailed 125+ point checklist of things to look at in a car, including seat heaters, air conditioning, folding seats, undercarriage and frame checks, and even details as small as looking inside trim or body panels. Keep in mind, however, that some of our vehicles may have unrepaired safety recalls. You can check a vehicle's safety recall status at nhtsa.gov/recalls. An initial test drive is also performed on each vehicle.
"You don't really think about how much goes into it until you say it," says Kosobucki.
Kosobucki also explained what the initial test drive entails, "At my store, the test drive route is half on the highway and the other half on a local windy back road that's rough in some areas to get a good feel for the car. We look for things like wheel or tire vibrations, brake pulsations, or suspension noise. We even do panic stops to make sure the vehicle stops straight."
Following this initial inspection, managers go through this process once more. "It's not even just one set of eyes," says Kosobucki. "It's two and usually more with everyone that comes after you."
After this point, technicians put in work orders for any repairs or cosmetic detailing that may need to be done to the car. A mechanical associate will then diagnose where an issue is coming from and what specifically needs to be replaced. After all this, the vehicle goes through a final quality check before we offer it for sale to customers.
When it's time to purchase a used car, Flory and Kosobucki both have things they look for when shopping. For one thing, just because a car may have a higher mileage, it may not be a reason to write it off immediately. If the car has been well cared for and has gotten regular service and maintenance performed on it, it may be in great condition.
"My personal vehicle is a 2003 Chevrolet Tahoe with 435,000 miles on it. It's been well cared for—the person who had it before me had the service done on a regular basis and so do I. You would never know it has the miles it has on it," says Flory.
A helpful way to see if a car you're looking at has had regular maintenance is to check the vehicle history report, which can sometimes include the vehicle's service records. A vehicle history report is a great way to find out more about service history and previous owners (like whether it was a fleet vehicle for a company or owned privately). And don't forget to check for a vehicle's safety recall status at nhtsa.go/recalls.
In addition, asking questions and shopping with your must-have vehicle features in mind makes the process much smoother. Use detailed car listings to your advantage and see which cars have the features you're looking for. "At CarMax, we also list any optional upgrades a vehicle may have from a previous owner on the car listing," says Flory. "And if you want an optional upgrade, some locations can make that happen, like installing leather interior."
Lastly, taking a car for a thorough test drive may help when making the decision to buy. "Drive the car and see what you like and don't like. And if you don't like something, don't buy it," says Kosobucki. "It's the second biggest purchase most of us are going to make in our life, right? So, it shouldn't be one that's taken lightly."
While the vehicle reconditioning process is largely done behind the scenes, CarMax auto technicians are proud to talk about the work they do, especially when it helps customers feel good about buying a used car.
"I get to help people with a really big investment in their life," says Flory. "I really like helping people and making sure that they get what they're looking for."
Unless otherwise noted, information related to these featured vehicles comes from third-party sources, including manufacturer information. Product and company names may be trademarks or registered trademarks of third-party entities. Use of them does not imply any affiliation with or endorsement by these entities. Use of them does not imply any affiliation with or endorsement by these entities and all trademarks listed are the property of their respective owners. We hope you found this information helpful. This content is intended to inform and is not meant to indicate that a particular vehicle is currently available or recommended for you.