How to Test Drive a Car
---
PUBLISHED FRIDAY, DECEMBER 10, 2021

Best practices for before, during, and after your test drive.
One of the best things you can do when shopping for a used car is take a thorough test drive. It will help you determine which vehicle is right for you—or cross off the ones that aren't right at all—and ensure you pick a model you'll look forward to driving for many miles to come.
With a variety of makes and models on CarMax lots, CarMax is a one stop shop when it comes to test drives. In the first half of 2021 in CarMax's home state of Virginia alone, CarMax customers took over 40,000 test drives, and we're ready to welcome you into the driver's seat, too.
To maximize your time, here are some important steps to consider before, during, and after your test drive.
What should I bring to the test drive?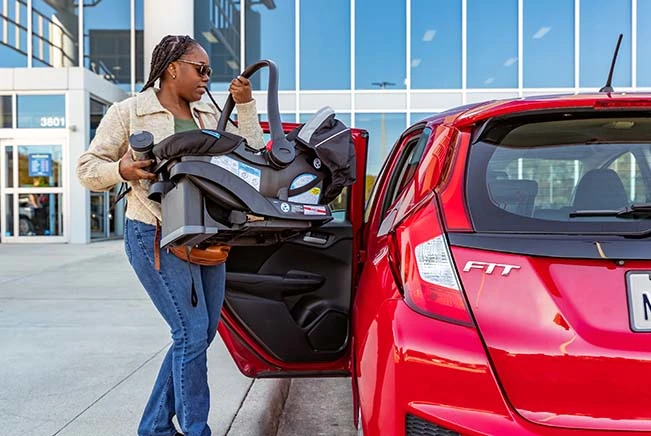 Once you know what you're interested in test driving, you'll want to bring your driver's license, proof of car insurance, and any belongings that can help the decision-making process, such as your:
Child car seats or booster seats

Frequently carried cargo (e.g., strollers, golf clubs, etc.)

Favorite drink cup

Handbag or backpack

Smartphone and USB cord
What should I do during the test drive?
Pay close attention to the interior and exterior of the vehicle, how it drives, and whether the car is a good fit for your lifestyle. Use the tips below to help guide your exploration.
What to Explore in the Car's Interior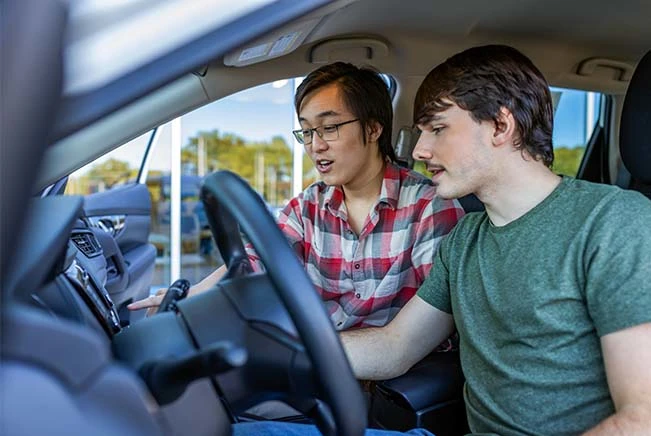 Grab a seat inside the cabin and do an assessment of its interior features and space:
Entry and exit
See how easy or difficult it is to get in and out of the vehicle. Take note of the doors and if they have narrow openings, are too heavy, or cause you to bump your head when you climb in.
Seat position controls
Use the car's controls to adjust the seats into a comfortable position. If the steering wheel tilts or telescopes or the pedals are adjustable, try these features on for size. After you adjust the seat, see how much rear-seat legroom remains.
Mirrors
Adjust the side view and rearview mirrors to get them into position, then test out the auto-dimming, defrost, or manual/power-folding features.
Driving position and visibility
Make sure you can see through the windshield, in the mirrors, across the dash, and out the rear window. If there are large pillars, look for blind spots and finesse your visibility using the mirror and seat controls. This is also a good opportunity to open and close the moonroof (if applicable).
Steering wheel controls
Consider the layout of the controls, how the buttons and toggles feel, and whether the steering wheel controls are intuitive to use.
Horn
Don't be shy—test the car horn. See if it has a range of emotions, from a polite beep-beep to a blaring honk.
Windshield wipers
Explore the front and rear windshield wiper settings and turn on the blades. Test the intermittent settings and how well the wipers clean the glass.
Temperature controls
See how well the climate control system pumps out hot and cool air. Make sure the gauges and buttons are easy to adjust, then slip into the back seat to experience the rear climate controls (if applicable).
Audio system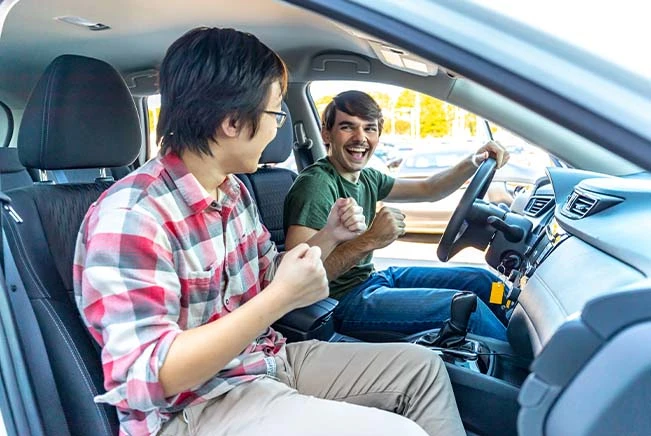 Check, one, two. Queue up your favorite radio station and crank the tunes. Listen closely then check to see what audio functions it has such as auxiliary input, smartphone integration, CD player, or USB functions.
Bluetooth® connectivity
Pair your smartphone and test the Bluetooth phone and audio streaming capabilities. Call a friend or pull up a playlist to see how your mobile device integrates.
Smartphone apps
If the model is equipped with Apple CarPlay® or Android Auto™ capabilities, connect your smartphone and bring Siri or your Android voice assistant along for the test drive.
Infotainment screen
Test the infotainment screen's functions. Notice how intuitive the system is to use and explore any features, like the rearview camera or navigation system.
Cabin and trunk space
Count the seats and think about your passenger carrying needs. Make sure there's enough space for people, pets, and belongings. Don't forget to consider the cabin's head, leg, shoulder, and hip room.
What to Explore on the Car's Exterior
Take a walk around to see if the vehicle has the looks and features you need:
Tires
Give the rubber a thorough once-over by checking the condition of the tires.
Color
Check out the car's curb appeal by assessing its looks. Ask yourself if the color matches your vibe and whether you'll love the exterior for years to come. Keep in mind that paint colors appear different in artificial and natural daylight, as well as in pictures.
Lights
Activate the ignition, turn on the car's lighting systems, then do a walk-around of the vehicle. Observe how well the lights perform and make sure each one emits a bright, consistent light. Don't forget to turn on the four-way flashers and test any lighting systems within the cabin.
Where should I take the car?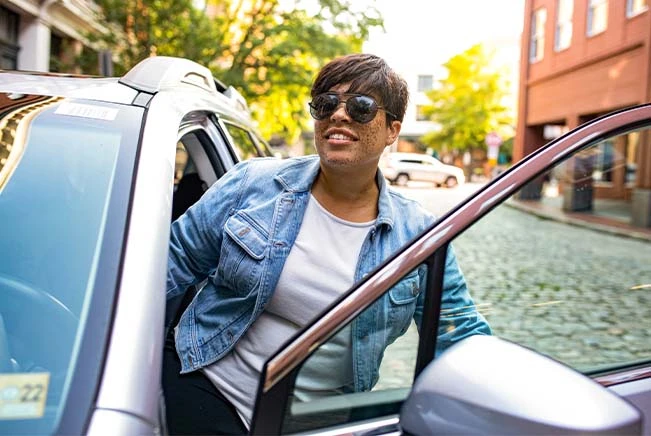 Circling around a parking lot may give you a feel for the car, but it's best to test its performance in real-life driving situations. Grab the keys and try some of the following:
Drive on local roads to test the car's steering and braking abilities.

Merge onto highways to assess its acceleration and handling prowess.

Take hilly, twisty roads to see how it handles around corners and curves.

Sit in rush-hour traffic to see if the car provides a calming space.

Make a pit stop at home to see if the car fits into your garage or parking spot.
Make sure to keep in mind any mileage, timing, or use restrictions in your test drive agreement.
How does it drive?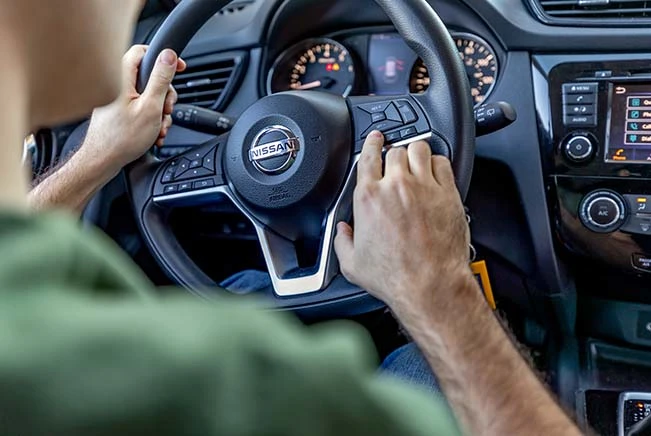 As you enjoy your test drive, assess these characteristics:
Steering and handling
Pay close attention to how the steering feels and how well the car behaves around turns. You want the vehicle to be responsive and controlled when making maneuvers. Don't forget to pull into and back out of parking spots to test the car's steering and parking abilities.
Acceleration
Accelerate from a stop to see if the car has the power you need. You'll also want to test how well the vehicle can merge into freeway traffic, pass on the highway, and climb steep hills.
Braking
Test how well the system responds to gradual stops and more forceful braking. The brakes should feel responsive without being too sensitive or soft.
Suspension
Drive the car on uneven pavement to see how the suspension cushions against potholes and cracks. Note how the vehicle feels over ruts and bumps and assess if the ride is to your liking, whether that's soft, sporty, or somewhere in between.
Driver-assistance features
If the car is equipped with driver-assistance features—such as blind-spot monitoring, rear cross-traffic alert, or lane departure warning—activate the systems to see how they enhance your drive.
Engine and road noise
Turn off the audio system and close the windows to experience how quiet or loud the cabin is at highway speeds. Listen for engine, wind, tire, or road noises.
How does the vehicle fit your lifestyle?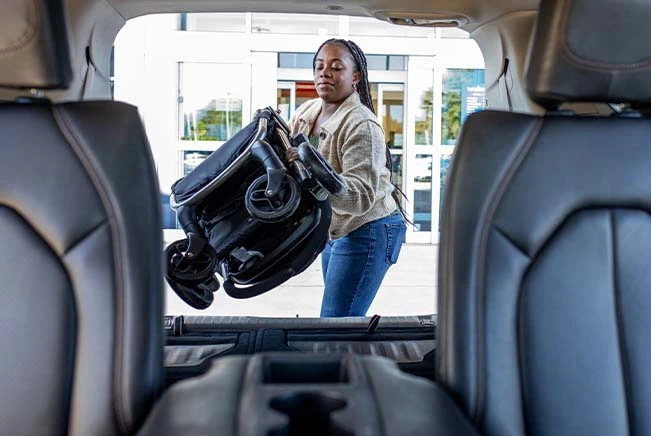 An important part of any test drive is getting a feel for the car and if it fits your lifestyle. Here are some questions to ask yourself:
If you're a parent: Does the vehicle have family-friendly features to satisfy your crew?

If you're a commuter: Is the car comfortable in stop-and-go traffic?

If you're a music lover: Does the audio system meet your expectations?

If you're techy: Are there enough gadgets and gizmos to hold your interest?

If you're an adventurer: Can you take this vehicle on long road trips?

If you're a new driver: Does it have useful driver-assistance features to enhance your confidence?
Remember those items you brought along? Try them on for size to ensure the car fits your lifestyle and your belongings:
Secure your car seats and boosters to the LATCH anchors and tethers. Once they're installed, test out the driver's seat and passenger seat one more time to ensure you're still comfortable, have enough clearance to move your seat back and forth, and that your car seats and boosters fit with the size of the vehicle.

Load the trunk with your golf clubs, pet crates, strollers, or other cargo to assess your space requirements.

Make sure your favorite mugs and water bottles fit in the cup holders.

Find a spot to stow your handbag or backpack while you drive.

See if there is a convenient port to charge your smartphone.
Another good way to ensure the vehicle fits your lifestyle is to take it for an extended test drive. CarMax offers 24-hour test drives to let you see firsthand how your next car could work for you in real life.
What should I do on a 24-hour test drive?
If you decide to take advantage of CarMax's 24-hour test drive, here are a few more ways to see if the car is right for you:
Is it pet-friendly? Bring your furry companion along for a ride to make sure they have a comfortable spot.

Is it kid-approved? Buckle in your pint-sized passengers and go for a cruise.

Can it fit what you need it to? Take stock of your usual cargo and try the car on for size. Load it full of grocery bags, take your sporting equipment to the field, or pack the car full of luggage (or whatever else you frequently carry) to make sure you have room for everything.

What does your best friend think? Have a friend who knows you well see the car and get their honest opinion.  

Does it work hard? Whether you need an errand runner, carpooler, or commuter, test how well the car handles your daily grind.

Will it make Mom and Dad proud? Take your parents for a spin and let them share their thoughts from the back seat.
What specific areas should I test on specific vehicle types?
Different types of vehicles have different considerations to keep in mind. Here are some additional areas to assess when taking a car, crossover, or truck for a test drive:
Cars
Test the split-folding rear seats to experience cargo versatility (if applicable).

For sports cars, assess the steering, brake feel, acceleration, handling, and ride.

Open and close the convertible roof (if applicable).
Crossovers and Minivans
Open and close the manual or power liftgate.

Fold the second and third rows (if applicable) to assess cargo versatility.

See how easy it is to access the third row (if applicable).

Test the sliding doors (if applicable).
Trucks
Measure the bed to ensure your equipment and materials will fit.

Explore interior features (e.g., flip-up bench seats, rear sliding window, etc.).

Explore exterior features (e.g., extendable tow mirrors, hitch, tonneau cover, running boards, etc.).

Review payload and towing capacities.
What should I do after the test drive?
After the test drive, it's time to reflect on the car and if it meets your needs. Use these tips to solidify whether the car is right for you:
Make a pros and cons list while the test drive is fresh in your mind.

Compare how the car stacks up against other models you're interested in.

Read car reviews to see if other drivers share the same sentiments.

Research safety and reliability scores alongside fuel economy estimates for that model.

Use RepairPal to look up the car's reliability rating and the average cost of repairs.

Review any applicable remaining manufacturer warranties and any warranties offered by the seller.  

Sleep on it before making a final decision.
If you haven't scheduled a test drive yet, you can shop online and reserve the car you're interested in on our website or by phone. To reserve online, go to the car's individual detail page and follow the prompts, or visit Seeing a Car FAQs for more information.