How Much Car Can I Afford?
---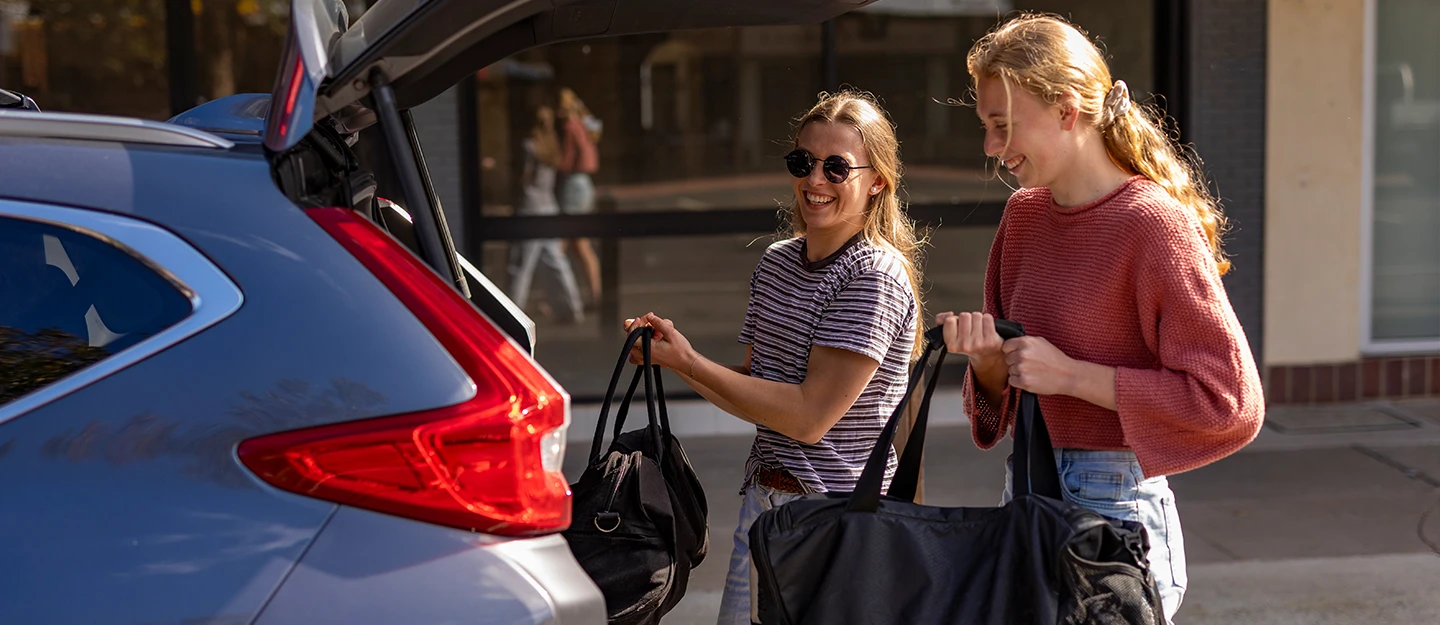 Determine your car payment comfort zone.
Buying a car is an exciting moment in a person's life. But it's also a big investment that needs careful consideration. Before browsing car lots or online ads to find a ride that suits your style, you need to have a solid understanding of your current finances and future expenses to determine what you can afford for your monthly budget. Otherwise, you may end up overstretching your wallet and regretting your decision.
Look at Your Current Finances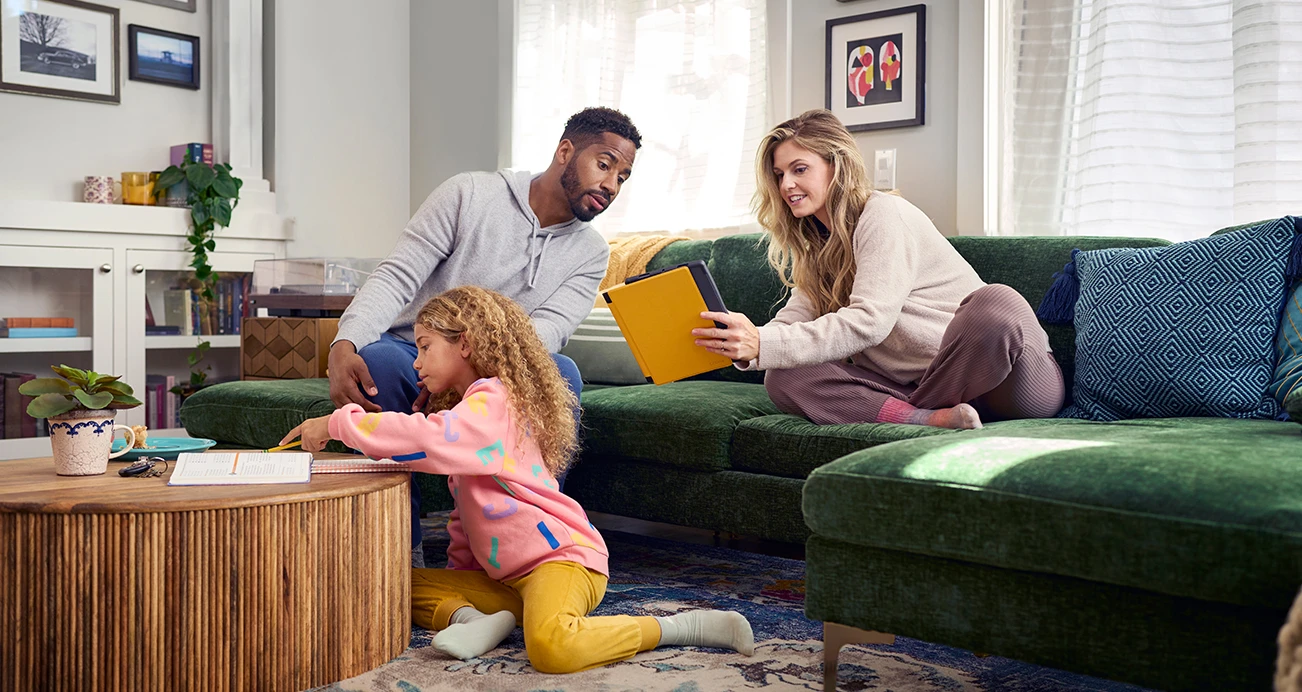 A car is a big purchase. This is why when budgeting for a car, the first and most crucial step is to look at your current finances.
Consider your income and existing debt, as these are critical factors in determining your budget. Your monthly car payment shouldn't put too much of a strain on your finances; around 10% of your monthly income is common advice according to Edmunds.
Another important tip is to review your credit report and score before applying for a car loan. You can get a free copy of your credit report from each of the three major credit bureaus at AnnualCreditReport.com.
A good credit score may help you qualify for better interest rates and loan terms, saving you money in the long run. If your credit score is low, consider working on improving it before applying for a car loan. Small steps like checking your credit report for errors, making on-time payments, and reducing your credit balances may help.
Online tools like car payment calculators can give you an estimate of what your monthly payments might be. To calculate your monthly payment, these tools consider factors like the car's price, down payment, interest rate, and your credit score. This can help you with a general idea of your monthly payments and how they will fit into your budget.
Remember, it's essential to be realistic about your budget and not stretch yourself thin. With the right approach and tools, you can find a car that meets your needs and fits your budget.
Think About Your Future Expenses
Once you have a hold on your current finances, it's time to think about the future. Expenses that come with car ownership can vary based on things like the vehicle's make, model, age, condition, and even where you're buying the car.
Monthly payment/loan payment
One of the biggest expenses associated with owning and financing a car—and probably the one people think about the most—is the monthly loan payment. This payment typically includes the car's cost and any additional products, such as extended service plans.
How to Finance a Car: Everything You Need to Know
Car insurance
Car insurance is another necessary expense to consider when budgeting for a car. Insurance protects you financially in case of an accident, and in some states, it is mandatory. Before buying a car, ask your insurance company about its rates for different vehicles. You can also shop around for different rates and coverage online to find the best deal.
Guaranteed Asset Protection Waiver (GAP) is another product that provides coverage if your car is subject to a total loss or is stolen. It typically covers the difference between the value of a car and the balance that you may still have on the car loan. GAP can make sense for people who had a zero or low down payment and a longer payoff period, since they may owe more than the car is worth.
Down payment
A down payment is a significant upfront cost when financing a car and making a down payment of at least 8-10% of the car's total cost is a common rule of thumb. The more you can comfortably put down the better, since a higher down payment will lower your monthly payment and save you money in the long run.
However, if 10% seems unattainable, making a small down payment—even $100—is better than no down payment. Every bit counts.
If you have a current vehicle that's paid off, consider using its trade-in value as a down payment.
How to Trade-In a Car | Why Your Down Payment Matters
Maintenance
Maintenance costs for your new or used car can depend on a lot, including the model year, previous vehicle maintenance history, and whether the vehicle has a gas-powered engine or is an electric vehicle (EV). EVs have fewer moving parts, don't need oil changes, and use less fluids than gas-powered cars, which can help reduce the cost and frequency of maintenance. But they can also cost more upfront—don't forget that monthly payment!
Regardless of the car you choose, it's crucial to stay on top of regular maintenance to prevent problems down the road.
Mileage on a Car Can't Tell You Everything | How Much Is Electric Car Maintenance?

Gas/fuel economy
And lastly, take a look at your daily commute and gas prices in your area when budgeting for a new-to-you ride. Fuel economy can vary a lot between makes and models. Consider a more fuel-efficient car if you have a long commute or gas prices are high in your area. It's important to consider your lifestyle, as well—if you travel a lot for business, have a full carpool schedule, or enjoy weekend road trips.
How Much Does It Cost to Charge an Electric Car Compared to Pumping Gas?
Decide Your Monthly Budget
Do you find yourself still asking the all-important question: "How much car can I afford?"
When it comes to deciding your monthly budget for a car, you can look for financing estimates, like car payment calculators we talked about above—or get personalized terms with a pre-qualification. When you get pre-qualified with CarMax, you can get personalized terms that you can shop with—all with no impact to your credit score.
Getting Pre-Qualified: Shop with Personalized Financing Terms
Used Car Budget Breakdowns: How Do Other People Budget?
If you're not ready to take the next step just yet, seeing how other people might create their budgets can be helpful. Below we've created three hypothetical scenarios to help you make better sense of it all.
Alex and Riley are a couple in their early thirties who recently started their first full-time jobs after finishing graduate school and accumulating student loans. They have a combined monthly income of $5,000, and they've managed to save up a down payment of $3,000. They currently rent a small apartment and have relatively low monthly expenses of around $1,500. They are looking to finance a used car with a total price of $20,000. After calculating their budget, they decide that they can afford a monthly car payment of around $400. They also factor in additional expenses such as gas, insurance, and maintenance, which will add an additional $200 per month.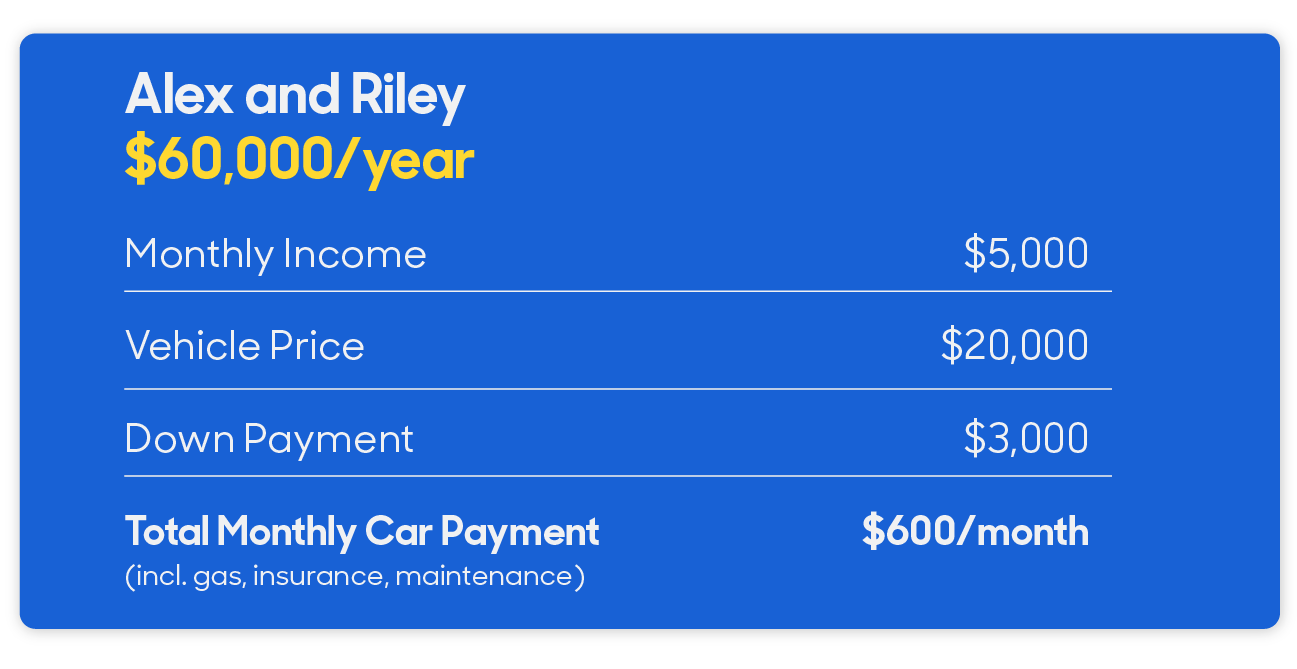 Marley is a single professional who works in sales and earns a monthly salary of $7,000. She has been living in a rented apartment for the past five years and now feels ready to buy a car. She's saved $10,000 for the down payment and has been pre-approved for a car loan of up to $30,000. With monthly expenses of around $2,500 for rent, utilities, groceries, and entertainment and future goals to buy a house and save for retirement, she has a budget of $25,000 for a used car. Marley plans to finance the car with a monthly payment of $300 and estimates gas, insurance, and maintenance will run $200 per month.
Taylor and Jamie are a married couple with two children. They have a combined monthly income of $9,000 and a down payment of $7,000. They're looking to finance a used car with a total price of $35,000. They have monthly expenses of $4,500, including their mortgage payment of $2,000, groceries, utilities, and childcare expenses. After calculating their budget, they decide that they can afford a monthly car payment of around $650, which includes the car's optional extended warranty (around $150 per month). They estimate that they'll spend around $200 per month on gas and an additional $150 on insurance and maintenance.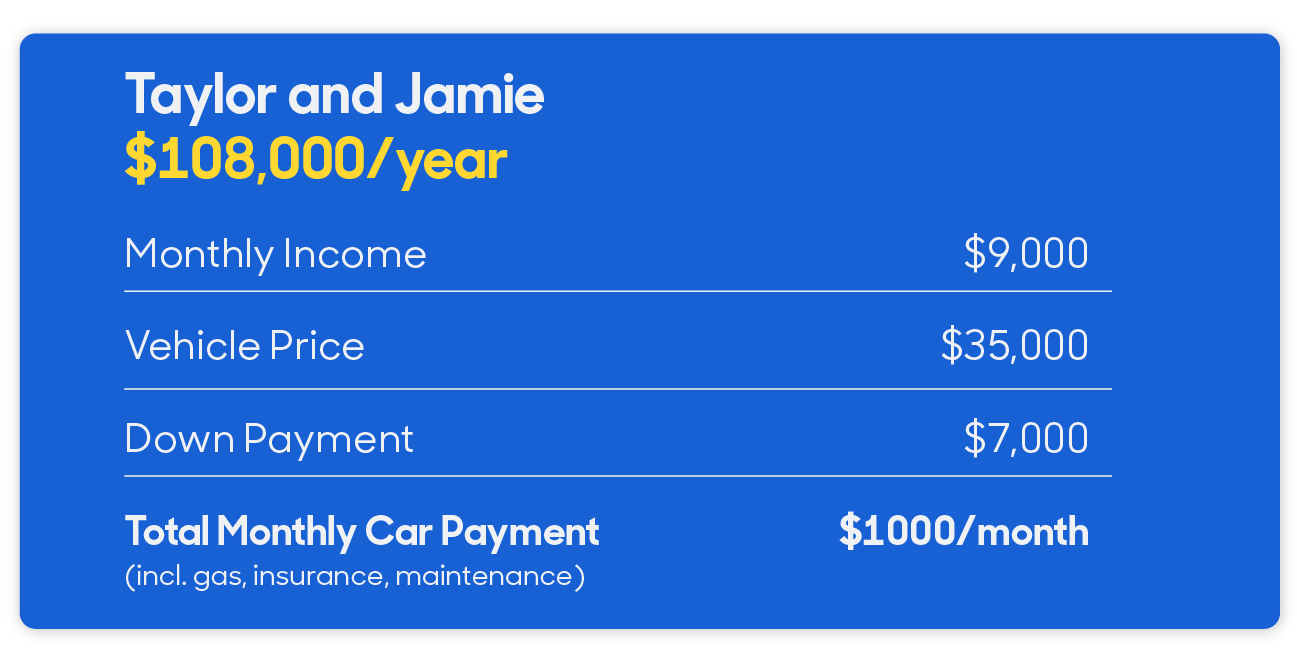 These examples are just a starting point, and everyone's budget will be different depending on their income, expenses, and priorities. It's important to take the time to assess your own financial situation and determine what you can realistically afford before making a car purchase.
Final thoughts
Buying a car is a major decision that shouldn't be taken lightly. Approaching the process prepared and following a budget is crucial. Look at your current finances, plan for future expenses, and set a monthly budget, so you can make a financially responsible decision and avoid any regrets down the road.
We hope you found this information helpful. This content is intended to inform and is not meant to provide legal, financial or investment advice. We make every effort to provide accurate information, but please verify before transacting and consider talking to a qualified professional about your unique circumstances.
Unless otherwise noted, information related to these featured vehicles comes from third-party sources, including manufacturer information. Product and company names may be trademarks or registered trademarks of third-party entities. Use of them does not imply any affiliation with or endorsement by these entities.