How Much Car Can I Afford?
---
PUBLISHED TUESDAY, SEPTEMBER 14, 2021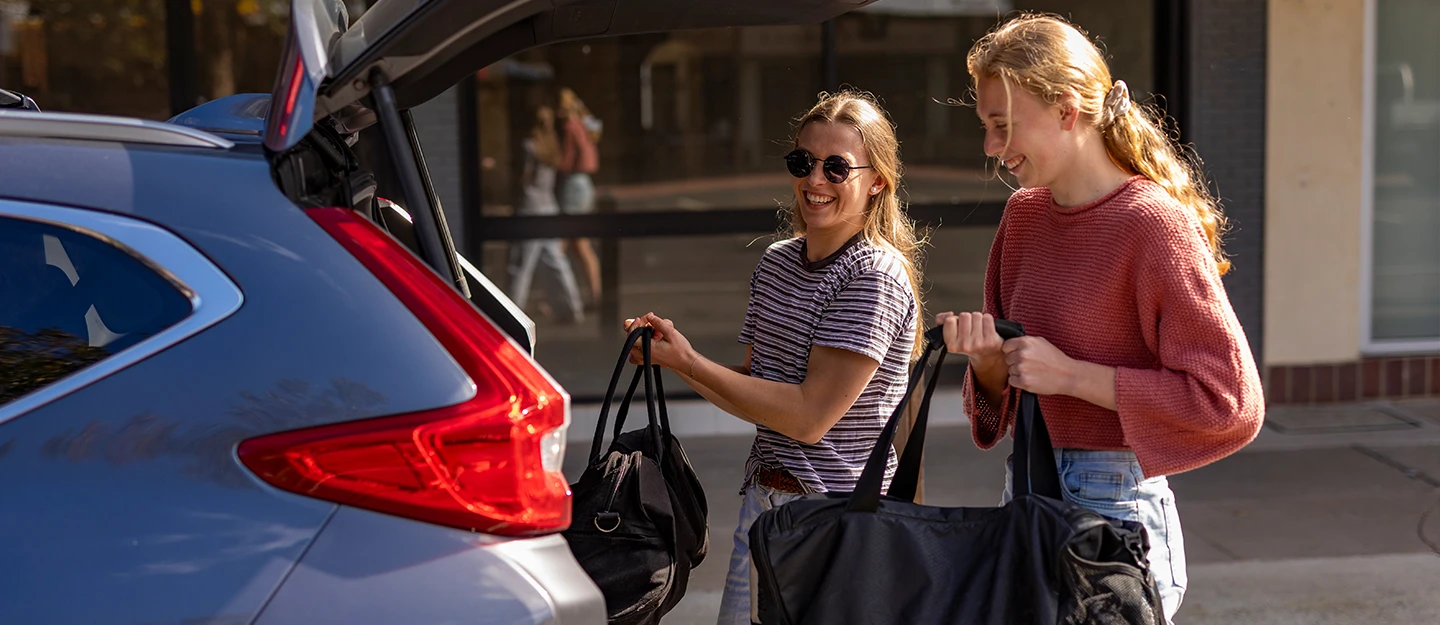 Answers to your frequently asked car budgeting questions.
Shopping for a car is an exciting experience but getting swept up in the moment could find you in the fast lane to overspending. Knowing how much you can afford is an important first step in the car-buying journey. Your finances, personal tastes, and lifestyle will guide your budget.
If you've got your eye on a new-to-you ride, check out this list of frequently asked car budgeting and financing questions to help you navigate how much you can spend on your next car.
Q: How can I find out how much my car is worth?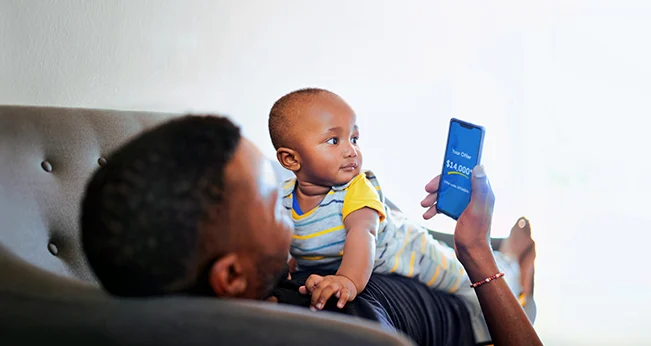 A: If you plan to sell or trade-in the car or truck you're currently driving, it's important to know how much it is worth. Getting an appraisal will give you a good idea of its fair market value to help you budget for your next vehicle.
For example, if your car is paid off, the appraisal amount can be included in your car-buying budget as your down payment. Or, if the appraisal value is less than what you still owe on the auto loan, you may want to revisit how much you're budgeting for your next car.
Your car's value is based on various factors, including:
Current market conditions

Year, make, and model

Mileage

Vehicle history report

Interior, exterior, and mechanical conditions

Any required repairs
Finding out the value of your car is easy. Use CarMax's Sell My Car online offer tool to get an offer in less than two minutes. If you like what you see, you can make an appointment to redeem the appraisal at your nearest CarMax store. Offers are valid up to seven days.
Q: How much should I spend on a car?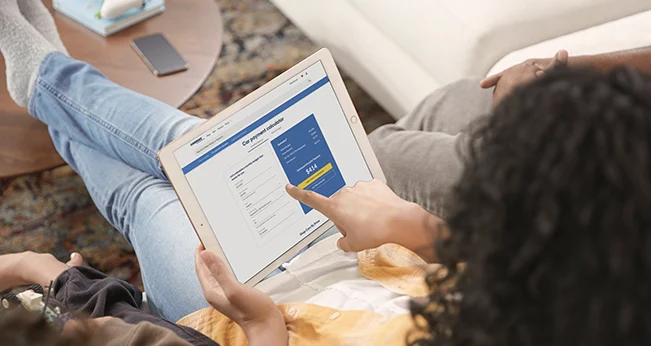 A: When it's time to finance a vehicle, the figures matter. A general rule of thumb is to budget no more than 15 percent of your gross monthly income on a car payment. However, there isn't a one-size-fits-all solution. How much you spend on a car is unique to you and based on your circumstances.
Check out our free and easy-to-use online car payment calculator to take the mystery out of how much you can afford. With this interactive tool, you can calculate a monthly figure that works for you or an estimated vehicle budget. Fill in your desired budget or monthly payment, down payment amount, the state you live in, and your credit score. We'll crunch the numbers for you, so you can feel confident about how much you can spend on a car.
Q: Do I need a down payment and how much should I put down on a car?
A: A down payment isn't required for financing at CarMax. But making a down payment is a smart idea because it reduces the amount you'll need to borrow and pay back. With a down payment you can also improve your chances of loan approval and better terms, including the interest rate or APR. And remember, if you sell or trade-in your current ride, you can use the equity in your car or truck as a down payment.
If you're unsure of how much to put down, check out the article: Why Your Down Payment Matters for helpful advice.
Q: How much should I budget for a car?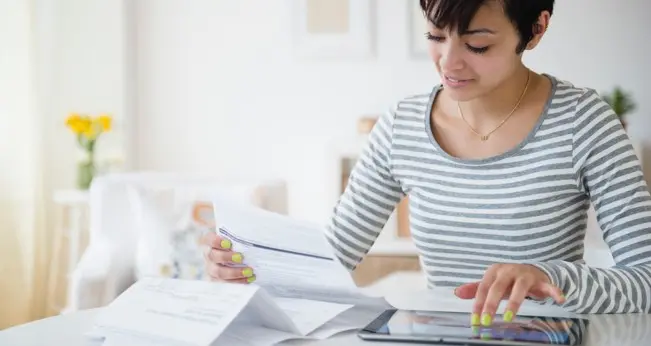 A: Beyond your monthly car payment, vehicle ownership comes with other expenses that you need to prepare for. Your budget should include fuel, insurance, and taxes, as well as regular maintenance costs and repairs. If you opt for an extended service plan, that's another cost to factor into your calculations.
Not sure where to start? Check out our Boost Your Car-Buying Budget article for helpful tips and tools to compare maintenance and average annual repair costs for different makes and models.
Q: Can you get pre-qualified for a car?
A: Absolutely! Financing at CarMax is a quick and transparent process with our convenient online pre-qualifications. Applying is fast and easy using our pre-qualification form. All you need is a general idea of your budget and how much you want to finance, along with your credit score, contact information, employment and income details, and co-buyer information if you want to finance with a co-signer. After submitting the form, a CarMax associate will contact you to discuss the amount you're pre-qualified to borrow and your financing options.
Q:  Can I finance a car with bad credit?
A: Yes, you can. We offer financing solutions for all types of customers with different credit profiles. CarMax works with several leading financial institutions, which improves your approval chances.
Whether you're a budget-conscious shopper or someone working towards improving your credit score, you don't need to compromise. We offer a wide inventory of vehicles at various prices with the comforts and conveniences you desire. For a list of affordable options, check out our Best Cars for the Money.
Q:  Can I finance a car as a first-time buyer?
A: Of course. Our finance sources allow us to help customers from all walks of life and that includes first-time buyers or shoppers with no credit history. Our no-haggle pricing and exceptional customer service also create a stress-free car-buying experience.
Before going for test drives, do some research about the car you'd like to buy, establish a budget, and try to save for a down payment. Consider getting pre-qualified for financing, too, using our pre-qualification form. By taking these steps, you'll be able to hone in on your options and find a car or truck that you can afford.
If you're a young driver looking for a ride to get to school or extra-curricular activities, this list of the Best Cars for Teens and New Drivers has many budget-friendly models for under $20K. This Best Used Cars Under $30K is also a great resource, showcasing vehicles that help you get more bang for your buck.
Q: How can I save money on my next used car?
A: If you don't want to spend a lot to buy a used car, there are many money-saving tips to consider. To start, look for used cars that are a few years old versus buying brand the latest model. You'll still enjoy excellent features and options, but at a lower price.
Another option is choosing a base model trim. You might not get all the extra bells and whistles, like ventilated seats or a hands-free power tailgate, but it will help you keep your costs down.
To find a vehicle that matches your spending goals, check out the Best Used Cars Under $10K or the Best Used SUVs Under $15K. See how far your money can go.
Still have questions? Browse our FAQ & Support page to get answers to everything you need to know about shopping, selling, and trading with CarMax.
Unless otherwise noted, information related to these featured vehicles comes from third-party sources, including manufacturer information. Product and company names may be trademarks or registered trademarks of third-party entities. Use of them does not imply any affiliation with or endorsement by these entities.