How to Finance a Car: Everything You Need to Know
---
PUBLISHED THURSDAY, SEPTEMBER 29, 2022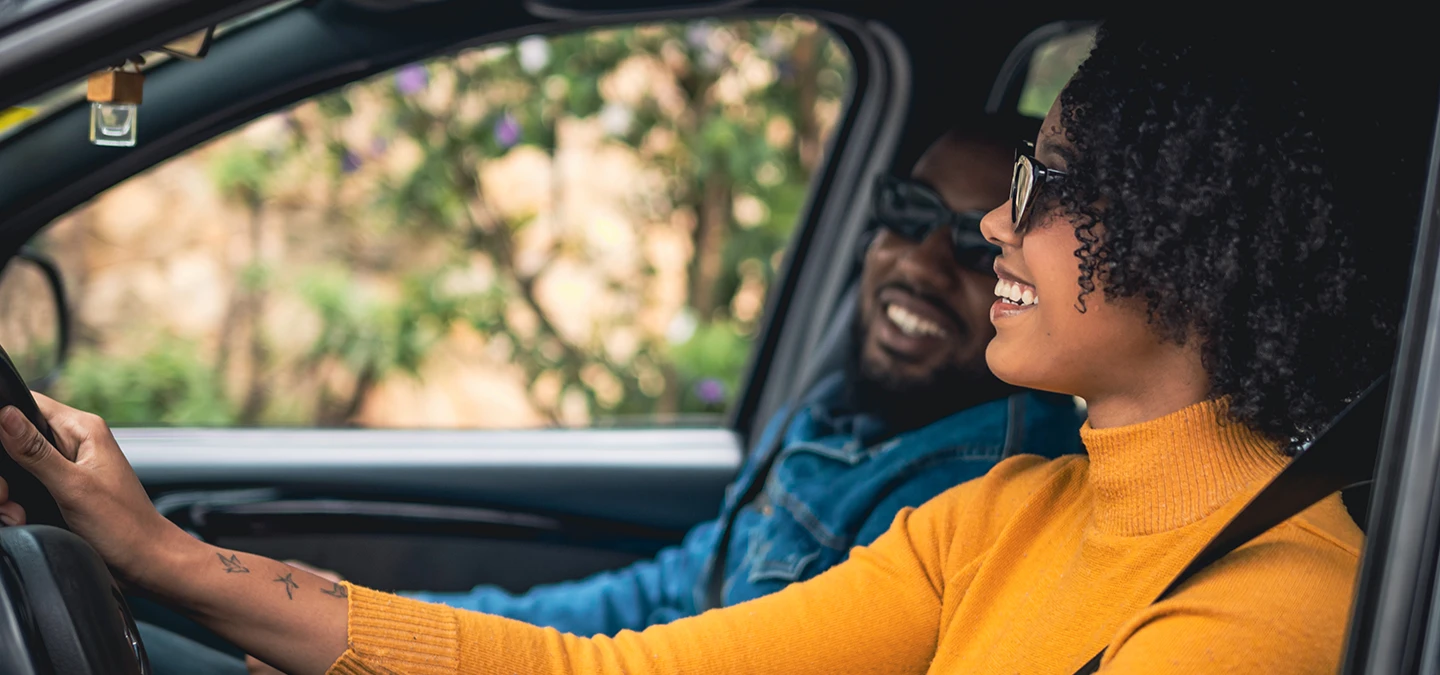 Answers to your used car financing questions.
Shopping for your next car is an exciting milestone, whether you're a first-time buyer or looking for your third car.
Car financing on the other hand, can feel confusing.
To demystify the financing process, we spoke with two CarMax financing experts to answer some of the most common used car financing questions.
You'll hear from Erica Cain, Associate Vice President of Risk & Analytics at CarMax Auto Finance and Shawn Shamlou, Principal Leader in Field Operations at CarMax as we go through everything you need to know about financing from start to finish—without all the confusion.
Creating a Budget and Starting Out
The first step in looking for a used car is to create a budget and get a sense of how much you can afford. This will help you find the car and finance terms that best suit you.
How should I budget for a used car?
How much to budget for a used car is unique to each buyer and based on individual circumstances, such as income, regular expenses, and goals. However, a good rule of thumb is to budget no more than 15 percent of your gross monthly income on a car payment.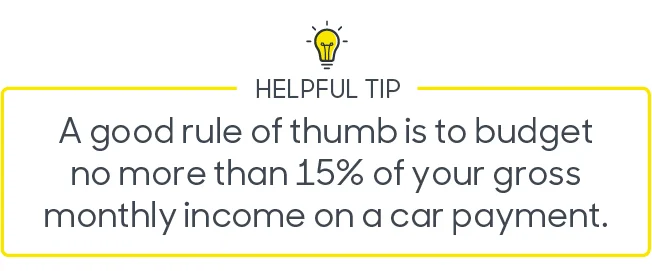 Our car payment calculator is a great place to start. When budgeting for a used car this free and easy-to-use interactive tool can help you understand how much you can afford each month. Simply fill in your desired budget or monthly payment, the down payment amount, the state you live in, and your credit score range. From there, you'll see an estimate of what you can budget for your next vehicle.
You'll also need to factor in other ownership costs. "Once you've owned a car for a while, you realize that there are expenses associated with being a car owner. I think people just think about insurance, gas, and their car payment. That's not everything that's involved in owning a car," says Cain. "There are going to be repairs. Try to do some research around the cost of ownership."
When it comes to ownership costs, it's also important to consider any extended service plans you may want and factor the cost of those into your budget. CarMax offers optional MaxCare extended service plans you can sign up for when you purchase your car.
What do first-time car buyers or newer car buyers need to know?
An important part of the car-buying experience is determining a budget you feel comfortable with and deciding what type of vehicle suits your lifestyle.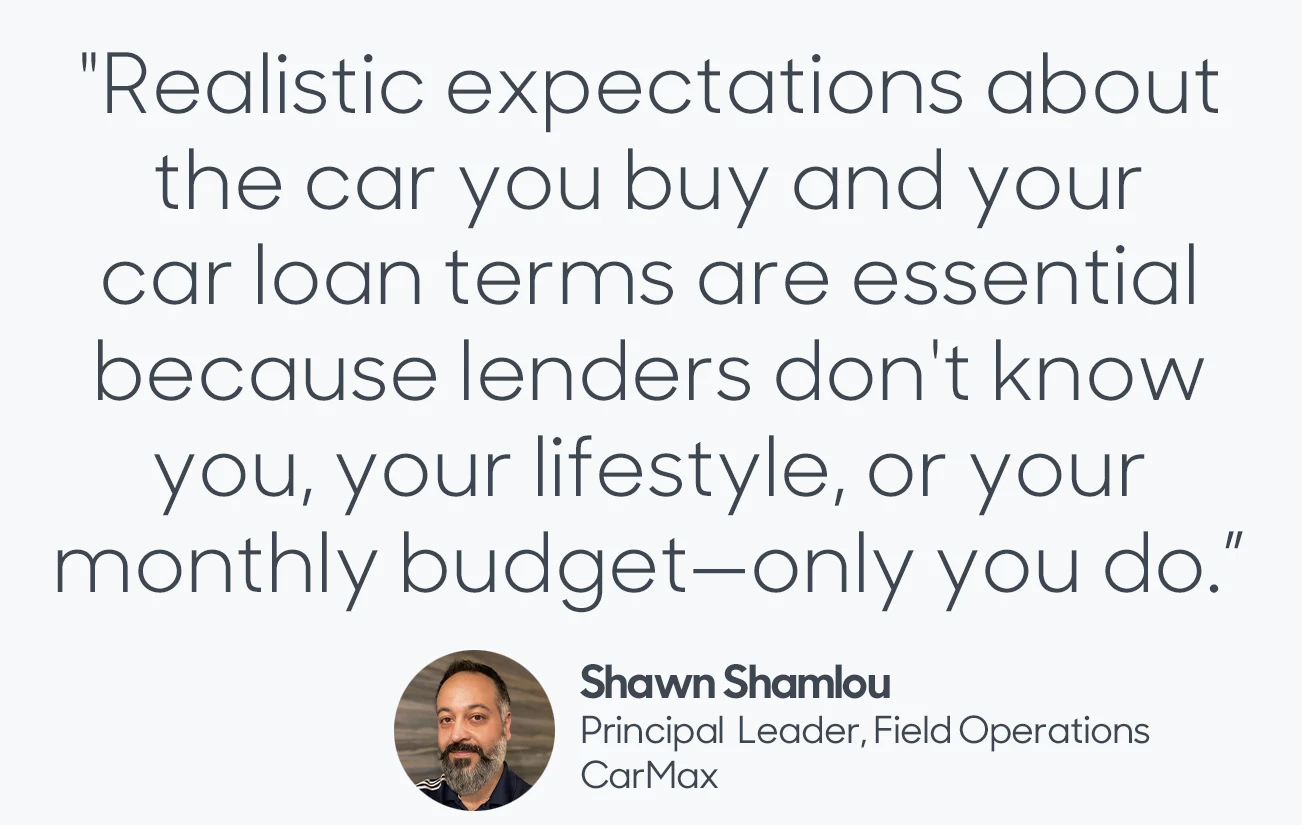 "As a first-time car buyer, you must have realistic expectations about what car you can or should get," says Shamlou. "Maybe a BMW looks tempting, but is that the smartest choice? To buy it, you might have to choose an older model year with higher mileage. Realistic expectations about the car you buy and your car loan terms are essential because lenders don't know you, your lifestyle, or your monthly budget—only you do."
Once you decide on your budget, getting a head start on car research is a great way to find the type of vehicle you want.
Down Payments
A down payment is an important part of the finance process to understand. Here's what you need to know.
How do down payments work?
A down payment is money you pay upfront for a vehicle. For example, if you're buying a car that costs $30,000, a 10 percent down payment is $3,000. This means you'll start with a lower principal balance by borrowing less, and you'll save money on finance charges over the term of your contract. Your down payment amount will lower your monthly payment and could also lower your APR (annual percentage rate).
If you have a vehicle to trade-in, you can have it appraised and use any positive equity toward the purchase of a car. Negative equity exists when the trade-in value is less than the amount that you still owe on the car. Some finance sources allow you to finance negative equity with your new purchase.
How important is a down payment?
A down payment is not a requirement of the car financing process at CarMax for most customers, but there are several reasons why your down payment can make a difference.
For one, a down payment reduces the amount you'll need to borrow, which will mean a lower monthly payment and could help you get better financing terms.
A down payment can also help you get approved if you have a thin credit history. "Overall, there are four factors that may impact customers' financing terms. Two of them you have no control over—your credit and the information on the application such as where you work, where you live, and your income," says Shamlou. "The two things you do have control over are your down payment and the vehicle you select." Which of these factors are most important in determining your financing options may vary by lender, so be realistic and put your best foot forward.
As for how much to put down, it's up to you. According to Cain, a small down payment is better than nothing. "My advice to any buyer is to put some money down," she says. "From a credit perspective, a down payment is protection for a lender."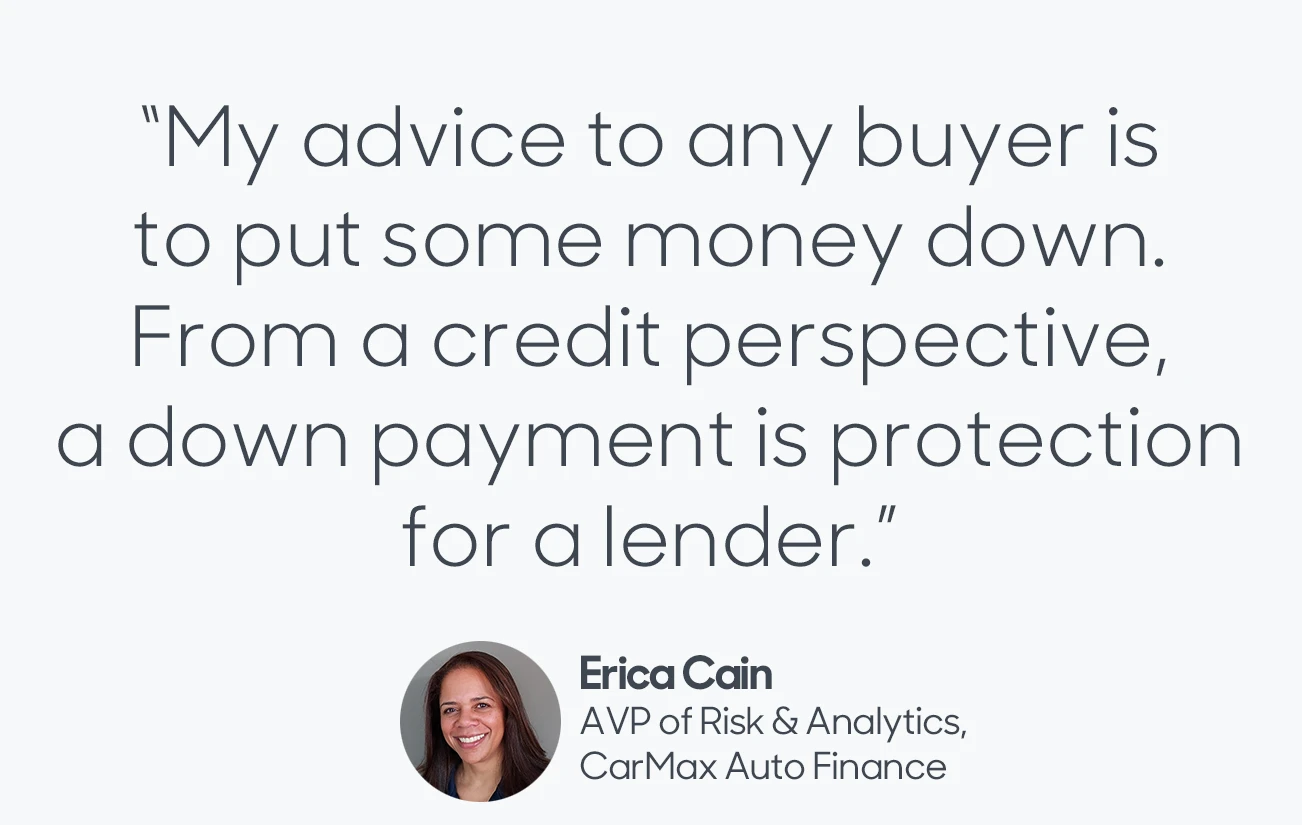 Getting Pre-Qualified
Part of the car financing process at CarMax involves getting pre-qualified with CarMax Auto Finance or one of our partners.
What is a pre-qualification?
A pre-qualification is when a lender reviews your current financial situation to determine whether they're likely to approve you for a car loan and what your estimated loan terms may be. 
A pre-qualification will result in a soft credit inquiry, meaning it won't affect your credit score.
Getting pre-qualified with CarMax can be useful when you're starting the car-buying process. CarMax's pre-qualification process uses soft credit inquiries and won't impact your credit. When you browse our car inventory with your pre-qualification, you'll see personalized terms on CarMax vehicles, including APR, monthly payment, and down payment requirement. This could help you decide whether a vehicle may fit into your budget and lifestyle.
Learn more about getting pre-qualified at CarMax.
Does a pre-qualification affect my credit score?
No, a pre-qualification does not affect your credit score. It results in a soft credit inquiry, which doesn't impact your credit score like a hard inquiry (which occurs at the point you proceed with a credit application on a specific car).
Can I get pre-qualified if I have no credit? What about challenged credit?
If you have challenged credit or no credit, it's a good idea to first try to get pre-qualified.
Submitting a pre-qualification request is an easy way to see if you can get approved for financing and what your estimated terms may be. And since a pre-qualification results in a soft inquiry, it won't impact your credit score.
If you are unemployed or newly employed, have challenged credit, or recently bought a house, it may impact your chances of getting approved for a car loan. In addition, a small down payment, high debt-to-income (DTI) ratio, or high payment-to-income (PTI) ratio can make you a riskier loan prospect to potential lenders.
Understanding Car Loan Options
There is more than one path to choose from when it comes to used car financing decisions.
What are my financing options?
If you don't have the funds available to pay for your vehicle outright, you have two ways to approach financing at CarMax.
1. Finance with CarMax. We work with several industry-leading finance sources—such as CarMax Auto Finance, Ally Financial, Capital One Auto Finance®, Santander, and more. CarMax will share every offer that you receive, so you can choose the one that works best for you. CarMax also has a 3-day Payoff Program. You can continue shopping for financing 3 days after your purchase and replace your CarMax financing at no cost.
2. You can bring your own financing from a bank or credit union.
Financial institutions and traditional car dealerships may only present you with a single offer that may not be the more favorable to you.
"The first thing comes to mind when it comes to financing for most people is the back office with the finance and insurance guy, where the person you're talking to has no power to make any decisions, right?" says Shamlou. "At CarMax, we don't have finance managers and the associates you're working with are the ones that can process and transmit all the information in a transparent way."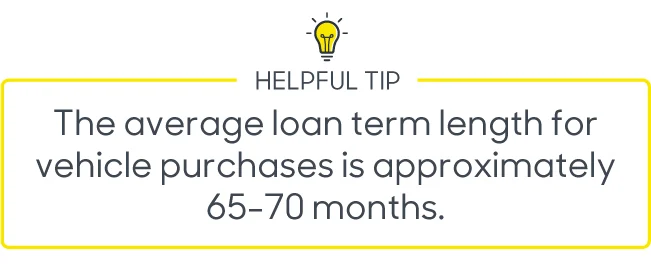 How long should a car loan be?
Choosing a car loan term is a personal decision that's different for everyone, based on specific financial circumstances. The average loan term length for vehicle purchases is approximately 65-70 months. CarMax Auto Finance offers term lengths between 36 and 72 months.
Some people prefer a longer term (such as a 72-, 84-, or 96-month term) because it means a lower monthly payment, but it will mean more finance charges (or interest) over the term of the contract. A longer term can also come at the cost of a higher APR.
With a longer term, you'll build equity more slowly, which could increase the changes of negative equity, where you owe more than the vehicle is worth.
While affordable monthly payments matter, it's essential to look at the full picture, including the term length, so that you understand what you're paying for the vehicle through your financing contract.
"Financing a car is a big debt obligation. You should feel comfortable asking questions, especially if you're not exactly sure what you're getting into," says Cain. "Our credit process is transparent from start to finish, so feel free to ask questions if you need clarification along the way."
What's the difference between the interest rate and APR (annual percentage rate) on a car loan?
There's more to consider about a car loan than its interest rate, term, or monthly payment. The APR is an important figure that's a much better gauge of what a loan will cost.
Many people get the APR and the interest rate on a car loan confused. The interest rate is the rate – or the borrowing cost of the loan – that a lender, such as a bank, charges.
The APR also includes the borrowing costs of any fees and charges related to your car purchase. This is the reason that the APR is usually higher than the interest rate on loans.
What is a reasonable APR for a car loan?
APRs can vary widely, and they are constantly changing. According to recent Edmunds data from August 2022, the average APR for used car loans ranges from 6-12% across the U.S.
Your credit history is your APR's most significant determining factor. If you have good credit, you have a greater chance of qualifying for a better APR. However, you may pay more interest and other fees if you have a low score, which translates to a higher APR.
Another factor to note is that APRs may vary by the vehicle you choose. For example, choosing a lower mileage or newer vehicle could get you a better APR.
CarMax's finance sources accommodate a wide range of credit profiles, and the process was designed to ensure a transparent car-buying experience.
Finance Terms and What They Mean

Car loan: Money that you borrow to purchase a vehicle.
Gross monthly income: An individual's total monthly earnings before taxes or other deductions
Principal: The total amount of money owed on a car loan, excluding finance charges (or interest) and any fees and charges.
Term/term length: The time in months when a borrower makes regular payments to repay the debt.
Down payment: Money to be paid at the time of vehicle purchase, which lowers the total amount financed through the loan.
Monthly payment: The amount that is owed under the contract every month.
Credit score: A three-digit number (typically between 350 and 850) used by a lender that represents a borrower's credit history and risk to determine creditworthiness. It's based on several factors, including a history of on-time payments and the amount and types of credit a borrower uses.
FICO®: Stands for Fair Isaac Corporation, which developed a popular method for calculating credit scores based on information collected by credit reporting agencies. Some lenders use their own formulas to determine creditworthiness; however, many use FICO scores.
APR: Stands for Annual Percentage Rate, which is the annual cost of a loan expressed as a percentage that includes the interest and any other fees associated with the loan.
Pre-qualification: A way to find out whether someone can get approved for financing and, sometimes, the estimated financing terms. A pre-qualification results in a soft pull and does not impact credit scores. .
Co-buyer A person (e.g., a family member or close friend) who assumes equal responsibility under the financing agreement, including the obligation to make payments on the car loan.