10 Sedans That Fit 3 Car Seats Across
---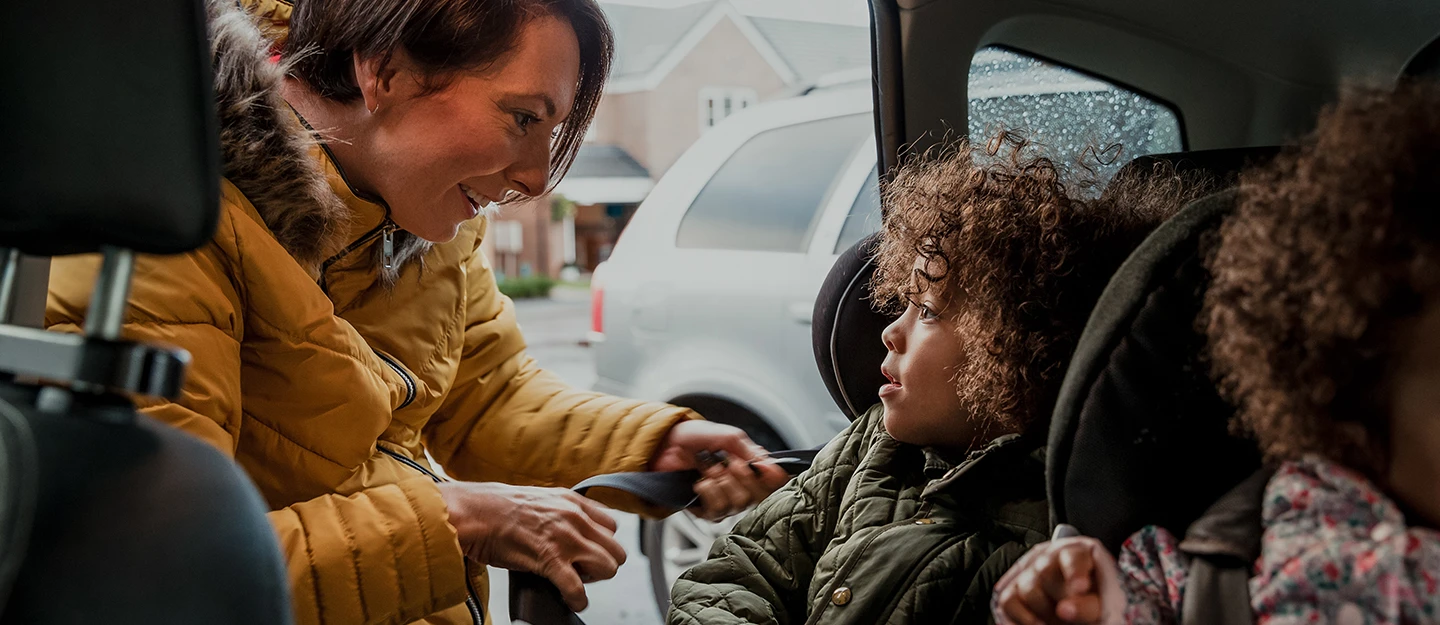 Car seat-friendly sedans for your trio.
Choosing a sedan when you have cumbersome child seats can be an ambitious task, especially if you are looking for the best car for three car seats. Very few sedans offer three sets of LATCH anchors, but seatbelts can be used to secure car seats in some vehicles, and booster seats are held in place by the child's weight and the vehicle's seatbelts.
When choosing the best 3-car-seat vehicle, there are 2 things you need to consider: the width of your car seats and the width of your backseats (also known as rear seat hip room—or the total width of the back seat cushions). Some wider car seats—like rear-facing infant seats—will not fit three across in any sedan, while there are narrow toddler car seats specifically designed for three-across installation. If one of your seats is a booster seat, you will have more room and flexibility. Regardless of your situation, you'll want to look for sedans with the most rear hip and shoulder room.
If you're in search of a sedan that can fit three seats across the second row, look no further. We've compiled a list of 10 sedans that are wide enough to fit 3 car seats across (assuming you choose narrow enough seats) and have three upper LATCH anchors.
What is LATCH and how does it work?
LATCH stands for Lower Anchors and Tethers for Children, and it is a standardized system for securing car seats in vehicles. LATCH systems were first introduced in the late 1990s and are now required in all new vehicles sold in the United States since September 1, 2002.
LATCH is located in the back seat of most vehicles and is designed to make it easier and more user-friendly to properly install car seats without using seat belts. The system consists of lower anchors found where the seat backs meet the seat cushions and top tether anchors on the backs of the second-row seats that attach to the car seat to help ensure a correct installation.
The LATCH system is specifically designed to work with all types of car seats, including rear-facing infant seats, forward-facing toddler seats, and booster seats. The lower anchors of the LATCH system are intended for rear-facing and forward-facing car seats, while the top tether anchor is used for forward-facing car seats and booster seats. Proper installation is critical, so it's important to always check the specific car seat manufacturer's instructions and your vehicle owner's guide.
10 Sedans That Fit 3 Car Seats

Rear-seat hip room: 56.1 inches, Trunk space: 16.5 cu-ft
You might be surprised to see the sporty Dodge Charger topping our list, but the 2011-2023 Charger is one of only two sedans on this list that offers 3 lower LATCH anchors across the backseat (the Chrysler 300 being the second and the rest only have upper anchors). There's also 56.1 inches of rear-seat hip room (or total width of the backseat cushions) in 2011-2023 models for a comfortable fit. With split-folding rear seats and 16.5 cu-ft of trunk volume in 2013-2023 models, you'll have the flexibility to bring a diaper bag, compact stroller, or playpen along.

Rear-seat hip room: 56.1 inches, Trunk space: 16.3 cu-ft
The Chrysler 300 is a spacious and comfortable full-size sedan with a bold, luxurious look—and it's useful too. 2011-2023 models include three lower LATCH anchors, allowing you to fit three car seats across the rear row, which is ideal if you have multiple kids in child seats. In addition to 56.1 inches of rear-seat hip room, the 300's rear seats are split-folding, providing flexibility for storing larger items in the trunk with 16.3 cu-ft of cargo volume (2011-2023 models). The sedan features various cubbies and storage spaces throughout the cabin, providing ample storage for busy caregivers on the go.
Rear-seat hip room: 56.9 inches, Trunk space: 15.9 cu-ft
The fourth-generation Volkswagen Passat, which spans from 2012 to 2022 and was refreshed in 2016, offers a spacious cabin with 56.9 inches of rear hip room, making it a great option for families with three children in car seats. The 2012-2022 Passat also has a generous trunk space of 15.9 cu-ft, which is large enough to fit all necessary baby gear. In addition, the 60/40-split folding rear seat, which is standard in 2012-2022 models, provides additional cargo space when needed.

Rear-seat hip room: 56.6 inches, Trunk space: 16 cu-ft
Introduced in 2021, the Kia K5—previously known as the Kia Optima—is a midsize sedan that is ideal for families, The first-generation K5 has 56.6 inches of rear hip room in 2021-2023 models and its wide cabin comfortably accommodates three child seats across its backseat. The 2021-2023 K5 also features a spacious 16 cu-ft trunk and standard split-folding rear seats for even more cargo space when needed. With a choice of two turbocharged engines and available features like a sport-tuned suspension, the first-generation K5 is a practical yet fun family sedan.
Rear-seat hip room: 56.1 inches, Trunk space: 16.3 cu-ft
Looking for a sophisticated and stylish sedan for your party of five? The Hyundai Sonata has a spacious cabin that fits three child seats across the second row. 2015-2019 models provide generous rear-seat hip room with 56.1 inches, while you'll get slightly less in 2020 newer models (54.4 inches). Other notable features are the generous cargo capacity in 2015-2019 Sonata sedans with 16.3 cu-ft of trunk volume to carry groceries and a compact stroller when running errands.

Rear-seat hip room: 56 inches, Trunk space: 15.9 cu-ft
While production for the Optima ended in 2020—Kia renamed the vehicle the K5—the Optima remains a well-equipped midsize sedan that just so happens to have room to fit three child seats across the back seat (2016-2020 models). It has ample rear hip room, with 56 inches in 2016-2020 models, along with 15.9 cu-ft of trunk space for baby gear and other road trip essentials. The 2016-2020 Optima also comes standard with a 60/40 split-folding rear seat, which allows you to maximize cargo space when not enjoying family outings.

Rear-seat hip room: 55.2 inches, Trunk space: 12.3 cu-ft
If you need the versatility of standard all-wheel drive and a spacious back seat but are determined to find a sedan to fit the needs of your quintet, take a closer look at the 2017-2023 Subaru Impreza. This AWD compact car delivers secure handling and traction in slick conditions and, even though it's a compact, the Impreza can fit up to three car seats across its rear seat thanks to 55.2 inches of hip room (2017-2023 models). You'll also find that the LATCH anchors are easy to access for quick car seat installations, and there are three upper tether anchors behind the rear seat. You'll appreciate the standard 60/40-split folding rear seat for extra cargo flexibility, since the Impreza ranks the lowest for trunk space on this list (a small 12.3 cu-ft).

Rear-seat hip room: 55 inches, Trunk space: 16.7 cu-ft
Love the Honda Accord and have three car seats to install? You're in luck. The tenth (2018-2022) and eleventh (2023) generations provide a minimum of 55 inches of rear-seat hip room, making it possible to install three car seats. The 2018-2023 Accord also has 16.7 cu-ft of generous trunk space for carrying belongings for day trips or weekend getaways, including a full-size stroller. Plus, the standard 60/40 split-folding rear seat provides extra storage flexibility when transporting large hauls from the warehouse club to stock up on essentials.

Rear-seat hip room: 55 inches, Trunk space: 15 cu-ft
The Subaru Legacy is a popular choice for its standard all-wheel drive, but it's also a top option for parents and caregivers who need a two-door vehicle that can fit three child seats across the second row. 2015-2019 models offer 55 inches of rear-row hip room, accommodating three child seat-riding passengers in the back seat. All 2015-2019 Legacy sedans include a 60/40-split folding rear seat, which also has a center pass-through if you need to carry longer items for solo trips to the home improvement store. Additionally, with 15 cu-ft of trunk volume in 2015-2019 models, the Legacy can hold overnight bags and kid gear for weekend trips.

Rear-seat hip room: 54.5 inches, Trunk space: 15.4 cu-ft
Another sedan with available all-wheel drive and room for three child seats across the second row is the Nissan Altima. Part of the sixth Altima generation introduced for 2019, this stylish two-door provides 54.5 inches of rear-seat hip room (2019-2023 models), which is adequate for narrow car seats. The 2019-2023 Altima's 15.4 cu-ft trunk, plus the sedan's standard 60/40 split-folding rear seat enhances the cargo space's usefulness. With comfortable seats up front for caregivers and the Altima's easy-driving dynamics, this model is an excellent family vehicle.
Sedans make great family vehicles for their smooth and quiet ride, low step-in height, and easy maneuverability. And as this list proves, there are some great choices that can accommodate three car seats in the second row. So, whether you want a sporty and powerful sedan like the Dodge Charger, a versatile ride like the Subaru Legacy or Impreza, or a sleek and sophisticated four-door like the Chrysler 300 or Hyundai Sonata, you have options that will fit your entire crew and their child seats.
Want to learn more? Check out these related articles:
We hope you found this information helpful. This content is intended to inform and is not meant to indicate that a particular vehicle is currently available or recommended for you. We make every effort to provide accurate information, but please verify before purchasing.
Unless otherwise noted, information related to these featured vehicles comes from third-party sources, including manufacturer information. Product and company names may be trademarks or registered trademarks of third-party entities. Use of them does not imply any affiliation with or endorsement by these entities.