What to Know When Shopping for a Family Car
---
PUBLISHED TUESDAY, MARCH 28, 2023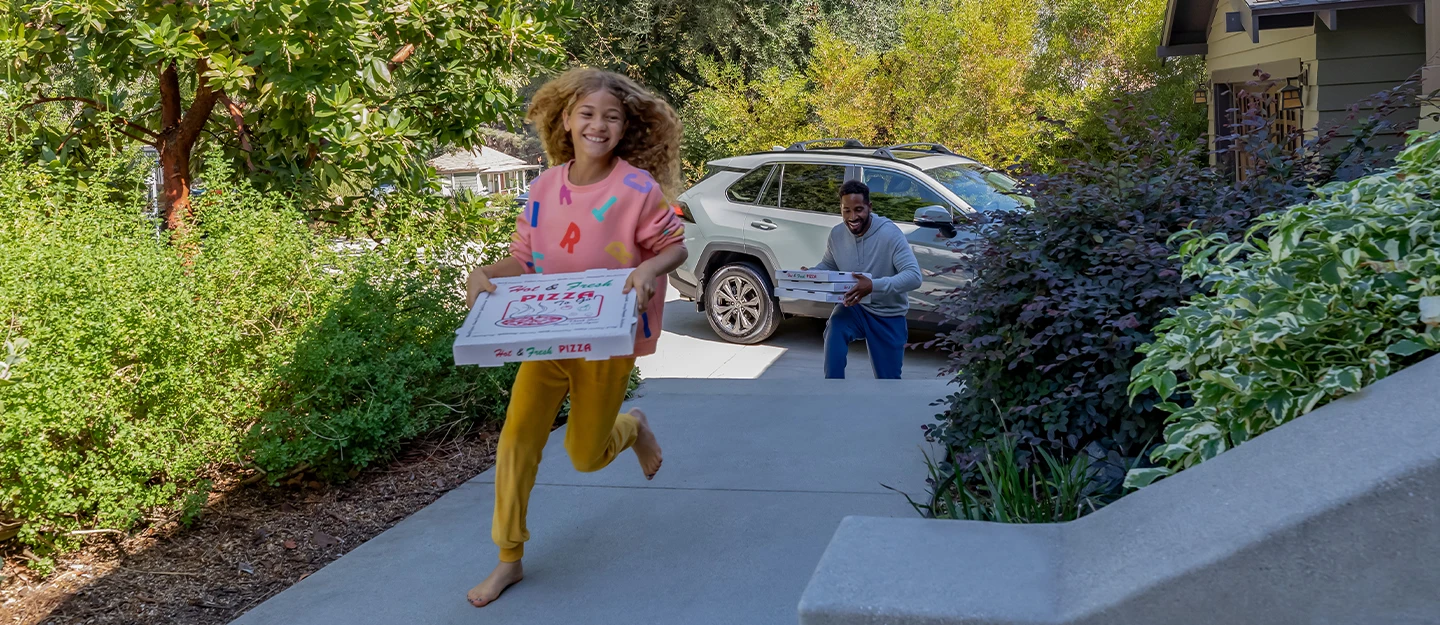 From car seats to cargo space—real parents talk about what to consider in a family car.
Welcoming children into your family is an exciting time filled with new experiences and unknowns and looking for a family car is one of them. There are lots of factors to consider—and we don't just mean which seat material is easiest to clean crumbs out of.
For instance, it's essential to think long-term when buying a family vehicle. "Don't just think about the newborn stage, but the toddler stage, too. They grow so quickly!" advises Toni, mom to a 14-year-old and 2-year-old.
That's why we surveyed 12 different CarMax associates (including Toni) who are—first and foremost—parents. We wanted to tap into their perspectives and experiences on finding a car that fits their family's needs. From car seats to cargo space and everything in between, read on to find out what to consider when looking for the best family car to meet your needs.
What to keep in mind when family car shopping
Exterior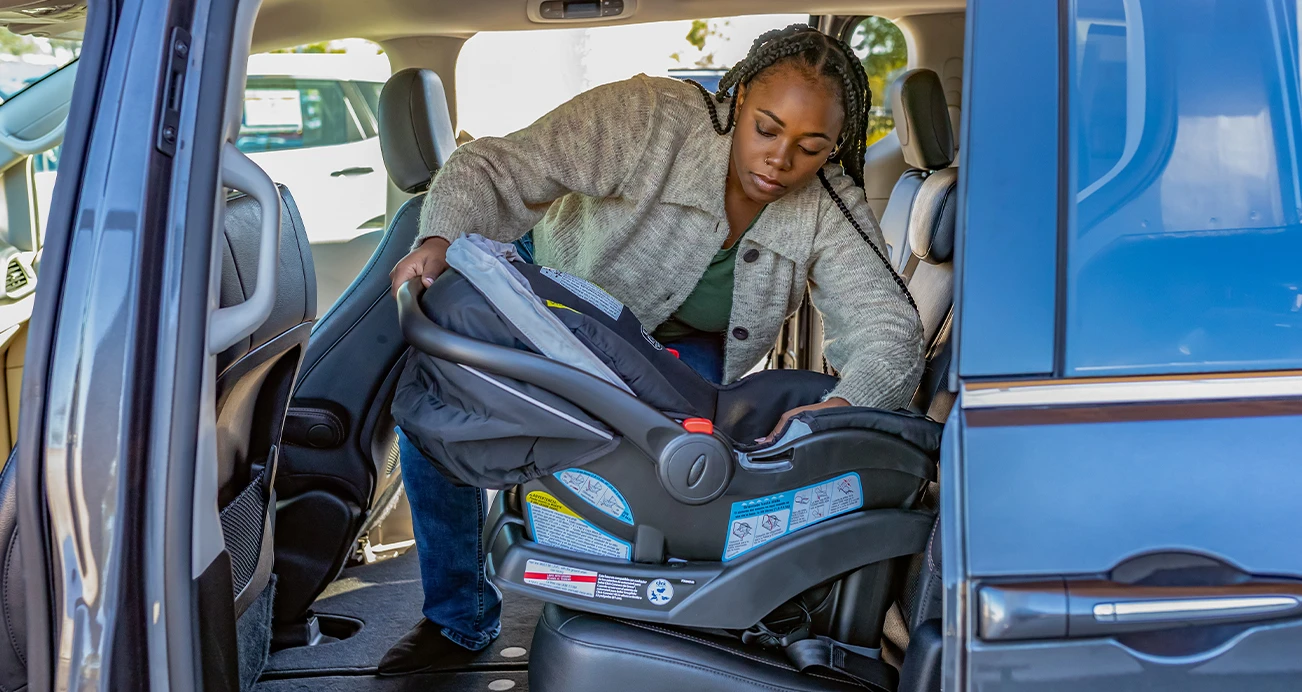 Finding the right family car can start with the exterior. How easy it is to get in and out makes a big difference in comfort—car seats with a baby in them are heavier than you think.
Consider how you'll bend when loading or unloading car seats and how wide the passenger doors open. Doors that open wide can be a challenge in tight parking lots. This is where the sliding doors of a minivan really shine. (Think: no worrying about your child leaving a ding in the car door next to you in the parking lot.)
A minivan's doors open without that worry, while still giving you a large opening and good loading height for car seats. Most minivans, like the 2018 Toyota Sienna LE and above and 2018 Honda Odyssey EX and above, have power sliding doors that make opening and closing much easier.
Ride height is another factor to consider. "I like driving an SUV for the visibility (I'm short) and it feels better when driving the kids since we're higher off the ground," says Ayron, mom to a 4- and 1-year-old.
However, with increased ride height, minivans and SUVs may be a little harder for young kids to get in and out of on their own. Running boards or sidebars give kids an extra boost like a stepping stool. And for greater visibility, look for models with driver aids like backup cameras or blind spot monitoring.
If you have a big family and need a third row of seating, you might have to give up cargo space. Look for exterior additions that help you carry lots of luggage. Roof racks and a hitch receiver, for example, allow you to use rooftop carriers and rear bike racks.
Helpful Exterior Family Car Features
Hands-free liftgate—This opens a vehicle's rear tailgate with a wave of your foot under the bumper when your hands are busy. You'll find this feature available on many modern SUVs and minivans.

Remote start—Typically found on a key fob (or even a mobile app), this feature lets you start the car before you get in. You can set the interior to a comfortable temperature to avoid the cold or sweltering heat. In the 2020 Kia Telluride, for example, you'll have access to Kia's available UVO Link app, which lets you set climate controls or remotely start the SUV.
Interior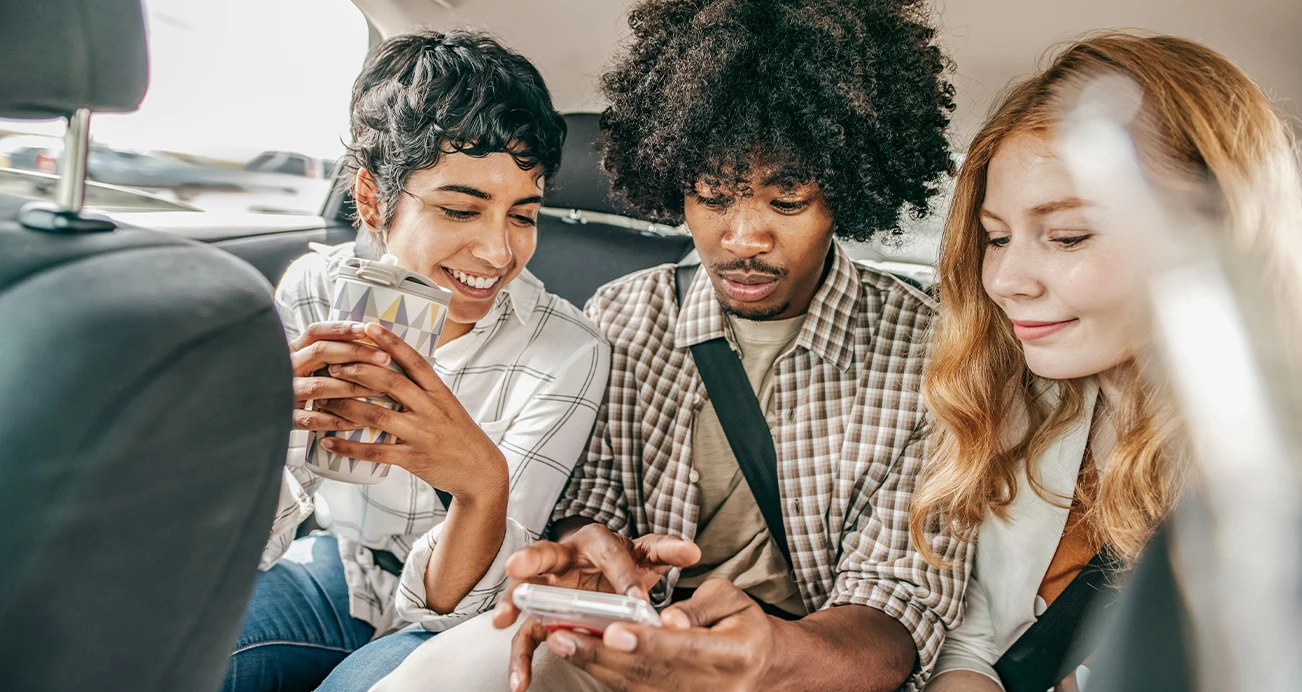 It's important to make sure that the interior of your family car can grow with your family. Consider seat placement, for example. "Think about reachability from the front seats," says Ayron. "It's amazing how often kids need something when you're on a road trip like drinks, snacks, or a toy or book they dropped." Even small touches, like interior lighting, make a big difference at night when you're trying to search for something in the back.
A third row comes in handy as your family grows or as kids grow up and their friends need rides. Be sure to check how accessible the third row is, though.
SUVs often have movable second-row seats, either manual or automatic, so consider what will work best for you. In 2016 and newer Honda Pilots, for instance, the second-row seats slide horizontally forward with the press of a button but stay in an upright position to avoid having to take out any car seats.
Or, instead of bench seating (three seats across) in the second row, see if captain's chairs are right for you. Captain's chairs are two stand-alone seats in the second row, with an aisle to get to the third row in the middle. The perks? A little more room and easier access to the third row.
"Our next car will most likely have captain's chairs and a third row," says Greg, father to a 5- and 3-year-old. "Giving the kids their own chairs is nice so they don't have to share space as they get older and bigger."
For interior materials, the big debate often comes down to cloth or leather seats. "Get leather seats for easy cleanup. A kid makes things messy," says Tina, mom of a 9-year-old.
Helpful Interior Family Car Features
Intercom system—Kids can't hear you from the front seat? Cabin intercom systems are available in some three-row vehicles, using mics above the front seats to broadcast your voice through the rear speakers. Some examples are Kia's Driver Talk, Honda's CabinTalk®, and Toyota's Driver Easy Speak.

Family cameras or conversation mirrors—Keep an eye on what the kids are up to in the back seats with a roof-mounted camera that displays what's going on behind you. The 2019-2022 Honda Odyssey Touring and the 2022 Kia Carnival EX both include a cabin camera system. For a more widely available feature, look for vehicles with a conversation mirror—a small mirror located near the rearview mirror that flips down to give you a look into the backseat.
Car Seats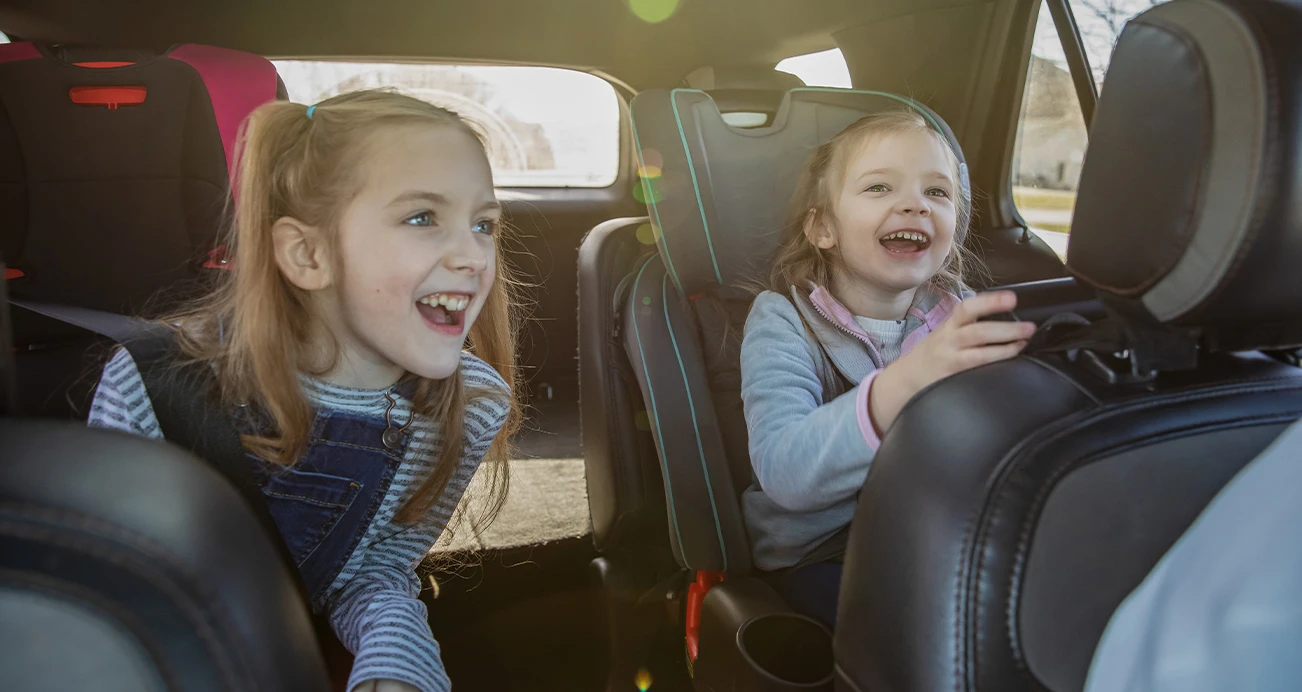 One of the top things to think about when looking at family cars is how car seats will fit. Yes, that interior may look roomy on its own or when you have one baby in an infant seat, but what happens to the space in a few years when you have to fit three toddler car seats in the second row?
"Kids are in car seats for a long time. Think about how your needs will change in a few years as your kids get bigger and your family grows," says Christina, a mom of three kids under five. "Car seats get bigger as your kid goes from baby to toddler and adding more kids (and more car seats) make accessibility and space a challenge."
Proper car seat installation is important and vehicles with LATCH anchors in their rear seats can help make this easier. A LATCH (Lower Anchors and Tethers for Children) anchor is a unique anchor system that features three connection points on a seat: two in the seat cushion and a tether anchor behind.
"Take your car seats to the lot and see how they fit. See how easy (or not easy) they are to get in and out," suggests Greg.
The IIHS (Insurance Institute for Highway Safety) website rates how easy the LATCH system is to use in a certain car, where the LATCH anchors are, and other helpful information. Enter the year, make, and model of the vehicle you're considering to find specific child seat information. (Be aware that not all vehicles have LATCH anchors.)
Car seat safety is top of mind for parents and regulations may vary from state to state. For more on car seat and booster seat installation, the National Highway Traffic Safety Administration (NHTSA) provides information on their website to help families learn more.
Helpful Seating Family Car Features
Seat tilt— Christina says, "With three kids in car seats, I can't be climbing over seats or getting kids in and out from the cargo door. My car makes it easy to tilt the second-row seat forward (with a forward-facing toddler seat still installed) and get my older toddler into the third row. I didn't know this feature existed until we got a Jeep Wagoneer—and it's a game changer."

Honda's Magic Seats®: With several seat configurations for any kind of space, these seats can fold up, lie down flat, and the front seats can even line up with the rear ones to create an in-car recliner experience.
Technology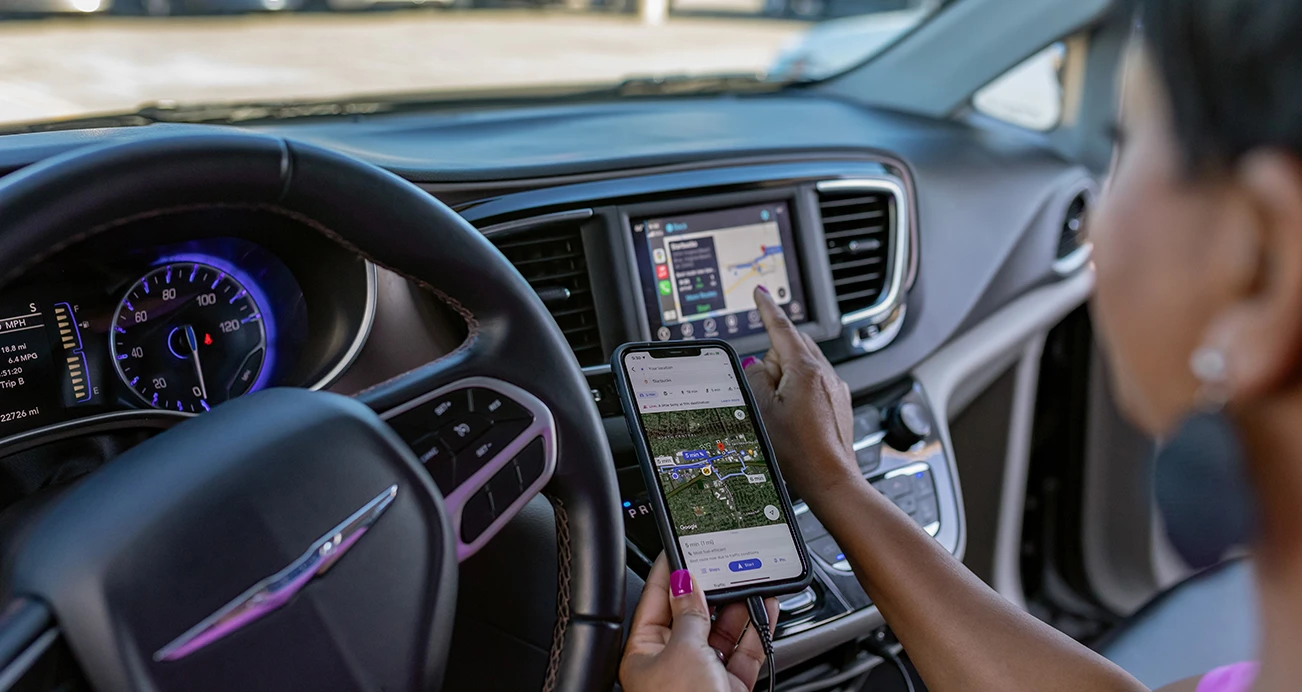 Many of the parents we surveyed listed device charging, streaming audio, and backup cameras as must-have technology in their cars. "We need lots of charging for devices because we travel a lot and allow our son to spend the trip on a device," says Tina.
As your family grows, the need for easy charging for everyone will, too. The 2018-2021 Chevrolet Traverse is a great choice for this purpose, with USB charge ports in each of the three rows—six in total. You can even stay connected with an available integrated 4G LTE Wi-Fi hotspot, something the 2018-2021 Chevrolet Traverse L and a few other trims offer.
In many newer vehicles, a compatible phone can connect with your car in convenient ways. Features like Apple CarPlay® or Android Auto™ let you stream your favorite music as your smartphone projects onto your car's infotainment screen. With other connectivity options, you can even keep your kids happy with their favorite shows on the road.
"We have a TV and entertainment system [in our car] that works with Google Chromecast so we can stream anything to the TV. It's excellent for long rides and we don't have to lug a bunch of old DVDs," says Michelle, mom to a 7-and 10-year-old.
If driving a larger SUV feels intimidating, driver aids can make things easier. Rearview or surround view cameras show what's behind and around your car that you might not see in your mirrors. These cameras make parking in busy lots easier and help you avoid obstacles like toys and bikes the kids leave in the driveway.
Helpful Tech Family Car Features
Auto-hold—Paired with an electronic emergency brake, the auto-hold function holds the brake pressure until you press the gas. If you accidentally take your foot off the brake in a drive-through or while waiting in line for school drop-off, auto-hold keeps the brakes locked for you.

Driver-assistance features—Many vehicles come with a suite of features such as adaptive cruise control, forward collision avoidance, and lane-keep assist. These are all designed to help you avoid accidents on the road.

Rear seat reminder—Depending on the make or model, this feature alerts you if you leave something in the backseat after you've locked and exited the car. There are many versions of this feature—some use backseat motion detectors or infotainment screen alerts, while others use door-sequencing technology where onboard computers detect if a back door was opened before driving.
Storage & Cargo Space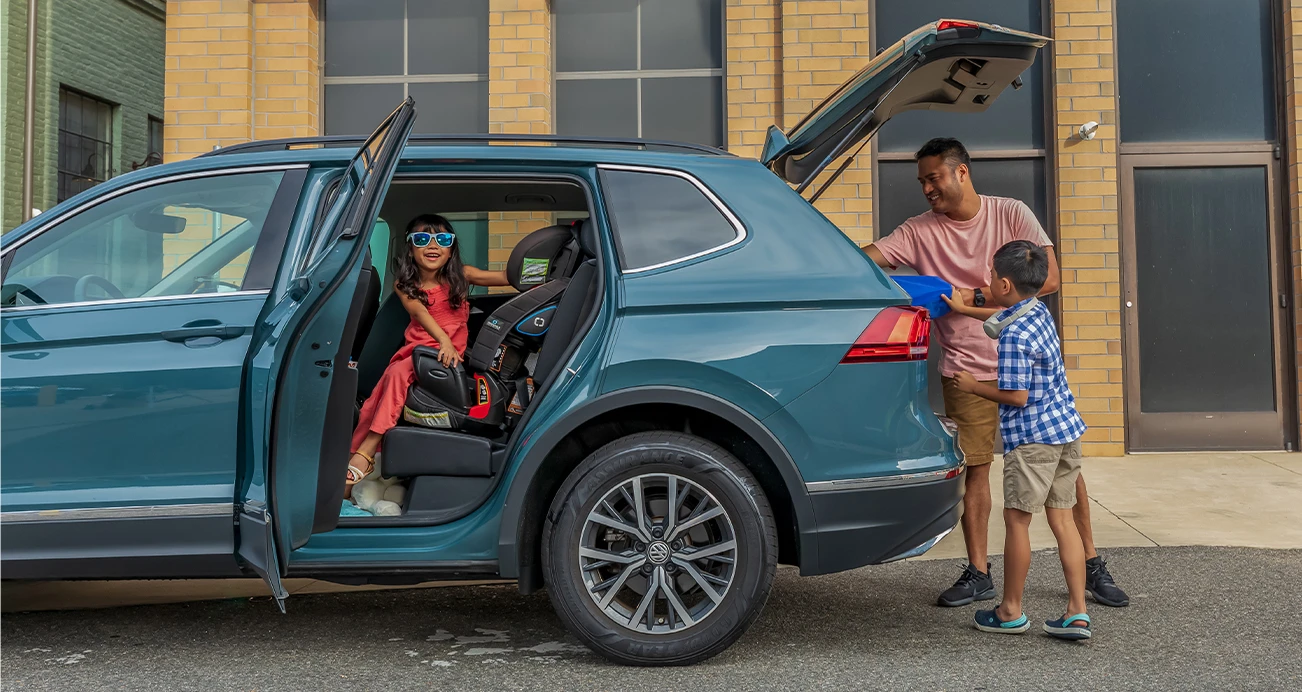 Nearly every parent buying a family car says the same thing: Space is precious. There can never be too many storage cubbies, pockets, and trunk space.
"Go bigger rather than smaller. You don't know you need the space until you need it," advises Christina. "The biggest buyer's regret for my friends with kids is wishing they got a bigger family car. It's not just putting another human in the car; it's also all the stuff that goes with it."
Minivans have a reputation for practicality. Their interior spaciousness and creative storage make them a popular choice for families. Full of door pockets, lots of cup holders, under-seat storage, and deep rear cargo wells—a minivan can fit all the gear your family brings along.
Large strollers are likely the most oversized item you'll need to pack in your family car. Still, you also need to think about space for other kid gear like pack-and-plays, collapsible wagons, umbrella strollers, and any other specific gear you'll need on a trip. On average, a stroller folds down to about 44 inches long, 26 inches wide, and 20 inches high. Split-folding second- or third-row seats increase your cargo space for larger items like these.
Helpful Cargo Family Car Features
Stow-N-Go® seating: While you can find this specifically in the Chrysler Pacifica, this "fold flat"-type seating is some of the most accessible storage among minivans. Second- and third-row seats fold flat into the floor, giving you flexible interior cargo space.

Cupholders: You can never have enough of these—look for console or dashboard cupholders, as well as plenty of rear cupholders either built into rear seats or doors.
Meet the Real Parents & What They Drive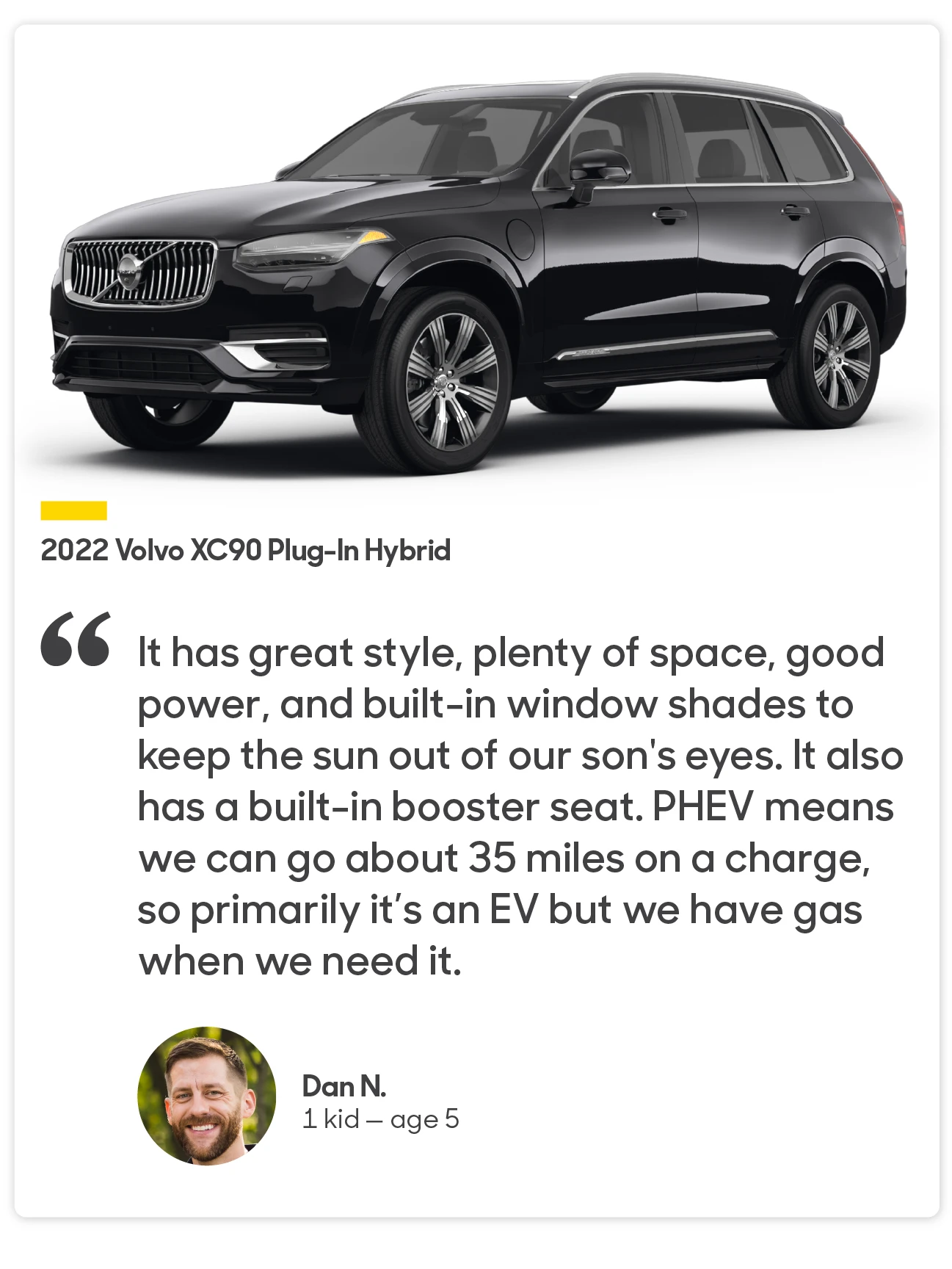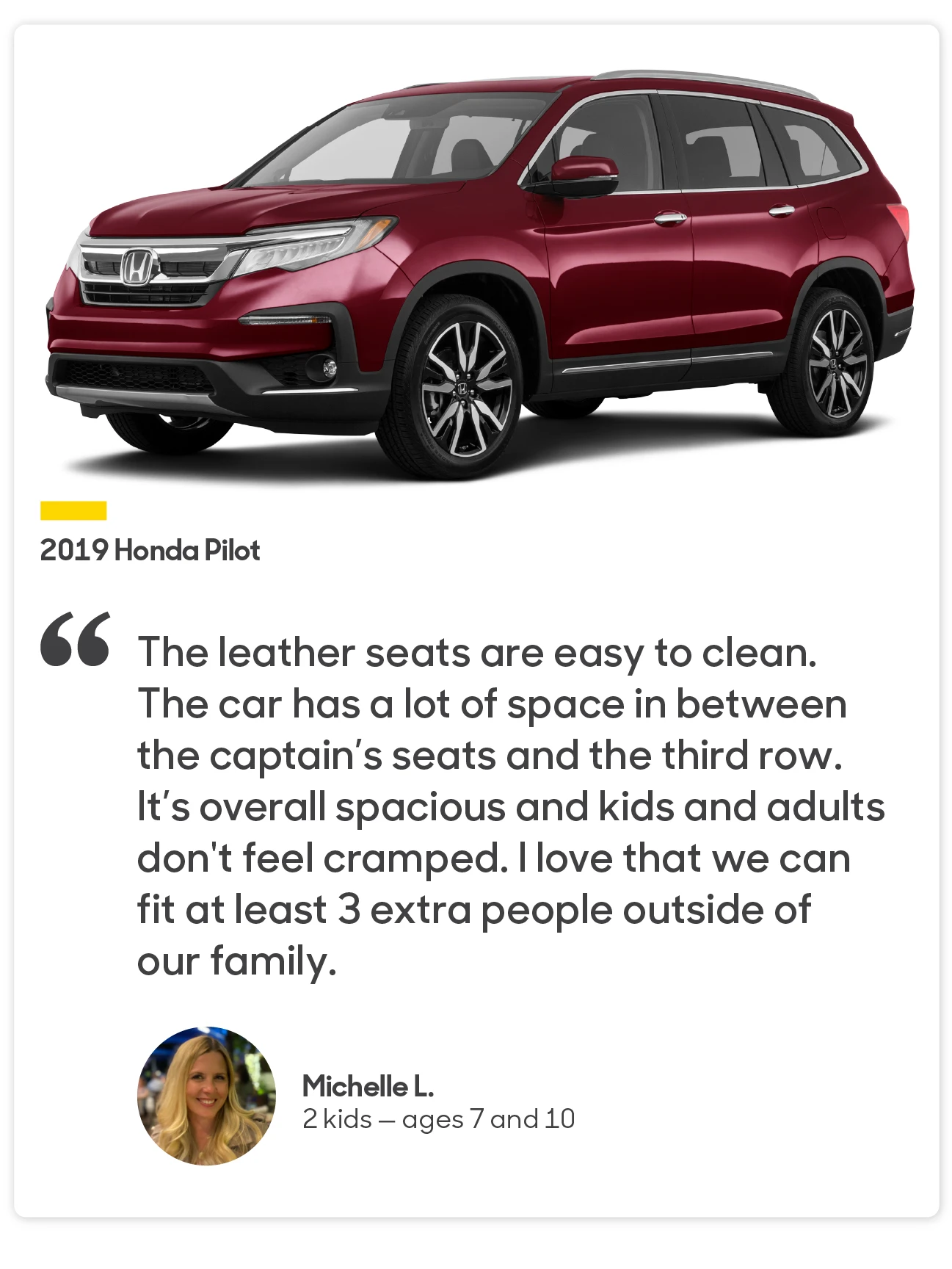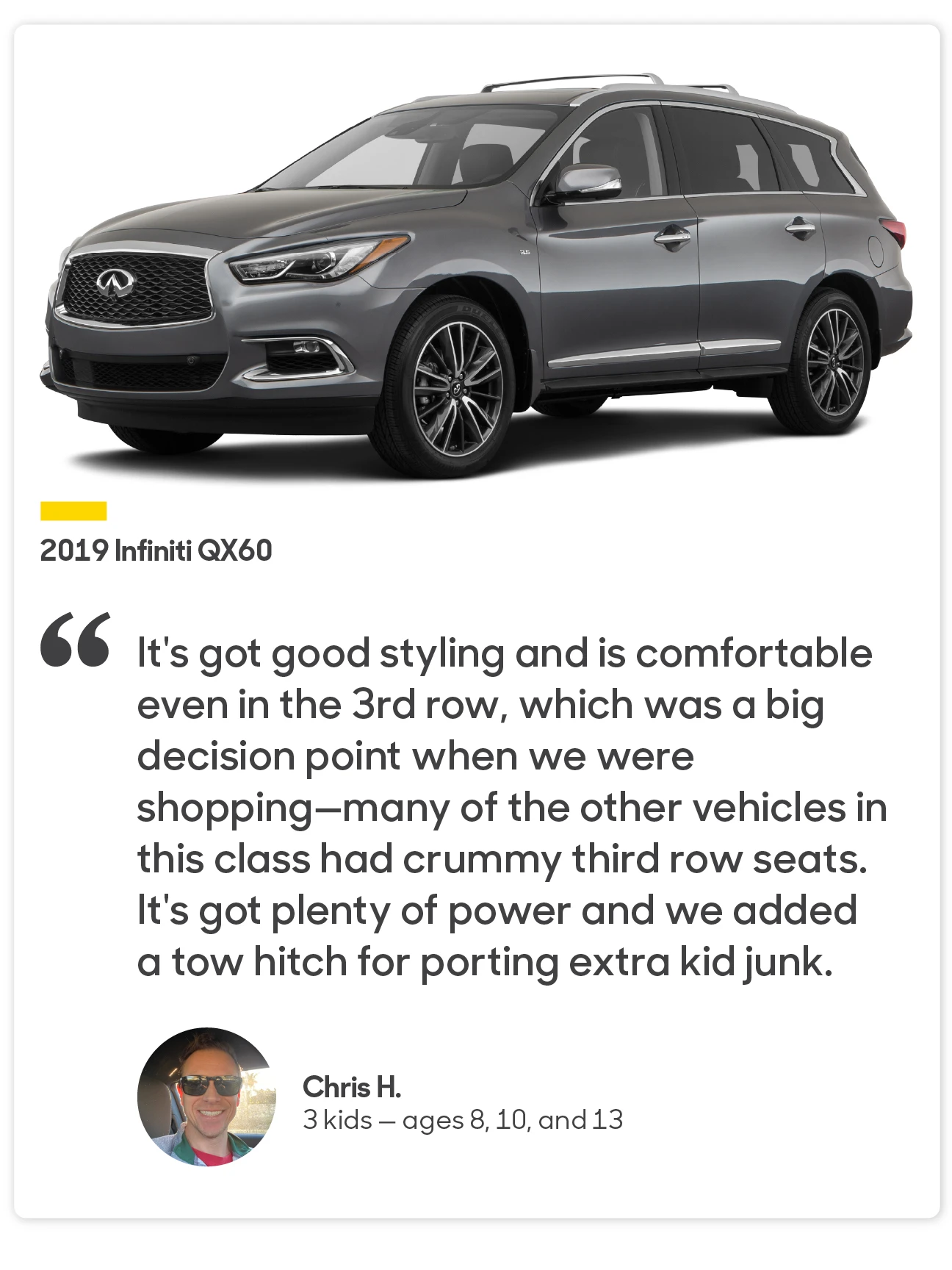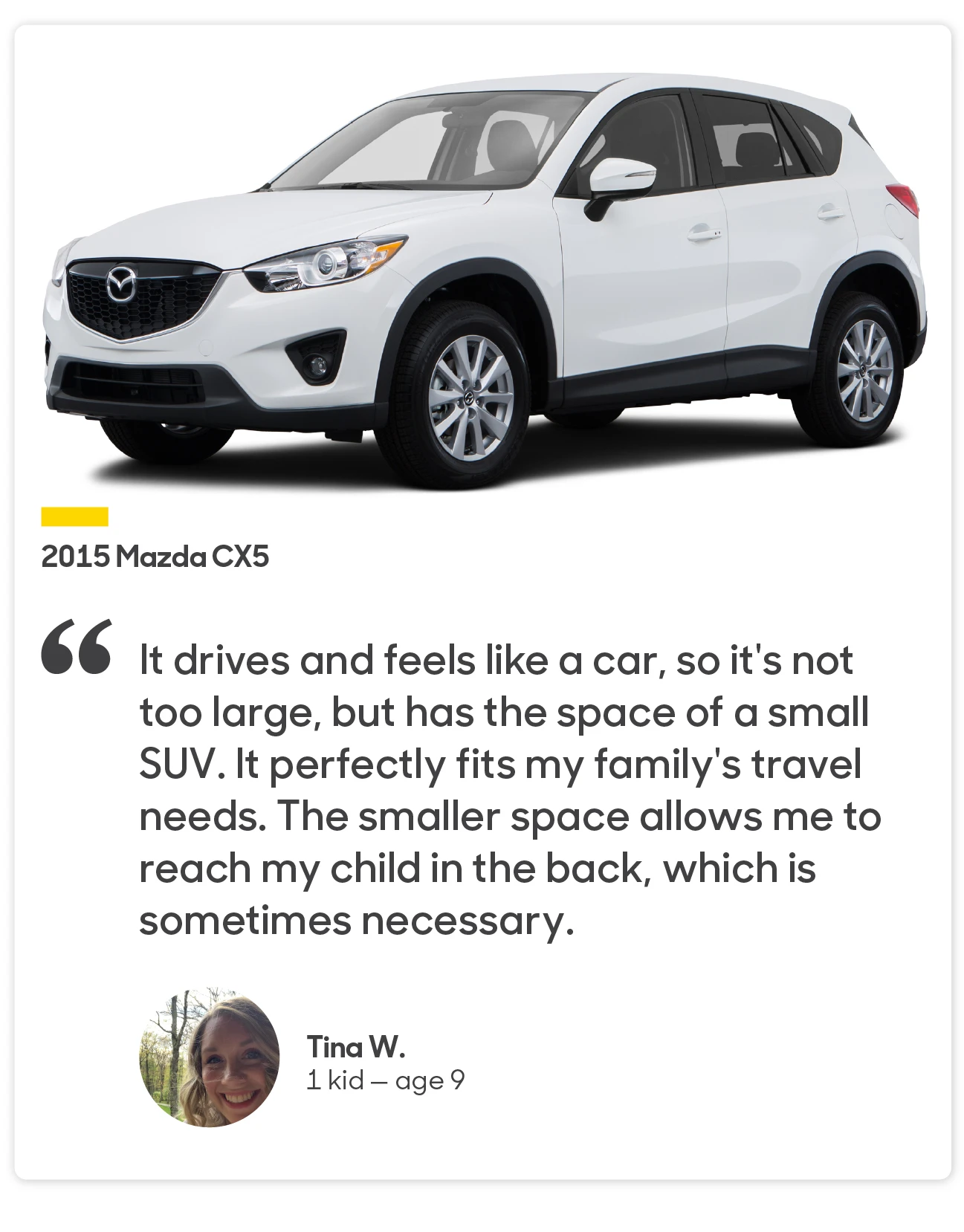 Who We Are
At CarMax we've been buying and selling cars since 1993, and we've made it our business to pay close attention to which cars customers like—and buy—the most. As the largest used car auto retailer in the United States, our overall sample size is large and reflective of the variety of year, makes, and models that we sell.
How We Created Our Parent Survey 
We surveyed 12 CarMax associates with children from ages one to 22 on what matters most to them when shopping for a family car. From prompted questions, the parents we surveyed submitted open-ended responses related to their current vehicles, must-have family features, and advice for new families or families in the market for a vehicle. The views and opinions expressed above are those of the individual participants and they do not imply an endorsement by or official position of CarMax.
Looking for more family vehicles? Check out these related articles:
We hope you found this information helpful. This content is intended to inform and is not meant to indicate that a particular vehicle is currently available or recommended for you.
We make every effort to provide accurate information, but please verify before purchasing.