What Dog Owners Need to Consider When Car Shopping
---
PUBLISHED FRIDAY, AUGUST 26, 2022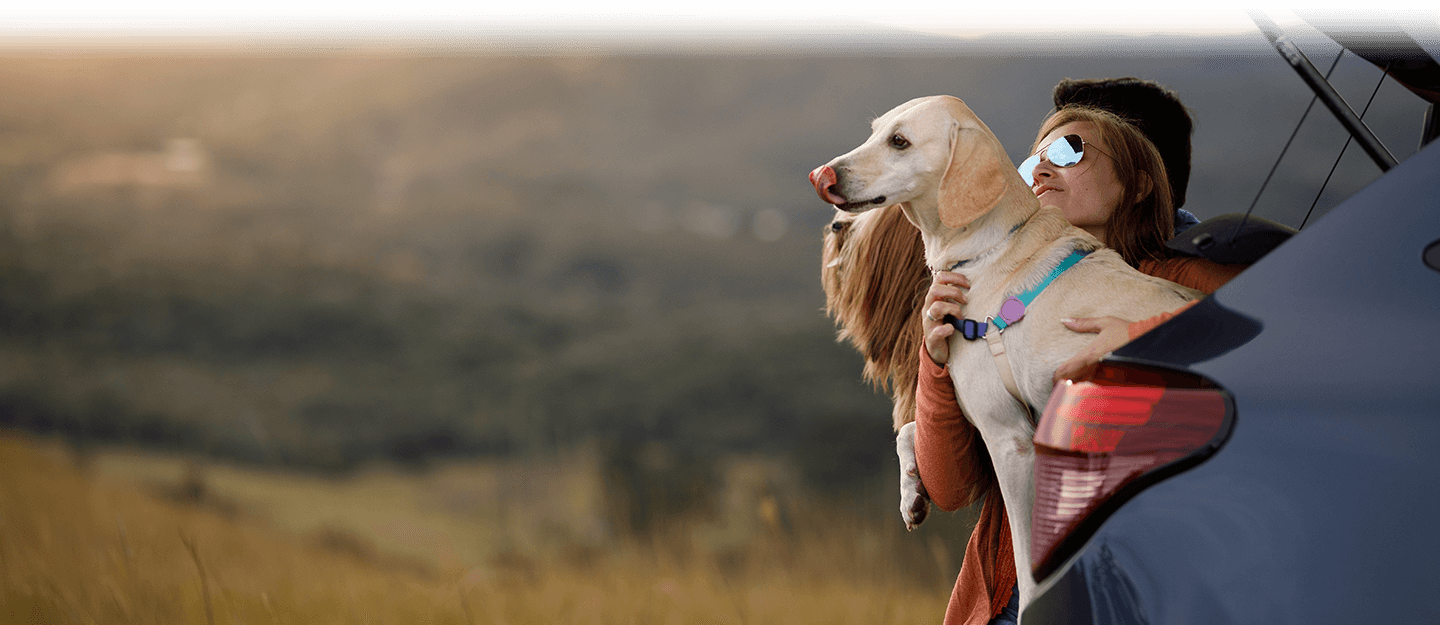 How to find the best car for your dog.
Article Summary:
We spoke to Paul Owens (the Original Dog Whisperer), an author and expert on positive dog training on top considerations when picking a car with your dog in mind.

Owens talks about dog harnesses & seat belts and making sure your dog is comfortable in the car.

The article also covers dog-friendly features in cars and vehicle ideas for three different sizes of dogs.
Anyone who is responsible for another creature's welfare knows you have to carefully consider their needs when choosing a vehicle. For dog owners, there are a lot of factors to think about—maybe even more than you realize.
We spoke with Paul Owens, the Original Dog Whisperer, an author and expert on positive dog training, to get insight into what your dog really needs. Here are some of the most important things to consider when choosing a vehicle that suits both you and your dog.
Prioritizing Comfort for Your Dog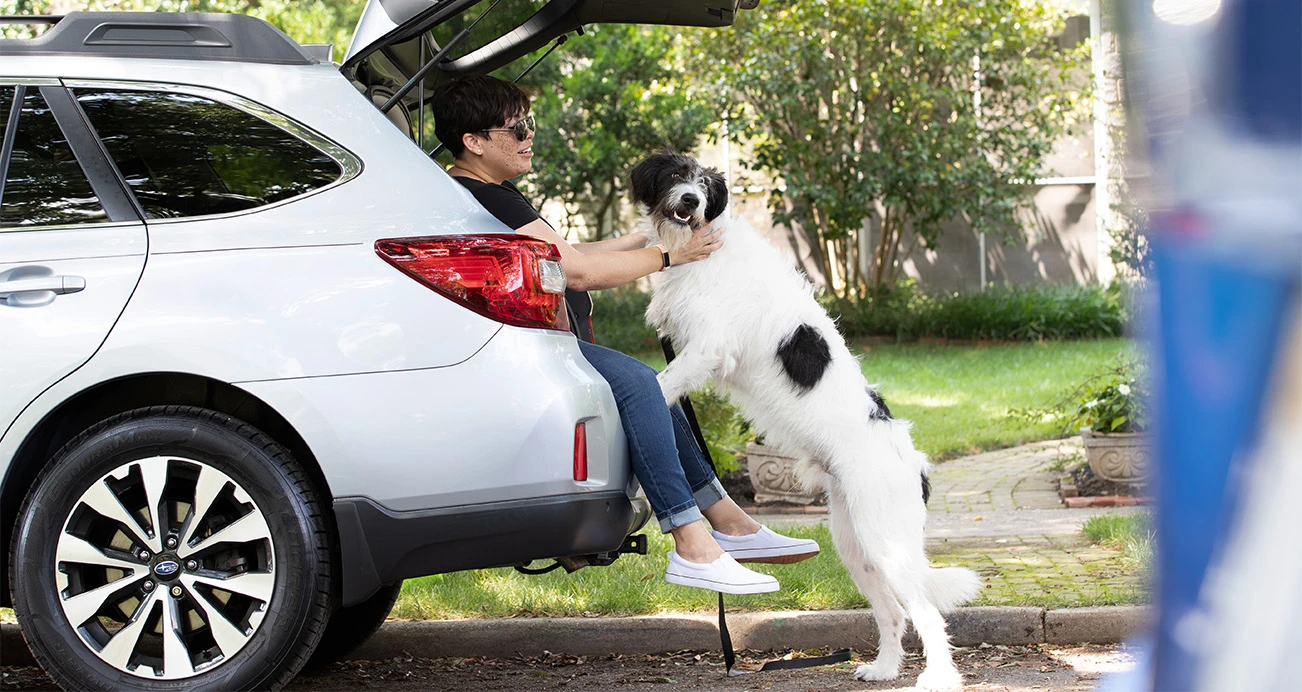 Is there enough room for your dog?
A top priority when choosing the right vehicle is whether there's enough room for your dog. While it's common to see dog owners riding with their dog in the passenger seat, Owens claims, "they should be put in the back." Look for enough space in the back seat or the hatch to install a crash-tested harness or correctly situate a crash-tested kennel or crate, with room to spare.
Dog harnesses & seat belts
When looking for the right dog harness, make sure it's not going to be too tight for your furry friend. Look for one with wide straps and the largest possible chest piece for optimum comfort.
To buckle up your dog, take the carabiner attached to the harness and secure it to both the shoulder and waist straps of the seat belt, and then buckle the seat belt. This stops the dog from pulling away and helps keep them secure. Research harnesses before you buy to find the right one for you. A resource that may help is the Center for Pet Safety (CPS), which is an independent organization that studies pet products.
Kennels & crates for the car
If you're going to use a kennel or crate in the car, find one that works well in a vehicle. "You can't put a dog into a regular carrier or kennel," says Owens. "The dog will hit the sides of the cage if something happens, so you really do have to spend a little more on a crash-tested one," he adds.
According to Owens, there aren't many crash-tested dog kennels. But for a larger dog, you may want to get a crate that will keep them secure during any journey. The Center for Pet Safety has information available on crash-tested dog kennels for travel. You can see their findings on the CPS website.
Does your dog like the car?
Some dogs associate car trips with traumatic memories, like being left alone in a car and developing separation anxiety, and it makes them uncomfortable about getting inside the vehicle. Making sure your dog likes the car is what all this preparation hinges on. This includes considerations such as understanding that big dog + small car = minimal space for them, which might make them feel physically or emotionally constrained.
"The number one mistake people make, by far, is assuming their dog will be fine in any car," says Owens. "In fact, a lot of people hire me simply because their dog hates the car and won't get in. This could be due to witnessing trucks rumbling by and honking their horns when they were a puppy or being taken to the vet for a shot."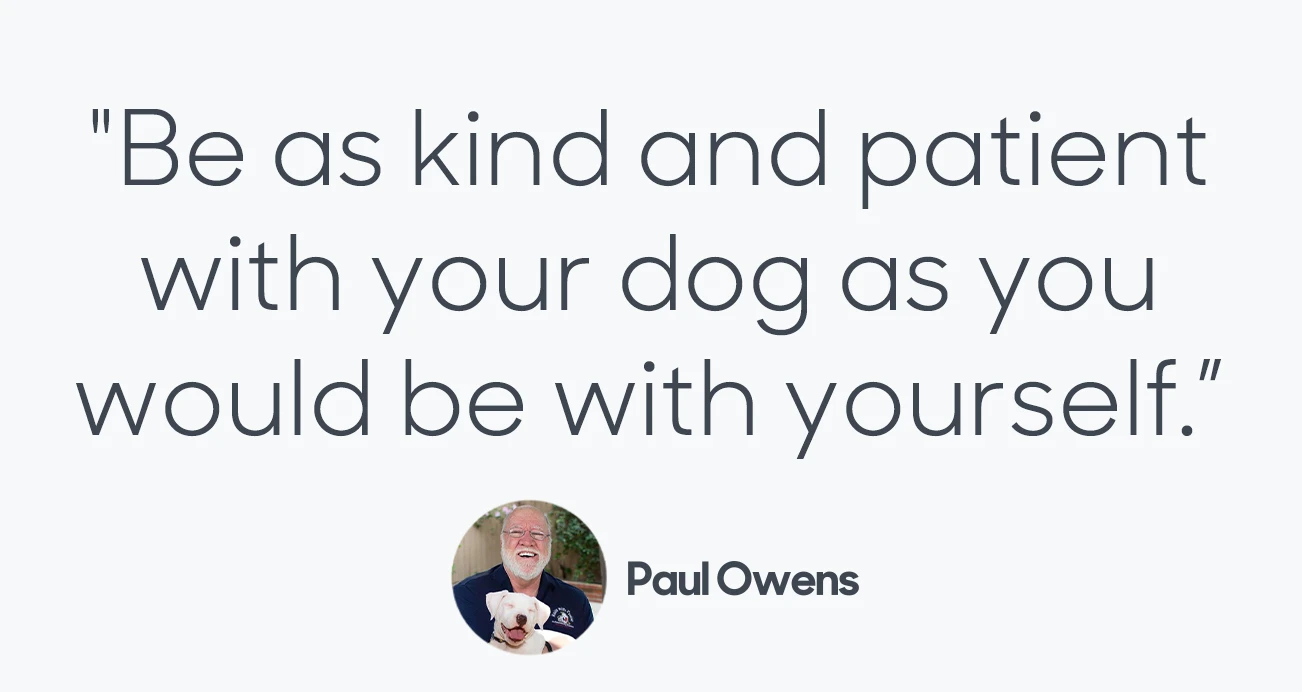 Again, space is a factor here, and training might be required. Riding comfortably in the car is a skill and there could be negative connotations to get past, especially for rescue dogs. This means basic comfort must be kept front of mind when making even small decisions—including whether your dog will be warm or cool enough, or whether the cabin lets in lots of road noise. "Your fail-safe is to choose things that a child would want in a car," Owens adds.
"Be as kind and patient with your dog as you would be with yourself," advises Owens. "Training your dog to do something willingly and on command requires the building of new neural pathways in their brain, and that takes time."
Shopping for a Car with Your Dog in Mind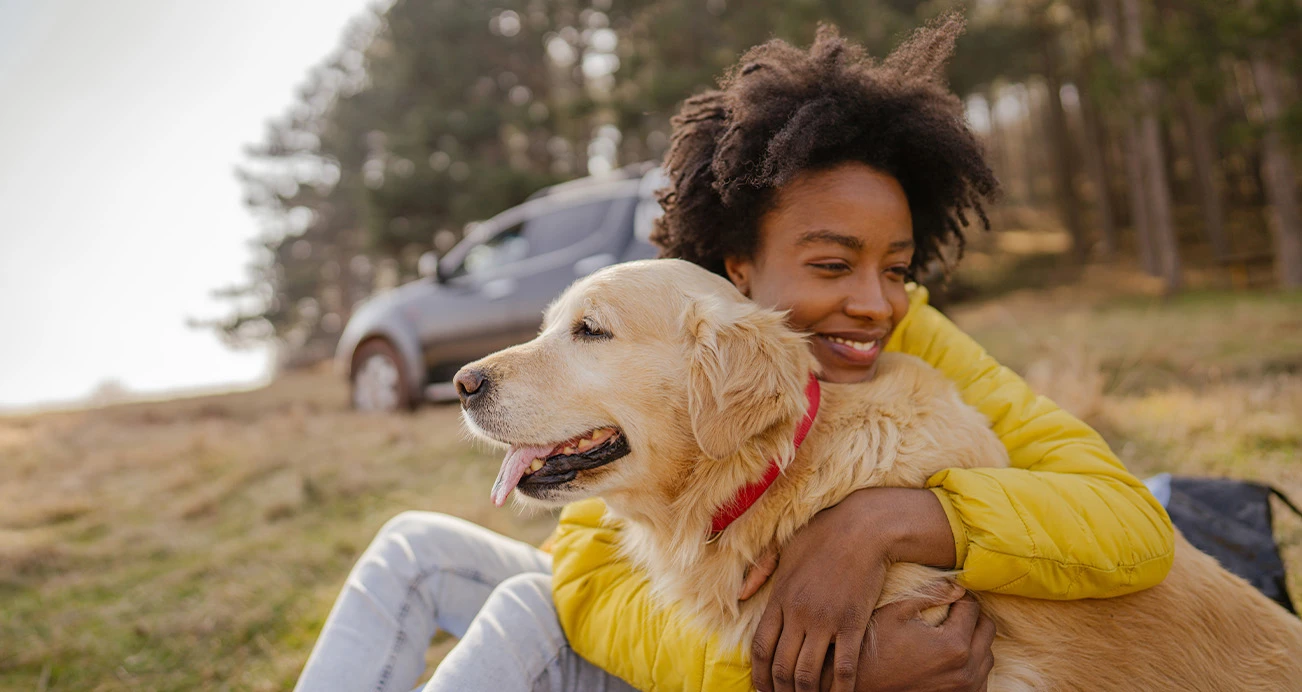 Height considerations
Think about both the headroom and the ground clearance of a car to ensure that your dog will fit properly. A big and/or tall dog needs plenty of headroom to sit up comfortably in a harness, while small, short-legged, older, or disabled dogs need to be able to get into the car with ease.
Upholstery options
It's common sense to consider the fabrics and other materials in your car if dogs will be riding in it. Darker colors absorb heat more, so consider whether your dog gets hot easily. You might also want to avoid high-end fabrics in case they end up clawed or chewed. Floor mats that are easy to remove and clean are another great idea. Ultimately, however, using a blanket or towel and keeping your dog's nails clipped can ensure upholstery damage is limited.
Child locks or window locks
Many dogs can easily open a door or window and get their head or paw trapped, or even jump out of a moving car. Child locks and window locks are a must to make sure this doesn't happen.
Sunshades
Not only are sunshades great for keeping the car cool, but they also help dogs that are sensitive to motion by blocking their view of the outside world. This way, they're less likely to feel nauseous or nervous.
Remote start
A vehicle with remote start offers the advantage of heating up or cooling down the car before you and your dog get in. This means they skip the period of panting or shivering while the car adjusts to the temperature you choose.
Vehicle Ideas for Dog Owners
Small dogs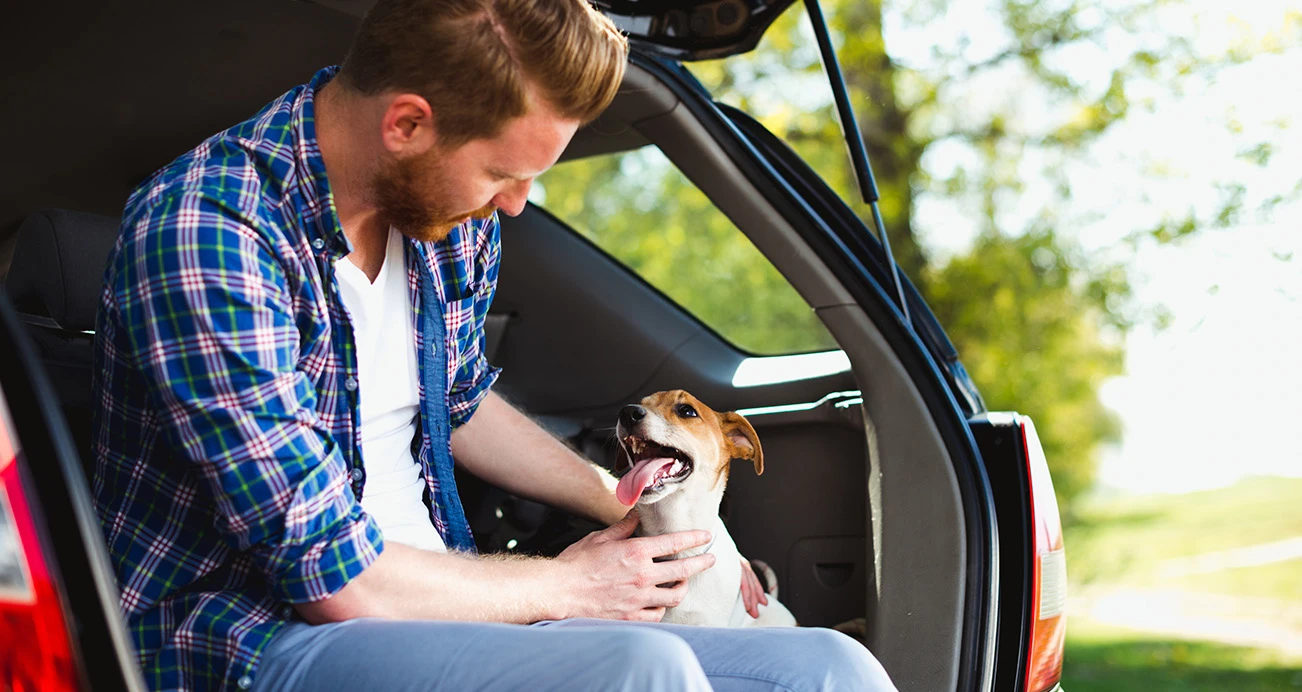 You might think small dogs are the easiest to accommodate simply because of their size, but like all dogs, there are certain requirements to consider. With a small dog, you can get away with choosing a smaller vehicle. It's best to find one with low ground clearance to ensure they can jump in. Otherwise, you can acquire a ramp to make the job easier.
One great example of a car suited to small dogs is the 2021-2022 Audi Q5, which comes with a choice of available dog-friendly accessories. This includes all-weather mats for the floor, protective rear seat pet covers (which protect side panels as well as the upholstery), and even a collection of Audi-branded merch for your pup.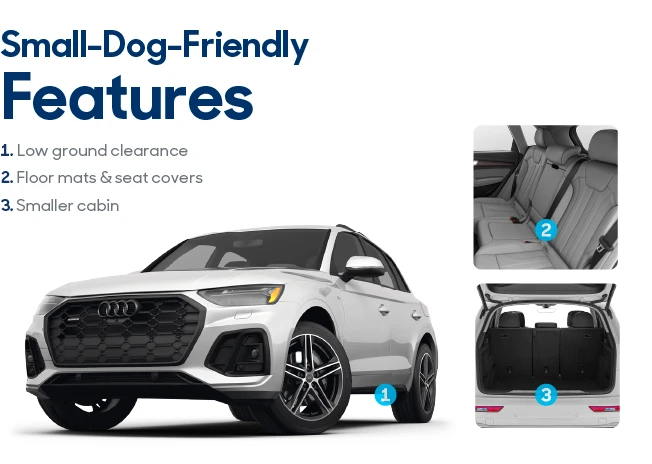 This vehicle may be a luxury compact SUV, and therefore filled with high-end materials, but it would still suit a small dog because they're not big enough to cause any chaos in the back—especially with those pet covers in place. While the Audi Q5 has some great dog-specific perks, keep in mind that your choice comes down to the individual needs of you and your pet.
Medium dogs (or active/multiple dogs)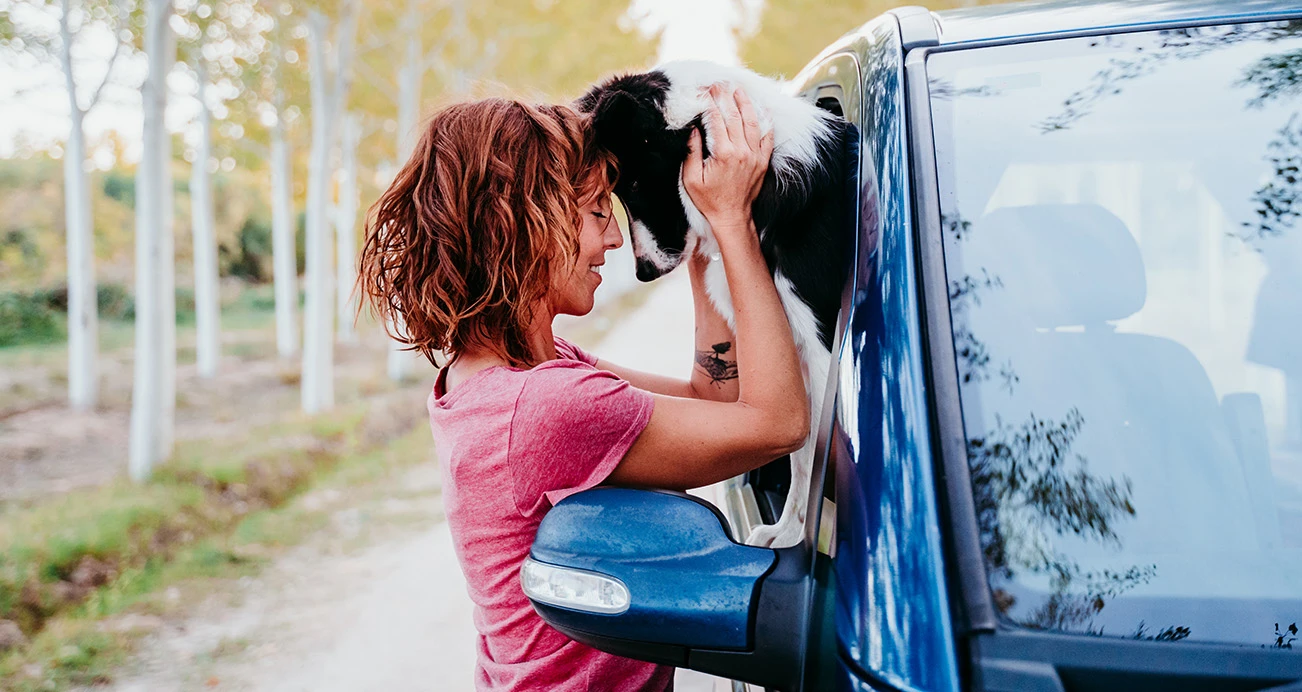 A medium-sized dog or multiple dogs are likely to need more attention and exercise, so you'll want seat protection for when one of the pups inevitably decides to befriend a muddy puddle. And with multiple dogs, you need to think about space and whether each dog has enough of it.
Back-seat climate control is also useful for medium or multiple dogs, as are sunshades and built-in vacuums to clean up the hair. Realistically, as long as your vehicle has a USB port, you can just use a USB-powered vacuum.
The 2021-2022 Kia Telluride could suit you and your dog(s), as the upholstery is synthetic leather, which is easy to clean. The Telluride also has dual-zone automatic climate control and a hands-free power liftgate. It offers an intercom system, allowing drivers to talk to their pets without having to shout, and a quiet mode that mutes the rear speakers so worn-out or nervous dogs aren't disturbed by your music.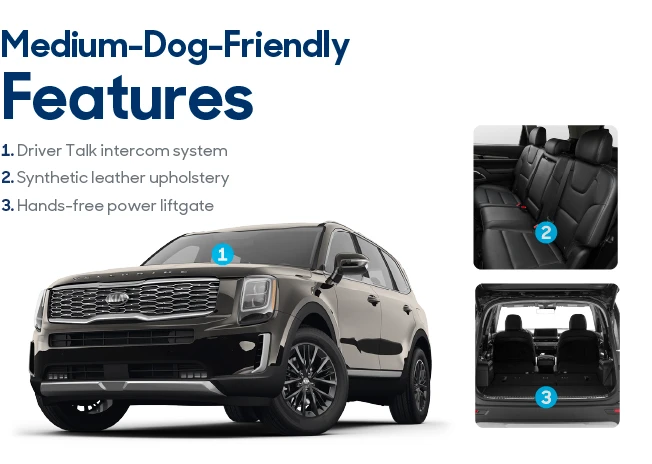 On top of this, there's 87 cu-ft of cargo space with all the seats down, which is plenty for your pack or if you just want to give your one pooch plenty of room to breathe. The Telluride is just one great option that may fit the bill for your medium-sized dog or multiple dogs.
Large dogs
For owners of large dogs, everything you need to consider is scaled up. You need plenty of cargo space for kennels or other dog gear and, ideally, configurable seating, a sunroof to let in fresh air without risk to the dog, and cargo dividers.
A great option for owners of large dogs is the 2018-2020 Chevrolet Traverse. A full-size SUV, it has an incredible amount of space. With all seats folded, there's 98.2 cu-ft of space and 40 inches of headroom in the back, meaning ample configurability for crates, other dog gear, and anything else you're transporting. The Traverse also has the option of tri-zone automatic climate control to keep your pet at a comfortable temperature while they ride.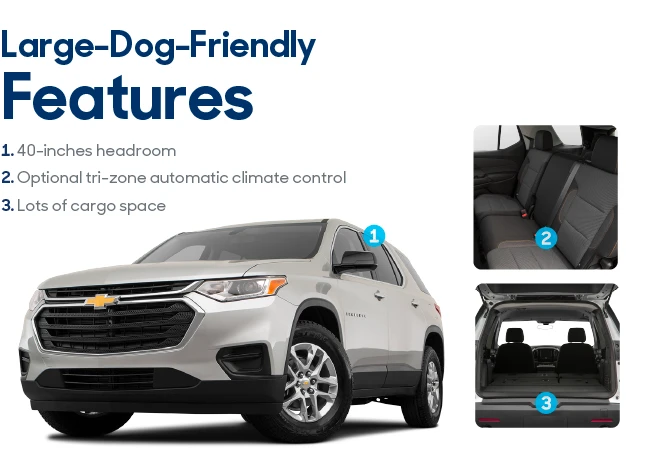 Take a look at some of these SUVs with the best cargo space to find one that will suit your dog and kennel of choice.
Finding the Best Car for Dogs
Ultimately, the right car is the one that suits you and your dog, but this article should give you plenty of food for thought regarding your next vehicle purchase. "Don't hesitate to get advice from the experts," Owens says. "Your dog is a member of your family—why would you treat them as any less?"