1. Spectacular surround sound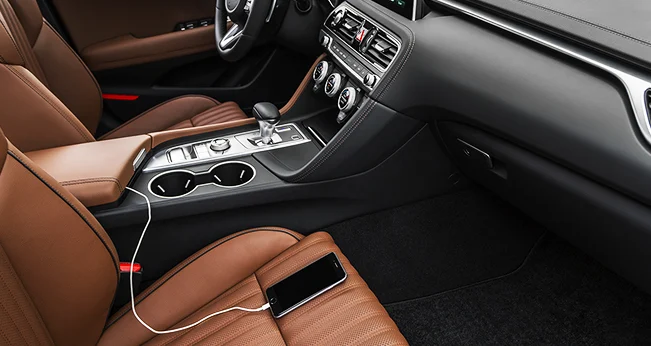 Included on the 2021 Genesis G70 2.0T Elite and G70 3.3T Standard trims, a high-tech sound system awaits to wrap you in audio bliss. The system is made up of a dash-mounted midrange speaker, door-mounted tweeters, subwoofers mounted under front seats, door-mounted woofers, midrange surround sound speakers, and a Lexicon® 11-channel digital external amplifier. The 15-speaker setup is configurable in a number of ways, allowing you to listen to everything from classical to punk exactly the way you like it.
2. Luxurious and comfortable interior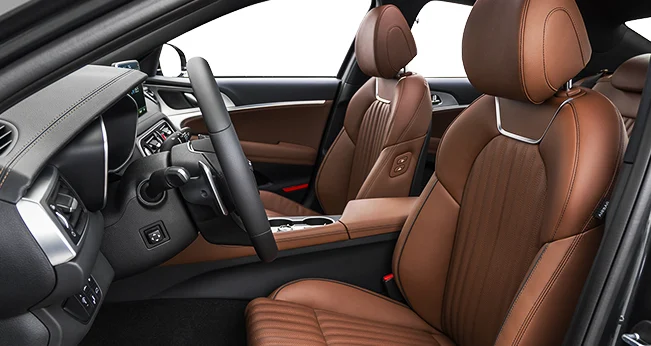 Genesis has made a name for itself as a luxury brand, and the 2021 G70 delivers with finely-crafted leatherette or available quilted leather seats, stainless steel, and brushed aluminum trim. The seating and interior are offered in a choice of four elegant colors, and the driver and passenger can adjust their power seats in a multitude of ways. Combined with the quality audio experience, your cabin becomes an inner sanctum that makes the drive incredibly relaxing
3. Eight vibrant exterior colors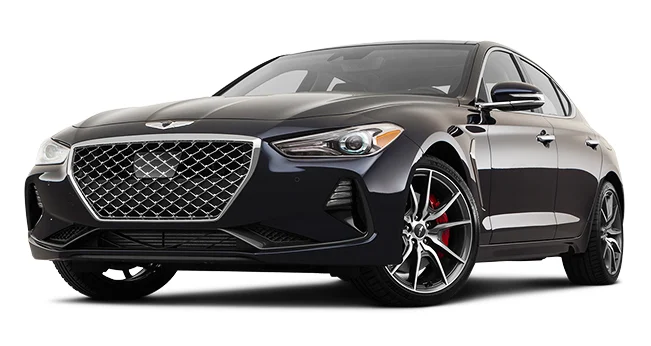 Whether you like your vehicle swathed in a smooth neutral coat or an eye-catching shade, the 2021 Genesis G70 has a paint option for you. You might choose shiny Uyuni White, or perhaps one of three gray hues (Savile Silver, Siberian Ice, and Himalayan Gray). If you prefer an azure tint, there are two: Mallorca Blue and Adriatic Blue. Havana Red and Forest Green are deep colors that show off the body lines, and the stealthy Vik Black rounds out the list
4. Generous driver-assist features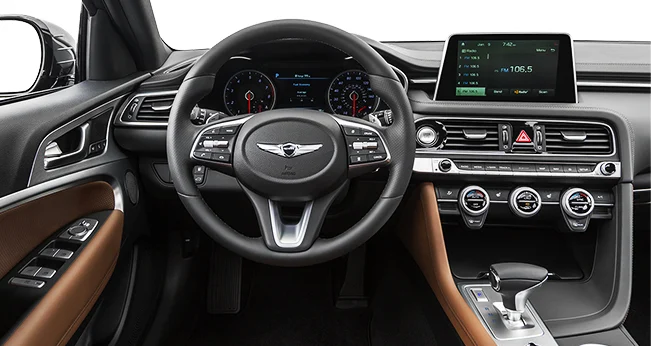 Using radar and multiple cameras, the 2021 Genesis G70 features as standard forward collision-avoidance assist, blind-spot collision warning, and lane-keeping assist to monitor all sides of your vehicle. The also-standard rearview camera includes guidelines to help you back out confidently. And a rear occupant alert, which comes with every 2021 G70, helps you to ensure everything and everyone is out of the car when you park.
5. Two sporty engines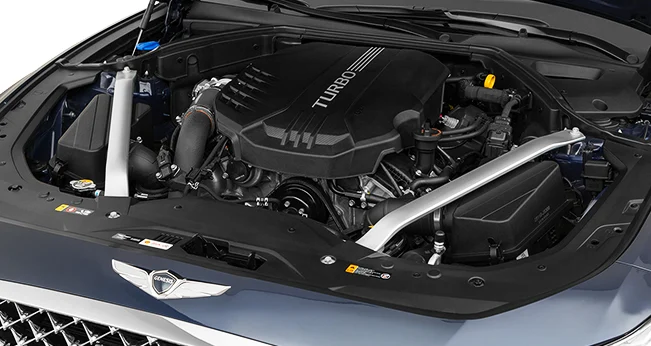 If you crave the zippy feeling of a powerful engine, the 2021 Genesis G70 has two choices. On the 2.0T trims, you'll get a turbocharged 2.0L four-cylinder powertrain with an eight-speed automatic. Or if you're a fan of manual transmissions, you might opt for the six-speed manual transmission, which makes 255 hp. The largest engine roars under the hood of the 3.0T variant with a turbocharged 365-hp 3.3L V6 with an eight-speed automatic transmission.