12 Great Ways to Save Money on Your Next Used Car
---
PUBLISHED MONDAY, APRIL 24, 2017
If you're ready to buy but don't want to pay a premium, check out these tips.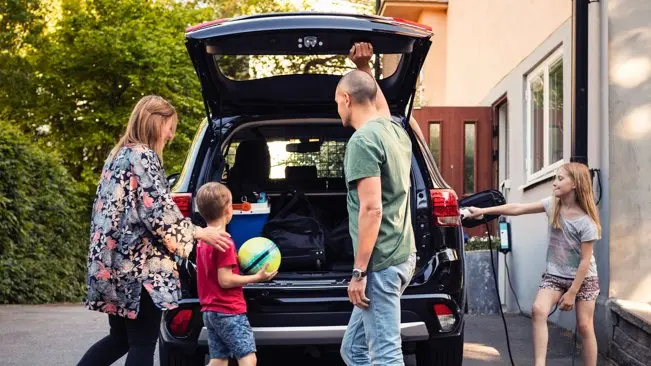 If you don't want to spend a lot of money to buy a used car, and you're feeling overwhelmed by all the choices and options out there, you're not alone! Lots of customers seek us out for guidance.
To help them (and you) buy used cars, we put together this list of 12 great ways to save money on your next used car. It's a collection of tips from our own staff of seasoned sales consultants.

Skip the favorites
Lots of the most popular cars and trucks out there come with a premium price tag. If you're OK with shopping for less popular used makes and models, you could save money. Sometimes a lot of money! Need a starting point? A used car buying guide lets you compare lots of used cars under $15,000, popular cars under $20K, and even less-popular used Mercedes-Benz vehicles and convertibles for less than $20,000.
Since there's a higher demand for the "go to" cars and trucks, prices tend to be higher for these most popular used vehicles. The solution? Shop for a similar vehicle from a brand you might have otherwise ruled out. For example, if you've been thinking about an SUV like the Honda CR-V, spend some time researching the similarly-appointed and comparable (and possibly less expensive) Ford Escape and Kia Sportage. Doing this gives you a strong opportunity to save money. Your research could also expose you to some different features of these cars that your first choice lacks, and which you might really love!
Looking for a smaller SUV? Compare the Chevrolet Equinox and Kia Sorento. Both can be had relatively inexpensively.
Go back a few years
Another way to know how to buy a used car and save on your purchase is to seek out a model that's a few years old. Or one that doesn't have the very latest body style. The newest cars and trucks come at a premium because the current models have the latest, state-of-the-art technology and all the new bells and whistles. If you research what's already been out there for some time, you'll find makes and models that already pack a good bit of this tech under their hoods, and inside their cabins.
If you're dead set on driving a luxury car, consider a used model from several years ago. You'll have the chance to drive a premium vehicle from an established brand, at a lower price. 
Look for base models
Base models have fewer features (usually entertainment, navigational aids, etc.) and, as a result, could be a better fit within smaller budgets. If you're not a fan of a lot of bells and whistles, you could forego the Bluetooth® and some of the other driver aids out there. This will let you focus on your driving, and will help keep your costs down. Check out our list of the best used cars under $15,000 for some ideas.
Shop by total cost of ownership
It's one thing to buy a car or truck — and it's another thing to pay for the repair and maintenance costs that go beyond the sticker price. Things like maintenance, fuel costs, insurance, finance charges, and vehicle, license, registration, and taxes are definitely worth factoring into your long-term ownership budget. To help you find qualified, reputable repair shops near you, use a tool like RepairPal's to get quick and accurate maintenance and repair estimates.
Skip the negotiation
When you take a pass on haggling, you skip the backroom negotiations that happen at traditional dealerships and you get the best price right up front.
Increase your down payment
When you're financing a used car purchase, you can make a larger down payment in order to decrease your interest rate. Your down payment is the amount of cash or trade equity you pay up front when you finance a vehicle. At CarMax, making a larger down payment will lower the amount you'll need to finance for your purchase, and it could also result in a lower monthly payment amount. Any amount you put forward as a down payment can improve your financing offer, too. You can use our car payment calculator to plug in a down payment (and vehicle price) to see how it could affect the size of your monthly payment.
Consider adding a service plan
At CarMax, all vehicles come with a limited warranty that can be used to address issues that might arise after your purchase. But if you determine that adding extra protection to your purchase makes sense, you can also look into an extended service plan. Service plans do come at an additional cost, but they could mean paying less for some repairs over the time you own your car.
Consider an electric or hybrid vehicle
Gas might be cheap now, but in the event it gets more expensive, the cost of fuel could weigh on your purchasing decision (see the total cost of ownership point above). Hybrid and electric vehicles have been on the market for years now, and their range grows more and more as technology advances give batteries the ability to hold more charge. These days, almost every manufacturer offers at least one electric or hybrid version of their mainstream models as an alternative to cars and trucks that burn gasoline or diesel fuel. Many of these vehicles let drivers travel more than 45 miles on a gallon of gas. Or, in the case of the 2016 Nissan Leaf, drivers can avoid the gas pump entirely and cover more than 100  miles on a fully-charged battery. If you're a commuter who tends to only drive a handful of miles to and from work each day, it's worth your time to check out hybrid and electric vehicles.
Wait until the next model year
Can you wait before needing to make a purchase? If yes, use this extra time to research your needs and wait out the new models. Why do this? New model year vehicles and their releases can trigger sales of previous models. Dealers will be eager to move these now-dated vehicles off their lots to make room for the newer inventory.
Look for longevity
Modern cars are hardier than they've ever been. But it's still important to do your research legwork in this area for an idea of just how well a car is capable of operating down the road. You could check out J.D. Power or Edmunds reviews to learn more about what others think of a vehicle's longevity. This will give you a better understanding of how long you can expect a car to last after you've bought it. By choosing makes and models that are known for their longevity, you can get more bang out of the bucks you spend on your purchase.
Know what you want (and what you need)
You might have your heart set on a specific car or truck, but it might also be more practical (and affordable) to start looking at other vehicles too. Considering additional options can give you an idea of other available vehicles. Research websites like Edmunds, Kelly Blue Book, and CarMax as a starting point for being able to make informed buying decisions without the showroom distractions that could end up costing you more than you can afford.
Think about the features a particular car has that are essential to your lifestyle — things you can't live without. Then, weigh these things against some of the nice-to-haves you'd love to have in the car of your dreams. Whether you need third-row seats, lots of storage, or something small, compact, and fuel efficient, knowing the difference between what you want and what you need will help you choose the right car at the right price.
Look for discontinued models
Just because a manufacturer stops making a model doesn't mean it's not a vehicle worth considering as a used car purchase. In lots of cases, you could save money on such a purchase. Some customers think that once a car ends production, spare parts become like hens' teeth. Actually, manufacturers typically keep making parts to service these models for years after they stop rolling off assembly lines. Another reason you could pay less for a discontinued vehicle: dealers want them off their lots to make room for newer models. Be sure to take this into account during your research.
Product and company names may be trademarks™ or registered® trademarks of third-party entities. Use of them does not imply any affiliation with or endorsement by these entities.